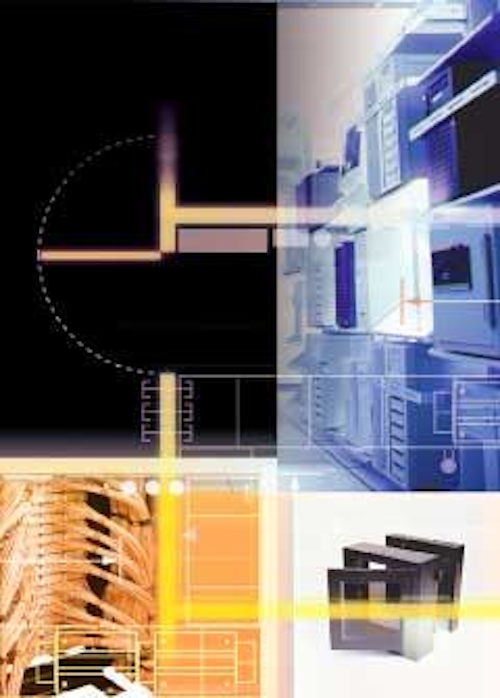 A lot of faith is being put in MasterFormat changes to wipe away future space problems in end users' telecommunications rooms (TR).
But the faith may not be grounded in reality, and even if changes do provide some relief, it will not cure all ills. The end users and cabling technicians who work in these rooms could face even more challenges when it comes to new builds and retrofit projects.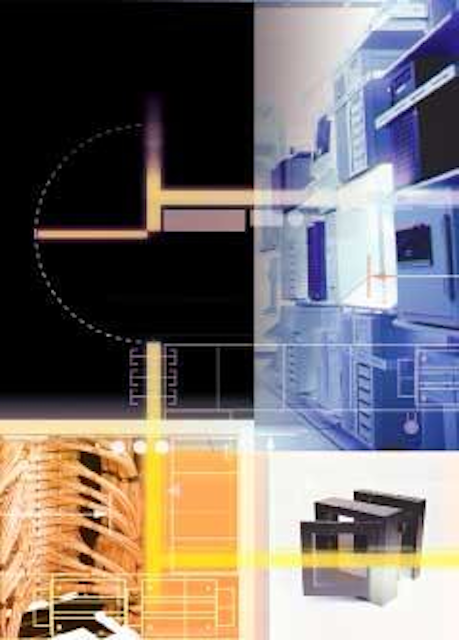 Click here to enlarge image
In the telecom room, where the price of space per square foot is high, technicians are finding cramped quarters jam-packed with cable, patch panels, enclosures, and other equipment. The amount of equipment is compounded by some products, like enclosures and servers, that are increasing in size and leading to more space problems.
Also, today's telecom rooms are increasingly crammed with so-called "smart building" equipment involving fire alarms, air conditioning, telephones, security, video, television— all running into the same space occupied by structured cabling.
Contractors' advice to fix these problems comes at a time when changes to the MasterFormat would seem to hold a lot of promise for the design of future telecommunications rooms. But there is a growing belief that, MasterFormat changes or not, end users will never completely get the space they need in the telecom room. Some worry that end users are actually now losing the battle when it comes to getting this space.
"End users are not getting this," says John Adams, a master instructor for BICSI (bicsi.org). "They are not standing their ground. They are letting architects dictate to them. If it were up to them [architects], we'd have invisible equipment." Ron Shaver, a BICSI master instructor, adds, "What I see is that the products are available to help maximize space; but I don't think all installer companies are getting the word out to the customer."
End users' recourse is to seek out new products that will maximize space in the telecommunications room and do all that they can to keep cramped quarters from impacting cable performance. This could mean, among other things, investing in small-form-factor technologies, compact patch panels, and racks that allocate space for equipment.
"We still see a wrestling match for telecom room people as they try to get the space they are looking for," says Mark Guymon, enterprise copper product manager for Leviton Voice & Data Division (levitonvoice data.com). "So, increasing the efficient use of that space is going to be, realistically,what people will have to do."
Contractors, likewise, need to be more imaginative in their approach to working in the telecom room. As they lay out structured cabling systems, they will have to envision further changes to the room that could come from installers of other equipment, and plan space needs accordingly.
Telecom room problems
Telecommunications rooms are infamous for being cramped spaces. BICSI reports that the typical telecommunications room layout is a 10 × 8-foot room that harnesses structured cabling equipment; heating, ventilation and air conditioning; fire alarm and security systems; and other equipment.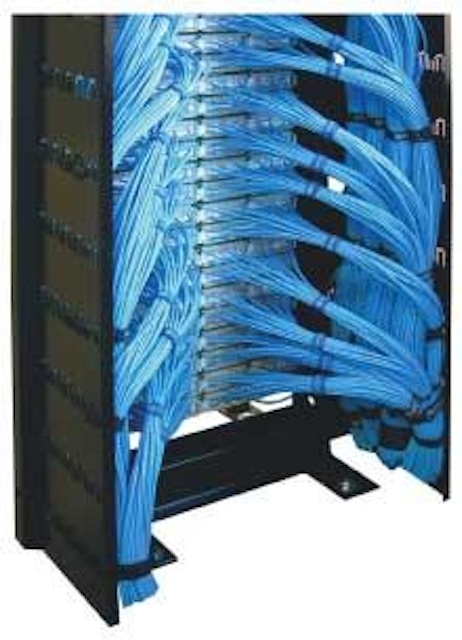 Chatsworth Products' CPI High Density Patching Frame lets you loosely bundle premise cable with hook-and-loop straps. It provides space for patch panels and other equipment in the telecom room.
Click here to enlarge image
The rooms, of course, can be much smaller or larger. The recommended size of telecom rooms depends on the size of the serving area. BICSI recommends that if the serving area is 5,000 square feet or less, the building's telecom room should be 10 × 8 feet. If the serving area is 5,000 to 8,000 square feet, the room should be 10 × 9 feet. If the serving area is greater than 8,000 to 10,000 square feet, the room should be at least 10 ×11 feet.
But there is still a big difference between what BICSI calls for and reality. In a recent poll on the Cabling Installation & Maintenance Web site (cable-install.com), 85% of respondents said that half or fewer of the telecom rooms they have worked in had enough square footage to allow comfortable working conditions. In the same poll, 28% of all respondents said that less than 10% of TRs they have been in allow for comfortable work.
Problems of cramped space translate into cable transmission problems, as cable signals deteriorate due to inappropriate bend radius or heat dispensation issues when too much equipment is piled up into a small space.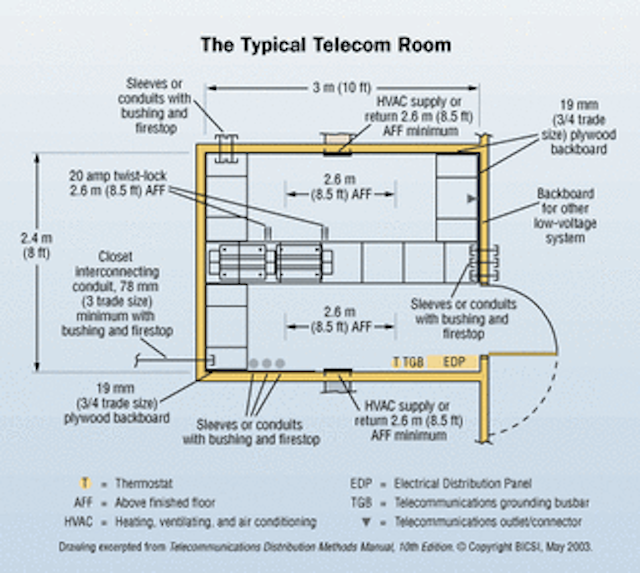 The recommended size of telecom rooms depends on the size of the serving area. BICSI recommends that if the serving area is 5,000 square feet or less, the building's telecom room should be 10 × 8 feet. If the serving area is 5,000 to 8,000 square feet, the room should be 10 × 9 feet. If the serving area is greater than 8,000 to 10,000 square feet, the room should be at least 10 × 11 feet.
Click here to enlarge image
James Waddell, CEO of Formare Technia Ltd. (formare-technica.com), says the consequences of a cramped telecommunications room can be devastating for an end user. "It can be quite an extensive problem in a retrofit situation," he says. Waddell recalls working in a large automotive insurance company in the northwest. The company had moved into an office area that included a small, hard-walled section that would serve as a telecom room. The room was soon crowded with equipment, and the results were cables with poor bend radius and deteriorating signals.
"The PBX, the phone system, the electronics were all placed in the parking garage," says Waddell. "There were so many headaches caused because the room was so small."
Today's equipment
Southwest Data Products makes this wall-mounted rack that is designed to provide for more space in telecom rooms.
Click here to enlarge image
Manufacturers are trying to combat this situation by making smaller and denser structured cabling components. A mere sampling of those products is discussed here:
Leviton now makes an angled patch panel that lets installers sweep patch cords naturally to each side, allowing for proper bend radius while eliminating the need for horizontal cable management. This increases the density on the rack by 50% or more.
Belden Inc. (belden.com) makes small, high-density racks designed to free up space.
Chatsworth Products Inc. (chats worth.com) is making the CPI High Density Patching Frame that features a vertical trough to provide space for patch panels and other equipment in the telecom room.
NORDX/CDT (nordx.com) makes the GigaBIX Cross Connect System, which is designed to answer the high-density issues of large installations.
Southwest Data Products (swdp. com) makes a line of rack solutions designed to provide for space in telecom rooms.
While some of the equipment itself may be getting increasingly dense, there exists a paradoxical problem of more equipment being housed in the telecom room today than ever before. Multiple network connections are calling for multiple pieces of equipment that are needed for support, and the result is a crowded room.
"For the typical office layout for today's applications, you need three or four cable drops to every cubicle, and that is increasing the number of patch panels required in the closet," says Bill Slater, marketing manager for Leviton (still using the very common term "closet" to describe the space). "The active components themselves are not getting bigger, but we are cramming more potatoes into the sack."
Design changes coming?
Some analysts hold out hope that telecom room space problems can be alleviated if structured cabling designers have a stronger voice in how a telecommunications room will be built and laid out. Designers say that changes to the MasterFormat could go a long way toward resolving this situation for new-build environments.
The MasterFormat has been followed by architects and building designers when planning, bidding, and constructing a new facility. So-called "Division 17," which may actually end up being Division 67 in the revised MasterFormat, details products and methods needed to budget and install a high-speed cabling infrastructure.
In theory, the "Division 17" initiative should help consultants provide a more consistent answer to the problem of space shortage. Thanks to the division, consultants will be able to provide end users and architects with formal documentation and drawings on telecom room designs, which should drive a lot more attention to TR space.
Advocates for a distinct division for communications infrastructure in the MasterFormat praise the initiative for the assurance that telecommunications systems will be drawn into a building plan during the design phase. Too often, they say, telecommunications systems are brought up too late in the construction process, and must physically be worked around other building systems. "Before, it was an afterthought and there was no space," says Jeff Beavers, telecommunications engineer for the University of Kansas (nts.ku.edu). "Now, designers will have a role. If it is new construction, the end user needs to provide that space."
Adams believes there is irony to the situation—consultants and designers became so efficient at using space that it has come back to haunt them. According, he adds, end users and architects today expect designers to get by with less space in the telecom room, since they have proved that they can do it. "We got so good at maximizing space by hanging stuff from the ceiling, that when we wanted an 8 × 10-foot room and they gave us a 4 × 8-foot room, we made it work," says Adams. "We cut our own throat by putting things into neat, compact areas."
And Waddell cautions that even if designers make their voices heard in the design process, it won't guarantee that the problem of cramped space in the TR won't pop up eventually. He says today's installers will have to be forward thinking, and try to envision the room as it would look a year down the line after fire alarms and other systems are added to the mix by different installers. This means planning the room out with end users, and encouraging them to stick to the room plan.
Contractors will need to think in terms of where the fire alarm will be positioned, what desk space will be needed for computers, and other variables. They can make suggestions about where these can be laid out in the telecom room.
"Instead of just letting structured cabling dictate the size of the room, they need to think about everything else that is going to be in there," says Waddell.
Brian Milligan is senior associate editor for Cabling Installation & Maintenance.