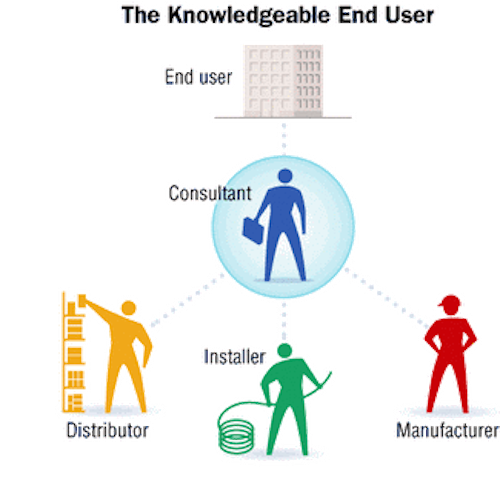 Ten years ago, most end users knew little about structured cabling. Today, many can recite cabling standards, and know the difference between Category 5e and Category 6.
Manufacturers and installers interviewed by Cabling Installation & Maintenance have seen an exponential growth in end-user savvy. "Ten years ago, you could say to an end user, 'This is singlemode. This is multimode,'" says Michael Connaughton, optical-fiber sales manager for Mohawk/CDT (www.mohawk-cdt.com), based in Leominster, MA. "Today, they already know that . They want to know about applications and limitations."
Gone are the days when end users had little control over their own data processing centers, which were often kept in a room behind a locked door. Now, they are part of the installation process. They understand the terminology, are familiar with TIA (www.tiaonline.org) standards, and want to have a voice in the installation and design.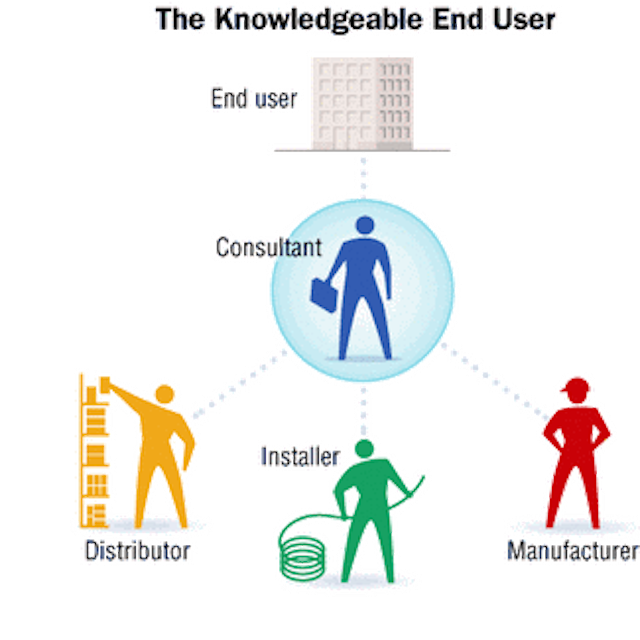 Analysts say consultants have played a key role in educating end users over the past 10 years, acting as a go-between for distributors, installers, and manufacturers. Ultimately, by working with consultants, cabling system end users have become more familiar with structured cabling and its installation.
Click here to enlarge image
null
Michael Quirl, a cable installer for AITEC Nations Inc. (www.aitecnations.com), based in Austin, TX, recalls seeing confusion and inexperience in the market during the late 1980s and early '90s. "Twenty years ago, the customer was afraid that if he touched a power line, he would be electrocuted," says Quirl. "No one knew fiber-to-the-desktop at the time, and they didn't know what not to buy. So, they bought everything."
Today, much of that confusion is gone, thanks to an era where a down network can cost an end user tens of thousands of dollars. Companies have had no choice but to become more sophisticated and better tuned in to their structured cabling systems. And that end-user knowledge has spread as IT managers keep other employees informed about the network and its needs.
"Suddenly, the manager has to talk to all the other departments in the company, and suddenly they are no longer an island," says John Pryma, vice president and general manager, structured cabling division, Genesis Cable Systems (www. genesiscable.com), based Pleasant Prairie, WI.
The quest for knowledge is changing the way installers are conducting business. Some of these changes include:
Finding out the needs of the end user, and resolving not to make blanket promises about the installation or network;
Being prepared for a more technical sell and presentation when approaching an end user;
Developing an alliance with a manufacturer and working with them as a team;
Learning not to "fake it" when asked a question to which they don't know the answer, and instead seeking help from the manufacturer.
Meanwhile, manufacturers are being encouraged to approach installers as a strategic ally. "Our real quest is not future-proofing anymore. It's future planning," says Valerie Rybinski, engineering services manager for Hitachi Cable Manchester (www.hcm.hitachi.com), based in Manchester, NH. "Our cable is not assurance for the future, it's planned for the future based on an educated decision we make knowing what's coming down the line."
Cabling manufacturers also say they must give knowledgeable end users the straight and entire story on their structured cabling systems and components. The pressure's also on manufacturers to come up with products that are clearly differentiated from their competitors.
Distributors haven't been left out of the picture. They note that the rise of the educated end user is ushering in an age when there will be an increased alliance among manufacturers, installers, distributors and, ultimately, the end user. "The end customer wants the distributor, the installer, and the manufacturer to work together," says Dennis DeSousa, senior vice president of sales and marketing for Graybar (www.gbe.com), based in Clayton, MO. "Ten years ago, you didn't see that. They [end users] were more reliant on what the manufacturers told them."
The right questions
Today's end users know what questions to ask, including about the promises of Category 6 cable and the future possibilities of Category 7. They are more than aware of 1-Gigabit Ethernet, and now they want to know what will come after 10-Gigabit Ethernet. They also want to know what applications they will need to achieve Voice Over IP (VoIP).
"I think you are seeing a change, where they are becoming more familiar with the technology," says Tony Brake, a cable installer and superintendent for Clawson Communications Inc., based in Franklin, IN.
"You can talk about insertion loss or attenuation, and they know what those terms are," agrees Gregory Niemiera, technical sales and marketing manager for Mohawk/CDT.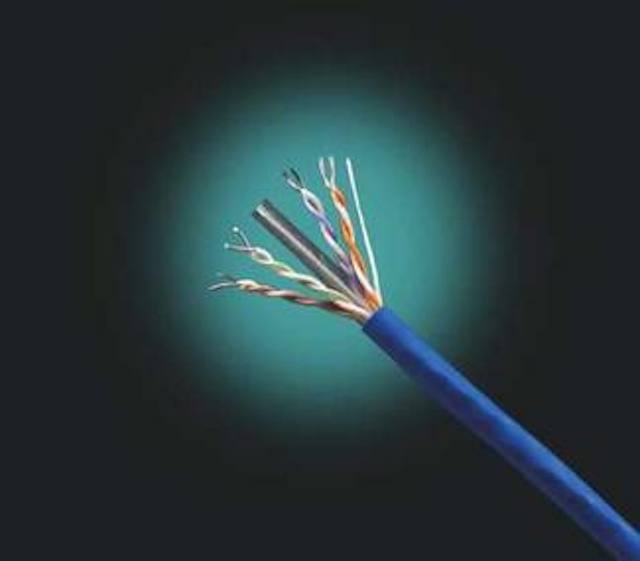 Today's end users are asking the right questions about cabling systems. They want to know the promises of Category 6 cable, like this one made by Genesis Cable Systems, and the possibilities of Category 7.
Click here to enlarge image
null
But end users' drive to be a part of the installation process doesn't end with asking the right questions. Some even want to be involved in the network design. This was the experience of the University of Florida Health Science Center (www.ufl.edu.com) in Gainesville, FL. During the past 10 years, the university has developed a data network throughout its complex using Category 5 structured cabling. The network covers six colleges at the university and includes 7,000 cable drops. The complex now offers 100 megabits to the desktop, and can provide gigabit services to the desktop if needed.
But Hansford Tyler III, business manager of academic information systems and support, recalls that when he first joined the university, employees had little to do with the installation or even interacting with the installer. Today, however, employees at the school are actually taking part in the installation of a Lynx Broadband (www.lynxbroadband.com; Burnsville, MN) video and data system.
"We tell them, 'Just buy this eight-port Lynx device, and we will punch it down for you,'" says Tyler. "We will install that box in our closet, hook it up to our distribution system and distribute the cable signal out to all of our users."
Tyler says he learned about cabling installation by working with an affiliated teaching hospital that provided the university with design services. The representatives, who attend conferences put on by BICSI (www.bicsi.org) and other groups, keep university employees up to speed on structured cabling trends and technology.
Impact of standards
The proliferation of IEEE/TIA standards is another primary reason why structured cabling has taken on an importance it did not have 10 years ago. The constantly updated standards are attracting the attention of end users who want to make sure that their networks are properly installed and maintained. End users are now paying manufacturers like Fluke Networks (www.flukenetworks.com), based in Everett, WA, $3,000 per day to provide on-site equipment training and standards updates. Training classes such as these are becoming increasingly popular.
David Gibbs, media test training director for Fluke Networks, began running a Certified Cabling Test Technician Course 18 months ago. The course is designed to provide students with a fundamental understanding of standards, the importance of certification, and how to conduct basic and high-level diagnostics on a cabling system. Gibbs expected about two-thirds of the participants to be installers, with the remainder end users. But it was "flip-flopped," he says.
End users have also begun to hire their cabling system installers to maintain their new networks. In fact, in recent years, some installers have evolved from contractors to data/com employees, serving as in-house experts and overseeing future network upgrades.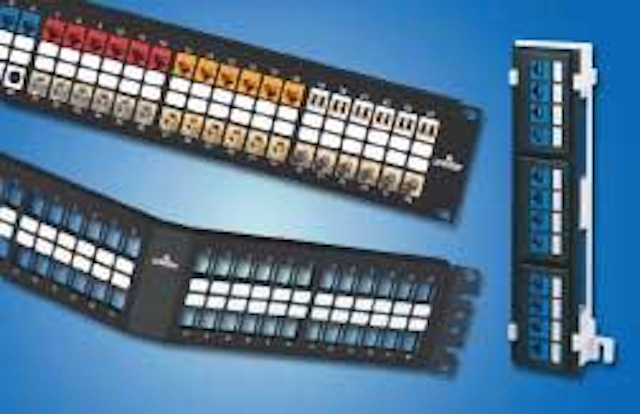 Leviton Voice and Data Division says it is seeing considerable interest from end users in its QuickPort product line, which includes patch panels shown here. The company says end users are seeking the product line so they can conduct their own moves, adds, and changes. The QuickPort features snap-in modules designed to let end users easily mix and match different media types at the workstation.
Click here to enlarge image
null
End users' increased knowledge is still turning heads. Rosi Sherrill, documentation manager for Federal Communications Group (www.fedcomm.com), based in Tempe AZ, says one of her customers purchased Fluke Networks' OmniScanner and set up a lab in his facility. The customer used the device to test several different electrical parameters with his Category 6 cable, hoping to find a particular value. "He wasn't satisfied that a TIA Category 6 test would meet his requirements," says Sherrill.
She spent several hours on the phone talking to representatives from Fluke Networks to see if there was another way to test for the data that the customer was seeking. "We determined that Category 6 was the best test in general, so he created his own calculation sheet off of this," says Sherrill. "To me, this says our customers are becoming a lot more intelligent. They want to participate more."
A positive trend
"The more your customer knows about technology, the more effective he will be in using it properly," says Gregg Kelley, senior product manager for Lynx Broadband Products. The trend is also encouraging manufacturers to stay on their toes, and to be completely up front with end users. "It's not worth putting him on," says Niemiera.
Manufacturers agree that poor business practices of the past, in which some unscrupulous companies could intimidate less knowledgeable end users into buying the next generation of products or equipment, are disappearing. Ten years ago, for example, some manufacturers allegedly perpetuated myths about throughput problems or other installation issues in order to sell their products.
Today, instead of trying to frighten end users into making new purchases, manufacturers are approaching them as equals, and trying to help them find solutions to their needs. "We are not selling on FUD—fear, uncertainty and doubt," says Rybinski of Hitachi Manchester. "The manufacturer who tries to scare people into buying a product makes them very nervous. Before, they said, 'If you don't buy my product, bad things will happen to you.' Now, these myths are being dispelled, and the end user is aware of that."
Frank Velleca, global product manager for The Siemon Company (www.siemon.com), based in Watertown, CT, agrees that manufacturers may still be tempted to try to sell the latest-and-greatest technology, but he says end users will not jump on the latest category of cable if they don't really need it. And increasingly, he says, they will know if they need it or not.
Velleca says manufacturers should share wth end users what they know about new products and technology, but not try to make it a hard sell. "We have to find out what our customers are about. What do they have today, and what are their plans for the future?" Velleca asks.
Manufacturers also say their products need to be more top-notch than ever, because today's educated end users are not easily fooled and will search elsewhere for the products they need. "We need to manufacture more high-quality products because the end user is more demanding," says Philippe Guillermin, CEO PatchSee (www.patchsee.com), based in Neyron, France.
Essentials of partnering
To be successful in the new cabling industry climate, manufacturers and analysts say installers must take on a partnering role with end users. Installers should let end users take part in key decision-making, and encourage their input. Installers must also help end users gain more understanding of their structured cabling system. "We help educate these guys, and help them get more sophisticated, because it makes our job easier," says Quirl of AITEC Nations.
Some installers say they try to ferret out how much end users know and understand, then attempt to fill in the holes. "If they are unfamiliar with something, I will try to educate them and make sure they understand what they are paying for once it's been installed, and what they can expect," says Brake of Clawson Communications.
Partnering can work for installers in a variety of ways. For example, end users can go out for a competitive bid. And during this process, they become more specific about their cabling and component needs. Winning contractors later say that these end users are requesting more and more detailed meetings where contractors are expected to fill in specifics about the project—defining all of the requirements of the proposed network and the details of the cabling involved.
"Instead of an end user just saying, 'Give me a cable network,' they are now providing details and asking questions of what the options and alternatives are," says Tony Beam, director of business development for AMP Netconnect (www.ampnetconnect.com), based in Harrisburg PA.
In the 2003 cabling installation environment, Rybinski concludes, installers should be prepared to give end users a full, detailed presentation when discussing a network design. "He [installer] shouldn't make up an answer because there is a good risk that he will get caught and lose his integrity," says Rybinski.
Brian Milligan is senior associate editor for Cabling Installation & Maintenance.