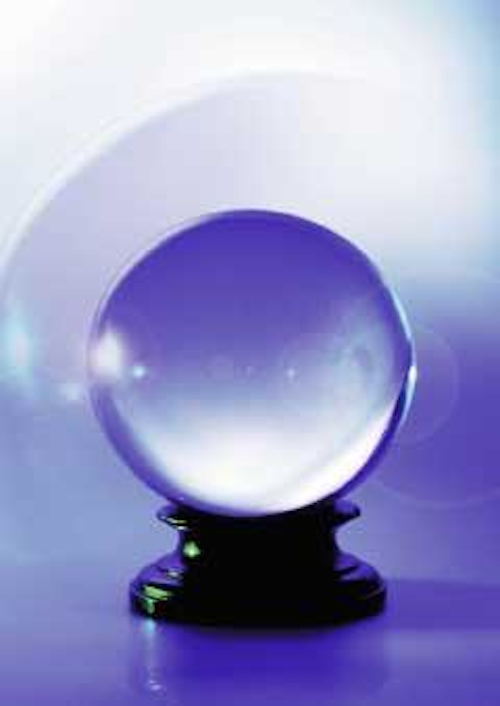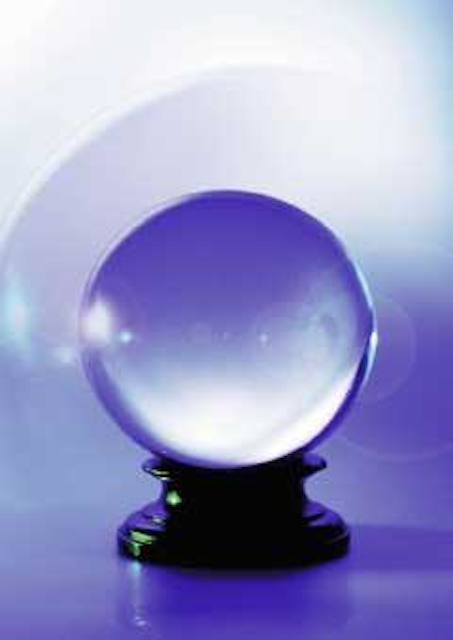 Click here to enlarge image
In our Fifth Anniversary issue in 1998, this publication made five bold predictions about what was to come in the cabling industry between '98 and 2003 ("Five trends to watch in premises cabling's future," July 1998, page 118). In a couple of cases, we were actually onto something, and for others, the industry is still waiting and seeing.
Gigabit Ethernet, 10 times over
What we predicted: Gigabit Ethernet would "get some backbone." We said the protocol would "find an increasing number of applications in high-speed backbones." In retrospect, that wasn't exactly the boldest prediction in the world to make. The IEEE ratified the GbE-over-fiber specifications in 1998, and much of the networking world had been waiting for a 1,000-Mbit/sec protocol and adopted it rapidly. In fact, in 1999, CI&M surveyed recipients of the magazine who are end-user customers; 23% of them were set to deploy Gigabit Ethernet.
What really happened: Market research reports indicate that Gigabit Ethernet has, in fact, gained widespread acceptance. A recent report from The Gartner Group (www.gartner.com) estimated that the total number of Gigabit Ethernet connections shipped in 2002 would approach 7 million.
What happens next?: At the time we came up with that prediction, an interest group called the Gigabit Ethernet Alliance (GEA) had loads of information on the protocol, its uses, and why it would be in such demand. I recently looked up the GEA and found that it's alive and wellUkind of. The former Web page of the group is now occupied by the 10-Gigabit Ethernet Alliance, which includes many of the GEA's original members.
That's one thing we weren't bold enough to predict five years ago—that in half a decade, there would be an IEEE-ratified standard for a protocol with 10 times the speed. Currently, 10-Gigabit Ethernet can be run over fiber only, but the IEEE is examining the feasibility of a twisted-pair copper-based specification. I, for one, never would have predicted that.
50-µm fiber a mainstay
What we predicted: Professionals in the industry would be seeing 50-µm multimode fiber "used a lot more for premises-cabling installations in the years ahead." This prediction went hand-in-hand with the one about Gigabit Ethernet. Because 62.5-µm multimode fiber was better suited for light-emitting diode (LED) sources than laser sources, and Gigabit Ethernet required a laser source, we rationalized that those implementing GbE would use 50-µm fiber to get the most out of their investment.
Performance testing done in preparation for the Gigabit Ethernet specs showed that some 62.5-µm fibers exhibited a phenomenon called differential mode delay (DMD) when a laser source was introduced. In a nutshell, DMD is to optical transmission what propagation delay and delay skew are to copper-based electrical transmission. Some 62.5-µm fibers were prone to DMD; 50-µm fiber was not. Therefore, users implementing GbE could, for the most part, achieve greater distances over 50-µm fiber than they could over 62.5-µm fiber.
What really happened: 50-µm fiber did, in fact, become a popular choice among GbE users, and among those installing fiber now with plans to use it later. Perhaps the most significant event on this front in the past five years was the inclusion of 50-µm multimode fiber as a recognized medium in the TIA/EIA-568B.3 standard. Only 62.5-µm fiber was recognized in TIA/EIA-568A. So, technically, those who installed 50-µm fiber prior to the ratification of 568B.3 were not using TIA-standard-compliant materials. "All is forgiven" now, though, with the recognition of 50-µm fiber in the newest version.
What happens next?: Just as the 50-µm fiber prediction correlated strongly to the GbE prediction, today, the use of 50-µm fiber is a big discussion point with regard to 10-Gigabit Ethernet. As the 10-GbE specifications were being developed, so too was a medium known as "laser-optimized 50-µm fiber." The fiber allows 10-GbE users to achieve longer distances (300 meters) than they would get from "standard" 50-µm or any version of 62.5-µm multimode fiber.
Last year, the TIA approved Addendum 1 to the TIA/EIA-568B.3 standard. The addendum is titled, "Additional Transmission Performance Specifications for 50/125-micron Optical Fiber Cables." Says Bob Jensen, chair of the TIA TR-42 committee, "The new addendum was developed in conjunction with the 10-Gbit/sec applications in Ethernet and Fibre Channel, so that this fiber could support these applications in commercial building cabling networks."
Developing standards while singing Kumbaya
What we predicted: A single set of cabling specifications, to be used worldwide, would result from cooperation among standards-making groups. Citing "increased harmonization with international standards bodies," we said that before too long, the entire world's cabling systems would be based on a universal set of specifications.
What really happened: For details on the developments on this front, you can check out Donna Ballast's column on page 14. Donna reports that as far as the several cabling-standards groups around the world go, "rarely do their standards completely agree." The groups do, however, actively exchange documents, and the TIA maintains a liaison with other groups around the globe.
In fact, our 50-µm fiber update provides evidence that the liaison relationship is providing benefits. Through communication between the TIA and the IEEE, the TIA was able to set specifications for "laser-optimized" 50-µm fiber and ensure users of the product that it will support 10-Gigabit Ethernet traffic over 300 meters. Interaction of this type is constantly taking place between the TIA and other standards bodies.
What happens from here?: Most likely, more of what is happening now. The TIA will continue its liaison relationships with other standards-setting groups so that the cabling-system specifications developed by the TIA will be in sync with the applications developed elsewhere, and also closely resemble the cabling specifications put forth in other parts of the world.
Electrical contractors in the business
What we predicted: Telecommunications cabling contractors will be threatened by "the ongoing migration of electricians into the low-voltage arena." At the time, we cited state-legislature-level licensing efforts that could either shut comms-only installers out of the business, or mandate that they work as subcontractors to licensed electricians. Additionally, and perhaps more importantly, some predicted that electricians would "garner a greater share of work on low-voltage installations ... through increased competencies and better marketing of their services."
What really happened: Certainly, over the past five years, a great number of licensed electrical contractors have gained expertise in low-voltage cabling system design and installation, and have put that expertise to use. One of the most significant providers of that expertise is the National Joint Apprenticeship and Training Committee (NJATC—www.njatc.org) of the National Electrical Contractors Association (NECA—www.necanet.org) and the International Brotherhood of Electrical Workers (IBEW—www.ibew.org). BICSI (www.bicsi.org), the primary training organization serving the traditional voice-and-data marketplace, has provided training to many electricians as well. Electrical-contracting professionals interested in or currently in the low-voltage contracting field also have a conference and trade show devoted to that cause. The VDV/Integrated Building Systems Expo is now in its fourth year.
One of the major concerns for professionals who install low-voltage systems, and who have no electrical experience or license, was that they would be ushered out of the business by legislative action. By and large, that has not happened. Through lobbying efforts at legislative levels, proposals to require an electrical license for low-voltage system installation have failed to make it into law.
What happens from here?: Something that we didn't predict five years ago, but happened anyway without our permission, is likely to affect installers in the future. While we opined about how much business electricians would take away from telecom contractors, we never pondered how much business a drastic economic dropoff would take away. The way I see it, between skilled electrical contractors and the economic disaster of the past couple of years, many of the industry's "trunk slammers" who "lived off the fat of the land," were wiped out.
It can be argued that there are more knowledgeable, skilled, cabling contractors than ever before, including a great many who also are licensed to install full-service electrical systems. Project bidding is as competitive as ever, and it's more important than ever that an installation contractor show the customer value. Despite the severe swing this industry has taken in the last five years, that's one thing that hasn't changed. And I don't expect it to.
Promises, promises
What we predicted: Residential cabling will experience tremendous growth. A few months after we made the prediction in print, market-research firm Parks Associates (www.parksassociates.com) predicted that the number of multiple-PC households in the United States would grow from 18 million in 1999 to 31 million in 2004. We pointed to the Internet and home offices as primary drivers, citing a research report predicting 100 million at-home workers by 2002.
What really happened: A recent study says that the U.S. alone had 30 million teleworkers two years ago, and the researcher expects the number to reach 40 million by next year. But, the huge uptick in residential cabling systems that we predicted five years ago isn't here quite yet.
Progress is being made on this front, however. From my vantage point, I have seen more and more vendors who have long provided commercial cabling-system products begin to introduce residential cabling lines. The whole idea of residential cabling is building momentum; it just didn't quite meet up with our wide-eyed optimism of 1998.
What happens from here?: I think the upward trend will continue. Read both Donna Ballast's (page 14) column and this month's Perspective column by Steve Smith (page 10), and know that they each came to their conclusions independently. The logic is there, and the demand will be as well.
Patrick McLaughlin is chief editor of Cabling Installation & Maintenance.