A decade of issues
As the cover of this month's issue indicates, we're using these pages to commemorate this publication's 10th anniversary.
Mar 1st, 2003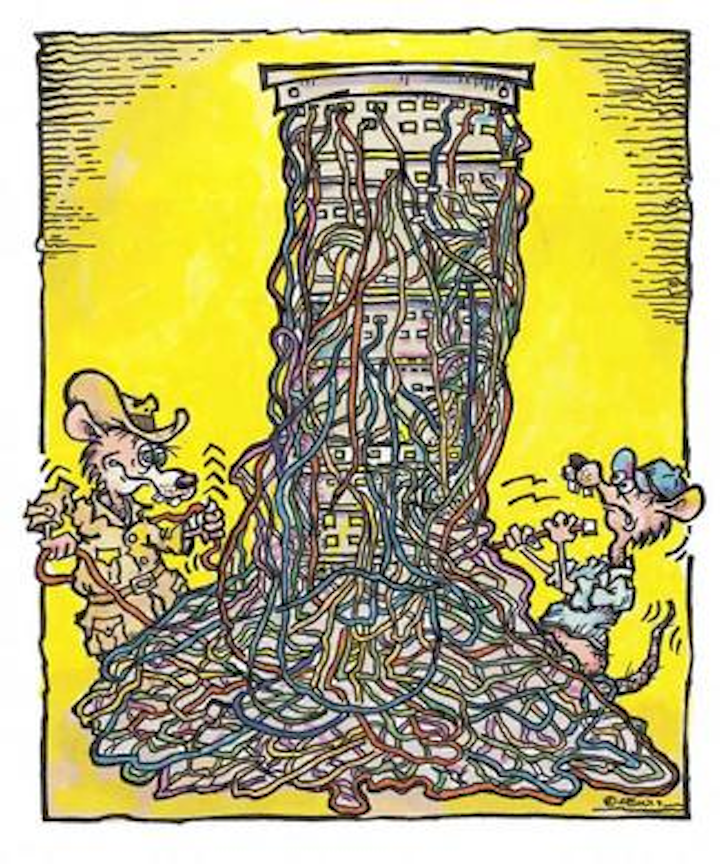 As the cover of this month's issue indicates, we're using these pages to commemorate this publication's 10th anniversary. The first-ever issue of Cabling Installation & Maintenance (CI&M) magazine was dated March/April 1993. From the beginning, the magazine positioned itself as a provider of technical and business information for professionals in the cabling industry.
In preparation for this commemorative issue, I looked back at that first one. Two articles in particular jumped out at me as fodder for conversations that begin, "Remember when ..." The first one discusses conceptions and misconceptions about STP and UTP cable. And right there, smack dab in the middle of page 39 of the first-ever issue of this magazine, are four words that I probably have heard a thousand times since I began covering the cabling industry: "acts as an antenna." The point being made was that a shielded system must maintain the shield end-to-end.
As for the other article in that issue that caught my eye, all I really have to do is list its title: "The SC connector gains momentum." Oh, how some things have changed.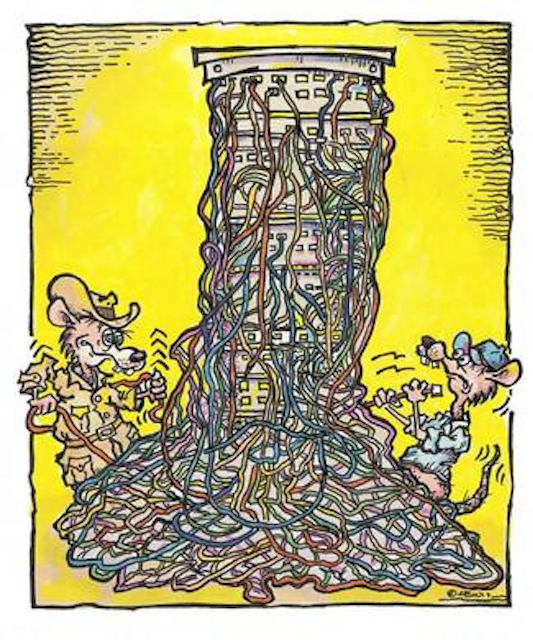 After years of progress toward presenting our industry in a positive light, the telecom-room "rat's nest" reminds us all that there is still more work to be done. Illustration by Frank J. Lewis
Click here to enlarge image
null
As the magazine matured and found a groove, it became evident that much of what happened in this dynamic industry traced back to the ongoing development of the technology behind it all. This magazine did then, and I like to think still does, capitalize on that fact by expressing in practical terms what all that R&D will mean to you on the jobsite and in the cabling plant.
For example, within CI&M's pages, you read about topics such as delay skew and the development of TSB-67—both of which were issues born out of a quickly moving industry that imposed real-life troubles for cabling-system installers and users alike. In each case, CI&M explained the technical reasons the industry was facing the issue, what manufacturers were doing about it, and the actions that standards-making groups were taking to provide the industry a platform on which to assess cabling systems and ensure acceptable performance.
I can't take credit for any of that because I didn't join the magazine's staff until 1997. But from the moment I took my first assignment, I believed I had a significant task of maintaining the magazine's credibility. Knowing almost exactly nothing about the cabling industry when I began, I relied heavily on my peers and superiors on the magazine staff, as well as on the patience and mercy of industry experts. I lucked out in both instances. Good thing, because one of the first articles I researched examined the similarities and differences among handheld Category 5 cabling testers. I made my first phone call for the article with all the enthusiasm you would expect from someone bent on making a good impression. Several interviews and about 45 pages of transcribed notes later, my head was swimming with information; I had no idea what was useful and what wasn't. Ultimately, what went in print was, I believe, useful to those who read it—thanks entirely to those who improved what I initially produced.
One of the first products I ever wrote about was a tool for managing patch cords in telecom rooms (although we called them "closets" then). Researching that product introduced me to one of this industry's unsung realities—too many telecom rooms look like the proverbial rat's nest of unmanaged patch cords. That reality has always been the "yang" that opposes the "yin" of technological development that I heralded earlier on this page.
On behalf of my employer PennWell, I can say it has been an honor for this publication to serve as an information source to this industry for the past 10 years. We hope you have found us to be a benefit as you carry out your day-to-day job duties, and we look forward to many more years of continuing to serve in that capacity.
And just so none of us forget how down-to-earth this industry really is, I have included on this page an illustration that should act as a reminder to some of us and a warning to others.
Thanks to all of you for reading this publication. We on the staff sincerely appreciate it.
Patrick McLaughlin
Chief Editor
patrick@pennwell.com