Paying the price for Category 6 installations
More time, training, and testing are needed when installing Cat 6 cable. The question is, can you afford to pass along the cost even in the current economic climate? A recent CI&M survey indicates a resounding 'yes.'
Jan 1st, 2003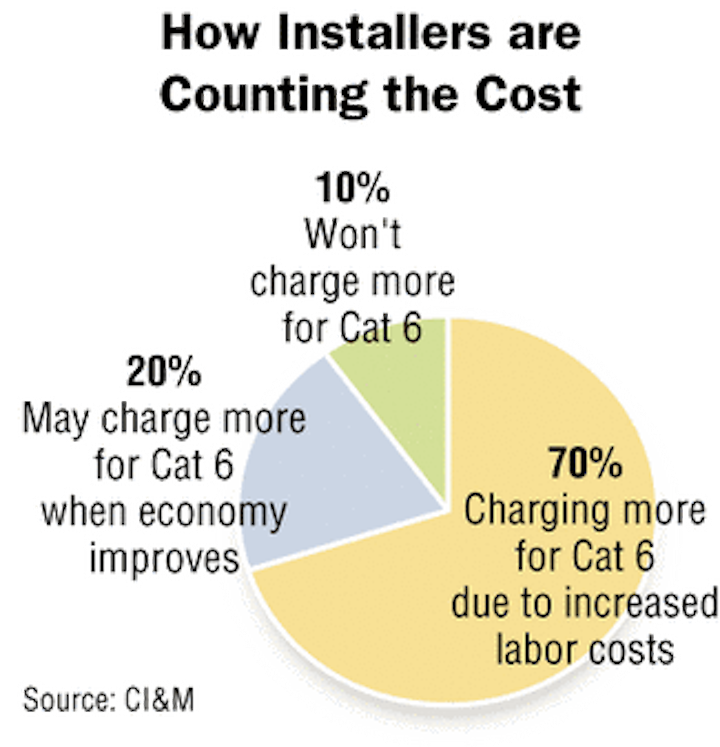 End-users who want the next best thing in copper cabling—Category 6—are finding out that, sooner or later, they should be prepared to pay more because of increased labor costs.
Installers contacted by Cabling Installation & Maintenance say that because Cat 6 is so sophisticated, it requires more intensive labor. In an informal poll of installers and cable installation trainers, 70% say they are already charging more for Category 6 installation. Twenty percent say they are not charging more now, but would like to in the future. Only 10% say they do not plan to charge more for Category 6 installation, arguing that the labor is no more intensive than for Category 5e.
Many of those we surveyed say Cat 6 installation costs are rising because experience and proper training are needed. Further, some argue they must charge more for a Cat 6 installation because it takes more effort to terminate and is more time-consuming to test.
Click here to enlarge image
Val Rybinski, vice chair of TR-42.7, the TIA subcommittee that wrote the Cat 6 standard, acknowledges that additional layers of testing could make Category 6 installation more labor intensive. She says installers are finding that while field testers indicate that the installed cable passes the Category 6 performance requirement, the pass is often given with an "asterisk"—often, leaving some sort of uncertainty concerning component interoperability. "Most customers find that [test result] unacceptable. They want a clean pass," says Rybinski. So, subsequent, time-consuming testing is necessary. And since testing for Category 6 requires a Level 3 tester, installers surveyed by CI&M say they are passing along the expense of having to invest in new testing equipment.
Nevertheless, Rybinski adds, there are plenty of other factors to indicate why Category 6 installation shouldn't cost more than other copper media, citing, for example, the similarities in bend radius, pull tension and pair untwisting between Category 6 and Category 5e. While installers surveyed by CI&M agree that many Category 6 cables feature more rigidity than other cabling categories, making it easier to pull into pathways, some brands can be more time-consuming to install than others. For example, some manufacturers' Cat 6 cables feature an internal crossweb that must be peeled back during the termination process. Further, some say they can only untwist three-eighths of an inch during termination instead of the half-inch for Category 5e cable, making termination more difficult.
Robert Dagostino, an installer for Dagostino Electronic Services based in Pittsburgh, PA says that roughly 20% of currrent installation projects at colleges and universities call for Category 6 cables. He agrees it is harder to terminate Category 6 cables, and when installing bonded pair Category 6 cables, Dagostino says he charges 25% additional labor time. "Each conductor needs to be split apart so it can be punched down on a connector because it's a bonded pair," says Dagostino. "You do this to keep the integrity of the twist throughout the cable." The work involved, he says, translates to 16 additional hours for every 100 cables installed.
Danny Branch, area manager for CenturyTel Communications Corp. (www.centurytel.com), based in Monroe, LA says it only makes sense to charge more as a cable becomes more sophisticated. Branch recalls how his company charged slightly more for Category 5 cabling installation when it first became available, compared to Category 3 installation.
Kevin Hailey, a LAN specialist for Connectivity Technologies Inc. (www.contech1.com), based in Carrollton, TX says his company has been overseeing a Category 6 installation for the past 18 months, using Belden (www.belden.com) MediaTwist cable that features a heavy, crescent-shaped jacket that is about a third larger than a round jacket. "You either pay more per hour, or you are paying for more hours—so it [Cat 6] does cost more," says Hailey.
"I'd be inclined to charge more because of the sophistication required," agrees Barry McLaughlin, a representative from DVV Communications, based in Weston, MA. But even though he believes more should be charged, McLaughlin is not sure how much more. "Category 6 cable has to be handled better, the termination has to be right on the money, and testing is more involved, so a premium should be there," says McLaughlin. "But not double, not 50%."
Ironically, even though installers are spending more time on Cat 6 installations, some say that because of the economy, they feel pressured to not charge any more than usual. That is the case for Joe Bodio, president of Lan-Tel Communications (www.lan-tel.com) based in Norwood, MA, whose company is in the process of installing Category 6 cable at the Boston Convention Center.
Bodio says due to the downturn in the economy, his company is feeling pressure to outbid competing contractors. So, for now, he resists the temptation to charge extra for labor. "We are not charging as much as we would have three years ago," says Bodio.
Brian Milligan is senior associate editor for Cabling Installation & Maintenance.