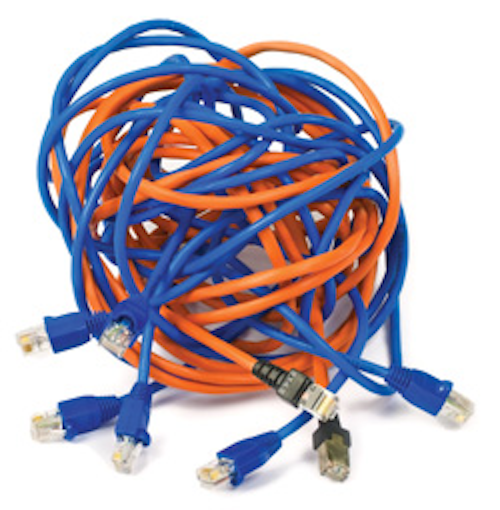 From the June, 2013 Issue of Cabling Installation & Maintenance Magazine
Solid performance of every segment in an end-to-end cabling system is growing more important than ever.
by Patrick McLaughlin
At a time when an increasing amount of precision is required to accurately install and terminate a structured cabling system in the field, the economic pressures of price and low-margin business are dangling the temptation for cabling-system stakeholders to use potentially underperforming patch cords in their networks. When one gives in to that temptation, and network performance eventually suffers as a result, the perception of patch cords as a cabling system's weak link is perpetuated. Such is the reputation of that portion of the cabling system that is most visible to the everyday user at a workstation, who knows or cares little about the cabling system that facilitates connectivity to a corporate network and to the outside world. By and large these users view patch cords only as nuisance speed bumps as they wheel their chairs around a workspace. A network cabling-system administrator, on the other hand, takes more serious and critical consideration of the cords used in the work area as well as equipment cords used in telecommunications rooms. At least, we hope these administrators take such consideration.
Bad press?
Typically patch cords make headlines, with us and with other cabling-related news and information sources, for unfortunate reasons. Every now and then Underwriters Laboratories (www.ul.com) issues a public notice about patch cables that use its (UL's) mark without authorization. It issued the most recent such notice a little more than a year ago, in March 2012, bringing the public's attention to Category 5e cables, as well as USB 2.0 cables, sold at Big Lots stores under the brand name TriQuest, that "bear an unauthorized UL Mark on the product packaging." As is typically the case when UL issues such a notice, it added, "The products have not been evaluated by UL to the applicable standard for safety and it is unknown if they comply with the UL safety requirements." In its notice, UL reported there were 95,120 units of the patch cable produced.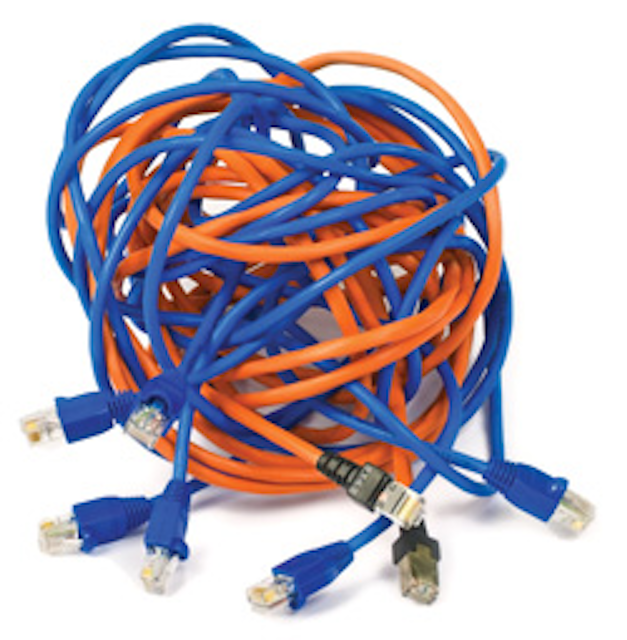 Keeping patch cords straight once they are installed is difficult. It's also easy to get tangled up and fall into one of the many pitfalls that exist when choosing cords in the first place.
With UL not having issued a notice of this type in more than a year, is the circulation of this type of patch cable an anecdote, or an example of a more-widespread problem? Caution and prudence would suggest it being viewed as the latter. Two points of fact about these notices from UL are worth considering. First, the organization only issues a notice when its brand and markings are used incorrectly. A patch cord that does not perform at the level stated on its packaging, but does not use the UL mark, will not be on UL's radar. And second, UL exhausts multiple efforts to reach and work with a manufacturer before issuing a public notice. Before such a notice is issued, UL has been unable to satisfactorily resolve the issue with the manufacturer. In some cases, the manufacturer and UL have had no discourse at all, with UL's efforts to communicate being unsuccessful. With that in mind, it is plausible that some manufacturers are responsive to UL's inquiries and the issue is resolved without a public notice being issued. So the idea that anytime a rogue patch cord reaches the market, UL issues a notice about it, is false.
Many-headed beast
The existence of substandard patch cords in the marketplace was addressed in an article we published in January 2012. Authored by comCables' (www.comcables.com) Andy Work and Tom McAllister, the article was titled "The patch-cord conundrum: Corrosion versus conformity." In it, the authors explained, "Quality, as well as code- and standard-compliance, has a price tag. A high-priced patch cord does not mean it is standards-based and will pass the performance requirements; however, price is the first indicator to help guide your decision … Typically patch cords are not supplied by the structured cabling installer, nor are they found on the request-for-quote. Patch cords are usually supplied by the end-user's IT department after the installation is complete. Projects are not awarded for their patch-cord prowess; typically they are won on price and performance.
"It is ironic how a company will build a multi-million-dollar facility with new networking hardware, then the IT department will box up their old patch cords and reinstall them. If the cords are not reused, they are sourced off the Internet for the cheapest ones to be found, or worse, the cords are home-made."
In the field
That issue of field-made patch cords is debatable. Naturally, a company like comCables that factory-produces and tests patch cords will caution against the act of field-terminating two plugs on the end of a length of patch cable, pointing out the absence of quality-control measures in such an approach. Another viewpoint is put forth as well, though. For example, LANshack (www.lanshack.com), which provides cable, connectors, installation tools and numerous other products, includes tutorials on its website about how to properly construct Category 5, 5e and 6 patch cords.
Within LANshack's tutorial is a caution about the potential for substandard performance. It reads, "If the completed assembly does not pass continuity, you may have a problem in one or both ends." The tutorial then advises to recrimp and examine the assembly and if necessary, to reterminate.
Whether they are constructed in the factory or the field, testing patch cords for continuity, or wiremap, alone has been regarded as insufficient by companies including comCables and Fluke Networks (www.flukenetworks.com). In their article, Work and McAllister said, "The only way to really know that a patch cord has been manufactured to standards is to test it. Or you can choose to buy patch cords exclusively from manufacturers that performance-test 100 percent of their products using the correct test method before shipment is made."
The authors also call out a common myth--that users can test patch cords for standard performance using the channel adapters that come with Fluke Networks' DTX 1800 tester. "A channel test is a lenient test for patch cords because it includes significant leeway for all component parts of the end-to-end system."
Fluke Networks agrees with that sentiment--so much so that in spring 2011 it introduced a patch-cord test adapter for the DTX tester. The DTX Patch Cord Test Adapter series can certify twisted-pair patch cords, shielded or unshielded, to Category 5e, 6 and 6A component specifications established in TIA-568-C and ISO 11801 standards. With the adapters, a user can test patch cord parameters including wiremap, length, propagation delay, delay skew, near-end crosstalk, resistance and return loss. When announcing the adapters the company explained they are appropriate for field and factory use.
In a data sheet for the adapter series, Fluke Networks explained, "Most cords are only tested for wiremap, not performance--in spite of what may be indicated on the jacket. Channel certification shows the performance of the completed end-to-end link including equipment and work area patch cords. Permanent link certification shows the true performance of the installed link without the cords. This is very common because it's the most practical and accurate way to certify new cabling links, but it is dependent on compliant patch cords. Patch cord certification can quickly determine whether a patch cord meets industry performance specifications."
Some providers of factory-manufactured patch cords have taken steps not only to encourage the use of factory cords, but also to make it easier for users to acquire them. One example is Leviton Network Solutions' (www.leviton.com/networksolutions) fall 2012 launch of an online copper patch cord customization tool, which allows customers to configure cords for their specific applications by selecting cord type, color and exact length. Specifically, nine cord types, eight jacket colors and 200 lengths are available to choose from. After selecting their options, customers each receive a part number for each unique cord, along with specific ordering details.
Leviton Network Solutions senior product manager Kirk Krahn said the tool was launched "to make it simpler for our customers to select the exact cords they need for their network. Our custom patch cords reduce installation costs and eliminate the waste and tangle of excess cord lengths by allowing customers to select the appropriate length for their application."
Being direct
Discussion about field-production of patch cords is an interesting topic, and when the topic is debated an issue frequently discussed is the precision workmanship required to produce a cord that complies with demanding standard-based electrical performance characteristics. Wherever the skill to achieve such performance does exist, it can be valuable in several ways, including a field-termination style that is gaining attention and use in the structured cabling industry.
The Single Connector Modified Permanent Link connection method frequently is referred to as direct-attach. Under this method, horizontal cable is terminated to a modular plug rather than to a jack. So it would be inaccurate to say direct-attach terminations are really just lengthy patch cords, because just one end of the horizontal cable is terminated to a plug. Even so, the skill required to effectively achieve that termination method is the same skill put to use when one attempts to field-construct a patch cord.
Graybar dedicates a page on its website (www.graybar.com/ directattach) to this connection method, including a white paper, video demonstration of the attachment method, and test results of direct-attach systems. Karl Griffith, director of emerging technology and author of the white paper, explained in it: "Direct attach was designed to help network architects and technicians leverage both their skill in communications wiring systems and UTP as the cable of choice for building facility-system networks…Many non-user administered IP devices are mounted in places high on walls, or on or in ceilings. In these locations the typical configuration isn't practical for installation and maintenance …The direct attach philosophy aims to decrease the safety hazards and configuration issues encountered with non-user administered IP devices by installing the modular plug directly on the end of the cable servicing the IP device, therefore eliminating the jack, faceplate and patch cord."
While the method may indeed eliminate the need for patch cords to connect some networked devices, it simultaneously can shine light on the need for sufficient skill in the installation environment, to successfully terminate twisted-pair cable to a plug. ::
Patrick McLaughlin is our chief editor.
More CIM Articles
View Archived CIM Issues