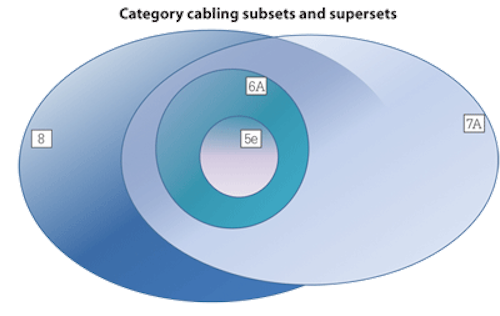 From the May, 2013 Issue of Cabling Installation & Maintenance Magazine
Unlike previous standards, Category 8 as proposed is not an electrical-performance superset of Category 7A.
By Valerie Maguire, The Siemon Company
After debating the issue for three meeting cycles, the TIA TR-42.7 Copper Cabling Subcommittee adopted "Category 8" as the name of its next-generation balanced twisted-pair cabling system that is currently under development to support 40-Gbit/sec transmission in a two-connector channel over some distance up to at least 30 meters. The issue of what to call this new system was a subject close to the hearts of many subcommittee members; both proponents and opponents of the new name argued tenaciously for their positions. However, the real question is just how much confusion the name Category 8 is going to cause for the industry.
Traditionally cabling categories are supersets of each other, meaning that a higher category of cabling meets or exceeds all of the electrical and mechanical requirements of a lower category of cabling, and is also backward-compatible with the lower-performing category. While TIA specifies cabling systems up to Category 6A performance, TIA chose not to adopt Category 7 or 7A as published by ISO/IEC. TIA has now decided to call its next-generation cabling system "Category 8" to avoid confusion with published ISO/IEC Category 7 and Category 7A standards, which are indeed supersets of each other and of Category 6A. While it is true that the currently proposed Category 8 specifications tentatively describe transmission performance up to 2 GHz, whereas ISO/IEC specifies Category 7A requirements up to 1 GHz, the performance limits proposed for Category 8 as of March 2013 do not meet or exceed Category 7A requirements up to 1 GHz.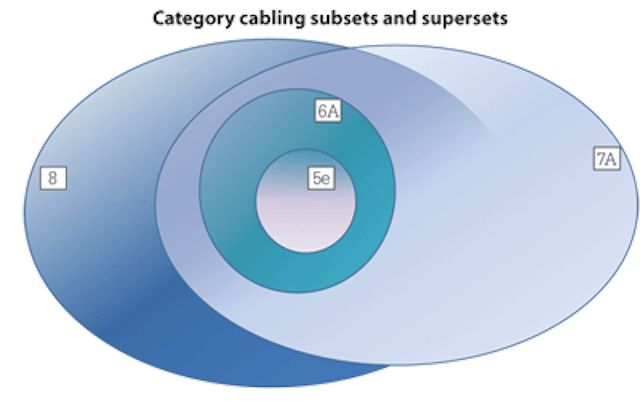 Traditionally, a new-generation category of cabling is a performance superset of the previous-generation category; therefore the previous generation is a subset of the next generation. For example, Category 5e is a subset of Category 6A, which is a subset of the ISO/IEC's Category 7A as well as the TIA's in-progress Category 8. However, the performance specifications proposed by TIA for Category 8 are not a superset of ISO/IEC's Category 7A for several electrical-performance parameters.
So herein lays the conundrum: Category 8 is expected to have a different deployed channel topology and will not be a performance superset of Category 7A. In fact, for every transmission parameter except return loss, ISO/IEC Category 7A channel and permanent link limits are more severe than those proposed by TR-42.7 for Category 8 up to 1 GHZ. In the case of internal crosstalk parameters, the differences are significant, with Category 7A beating out Category 8 performance by more than 20 dB.
While Category 7A is currently specified to 1 GHz, work items such as IEC 61076-3-104, 3rd edition standard for Category 7A connectors are extending Category 7A performance characterization out to 2 GHz. Having two cabling specifications specified to 2 GHZ, with Category 8 having lower performance than Category 7A, will create confusion.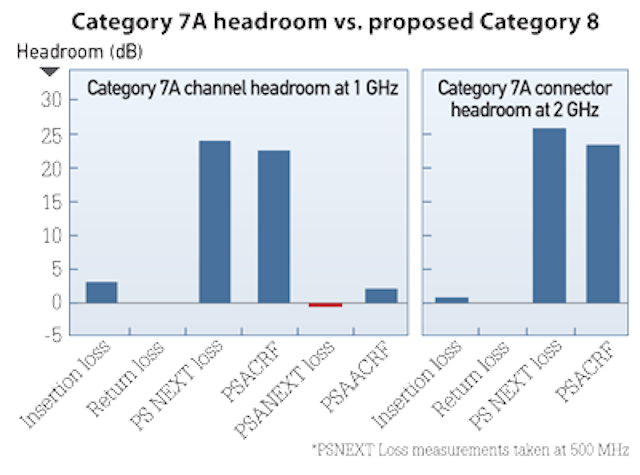 Blue bars indicate the extent to which ISO/IEC Category 7A electrical-performance requirements surpass those of TIA Category 8 at given frequencies. The PS NEXT loss figures shown in both charts reflect measurements taken at 500 MHz.
ISO/IEC faced the same "what-to-name-it" challenge with its new project to define two new grades of cabling (shielded and fully shielded) to support 40-Gbit/sec data transmission. ISO/IEC recently adopted Class I to describe cabling constructed from shielded modular RJ-45-style Category 8.1 components and Class II to describe cabling constructed from fully shielded Category 8.2 components.
Until the processing capabilities of a 40-Gbit/sec Ethernet (40GBase-T) application are finalized, it is too early to guarantee 40GBase-T application support distance for any media. However, Category 7A solutions remain the highest-performing commercially available twisted-pair cabling system. Not only do these solutions provide higher EMI/RFI immunity and more-flexible cable-sharing capabilities than RJ-45-style solutions, but ISO/IEC is actively working on a project to characterize the capability of existing Category 7A cabling to support 40-Gbit/sec data transmission. ::
Valerie Maguire is global sales engineer with The Siemon Company (www.siemon.com).
More CIM Articles

View Archived CIM Issues