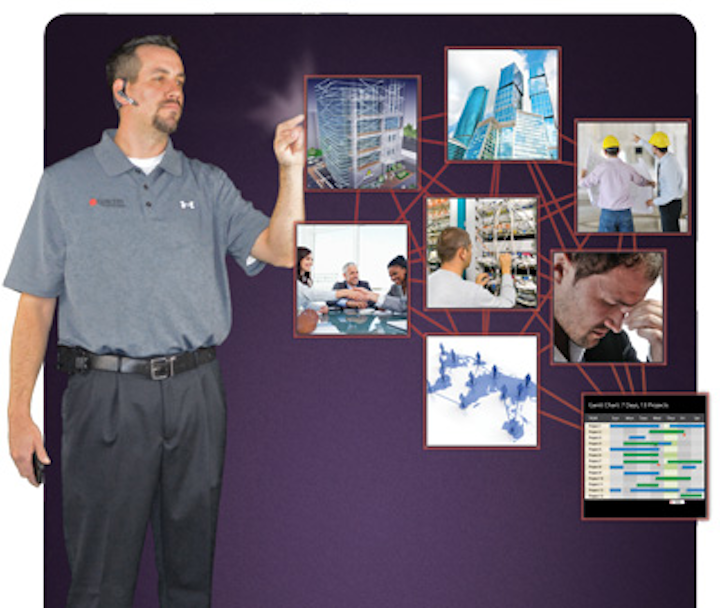 From the January, 2013 Issue of Cabling Installation & Maintenance Magazine
The project manager function, which has evolved over many years, serves stakeholders well.
By Dennis Mazaris, RCDD, RTPM; Concert Technologies
An effective project manager is crucial to the outcome of any project. From defining the objectives of the project and specifying the required tasks, to determining the resources, budgets and schedule needed to meet the objective within a specific timeframe, cost and quality, project managers have become more essential than ever—especially when it comes to technology infrastructure deployments.
In 2010, BICSI announced its purchase of the Telecommunications Project Manager (TPM) training program from Don Nelson Consulting and the new Registered Telecommunications Project Manager (RTPM) credential. As part of the venture, all existing TPMs were grandfathered into the new BICSI credential, which was called the RTPM Interim, or RTPM(i), during the transition phase. In August 2011, the official credential was launched and all interim certificate holders became BICSI RTPMs.
Why did BICSI launch the RTPM? Given the emphasis that they have put on information technology system design and installation over the past 40 years, it only made sense for BICSI to give appropriate attention to the critical task that connects the two. The RTPM is the only credential that effectively infuses the discipline of project management with the specific nuances and technologies involved in deploying a cabling infrastructure. In today's economy, the use of RTPMs can help increase the likelihood of success by minimizing the risk of being over budget and behind schedule.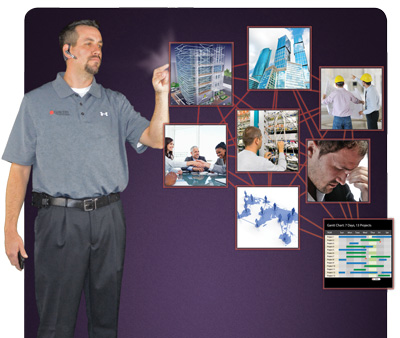 Like a maestro keeping multiple disciplines in harmony, the telecommunications project manager can produce benefits including cost reduction, on-time completion and overall quality improvement to a cabling deployment.
The evolution of the project manager
Somewhere around 1910, Henry Gantt, an American mechanical engineer and management consultant, developed one of the first formalized project management tools—the Gantt chart. A type of bar chart that illustrates a project schedule and the key elements and relationships between the tasks, Gantt charts were first used during World War I and later employed on major infrastructure projects in the 1930s, including the Hoover Dam and the interstate highway system.
In the 1950s, modern project management grew out of various fields, including construction, engineering and defense. The American Association of Cost Engineers further pioneered the concept, and in 1969, the Project Management Institute (PMI) was formed. With the advancement of computer technology in the late 1970s, it made sense to expand project management concepts to other areas like software development and telecommunications. For software development, the adoption was spurred by the fact that nearly 25 percent of projects were failing to reach completion on time and with the appropriate cost and quality. In the telecommunications industry, the adoption of project management was in response to deregulation and changes in technology that led to more service providers and solutions. (Source: "Managing Projects in Telecommunication Services," Mostafa Hashem Sherif, 2006, the Institute of Electrical and Electronics Engineers)
Over the years, the Project Management Professional (PMP) credential offered by PMI has become a popular and well-respected career development strategy as government, commercial and other organizations began employing PMPs to improve the success rate of projects. In fact, the PMP credential was tied for fourth place in CertCities.com's 10 Hottest Certifications for 2006 and two years later, it was number 7 on ZDNet's list of 10 Best Information Technology (IT) Certifications. The PMP credential is considered top-notch; applicants must have a four-year degree and at least three years of project management experience with 4,500 hours leading and directing projects and 35 hours of project management experience, or at least five years of project management experience, with 7,500 hours leading and directing projects and 35 hours of project management.
Enter the RTPM
The skills of a PMP—project initiation, planning, execution, monitoring and completion—can be applied to any project, including network infrastructure deployments. But as technology and networks have continued to evolve, deploying the supporting infrastructure has its own specific challenges, from coordinating with various trades, ensuring jobsite safety and making sure scheduled deadlines are not exceeded, to procuring all of the components, managing the convergence of many different systems and ensuring that the infrastructure ultimately supports the customer's technologies and applications. With full knowledge of the standards and the industry best practices governing the design and installation of technology infrastructure, the RTPM has a more focused role in the process.
"Comparing the RTPM with the PMP credential is like comparing apples and oranges. They are both project management credentials, but they offer something completely different," says Sherri Crist, RTPM, a project manager from the Houston, TX area. "For example, a major healthcare network building a new high-rise hospital would typically have PMPs on staff to manage the entire construction project and work directly with the construction managers and/or general contractors. The RTPM, on the other hand, has a completely different role in the construction project. Often specifications will require an RCDD and BICSI-certified technicians and installers as part of the construction team, which adds a layer of protection to ensure that the projects are designed and installed per the standards. An RTPM that has a very well-rounded overview of these same standards and BICSI best practices is yet another layer of protection. And they can ultimately act as a liaison between the installation, construction and owner management teams."
"Project management is project management. However, each project has elements that are unique to that industry and therefore requires skill and knowledge not normally taught as part of the core project management curriculum," says Matthew Fox, RCDD, RTPM, a project manager for E1 Dynamics Inc. "For example, a software development project has all the same core project management elements as building a six-story office building, but one requires an understanding of how software code is produced and tested while the other requires knowledge of concrete or framing. While a construction project manager could manage a software project, without fully understanding the people, technology and process, it could be a disaster."
Andrew Crone, RTPM, vice president of operations for Concert Technologies, a technology rollout company based in Northern Virginia that employs RTPMs for every project, couldn't agree more. "While we do have PMPs on staff, we decided to have all of our project managers become RTPMs. The PMP credential is somewhat overkill for all of our project managers, and it doesn't specifically focus on the aspects of a technology infrastructure deployment," he says. "The ability of the RTPMs to understand project management processes and terminologies, while relating them specifically to the technology being deployed, is the best of both worlds."
What are the benefits?
An RTPM oversees and coordinates the interaction among designers, engineers, installers and technicians when a new infrastructure project is underway. In addition to personnel and project management expertise, the RTPM has specific knowledge of the cabling components, equipment and technology that all come together to effectively transmit information across a variety of information technology systems. Some of the key benefits of having an RTPM oversee an infrastructure project include the following.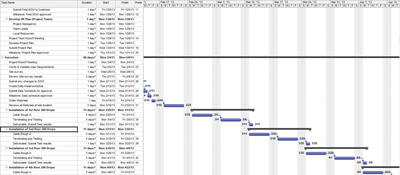 This is an example of a Gantt chart used for a cabling installation project.
Accountability and communication—With designers, technicians, installers, manufacturers and distributors all involved in a cabling infrastructure deployment, having one point of contact who is clearly identified as being responsible for the completion and success of the project gives the general contractor, end customer and the installation crews complete peace of mind. When there is an RTPM to go to with questions and concerns, everyone understands their specific responsibility, and it helps establish a system of communication that keeps everyone on the same page. When there is a potential problem, having one person to identify and correct it goes a long way in keeping the project on schedule, rather than having several individuals trying to fix the problem in different ways.
"With the RTPM's knowledge zeroed in on all the aspects of the infrastructure and what it takes to properly procure, install and test the components for maximum system performance, they can better set up communication plans and manage all of the stakeholders—from working with local government and pulling permits, to providing a complete breakdown of the steps required to install and test the infrastructure so that everyone on the project understands what their roles and responsibilities are on any given day," says Crone.
Cost reduction—In the network cabling industry, the ability to deliver a completed project within budget is critical, especially in today's economy. When no one is responsible for ensuring that the specific tasks stay on track, labor costs can quickly get out of control. This can ultimately cause dissatisfied customers or having to bite the bullet and potentially make no profit. The RTPM can also help ensure that the installation is completed per the scope of work that was agreed upon by the customer. When a project expands beyond the initial scope, everybody ends up paying.
"Because the RTPM understands what it takes to properly deploy an infrastructure and avoid scope creep, they can segment the process and accurately determine the man hours it takes to complete each task, from roughing in the cabling and terminations, to labeling and testing," says Crone. "All of this is done through the use of Gantt charts and other project management strategies that can then be used to show the customer the breakdown of the schedule and the labor. Customers love to see exactly what they are paying for, rather than just throwing an overall labor figure at them with no justification."
On-time delivery—We all know that time is money. Projects that don't stay on schedule not only create dissatisfied customers, they also prevent installers from moving onto the next job. The RTPM provides a means for setting specific goals, determining the tasks required and calculating realistic time frames to deliver the project. As part of the project management process, the RTPM constantly monitors and tracks the nuances of the project to guarantee on-time completion.
"The RTPM can provide a more-detailed approach to materials management by having a one-to-one connection with the manufacturer and distributor to ensure that materials are onsite, on time," says Crist.
Risk mitigation—With an RTPM managing the project, risks can be identified early, which allows the right decisions to be made from the start. In fact, RTPMs are specifically trained in risk management and developing risk plans. For example, the RTPM understands how critical it is to have ample pathway space for the network cabling being installed, and sometimes a different trade is responsible for installing that pathway. The RTPM can therefore include coordination with other trades and pathway inspection as a critical element of the project management process. Because RTPMs have technology deployment experience, they can also apply lessons learned from similar past projects to subsequent projects.
"An RTPM can catch technical deficiencies on the project," says Crist. "An RTPM should also understand the manpower requirements and work directly with operations to ensure that proper safety and certification requirements are met."
Todd Boucher, RCDD, principal of Leading Edge Design Group, a provider of data center design, agrees. "A good project manager will help mitigate the risk of construction cost increases and scheduling delays by proactively identifying field-related issues and working collaboratively with all project stakeholders to develop an appropriate resolution," he says.
Better quality and performance—Because the RTPM knows the ins and outs of TIA cabling standards and installation best practices, such as those outlined in the BICSI Telecommunications Distribution Methods Manual (TDMM), they are better equipped to ensure that the completed project offers the expected quality and performance. The RTPM has the knowledge and experience to accurately calculate the man hours and resources required and to be very detailed in their instructions—from labeling schemes and termination methods to rack and equipment placement. And because they understand the standards and best practices, RTPMs can address any noncompliance issues that occur.
Matthew Odell, RCDD, director of healthcare technologies for S2N Group, a technology contractor that offers a single-point-of-contact for IT services in new construction and renovations, knows firsthand how having project managers with specific cabling knowledge delivers better quality, especially in healthcare projects.
"In the healthcare environment, there are so many different systems that need to come together and ultimately perform," says Odell. "Having someone who knows the cabling technology and how data effectively gets from Point A to B is critical to a successful outcome. If you're managing a technology infrastructure deployment, you need the BICSI background. A PMP may have more in-depth knowledge about budgets, risk assessment and scheduling, but the RTPM will understand the standards, specifications, the equipment and components, the lead time required for materials and all of the costs associated with infrastructure deployment. It's like having a specialized project manager for the job."
Opportunity for success
Technology companies that are embracing the use of a structured project management process and having RTPMs on staff are setting themselves apart and succeeding in today's industry. While a project manager is a benefit on any single technology infrastructure deployment, the role takes on a whole new dimension when dealing with multiple sites or projects that require increased responsibility, coordination and teamwork. Experienced and knowledgeable RTPMs are especially beneficial for technology rollout companies with a core business in multi-site, multi-service, multi-technology rollouts that perform multiple technology infrastructure deployments on a national or global scale.
For Concert Technologies, employing RTPMs on every project helps us successfully complete hundreds of projects weekly. "Our project managers define all of the activities, resources and durations to develop a complete breakdown for each project and then review that with the customer," says Crone. "They collect information from various resources, work with distributors and deliver an extremely accurate bill of materials. Once the projects are underway, they are the main point of contact and responsible for maintaining all of the resources, making sure the teams stay on track and ensuring consistency across multiple project sites."
Our project facilitators, who also acquire the RTPM credential, communicate with the lead technicians multiple times a day, work closely with the project managers and determine precisely what will be done on each subsequent day.
Having worked with an RTPM, Mark Hogan with the Social Security Administration knows the value of having a project manager oversee multiple sites. "We have various buildings and sites around the country, which requires us to deal with different groups of people, from landlords to GSAs," he says. "Having one person to negotiate everything has given us complete peace of mind and guaranteed the same success regardless of the location. We have more than 25 different sites, and having a dedicated project manager for all of them was like having a right-hand man on the job. Every site passed the specs we required as a government agency, and everything was the same, from Alabama to New York."
A true career path
Becoming an RTPM is an ideal opportunity for anyone already involved with managing and coordinating network infrastructure projects, such as lead technicians or team leaders. Recommended for anyone sitting for the RTPM exam, BICSI offers a five-day course, PM110: Telecommunications Project Management, which covers the entire cycle of a project, with emphasis on construction projects as they relate to network infrastructure design and installation.
"I see the RTPM as a true career path for individuals in our industry," says Crone. "It's also an excellent credential for field technicians to acquire. Our field technicians that have the RTPM truly understand their marching orders and can give better feedback to project managers and eventually become project managers themselves. The RTPM credential and expertise allows us to provide a clear and defined scope of work and schedule for each and every project."
We currently have more than 30 RTPMs on staff and require that new project managers and facilitators acquire the credential within a year.
Boucher has witnessed the value of a skilled project manager. "Having a qualified project manager with an intimate knowledge of both the telecommunications industry and the project management process is critical to the success of any project," he says. "He or she will serve as your representative throughout the construction process, ensuring that the installation is executed in a manner consistent with the design, specifications and industry standards." ::
Dennis Mmazaris, RCDD, RTPM is President and CEO of Concert Technologies (www.concerttech.com).