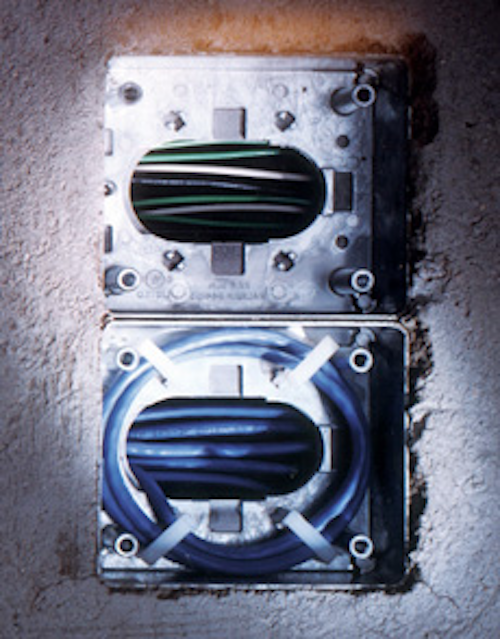 November, 2011 Issue of Cabling Installation & Maintenance Magazine
As formerly vacant office space gets occupied by a new tenant, it is worth checking existing pathways to see if they can support new cabling systems.
With Hanh Le and Jim Humphries, Legrand Wiremold Interview conducted by Patrick McLaughlin
According to recent data, the nonresidential building construction market in the United States continues on a pace that can be described as soft. Reed Construction Data's (www.reedconstructiondata.com) Construction Economic Notes for June 2013 stated that nonresidential building construction spending totaled $288.3 billion for the month of April, which was down 1.4 percent from March. The cumulative January-through-April 2013 spending on nonresidential building construction was down 1.1 percent from the same time period in 2012.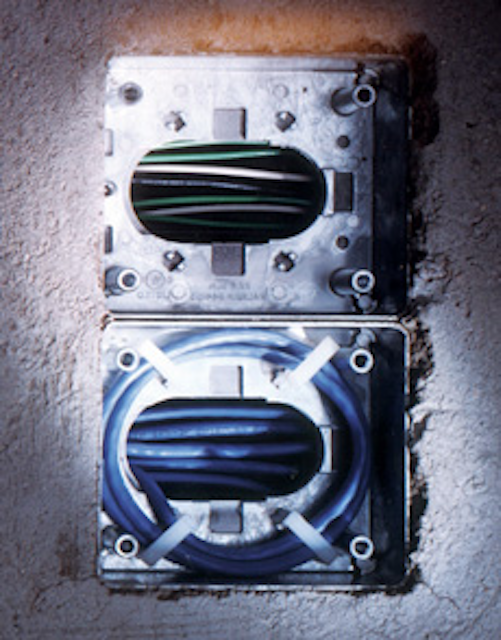 This is a look inside an infloor duct. An afterset would be placed here to create a new activation for power and/or data.
Meanwhile, CBRE (www.cbre.com) issued a report on U.S. office vacancy rates that covered the second quarter of calendar year 2013. The report also referenced first-quarter 2013 vacancy rates. CBRE tracks office vacancy rates in the 13 largest U.S. markets. Of those 13, 10 experienced declines in vacancy rates in Q2 versus Q1. The vacancy rate in two other markets (the nation's most-populated cities, Los Angeles and New York) held steady. Of the 13 largest U.S. markets, only Washington D.C. experienced an office-vacancy-rate increase in the second quarter of the year. The company's interim head of research for the Americas, Brook Scott, noted, "Continued job growth and minimal new office development is leading to tighter conditions in most major U.S. office markets."
A practical reality for an organization moving into leased office space is that the space previously has been occupied. Another very real possibility is that the space contains pathways that may be able to house the new structured cabling system the tenant will install. This current state-of-the-market raises the issue for many user organizations of how they might capitalize on existing pathways to gain whatever efficiencies they can as they move into the new premises.
We at Cabling Installation & Maintenance interviewed Legrand's (www.legrand.us) Hanh Le, product marketing manager and Jim Humphries, senior engineered products consultant on this topic. Le and Humphries pay specific attention to Legrand's Wiremold brand cable-management products, including those that network and cabling-system managers can use in existing-duct situations like those described here.
Here is our Q&A with Hanh Le and Jim Humphries.
Q: How can a new occupant of a building determine if there is an existing in-floor duct system that might be used as a pathway for communications cabling? Might the building owner have drawings to identify these pathways? Are there visible signs of such ducts that can be viewed during a walkthrough of an empty facility?
A: A new occupant can determine that there is an infloor system by looking for the access covers in the concrete that is flush with the finished floor. Or, they may have service fittings (activation locations attached), which may either be flush with the finished floor or extend above the surface of the floor.
If the building has been built within the past 30 years, the building owner most likely will have access to drawings of the building, which should include the layout of the infloor system if there is one. If the building is older than that, it is less likely that the owner will be able to access such drawings.
The only visible signs of the ducts are the access covers and service fittings/activation locations. Also, an individual may be able to see the location of the cable feeds in the data and power rooms.
Q:Once it has been established that ducts exist, should a tenant/occupant conduct certain checks to ensure the duct can actually be used? It seems one obvious such check would be to access the duct to see if there is any space within it in which cable could fit.
A: Yes, there does need to be an evaluation of the duct system to make sure the duct runs are continuous. On occasion, when certain occupants/tenants remodel a space, they will cut out the floor and remove certain duct runs to make room for floor boxes or poke-throughs. If this is the case, the duct runs are not continuous and therefore cannot be used without adding these duct runs back into the system.
Q: If an occupant does find a mass of cables within an existing duct, are there recommended practices for determining whether or not the cable is in use, and therefore determining whether or not it can be removed?
A: Abandoned cables can always be removed out of duct runs, but care should be taken of any current cables within the duct run that are still in use during such removal. A certified electrician or data-communications installer can always verify which cables are in use and therefore not removable.
Q: Generally speaking, the existing duct that occupants find in their leased space probably is as old as the building itself. Are there indicators that a duct could use some type of modification—either functional or cosmetic—in order to be used for the installation of new cabling? If so, what types of products are available to accommodate such modification?
A: These duct systems are specifically designed for maximum flexibility and moves/adds/changes. Unless the system is more than 30 years old, most can be easily renewed by pulling new cables and with the addition of new service fittings/activation locations.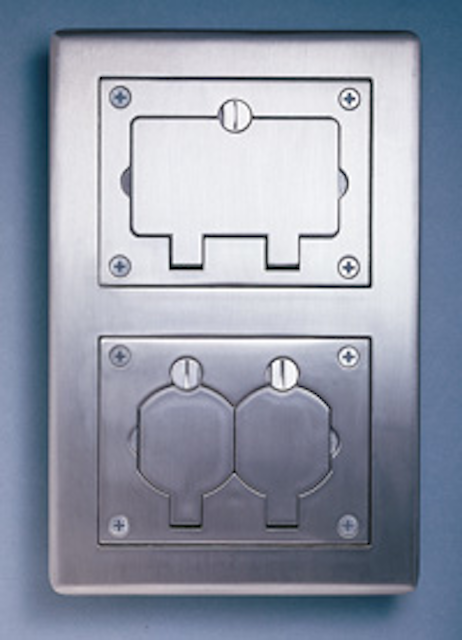 New aluminum covers are one of many styles of activation covers that work with retrofitted underfloor duct.
Q: Do products or technologies exist that enable a building occupant to use an existing duct system, without the location of that duct dictating the location or layout of a telecommunications room? In other words, what products or technologies can a network owner use, if necessary, to route cables from a duct to a telecommunications room, if there is some distance between the two?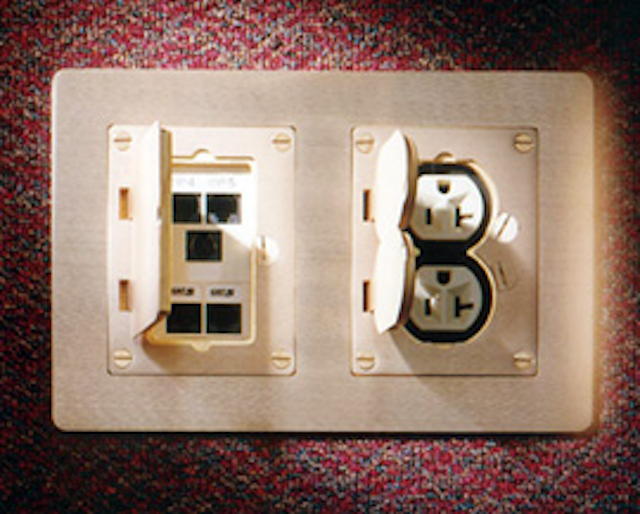 Shown here is an activation for power and data. These flush fittings can be used to replace older 'doghouse' or 'tombstone' style activations.
A: Yes, products are available. If the duct system will not accommodate the new telecommunications room or a workstation layout, new duct runs or conduit can always be added to accommodate and connect to an existing duct system. ::
Hanh Le is product marketing manager and Jim Humphries is senior engineered products consultant for Legrand North America (www.legrand.us). Cabling Installation & Maintenance chief editor Patrick McLaughlin posed the questions to Le and Humphries, and also provided the market-report information at the beginning of this article.
More CIM Articles

View Archived CIM Issues