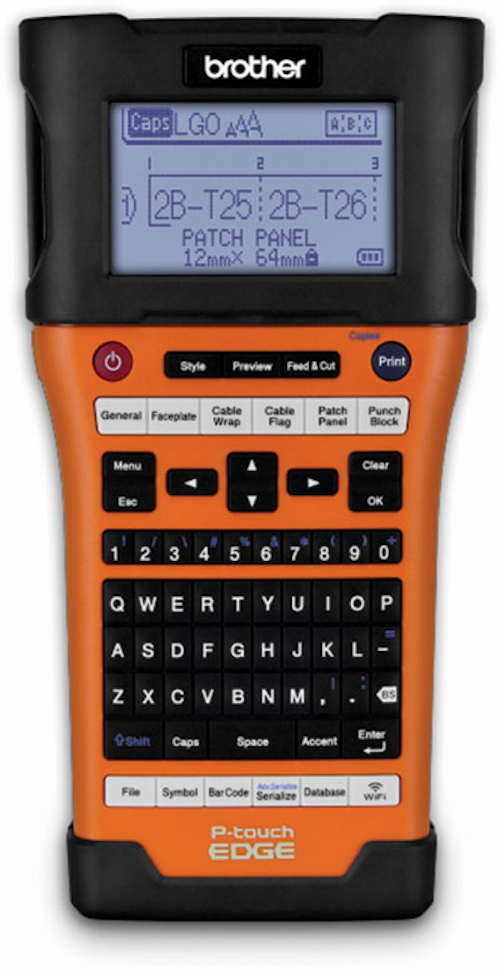 Clear, durable labeling of cabling network installations, from termination to destination, reduces maintenance time and costs, and mitigates risk of unexpected downtime.
By Craig Robinson, RCDD, Brother Mobile Solutions
In the article "Standards-based labeling for an effective network-identification plan" (March 2014, p. 5), I discussed why a professionally installed cable identification and management system based on the ANSI/TIA-606-B standard is key to ensuring a high-performing network infrastructure for the long term.
Today's observations, gleaned from installers and contractors we work with, focus on how properly implemented end-to-end labeling of cables and network components, as well as ongoing documentation of subsequent moves, adds and changes (MACs), actually results in measurable time and cost efficiencies and contribute to keeping the network up and running, as well as preventing unexpected and often-costly downtime.
The consensus among industry professionals seems to be that implementing a durable, end-to-end labeling ID scheme and permanent, dynamic cable management system to document all MACs accomplishes the following.
• Adds value over the network's entire lifecycle by assuring accuracy and reducing human error as the network evolves and is often worked on by different entities, both internal and external.
• Helps meet audit compliance when seeking to ensure manufacturer and performance warranties. This has become increasingly important as organizations strive to protect their assets and technology investments. In today's world, they also want to do everything possible to ensure their network's security, performance and reliability for years into the future.
• Dramatically reduces troubleshooting time. Whether performed by an external support partner or the facility owner's IT staff, the time required to track-and-trace problems and fix them can often be reduced from days to just hours, and sometimes even minutes.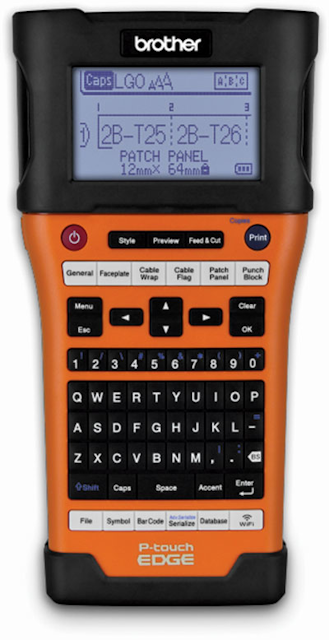 The Brother P-Touch Edge PT-E550W is the newest addition to the Edge family of industrial handheld labelers. It offers 802.11b/g WiFi connectivity for data transfer and printing directly from smart devices in the field.
• Mitigates risk of unexpected downtime. In any enterprise, unplanned network or data center downtime is a real pain and can be costly in terms of lost productivity and lost business. In some networks-healthcare or military, for example-even a short-term network or data center failure can have even more devastating results.
From the field:
One contractor's viewpoint
Bill Lenz, RCDD of Genesis Cabling in Norfolk, VA (www.genesiscablingservices.com) is an experienced BICSI-certified Technician. Genesis designs, installs and supports voice, data, and fiber-optic structured cabling solutions for diverse clients including the U.S. military, commercial enterprises, healthcare facilities and educational institutions.
"In designing and installing new cabling systems in every class, our goal is to have our clients comply with the ANSI/TIA-606-B standard," notes Lenz. "The 606-B standard is not mandated, but rather provides guidelines that are based on universally accepted industry best practices.
"However, adherence to the 606-B standard may not always be possible," Lenz continues. "For example, when Genesis is called in to perform a network upgrade or repair an existing installation we did not originally install, it can be a challenge. In these cases, our technicians do their best to provide clients with a uniform and logical labeling scheme they can follow going forward."
Lenz provides the following examples.
• Genesis was called in to a local business where the customer's IT team had spent several days trying to pinpoint a signal performance problem. Although the cable labeling was not done per the standard, his crew was able to perform the needed tracking and tracing in just minutes using specialized test instruments. Time is money, as the saying goes, and that client could have saved quite a bit of both had the labeling been done properly.
• A chain hotel in Maryland hired Genesis to terminate 50 new cables that had been installed. Genesis found the cable labeling had been done improperly, and was not useful. The problem? The cables were labeled only at the point of termination in the telecommunications room, not at the other end (i.e. the work-area destination), as specified in the ANSI/TIA-606-B standard. So a project that should have taken the Genesis team only a few work hours to terminate and test, instead required more than 20 work hours to trace, terminate and properly label-at both ends. Here again, money was wasted simply because the original installer had neglected to label cable runs at both the termination and destination points.
• An architectural firm housed in a 15-story office building in the Mid-Atlantic region had a self-designed cable labeling and management scheme that was not 606-B compliant. The plan had been implemented over 15 floors, so changing it to meet the now-universal standard was not an option. However, because the overall floor drawings seemed to be orderly and up-to-date, the Genesis team worked within the client's protocol to keep everything uniform. They also documented the new MACs to facilitate future maintenance and repairs.
A few final words
As a long-standing BICSI-certified Technician and instructor of all things network-related, Lenz offered up a few final pieces of advice to help organizations and their installation partners begin to realize the time and cost efficiencies a well-planned, well-maintained cable labeling and management system can deliver to add value, security and longevity to the mission-critical LAN or data center.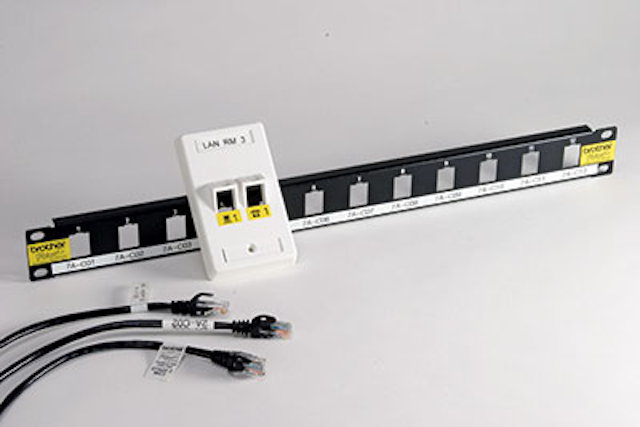 Ideally an end-user organization's labeling scheme will comply with ANSI/TIA-606-B. But as Genesis Cabling's experience indicates, even if a scheme does not necessarily comply with the standard, having orderly, up-to-date floor drawings and labels greatly assists cabling-plant administration.
For network owners and administrators, he cautions: "Select a cabling partner having one or more qualified RCDD professionals on staff. Whether your cable labeling scheme is 606-B compliant or not, these highly qualified professionals have the knowledge, skills and technology needed to help you build and maintain a high-performing network."
For fellow contractors and installation professionals, Lenz advises: "The faster and more professionally your crew can tackle and complete each project, the more profitable it will be. Having the right tools is essential. Be sure to equip your crew with rugged, easy-to-use wireless labeling tools that can quickly generate clear, legible thermal labels that stand the test of time. The best of today's next-generation handheld industrial labelers are very affordable, plus they feature smart technology and have versatility to handle just about all of your labeling requirements."
---
Craig Robinson, RCDD, manages growth strategy, channel, and business development initiatives for the Brother P-Touch Edge family of labeling products for Brother Mobile Solutions (www.edgelabeling.com).