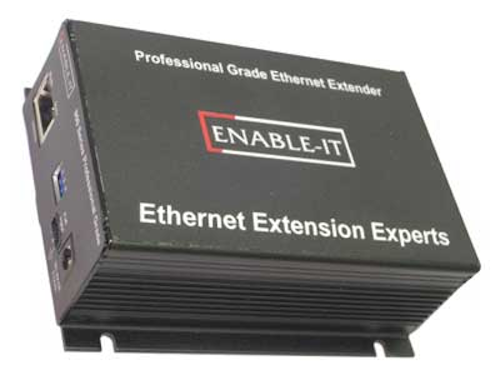 From the June, 2014 Issue of Cabling Installation & Maintenance Magazine
Deployed in many challenging environments, extenders help installers and users buck the notion that copper's reach tops out at 100 meters.
by Daniel Cook, EnableIT
Systems integrators and cabling installers often face situations in which they must exceed the 100-meter limit for twisted-pair copper-based Ethernet channels. A business campus, for example, might require high-bandwidth links between its various buildings or local area networks (LANs), or links between its Internet Protocol (IP) surveillance cameras, and one or more security stations up to a mile away. Somehow these vast distances must be bridged.
Typically, integrators and installers immediately have turned to fiber to establish such links. However there is an alternative solution that provides equally reliable long-distance data transmission, along with several other key advantages. That solution is the use of Ethernet extenders. As this overview will demonstrate, in some important ways-such as in power transmission, cost-effectiveness and ease of troubleshooting-Ethernet extenders compare favorably to fiber and other alternatives.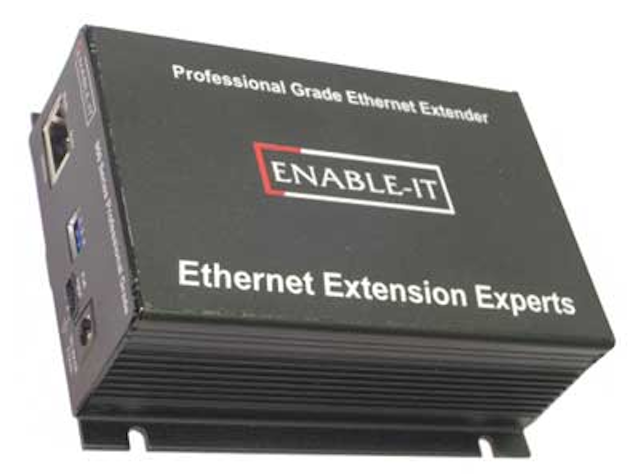 Shown here is a product from Enable-IT's 800 series Ethernet extenders. Mini remotely operated vehicle (miniROV) manufacturer Seabotix deployed a slightly customized version of Enable-IT's 860 Ethernet extender in its miniROVs' tethers, which carry video signals from the sea floor to a surface vessel.
The fiber option
While fiber and Ethernet extenders both provide reliable long-distance data transmission, the former consistently takes a much larger bite out of budgets. There are several reasons for the cost discrepancy. First is the potentially substantial labor costs for contracting/subcontracting fiber specialists to install fiber cabling. Then, of course, there are the costs to troubleshoot fiber faults. The combined operating expenses could be very heavy.
Installation of Ethernet extenders, on the other hand, is far more cost-effective. Systems integrators and cabling installers can use copper wiring, such as Category-rated cable, telco copper pairing, or coaxial cable to create highly reliable connections that go up to 20 times Ethernet's distance limit. In fact, the necessary wiring is sometimes already in place. In these cases labor and operating costs are dramatically lower with Ethernet extenders, as the physical infrastructure is already there. Whether or not the infrastructure is already in place, the use of Ethernet extenders does not require the expertise and associated cost of a fiber-installation specialist. What's more, if something goes wrong, it often is easy to switch to another dry pair of wiring.
Power transmission is where fiber truly comes up short because one simply cannot send power over light. Ethernet extenders, on the other hand, can send power over copper in the form of Power over Ethernet (PoE), which systems integrators often and conveniently use to power IP devices such as security cameras that have been mounted far from a power source. And in this sort of scenario, Ethernet extenders can drive data and PoE all the way up to 2,500 feet.
Alternative solutions
Ethernet repeaters. Another option available to systems integrators and cabling installers is Ethernet repeaters. Ethernet repeaters are often confused for Ethernet extenders, but it is important to emphasize that Ethernet repeaters are not Ethernet extenders. Repeaters simply extend Ethernet data an additional 100 meters, and each repeater requires a power source. If you have to drive data up to 500 meters, for example, you will have to install and pay for a daisy-chain of four repeaters.
Such an approach naturally introduces more installation time and more potential points of failure, thereby compounding the chance that you'll need to troubleshoot problems later. Ethernet extenders, which usually come in the form of a two-transceiver "kit," require far less equipment and seamlessly drive data up to a mile away (depending on the manufacturer), with no bridging in between. This dramatically reduces the probability of failure. This also means that systems integrators and cabling installers need not worry about having to route their cables near numerous power sources along their installation path, like you would with Ethernet repeaters.
Wireless or WiFi. Systems integrators and cabling installers also may select WiFi as a medium for long-distance data transmission. Unfortunately, wireless is far from foolproof and not optimal for secure communications. Inclement weather can impede signals and sever connections at critical moments. In contrast, the sheathed conduits of a long-distance Ethernet extension are virtually weatherproof and some extender units themselves also are weatherproof.
Additionally, WiFi is vulnerable to cybersecurity breaches. Regardless of whether a wireless system is using WEP or WPA2, it can be cracked if a hacker has enough persistence. Ethernet extenders, like any hard-wired solution, requires a hacker to have physical access to the connection in order for a breach to occur. And the added security of using physical wire is, after all, the reason many are hired to integrate or lay down cable.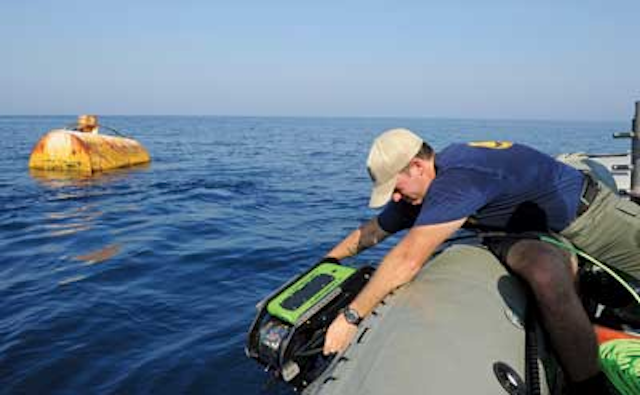 SeaBotix, a manufacturer of underwater miniROVs, uses a customized version of EnableIT's 860 Pro Ethernet extender in its products' tethers.
Ethernet extenders
Understandably, increasing numbers of installers and integrators are reconsidering copper as a medium for long-distance Ethernet transmission. Much of this new outlook has been shaped by the proven effectiveness of Ethernet extenders. Based on the foregoing comparisons, this technology has steadily emerged as a go-to solution offering reliability, cost-effectiveness and security, all bundled into a single user-friendly package. We summarize the Ethernet extender as a plug-and-go copper-based solution that can seamlessly drive data up to a mile away, or data and PoE up to 2,500 feet away.
Ethernet extenders truly are plug-and-go. To get an extender kit up and running, installers need to connect their designated Ethernet data source, such as an IP camera or LAN, to one of the kit's transceivers. Then connect any one of the three copper wire types mentioned previously (Category-rated, telco or coaxial) to the "interlink" port of that transceiver, and route the cable up to a mile away-ultimately connecting it to the interlink port of the kit's other transceiver. That is how simple it is to connect LAN to LAN or IP device to network at long distances (again, up to a mile depending on the extender manufacturer), without any bridging in between.
Real-world uses
In the summer of 2010 SeaBotix, a manufacturer of underwater miniROVs (remotely operated vehicles) had been evaluating fiber alternatives for use in some of its products' tethers. At the time, some of the miniROVs SeaBotix was testing were equipped with high-definition, 1080p video cameras, and they were to send their high-bandwidth data back to a surface vessel along a highly flexible tether, or "umbilical cord," quite a distance away.
Naturally, fiber was the first solution SeaBotix considered. But in real-world deployment, the frigid waters common to deep-sea exploration may cause fiber to become brittle. To exacerbate matters, SeaBotix miniROVs excel at crawling around sea floors, which means that their tethers must be able to maneuver around and/or absorb obstructions.
SeaBotix took some time, conducted research, and contacted us about Ethernet extension solutions that might work in demanding deep-sea environments. The company eventually deployed slightly customized versions of Enable-IT's 860 Ethernet extenders, which met the mission's parameters for long-distance data, driving data up to one mile away over basic copper cabling (in this case, Category rated). The selected extenders also managed to do so over a single pair of copper wiring, which easily fit into the miniROV's tether.
Seabotix stated, "These Ethernet extenders have successfully met all of our performance requirements, facilitating exceptional video feedback to the operator of the ROV. Equally important, this configuration has provided significant savings in both space and money, now and in the future."
The next use case for Enable-IT Ethernet extenders shoots us up from the sea floor into a high-rise building. Elevator manufacturer and systems integrator ThyssenKrupp wanted to speed up the already efficient elevator operations of a prominent Miami, FL high-rise with 12 modern elevators. Among these elevators' systems were those of card readers, monitoring and communications. To manage it all, a roof-level processing unit was linked to a computer console in the building's lobby 1,200 feet below-well beyond copper-based Ethernet's distance limit.
ThyssenKrupp could have installer fiber to provide higher speed and greater throughput. But the building already was full of copper infrastructure. In that case, then, a question became whether or not they could have used Ethernet repeaters. The judgment was made not to use repeaters, because doing so would have compounded the risk of future failure.
Again, Ethernet extenders appeared to be an optimal choice. Like SeaBotix, ThyssenKrupp installed a pair of long-range Ethernet extenders, with one unit installed on the roof and another installed near the lobby computer. The entire process was completed in a few hours. The improved performance was immediately noticeable and significant. According to ThyssenKrupp, the speed of certain elevator operations tripled.
Proven in a wide range of applications, Ethernet extenders give copper new life in long-distance contexts, as well as distinct advantages- such as reliability, cost-effectiveness and PoE-over long-distance alternatives like fiber, wireless and Ethernet repeaters.
Systems integrators and cabling installers, particularly including those in developing nations, might want to think twice before making the jump to fiber and its intricacies. You may already have the infrastructure-telco, Category-rated or coaxial copper-to drive your data, power, and capabilities to extended lengths.
Daniel Cook is CEO and chief engineer at EnableIT (www.enableit.com).