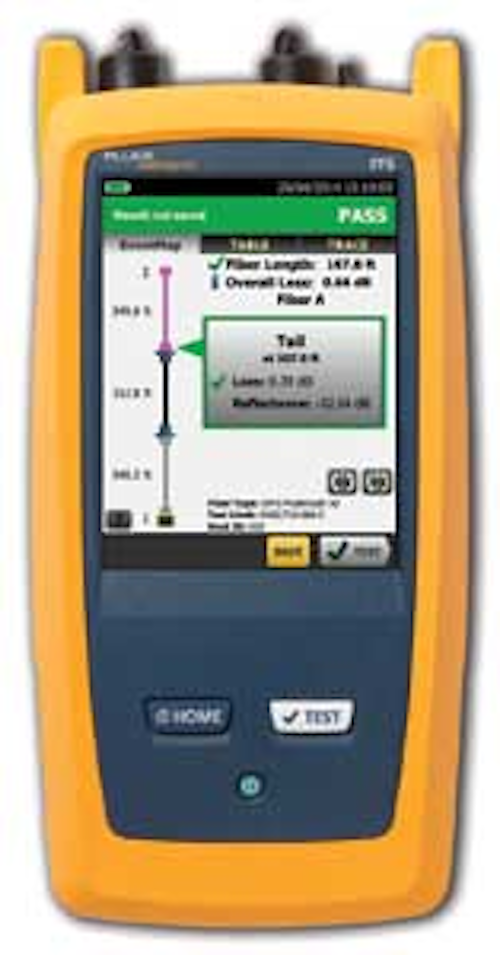 From the June, 2014 Issue of Cabling Installation & Maintenance Magazine
SmartLoop OTDR
The SmartLoop OTDR enables automated testing and analysis of two fibers in a single test. The patent-pending process automatically separates the two fibers for individual pass/fail analysis, display, and reporting. "Not only does this cut the testing time by at least half, it also enables bidirectional testing without moving the OTDR to the far end," Fluke Networks explains. "In addition to getting the job done more quickly, SmartLoop OTDR further enhances the ease and speed of testing in environments where the far end is difficult or even dangerous to reach, because the OTDR never has to be moved to the far end." SmartLoop OTDR is offered as a firmware download to the current line of OptiFiber Pro testers.
Fluke Networks
www.flukenetworks.com
FiberWarrior Pro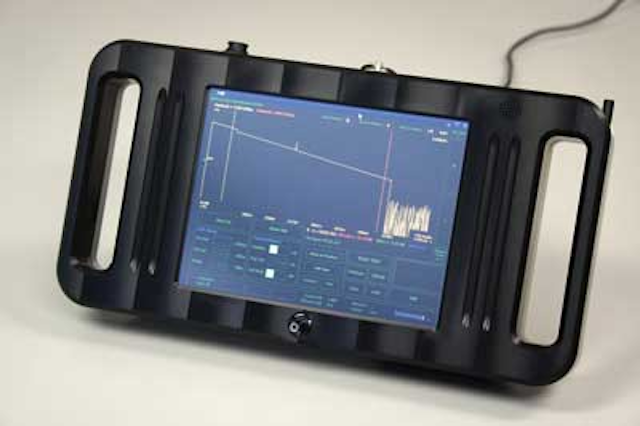 The FiberWarrior Pro OTDR from OptiConcepts features a high-performance processor, sophisticated signal processing, and advanced software design, the company says. The 8.4-inch thin film transistor (TFT) liquid crystal display (LCD) touchscreen "provides users with a high-quality solution for analyzing fiber in both lab and field environments," OptiConcepts adds. The OTDR includes a kickstand and mounting holes for use with standard LCD mounts. Grips on both sides of the display facilitate easy handling and mobility, the company adds.
The touch screen is customizable, which OptiConcepts explains enhances and simplifies usability by eliminating buttons and controls. The OTDR is a modular-based platform that is expandable with other FiberWarrior brand testing modules, including power meters and optical sources.
OptiConcepts
www.opticoncepts.com
SmartOTDR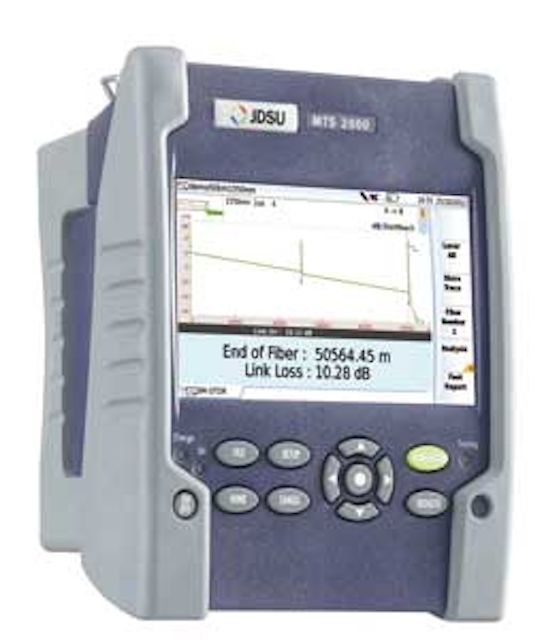 JDSU describes its SmartOTDR as "a compact and easy OTDR test solution that guarantees accurate, consistent and repeatable results every time for technicians of any skill level." The OTDR is available in a singlemode version, and can be upgraded with multimode-fiber test capability. "It is perfect for the installation and maintenance of interbuilding enterprise networks," JDSU explains. "The SmartOTDR can also be upgraded with Smart Link Mapper (SLM) application. The SLM intelligent optical software application helps technicians use an OTDR more effectively, without the need to interpret OTDR results." Each event is displayed as an icon, giving users a schematic view of the entire fiber link, the company says, adding that SLM can completely correlate to the original OTDR trace as experts desire.
JDSU
www.jdsu.com
M-Series OTDRs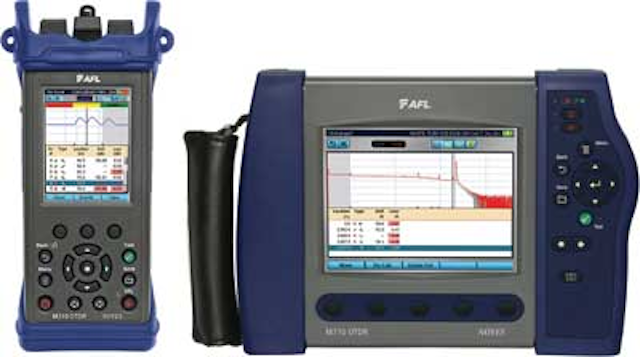 AFL's M-Series OTDRs provide accuracy, performance, and convenience, the company says. The OTDRs "provide ideal solutions to address testing challenges for data centers, enterprise, campus, DOT/ITS and SAN/LAN/WAN fiber networks," the company explains. "Patented TruEvent technology provides the industry's most accurate and reliable event detection for characterizing singlemode/multimode installations, or troubleshooting faulty optical networks." With dead zones of less than 1 meter and dynamic range up to 44 dB, the M-Series OTDRs "can troubleshoot many network configurations," the company adds.
AFL further characterizes the testers as lightweight, sized to be handheld, and field-ruggedized with a battery life of up to 16 hours, an indoor/outdoor display, as well as built-in power meter and visual fault locator. OTDRs from AFL are supplied with TRM 2.0 PC-based test data management and reporting software. The M-Series are available in two display sizes with dual-, triple- or quad-wavelength options and are "inspection-ready with a DFS1 Digital FiberScope connected to the USB port," AFL says.
Equipment financing service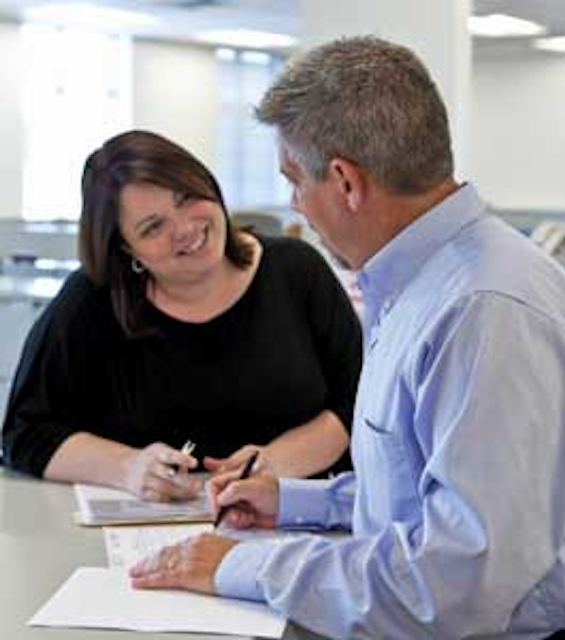 Graybar Financial Services (GFS), the equipment-financing subsidiary of Graybar, "specializes in providing competitive, value-added financing solutions to commercial and government customers that are interested in acquiring equipment and services," the company says. OTDRs are among the equipment that can be financed. GFS further explains, "We add value for our contractors and resellers by providing them with the ability to offer a 100-percent project financing solution to their end-user customers. Doing so enables them to provide a complete solution by bundling charges related to equipment, installation, maintenance and software into a monthly payment option."
Graybar Financial Services
www.graybar.com
OTDR reflector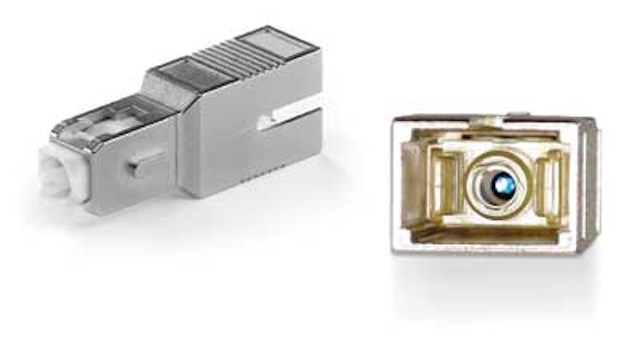 Senko's OTDR Reflector can be inserted at any point within an optical network to enable the fiber-optic connection's integrity to be checked by an OTDR, either in the field or by remote monitoring systems. A thin film filter is coated onto the receiving ferrule, Senko explains, and no additional components are required. The filter passes passive optical network wavelength bands, and reflects all wavelengths beyond 1600 nm.
Senko Advanced Components
www.senko.com
intelligent Optical Link Mapper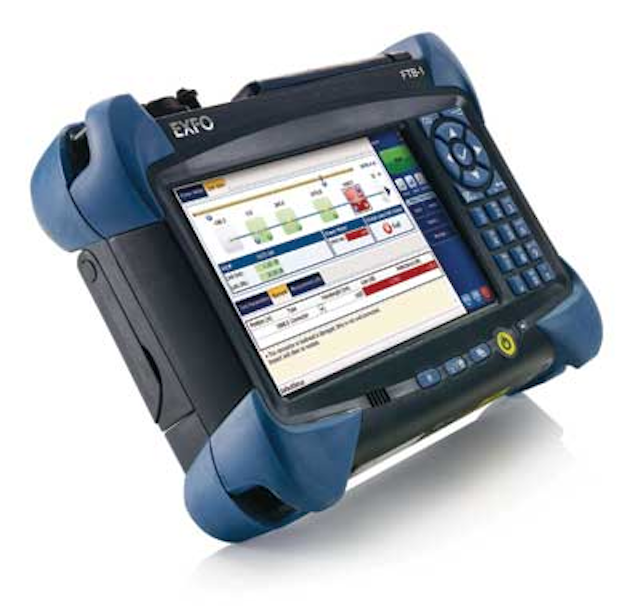 The iOLM-intelligent Optical Link Mapper-from EXFO is now available for Tier 2 multimode-fiber testing. "With tighter loss budgets in enterprise and data center networks in conjunction with 40G/100G high-speed requirements, accurate and repeatable Tier 2 testing is a must," EXFO explains. "The iOLM is designed to simplify OTDR testing by eliminating the need to set parameters, or analyze and interpret multiple, complex OTDR traces."
The company further explains that by combining multiple pulse widths on multiple wavelengths using advanced algorithms, the iOLM correlates all OTDR results to ensure that faults are located and identified with maximum resolution. It does so with a single button-push, EXFO emphasizes. "The iOLM makes it possible for fiber technicians of all skill levels to characterize end-to-end fiber links the same way that an experienced OTDR technician would," EXFO says, "while also removing the risk of misinterpretation. For network operators, this translates into faster and more-accurate fiber testing, which is key to achieving more-reliable networks and reducing costly downtime."
EXFO
www.exfo.com
FTE7000A
Terahertz Technologies Inc.'s (TTI) FTE7000A touch-screen OTDR with video scope includes probe, power meter and continuous-wave (CW) fiber identifier light source. "The video scope features IEC 61300-3-35 pass/fail endface grading map system," TTI explains. "This intuitive touch-screen OTDR has a 36-dB range, 1-meter dead zone with full graph mode as well as tabular event table, and Fib-R-Map event schematic mode."
Users can employ the autotest mode to get a quick range of the fiber if it is unknown, the company points out, or use the expert mode to get the most-comprehensive trace possible. The OTDR's construction mode allows for fast acquisition and storage of test data when many scans of similar fibers are required, TTI adds. "System optical return loss, event reflectivity and macro bend analysis is automatically displayed," the company notes. "The FTE7000A has a project-based file system that is used to set project test parameters for future use and to keep all associated project SOR [standard OTDR record] trace, scope and LTS files together in one folder for quick access." Files can be downloaded to a computer for viewing with the included CertSoft software package, which also can generate reports of the OTDR trace, standard event table, Fib-R-Map schematic view, test results and an image of the connector endface.
Terahertz Technologies Inc.
www.teratec.us