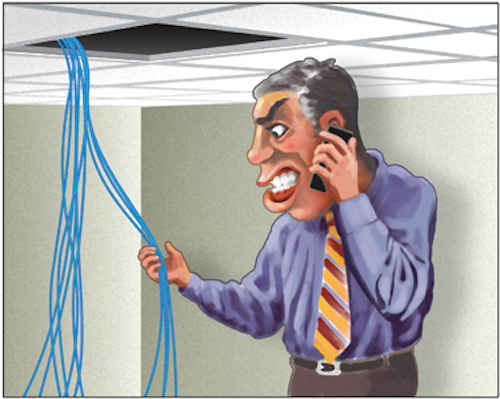 From the October, 2014 Issue of Cabling Installation & Maintenance Magazine
The project you described in your recent editorial ("I tested my patience. It failed." August 2014) is a good example of the need for a general contractor (GC). Some argue it's a waste of money to pay a GC for something they can do themselves. But unless you're retired or have a job that allows you to stay on-site, hound-dog the subcontractors that are no-shows, and oversee the project, a "good" GC is worth the money.
I work for an electrical contractor and have had the opportunity to work with many GCs as well as individuals who want to sub out their own projects. I personally prefer to deal with the GC on a project, mainly because the average individual overseeing it themselves lacks the construction knowledge to schedule the various trades so the work flows. I'm sure you have seen how a trade can hold up another one from being able to do their task.
My other argument for using a GC is this: A busy good GC has preferred subs. They understand each other and have an open line of communication (usually). The GC also tends to use these subs on a regular basis and the sub values the GC because the GC helps keep the sub in work. This is the main reason these subs are responsive and, for the most part, punctual when the GC schedules them for a job. They have a reason to keep the GC happy, whereas if you are a one-time customer-even using the same sub-they may not respond to you in the same manner. They are probably putting you off while trying to keep the GC, who calls them on a regular basis, happy!
But not all GCs are equal. Finding a good one takes some research. A good GC usually stays very busy, and you may be required to wait several months before they can get to your project. For your next project, ask around, get some recommendations, make some calls to their customers, and find out which one has happy customers that would use them again. Most of all, start off early, plan ahead, and put everything in writing. Have your own plan for the GC to follow. The more you communicate to them on the front end, the clearer the scope of work will be, and the less chance of miscommunication-leading to unhappiness.
J. Steven Fowler;
electrical estimation
Received via email