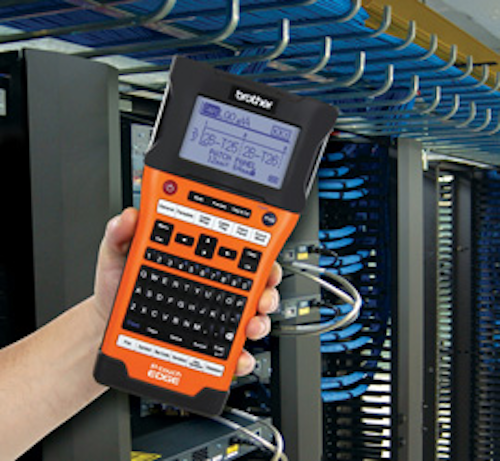 From the March, 2014 Issue of Cabling Installation & Maintenance Magazine
Clear, durable labeling and dynamic cable management are cornerstones of a professionally installed network cabling infrastructure.
By Craig Robinson, RCDD, Brother Mobile Solutions
A well-executed network infrastructure labeling system and cable-management administration system are essential to a properly installed structured cabling system. They help to simplify troubleshooting, lower the long-term cost of ownership, and ensure quality assurance and audit compliance with manufacturer and installer warranty terms.
The ANSI/TIA-606-B standard for identification and labeling passed in 2012 provides clear specifications for labeling and administrative best practices across all networked systems classes. The updated standard covers more facility classes of every size and type, from small office buildings to large commercial enterprises, corporate campuses and data centers, and adds more granularity to identification locations within each of these facilities. While not mandatory, these guidelines help professional contractors and installers ensure quality assurance for the long-term.
The trend has been to follow a logical, standards-based network infrastructure labeling scheme, which can help to reduce human error and save time and costs over the network's lifecycle. An increasing number of facility owners, managers and IT directors, as well as information technology system (ITS) designers, integrators, contractors and installers today are calling for the inclusion of standards-based labeling and administration in their project specifications.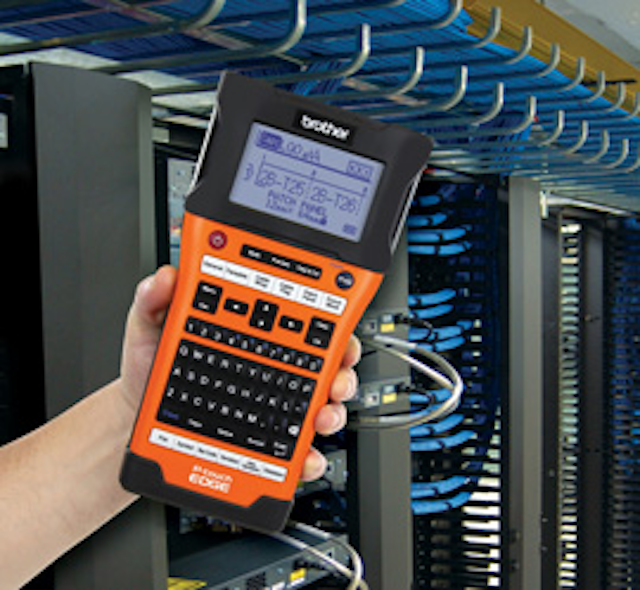 Brother says its P-touch EDGE PT-E500 industrial handheld labeling tool is designed by professionals for professionals, offering smart technology, reliable performance and ease of use.

Overview of the 606-B standard
On the labeling side, the ANSI/TIA-606-B standard calls for text on the labels to be machine-generated and visible, and for cables and pathways to be labeled at both ends for ease of tracing from either direction. In addition, the labels should meet the UL 969 specification for legibility, defacement and adhesion. This means they should be rugged, tamper- and smear-resistant and able to withstand environmental conditions such as heat, moisture and ultraviolet light. And they should have a design life equal to or greater than that of the labeled components.
It is clear from the guidelines that a logical, end-to-end labeling scheme throughout the information infrastructure can help make it faster and easier to troubleshoot if a problem should occur in a particular cabling run or connection. It not only saves tracking and tracing time, but also speeds up remediation measures to minimize costly downtime.
On the administration side, the 606-B standard states that the facility owner or IT staff must ensure that the cable and component identification system be updated to reflect future moves, adds and changes (MACs) that will inevitably occur, and that they maintain a permanent record of the installation and subsequent changes. A complete and dynamic record of the physical infrastructure provides all parties with an accurate blueprint to follow should the configuration need to be created, in whole or in part, due to damage or destruction from fire, flood, earthquake or other mishap.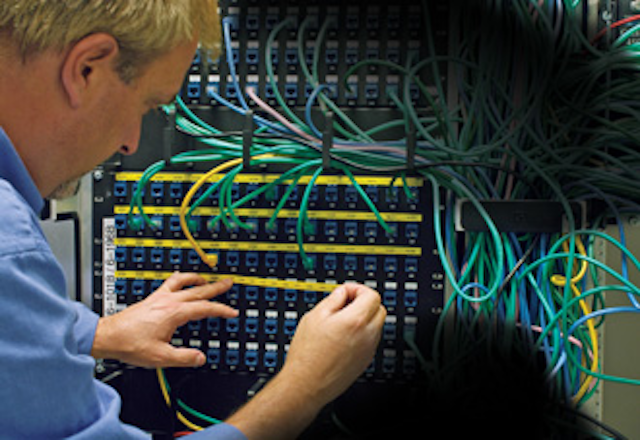 Even a chaotic collection of patch cords can be brought into order with properly labeled patch panels. Here, a technician uses multiple sets of labels to identify the patching field in a telecommunications room.

The mark of a professional installation
"For structured cabling system designers and contractors, following ANSI/TIA standards for system identification and administration is the hallmark of true professionalism," says Bill Lenz, RCDD and senior communications engineer for Genesis Cabling Services and a self-proclaimed evangelist for state-of-the-art industrial labeling tools, like Brother's P-Touch EDGE series. The Norfolk, VA firm designs, implements and supports voice and data, including fiber- optic, structured cabling solutions for diverse clients including the U.S. military, educational institutions, healthcare facilities and commercial enterprises.
A long-time BICSI-certified Technician and former BICSI instructor, Lenz is well-versed in the role and value of established industry standards. "Our clients really appreciate that their projects, whether large or small, are installed in full compliance with all applicable standards," he notes. "We also develop and leave behind floor-plan drawings and appropriate databases to ensure that accurate administration and record keeping can be permanently maintained."
This step is essential to long-term quality assurance. If you cannot identify each of the infrastructure components in its exact location, you may be putting the enterprise at operational risk. Complying with standards for labeling and administration helps organizations future-ready their network infrastructure installation by providing a dynamic plan to maximize performance, minimize downtime and reduce rebuilding costs in the event of a disaster.
Next-generation labeling tools
Compliance with labeling and marking standards for all network classes may sound complicated, but with today's technology-based solutions it doesn't have to be. In the marketplace right now there are next-generation, industrial-grade labeling tools that incorporate smart technology, intuitive navigation, broad versatility and deep functionality to help make identification and labeling relatively quick and easy to implement.
Best-in-class handheld labeling tools designed for on-site use by contractors and installers are ergonomically designed to be comfortable to operate. They are reliable and ruggedly built to withstand heavy day-to-day use by work crews in the field. Today's thermal printers are a popular choice because they don't use messy inks and can format and print a variety of conforming label types up to 24-mm or 36-mm wide using easy-to-load, snap-in tape cartridges. The tapes generate durable UL-approved polyester laminated labels, which encapsulate the print between two protective layers to ensure long-term integrity, legibility and adhesion, in compliance with the 606-B standard for label design longevity.
Some smart labeling tools also offer a selection of wireless connectivity options and built-in software that allows users to download and store data from common databases. They also allow for on-site download and printing of previously saved custom or preformatted label templates, as well as previously programmed alpha/numeric serialization of labels. These capabilities can dramatically increase labeling speed and productivity in the field.
Genesis Cabling's Lenz has had extensive experience with smart labeling tools, both handheld and desktop models, and his firm's work crews find they provide a productivity boost in both large and small installations.
Lenz explains: "From the standpoint of functionality and flexibility, you just can't beat the latest labelers on the market. In large installations especially, serialization capabilities and wireless connectivity options are hugely helpful, and so is the ability to print labels quickly with clear text, UPC codes, industry symbols and graphics. Our installation teams find the labelers extremely easy to use without extensive training or studying a manual. And the handheld labelers are affordable, making it easy to equip every field technician with one so that on-site MACs work can be completed quickly."
In selecting handheld industrial labelers, there are additional features to look for that can add value. They include the following.
QWERTY-style keyboard, clearly marked buttons and easy-to-follow navigation menus allow faster design and editing of different labels for different components with just a few keystrokes.
Large backlit LCD display provides optimal visibility in all environments for an at-a-glance view of label designs, and enhances the ability to preview and edit labels prior to printing.
Automatic smart font-sizing technology results in clear, readable labels that conform to short and long ANSI/TIA identifier formats, so users can quickly make labels suitable for cables, fiber, wires, faceplates, patch panels, punch blocks, control panels and more.
Faster printing speeds increase efficiency and productivity so work crews can accomplish more during a shift.
PC connectivity and built-in software and memory allow users to download and store data to create custom-designed labels, in addition to using the preformatted label templates provided with the smart labeler.
A multi-lingual user interface can help make the smart labeler more user-friendly for today's diverse work crews.
Finally, the smart labeler should offer the ability to accept a variety of interchangeable tape cartridges to create different types of labels. Among the brands available from Brother, the most common choices are HGe and TZe tapes, which come in a variety of sizes, colors and adhesive backings. Some installers also opt to use HSe heat-shrink tubing, a thin flexible tube that contracts when it is heated with a heat gun. When applied to an individual cable or bundle of wires, fibers or cables, the HSe tubing adhesive forms a strong, secure sleeve, which provides insulation, strength and strain relief to prevent flexing or crimping at the wire-to-termination point. Some newer labeling tools make printing on heat- shrink tubing fast, easy and economical.
An investment worth making
While asset management and labeling are only one part of a successful structured cabling or data center installation, they clearly play an important role in ensuring maximum uptime and audit compliance, as well as the long-term performance, security and reliability of the facility and its ITS components.
The relatively low cost and customized high performance of today's handheld industrial-grade labeling tools make them well worth the investment. The days of using tape and markers to label network components are long gone, and so are the days of "seat-of-the-pants" cable management and administration. Whether you are setting up a new datacom system, upgrading a LAN, installing a new server and backbone, or rewiring and cabling an existing facility, following the guidelines set forth by the ANSI/TIA-606-B standard is definitely the professional way to go--and today's advanced cable management solutions and smart labeling tools can help you get there.
Craig Robinson, RCDD manages growth strategy, channel and business development initiatives for the Brother P-Touch EDGE brand of products (www.edgelabeling.com).
More CIM Articles
Archived CIM Issues