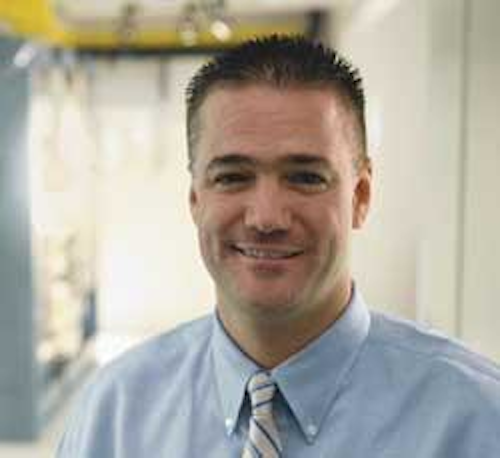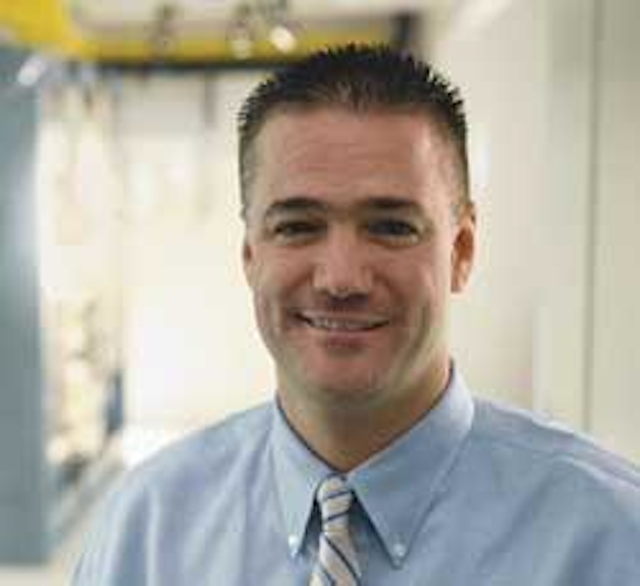 Dave Sanders relishes being the first impression many of his RCDD students get of professional credentialing. He believes he can keep them upbeat through the process' significant time and financial commitments.
Click here to enlarge image
Don Wilkison was anticipating a couple of anxiety-filled days ahead as he stood in line to board his flight home. After spending nearly a week in Las Vegas, he was about to head back to the Sacramento, CA area, unsure whether he had accomplished the main objective—the only objective—of his trip. He'd made a call earlier that Tuesday morning and was told the answer he anxiously awaited would be available Thursday.
Then, as he walked alongside his wife down the jetway, his mobile phone buzzed. A text message from a peer let him know the answer was available now. So, the final question he had to answer on this trip, a trip that included so many tough questions, was the one he asked himself: Do I find out now or can I wait until I get home?
"I was hesitant to make the call," Wilkison remembers. But he did, before the door closed and all mobile devices had to be turned off for the flight's duration. After finding his seat, he dialed the number to BICSI (www.bicsi.org), gave his name, and heard the woman on the other end of the phone say, "Congratulations." At that moment, anxiety turned to relief and satisfaction when Wilkison learned he was among the industry's newest Registered Communications Distribution Designers (RCDD).
According to BICSI, 7,333 individuals hold the RCDD designation, which is informally referred to as the "gold standard" for professional skill in the field of communications-infrastructure design, also frequently called information transport systems (ITS) design. And there are at least that many stories about obtaining and maintaining the widely recognized credential. Wilkison's story is probably familiar to many.
"There were business and personal reasons," for his quest to obtain the designation, he says. For one, his company's president saw the marketing and business-development benefits of his project managers having the RCDD. "Some customers require all their bidders to have an RCDD on staff," Wilkison notes. Less than a week after Wilkison attained RCDD status, he had plans to meet with the company president and plan how to capitalize on the accomplishment.
On the personal side, he says the pursuit fed his competitive nature: "I'm very competitive and like to differentiatemyself, always looking for that littlebit to go further."
By all accounts, some form of competitive spirit is necessary to success-fully get through the rigors of preparation for the RCDD exam. Thisauthor has yet to hear from an individual claiming to have had an easy time obtaining the designation. The exam is based on the current edition of the Telecommunications Distribution Methods Manual (TDMM; now in its 11th edition) and includes 280 knowledge- and application-based questions.
Wilkison's week in Las Vegas culminated with him taking the RCDDexam September 29, and the trip itself was the finale of a time in which he was engrossed in the intricacies of the TDMM. The whole experience "was more than I anticipated when I signed up for it," he says. "In June, we learned we could get a discounted rate on a preparation course, and I was asked if I'd be interested. I said sure, but my colleague said no. He knew more about it than I did."
After a few months of hitting the books hard, the final step was the trip to Las Vegas for the prep course in the days leading up to the test. "I went through the class not sure if I'd take the exam," Wilkison says, recalling that he was leaving open the option of taking the test at a later time after further preparation. "But after three days [of class], I knew I had a shot."
A primary reason he was confident enough to take the test at that time was the combination of effort, method, and motivation of his instructor, Dave Sanders—himself a holder of the RCDD designation as well as the NTS (Network Transport Systems) and OSP (Outside Plant) specialties. Sanders has been mentioned on these pages before ("Award-winning speaker carries message of professionalism," February 2006, p. 34) as an inspirational speaker and instructor. In the two-plus years since that article was written, he has continued to garner honors from CET Networking Education (www.cetweb.com), including International RCDD Instructor of the Year for 2007 and Telecommunications Speaker of the Year for 2006.
Also, he has become the senior vice president of sales and marketing for Arrow Wire & Cable (www.arrow-wc.com), a distributor with offices in Pomona and San Francisco, CAas well as Phoenix, AZ. Arrow and CET collaborate to offer preparatory courses for the RCDD exam as well as otherITS design-specialty designations.
From Sanders' perspective, Wilkison's story is one of many he has seen in his classrooms over the years. "We valuebeing in a position to assist our students in making their business better and more competitive," he said this past summer when CET gave him his most recent award, adding, "We have a chance here to help enhance their opportunities in a difficult market."
A difficult market that, according to Sanders, has seen several product providers—manufacturers and distributors alike—decrease or eliminate programs such as training and education. "You have to focus on the people, not just the product or the order," he says. Embracing that philosophy, he adds, will takeany organization or initiative to a higherlevel in an industry that is currently struggling. Sanders takes pride in focusing on the education and skills-enhancement of the end customer, at a time when it is easy for suppliers to look at these customers simply as orders.
Professional leap of faith
In an interview with Cabling Installation & Maintenance, Sanders turned the topicaway from his recent awards and new position with Arrow, preferring to discuss the aspirations and achievements of the students vying for professional credentials. "Every class, there are about 30 people who have paid a lot of money to be there," he says. "They've paid BICSI. They've paid CET. That's the industry in the classroom. They're looking to make a leap—not take a step, but make a leap in their professional lives."
For some, it is a leap of faith. "I have students who take personal financial risk to advance their careers and their lives," Sanders says. "Some are starting their own business and want to have 'RCDD' after their name to give themselves a better chance to succeed. They're spending their own personal money to take the course and the test. They're not earning money in the time they spend learning and studying. They're putting it all on the line."
According to at least one of his students, Sanders returns the effort. "He's an inspirational guy," says Wilkison. "He kept pounding us, saying, 'I know you're in Vegas and you want to go out and have a good time. But don't do it. Hit the books. It can be life-changing for you.'
"He was a major factor for those of us who passed," Wilkison continues. "His skills and methods are effective, from having us read out loud, to making flash cards, to reading the paragraphs before and after the one we're concentrating on."
Students in Sanders' RCDD classes have established an interesting version of the 80/20 rule. With the pass rate of the RCDD exam estimated to be around 20%, Sanders' students pass at a rate between 70 and 80%. One testimonial after another—available through Arrow and CET—refers to his combination of teaching skill and motivational approach.
Ironically, the same day Don Wilkison found out via telephone that he was now Don Wilkison, RCDD, Dave Sanders received some disappointing news on the phone. His candidacy to serve the industry through one of its highest-profile positions, BICSI's Western Region Director, was unsuccessful. The man who has helped put hundreds of individuals in position to achieve their professional ambitions was dealt a professional setback of his own. For now, he'll have to be content to continue in his familiar role of helping individuals one-on-one as they strive for professional accomplishment. For the future, Sanders maintains aspirations to effect positive change across the industry on a broad scale.
Part way through what is probably the most quotable movie of all time, The Godfather, Santino "Sonny" Corleone says of his brother Michael, "This is business and this man is taking it very, very personal."
For many of the 7,333 holders of the RCDD designation, their business is very, very personal. You can count Dave Sanders among them.
—Patrick McLaughlin