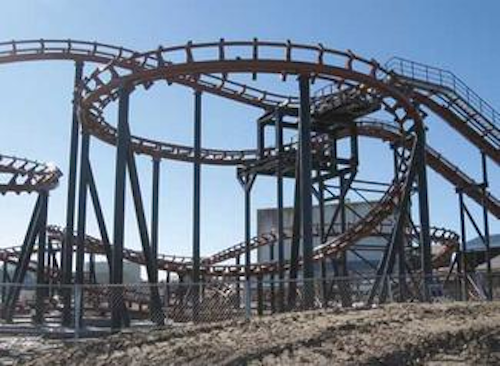 Contractor, suppliers star in meeting hard and fast deadline for an unusual, multi–faceted infrastructure deployment.
by Tom Farthing
Every installation project has its own set of challenges, but ensuring that patrons enjoy the amazing Jimmy Page guitar riffs in Whole Lotta Love while screaming through a 75–foot tall roller coaster Zero–G (gravity) roll is, to say the least, unique.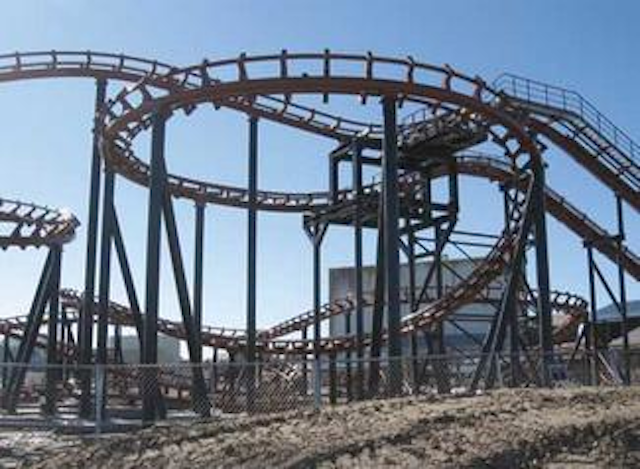 The Eagles "Life In the Fast Lane" ride at Hard Rock Park in Myrtle Beach, SC is the longest coaster ride at the theme park, and required a multi–faceted infrastructure that included voice and data transmission, lighting control, and audio/visual systems.
Click here to enlarge image
When Hard Rock International decided to build the world's first rock 'n' roll theme park in Myrtle Beach, SC, they knew they needed a "rock star" solution for the design and implementation of a complex information technology (IT) infrastructure—one that could handle voice and data transmissions, fire alarm systems, lighting control, building automation, security, and audio/visual systems for the 55–acre park.
This may be a first
Integral Solutions Group was chosen for this project due in large part to its experience in designing and installing advanced communication networks. Granted, we had never designed and implemented an IT infrastructure for a rock 'n' roll theme park, but no one else had either. Officials at Hard Rock International were certain of one thing—they were investing $400 million to build the first major theme park in the United States in nearly a decade. The park is all about music and technology, so the IT infrastructure had to work flawlessly—the first time and every time.
The theme park, which opened in May, features more than 50 different shows, rides and attractions,including:
• Led Zeppelin–The Ride—A Bolliger & Mabillard sitting coaster that takes thrill–seekers through sixinversions, a 120–foot–tall loop, 95–foot–tall cobra roll and 75–foot–tall Zero–G roll while a 1,200 watt,64–speaker audio system on each train plays a perfectly–timed Whole Lotta Love.
• "Nights In White Satin"–The Trip—An interactive dark ride that takes people through 14 "trippy" scenes as they enjoy high–fidelity on–board audio of The Moody Blues' classic 1967 song.
• Eagles–"Life In The Fast Lane"—The longest coaster ride at the park which, as you might suspect, is very fast(50 KPH with hairpin turns that pull 2 G–Forces).
To ensure that Hard Rock Park worked flawlessly as designed, Integral Solutions had to install cable frommore than 65 buildings to one consolidated data center and had to create a redundant pathway. One of our first decisions was to change the original design between buildings from copper to fiber–optic cable. Integral Solutions Group is based in South Carolina, so we were well aware of the propensity for lightning strikes, especially along Myrtle Beach. So, copper would not do for the backbone.
Hard Rock Park decided to use two 96–strand singlemode fiber–optic cables along with a 24–strand 10–gigabit multimode fiber for its backbone. We had to design a backbone that that was capable of handling the bandwidth, but wasalso redundant. LANmark–1000 enhanced Category 6, from Berk–Tek, a Nexans Company (www.berktek.com), was used for the horizontal cable with connectivity from Ortronics/ Legrand (www.ortronics.com); the NetClear GT2 structured cabling solution was selected as the standard for voice and data applications for each workstation.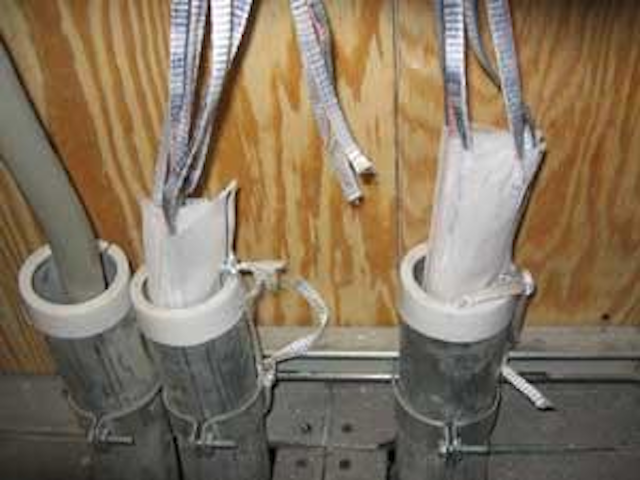 The original design at Hard Rock Park called for dual 4–inch conduit pathways, but this was reduced to one pathway by using the MaxCell multi–celled textile innerduct system.
Click here to enlarge image
Berk–Tek's Adventum with 10–gigabit fiber was chosen as the indoor/outdoor fiber–optic cable due to Hard Rock Park's vast needs for the highest quality in video transmission and high–speed, long–distance cabling. Engineered to withstand harsh environments, Adventum uses loose–tube construction techniques with DryGel (a gel–free waterblocking technology)designed to provide exceptional performance andreliability. We had found that Adventum was an excellent solution for supporting cable pulls of significant length. Because of its ruggedness, it can be lashed aerially (which was critical forthe Hard Rock project), buried in a conduit, or trayed. Inaddition, Adventum cables are up to 35% smaller and weigh much less than tight–buffered cables, which was anotheradvantage for maneuvering around the unique structures in the theme park.
Maximizing conduit needs
In addition to switching from copper to fiber, we also changed the design specs on the conduit. The original design called for dual 4–inch conduit pathways, but because we used MaxCell (www.maxcell.us)—a flexible, multi–celled, textile innerduct system—we were able to reduce this to one conduit pathway with three cells and save considerable expense for Hard Rock. With its multi–cell technology, MaxCell can fit up to three times as many cables per conduit. It's designed for easy installation, thus minimizing labor and time.
Saving time with MaxCell was critical because we had a deadline—a very hard deadline! With most projects, such as an office building or plant, missing a deadline is never a good thing but, this was simply not an option for the Hard RockPark because the Eagles and Moody Blues had been booked for grand opening performances. Millions of dollars were on the line. Investors were nervously and anxiously waiting. The Hard Rock Park had to open onMay 9, 2008, no exceptions.
As construction of the massive and complex theme park moved along, the tight deadline kept getting tighter. With the complexity of contractors involved, the many moving parts of putting together the world's first rock 'n' roll theme park, and weather delays, we ended up with precious few days to pull thousands of feet of cable. An unusual challengeassociated with this project concerned the need to prepare the facilities for pre–operation photo and press shoots.
Team effort vs. the clock
In a team effort, MaxCell sent their local representative, George McLarty, to provide on–site consultation. And Matt Gilstrap with Network Products, Inc. (www.npiconnect.com) was on hand to lend technical support for the Berk–Tek and Ortronics/Legrand structured cabling products. We felt confident that MaxCell was going to save us an enormous amount of time and labor costs, but having two experts on hand made us feel even more confident.
As we started installing the conduit, another MaxCell feature—the smaller reel sizes—really came into play. We were aware that MaxCell reels are engineered to minimize weight and maximize footage, but we did not realize how big a benefit this would be until we started the installation. Many of the 65–plus buildings and structures that make up the Hard Rock Park had configurations that you would never runacross in a typical job. In fact, there were many situationswhere a typical conduit reel would simply not have worked.
At Hard Rock Park, we used MaxCell reels that held 5,300 feet of 2–inch 3–Cell conduit—the equivalent of 15,900 feet of 1–inch innerduct. This would have required three muchlarger reels if we had utilized a rigid innerduct product. Wealso used 3–inch 3–Cell MaxCell reels that contained 1,000feet of innerduct; this was equivalent to 3,000 feet of 1.25–inch rigid innerduct that, again, would have required muchlarger reels. The larger reels would have been difficult, if notimpossible, to use in some of the configurations at Hard Rock Park. Overall, MaxCell has one–ninth the volume of rigidinnerduct, which allows much more product to be placed ona spool, saving space and freight costs.
The Integral Solutions team faced a myriad of challenges as we got deeper and deeper into this project. For instance, during the construction phase, park officials and engineersdecided to go from a traditional drop ceiling to an openceiling. This created a major challenge because our original design had us utilizing the space above the ceiling tiles to route our cables to their specific location. We went to Berk–Tek for help, and they recommended using their LANmark–6 OSP, Category 6 Outside Plant Cable. Its waterblocking gel technology proved to be the perfect solution for any time that you're routing cables in a concrete slab or on the outside, and we were able to easily make the change to our initial design.
The roller coasters and other rides also posed particularchallenges for us. One of our biggest challenges resulted from early construction conduit placement that we had to modify to reach the desired locations near the roller coasters andother attractions. The need for camera and audio/video connectivity in close proximity to these structures also required some creativity on our part, and MaxCell products with Berk–Tek's Adventum cable contributed greatly.
Close communication with Dave Montoya, senior director of IT for Hard Rock Park, was absolutely critical to our ultimate success. Montoya helped the Integral Solutions Group teamfully understand project objectives at the outset, and heworked closely with us as adjustments needed to be made.
Peaceful, easy feeling
When opening weekend arrived and the park was preparing for back–to–back concerts by the Eagles and Moody Blues, I kept thinking about Eagles' songs as a metaphor for this amazing, once–in–a–lifetime project. I felt very confident, but still the song Heartache Tonight was in the back of my mind. When an astounding pyrotechnics display closed out the weekend and the IT system worked flawlessly, it was the song The Long Run that was more applicable.
We pulled a lot of cable over long distances in a shortperiod of time, and encountered a host of unique challenges. Inthe end, it all worked as designed. The IT infrastructure now in place will indeed serve the Hard Rock Park for the long run.
TOM FARTHING is vice president of systems integration and infrastructure provider Integral Solutions Group (www.integralservices.com), Spartanburg, SC.