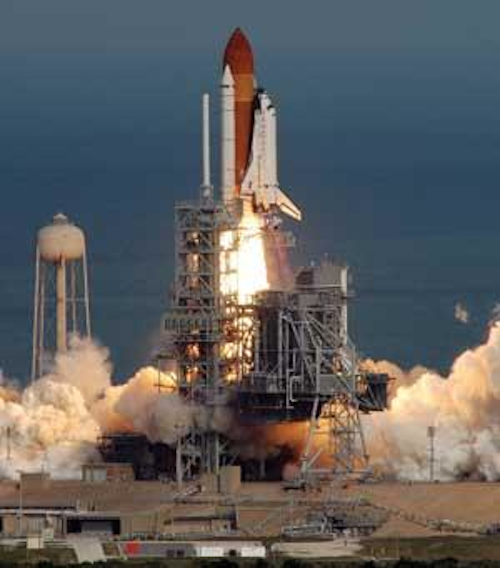 Sumitomo technology is deployed for emerging mission-critical and high-bandwidth applications.
by Matt Vincent
Sumitomo Electric Lightwave's (www.sel-rtp.com) FutureFLEX air-blown fiber LAN infrastructure system has been installed throughout major facilities at NASA's John F. Kennedy Space Center, following an earlier installation at the Kennedy Center's Launch Pad A. Sumitomo says that use of the air-blown fiber system allows the Center to prepare its network for rapid implementation of high-bandwidth emerging technologies and other functions for NASA's Constellation Program, whose aim is to create a new generation of spacecraft for human spaceflight.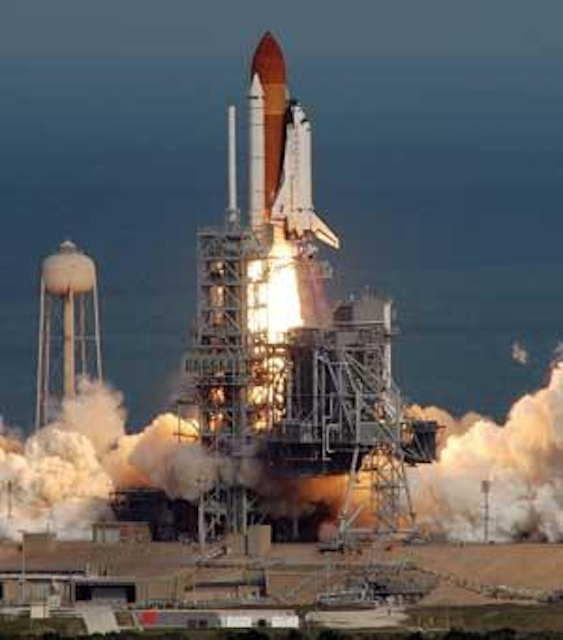 FutureFLEX air-blown fiber has been installed at NASA's Kennedy Space Center for high-bandwidth technologies required for the next generation of space travel. (Photo courtesy of NASA)
Click here to enlarge image
For delivery of communications and launch processing systems, as well as bandwidth-rich video capabilities to support the space program's current and future requirements, NASA engineers positioned empty blown fiber tubes throughout various facilities at Kennedy, including the launch control center, vehicle assembly building, and a newly remodeled manufacturing facility.
Fiber-triggered monitors
"The Shuttle program was upgrading their lightning monitoring system out at the pad, for better detection and indications of events that might cause damage to the vehicle power systems during the event, such as if EMF were to be induced in some way," explains Matthew Smisor, NASA's telecom systems engineer. "When they have the vehicle powered down, they don't have active monitoring going on, so they've upgraded the system."
Smisor adds, "That system requires a series of state-of-the-art optical sensors, using fiber to trigger the devices or to indicate that there's been activity. They've greatly needed to expand the fiber resources, and the air-blown tubes have made it very easy to implement that."
Lawrence Wages, an outside plant engineer for NASA, notes, "Many of our projects—such as the immediate transmission via fiber of digital images showing the status of ice buildup on the space shuttle Discovery—resolve costly delays and life and death situations, if it's a manned spacecraft. By adopting an air-blown fiber infrastructure, Wages adds, "we can quickly and easily make necessary network reconfigurations and changes at nearly a moment's notice and at a fraction of the cost of a conventional fiber-optic system, providing us with the meansto be more responsive to mission-critical situationswhile being fiscally responsible with budget dollars."
Smisor maintains that use of the Sumitomo air-blownfiber system has caused the Kennedy Center's network toexpand more quickly and efficiently than if traditional fiber had been deployed. "In the past, with the roll-out ofadditional services, we would have had to pull in more cable, because even though we thought we would have sized [thefiber footprint] for what might be handled in the nextcouple years in term of future growth…those folks outranthat [projection] the first time they came to the table. They needed so much more than we would've ever anticipated. They've got like five sensors in there and, just for their sensor data, they needed seven singlemode fibers!"
Smisor adds, "We weren't expecting to have to deploy35 fibers all over the pad structure itself to feed these sensors. There's no way we could have predicted that, and wewould've had to pull in more cable. But with [the Future-FLEX ABF], we just added to the tube distribution system we already had in place and blew in some more fibers."
Smisor also notes that, to futureproof newly constructed larger facilities, NASA now instructs its fixed price contractors to factor in Sumitomo's air-blown fiber tubes along with premise wiring as part of the standard installation load. The Kennedy Center also specified the use of multi-user telecommunications outlet assembly (MUTOA) boxes for areas requiring large-scale concentration of connectivity.
Tubes at the MUTOA
Smisor continues, "At the large facility that will be processing the new Constellation elements, we used MUTOAs to service [approximately] 12 cubicles, and to the MUTOA, foraesthetic reasons, we had the fixed price contractor install two empty blown fiber tubes. When we're designing facilities, now as standard we're also making sure that we have the fixed price contractor put in tubes where it makes sense to. That's how we can save some money as opposed to having my comm contractor go into the facility during activation, and try to put in these services. If we can get them to put [ABF] into the fixed price contract for the construction, then it's cheaper for us to implement."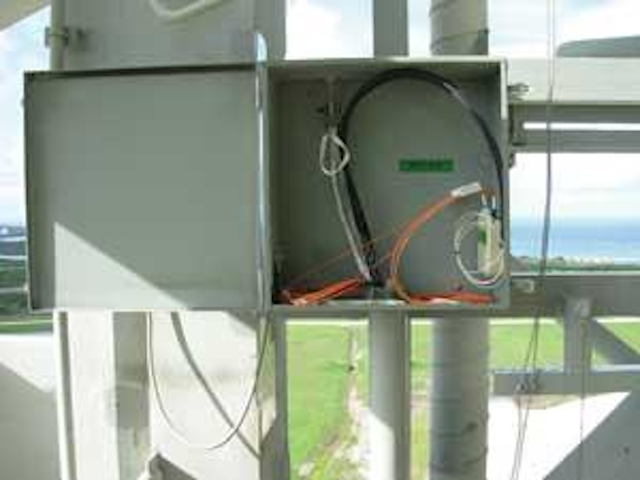 At Kennedy Space Center's Launch Pad A, an air-blown fiber installation is used to trigger optical sensors designed to detect possible lightning damage to shuttle launch equipment. (Photo courtesy of NASA)
Click here to enlarge image
Smisor says the Kennedy Center is also contemplating using the FutureFlex ABF system in the outside plant (OSP) to outfit certain older facilities that aren't equipped with much or any singlemode fiber."Everybody's moving quickly toward Gig[abit]," he says."Operational customers, mission customers, some utilities, even areas that aren't traditionally on an admin network—those networks are growing."
He continues, "If I have to put in a switch of any size at these sites that didn't have fiber, I'm getting hit with a real price tag for putting in 72 singlemode (that's a standard install now) and that gets kind of pricey when they want to do a hub out andsay, 'We're going to bring 216 to this manhole and then we're going to run 72 into that facility.' And I'm thinking, these[ABF] tubes are going to work in the manhole systems too; I can just blow in what I have to have and I don't pay the bigprice tag of a big cable on the front end."
Notably, since 2005, Sumitomo's FutureFLEX ABF infrastructure has also been deployed at NASA's Dryden Flight Research Center in Edwards, CA, serving as the facility'swireless infrastructure and backbone for high-speedsharing of information among research facilities and newprogram enhancements.
Arcata Associates, Inc. (www.arcataassoc.com) is the primary contractor on NASA's research facilities and engineering support services (RF&ESS) contract. Arcata and Sumitomo worked together to accomplish the ABF deployment for NASA Dryden. John Pitre, field service engineer for Arcata, comments, "We put in seven tubes for these particular locations. We have two tubes full right now, and you figure 18 [fibers] per tube—that's quite a bit of fiber."
A twofold benefit
Assessing the value of using the ABF system over traditional fiber methods, Pitre estimates, "Your ROI is pretty much twofold. Once it's in, the ease of deploying on the next tube,depending on what you put in as far as your tube cells, outweighs the cost of having it done with traditional means. For instance, on a small project, it only takes two techs a day and a half, maybe two days because of set up time, to make something done on the ABF; whereas the same project using traditional fiber would take four techs maybe four and a half days. So, there's a big difference there."
MATT VINCENT is senior editor for Cabling Installation & Maintenance.