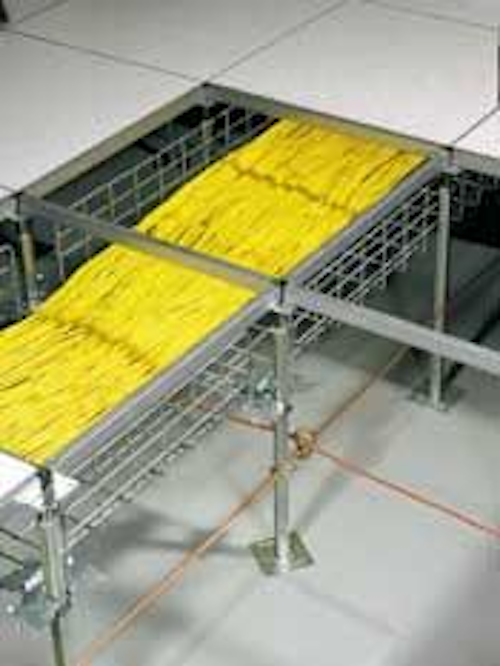 Underfloor cable routing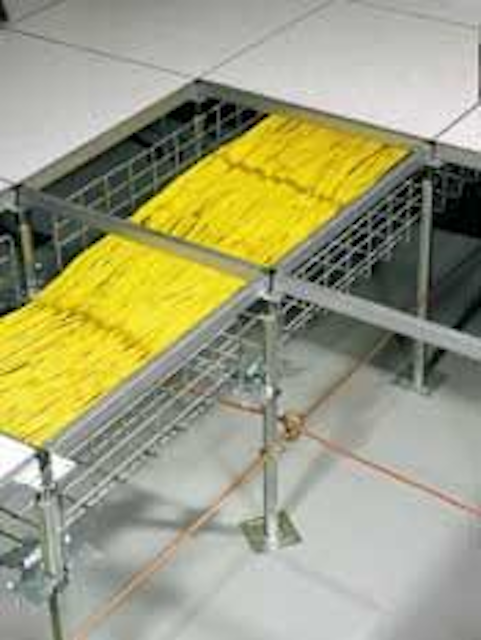 Click here to enlarge image
GridRunner underfloor cable routing system is a modular wire basket pathway designed to route and manage data and power cabling beneath raised floors. Pre-assembled mounting brackets and drop-in wire basket sections eliminate the need for cutting, and are designed for fast deployment. The all-rounded edges and bend radius control corners prevent damage to cables, while a bonding feature ensures that all system components are electrically bonded to each other during installation. In addition, the wire basket design limits airflow obstructions that affect data center cooling.
PANDUIT
www.panduit.com
Multi-level cable support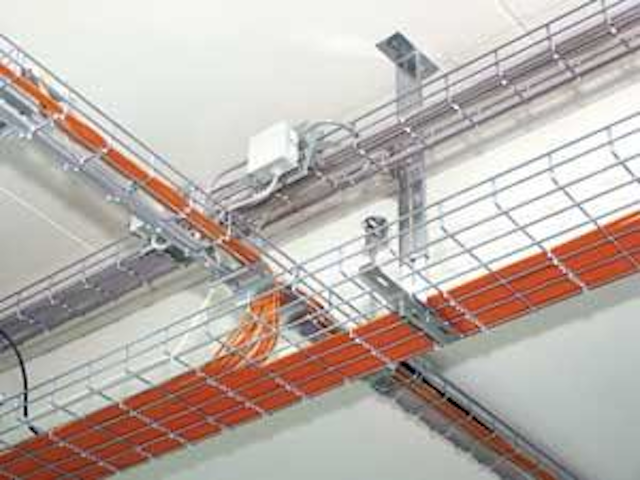 Click here to enlarge image
This wire mesh cable tray is designed to organize cable in trays mounted at different levels. Multi-level organization lets you sort cable bundles at the outset, eliminating "spaghetti" and providing simplified access. Trays can be installed horizontally and vertically, formed into smooth bends, and can ascend or descend from one to another. Built for simplified installation and safe equipotential bonding, channeling of critical cables, and load capacity, the trays can be mounted to ceiling, wall, or floor. Available plating includes zinc-coated for indoor installation, galvanized for outdoor installation, and high-grade stainless steel for harsh environments.
HYPERLINE
www.hyperline.com
System for routing heavy cable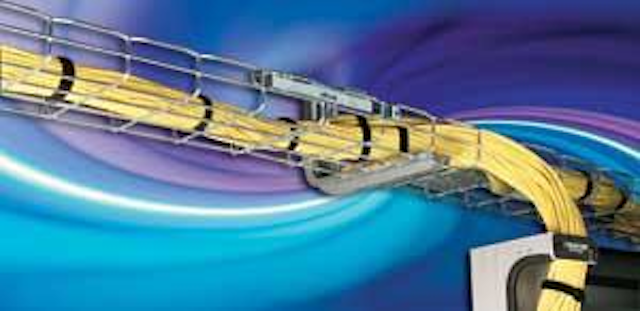 Click here to enlarge image
BasketPAC cable tray, designed for managing and supporting large bundles of data cable, features 78-inch tray sections that are compact enough for ground shipping. Once at the job site, tray sections can be quickly assembled with included Fast Splices (no bolts required). Safety edges protect personnel and prevent cable fraying.
BLACK BOX
www.blackbox.com
No-tool installation for modular systems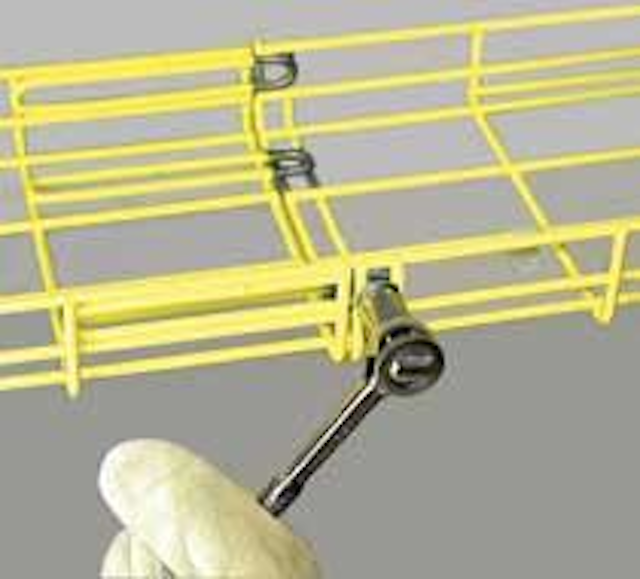 Click here to enlarge image
Cable-Mgr wire basket cable tray products are built to be installed without special tooling or training. The patented PRO-10 Series is a modular system that provides electrical ground continuity while eliminating cutting and bending of trays during installation. The M.E. 2 Series gives the option of cutting and bending trays on-site while eliminating splicing of tray sections. Changes in tray routing directions are simplified with L, T, and X-type tray junctions. Reducer sections provide flexibility to use wider trays where required. Manufactured with 0.120-inch or 0.187-inch diameter powder-coated or zinc-plated steel wire, welded in a 2 x 2 or 2 x 4-inch grid, the cable tray's open grid prevents dirt build-up and dust typically found in closed or ladder-type trays. Cable-Mgr can be mounted on walls, posts, ceilings, or under raised flooring. Sizes are available up to 36 inches wide by 10 feet long.
WIREMAID/VUTEC CORP.
www.wiremaidcabletray.com
High-capacity overhead, underfloor systems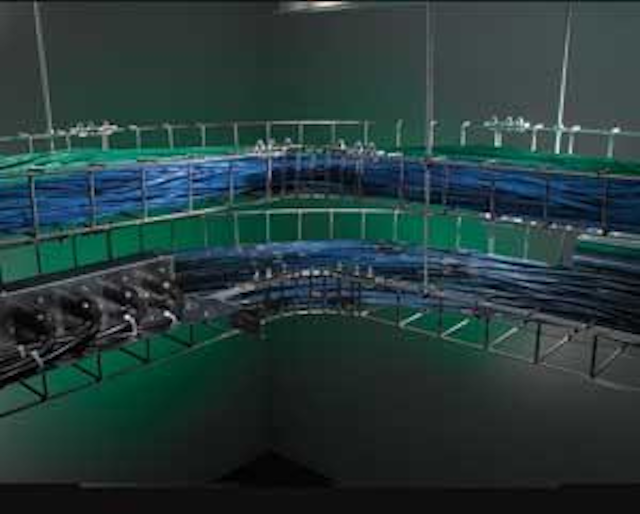 Click here to enlarge image
Mega Snake, a high-capacity cable tray for overhead applications, is designed to carry thousands of cables for large runs. Snake Rail, a built-in suspension system, requires no brackets and allows for random placement of the hanging rod system. Snake Rail is built to work seamlessly with other company trays, as well as patch panels, strain relief, and fiber-optic pass-over devices Pre-manufactured components eliminate the need for turns, tees, and cross-sections.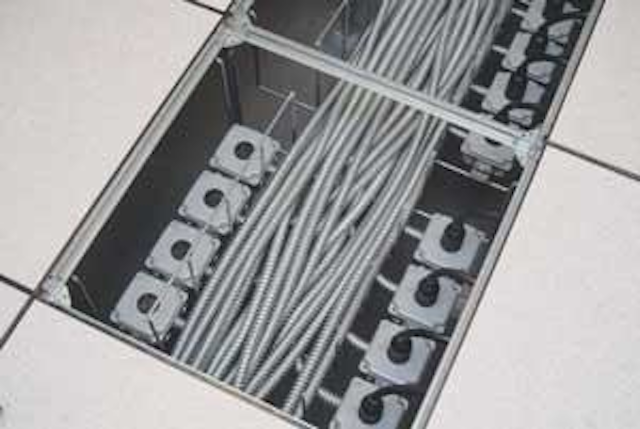 Click here to enlarge image
Power Snake Canyon (right) is a patented under-floor cable tray with integrated power module featuring eight pre-installed receptacles designed to reduce electrical construction costs. This modular, reusable tray is built to install to any access floor via a 30-second attachment system. Snake Canyon allows for proper airflow under the access floor and will not void the floor manu- facturer's warranty.
SNAKE TRAY
www.snaketray.com