Cabling solutions from Gepco International (www.gepco.com) have been installed throughout Dick's Sporting Goods Park in Denver, CO, home of the Colorado Rapids Major League Soccer team. It's the largest professional soccer complex in the world (24 fields) and features state-of-the-artaudio and video systems.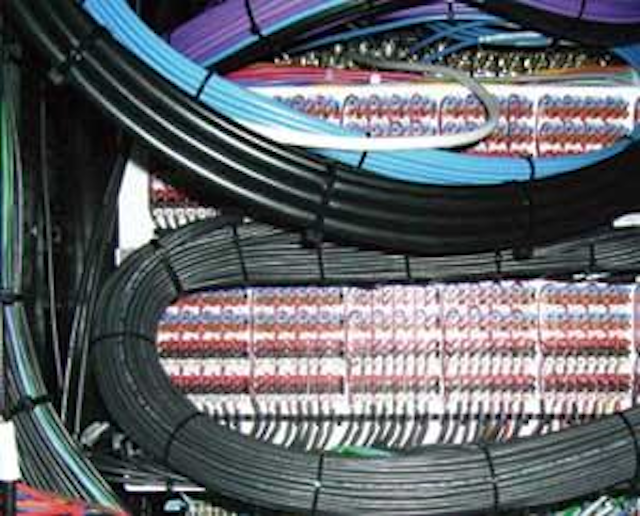 Triax, coax, and audio cable, supplied by Gepco International for multimedia deployment at Dick's Sporting Goods Park in Denver, CO, terminates in four locations, including the truck bay head-end, MDF, studio area, and field boxes.
Click here to enlarge image
The stadium boasts the largest video scoreboard and the most LED boards for a facility its size, as well as the only fully-integrated video and LED electronic video board system. Throughout the complex, Gepco cabling connects the technologies, which are designed to maximize the experience for viewers in the stands and at home.
Specific Gepco cables used in the project include VT61811PEF and VT61811TK triax cables, VSD2001PEF coax cables, GA61806PEF 6-pair audio, GA61812PEF 12-pair audio, speaker cable, riser and plenum triax, and single-pair audio cable.
Triax was installed for the 27 camera positions throughout the 18,000-seat stadium for both serial digital and HDTV broadcasts. Six and 12-pair audiocables were used for all audio feeds,while Gepco HD coax was chosen for SDI and HDTV interconnections. All cabling terminates in four locations—the truck bay (head-end), MDF, studio area, and field boxes.
Denver-based installer Empowercom was given the task of selecting and installing interconnect solutions for the head-end, voice data, cameras, and TV monitor locations for the stadium. Due to the complex's size, signal strength over long distances was a major factor to consider. Along with the cable's performance, durability was also an issue as the majority of the installation took place during the harsh Colorado winter. Since most of the runs were installed outside, the cables have to hold up in extreme cold and heat without compromising transmission quality.
"There were a couple of blizzards during this endeavor, and Gepco placed itself as a real solution for the extreme conditions of an outside application," says Doug Walford, operations manager for Empowercom. "The cables provide a quality transmission in all weather conditions."