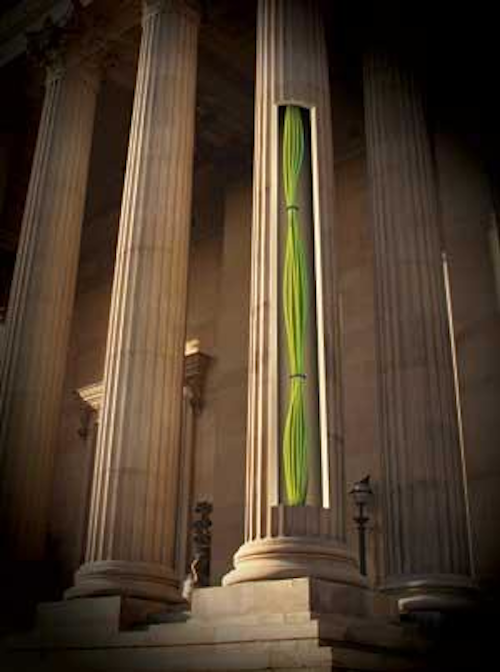 Stimulus-package money is being poured into government building upgrades, but the extent to which the money trickles to cabling has yet to be seen.
Shortly after passage of the American Recovery and Reinvestment Act, commonly known as the federal stimulus package, the United States General Services Administration (GSA; www.gsa.gov) outlined how it intends to spend the $5.5 billion it will receive from the package. The GSA initially published, and has periodically updated, the list of government properties that will use stimulus funds for facilities upgrades.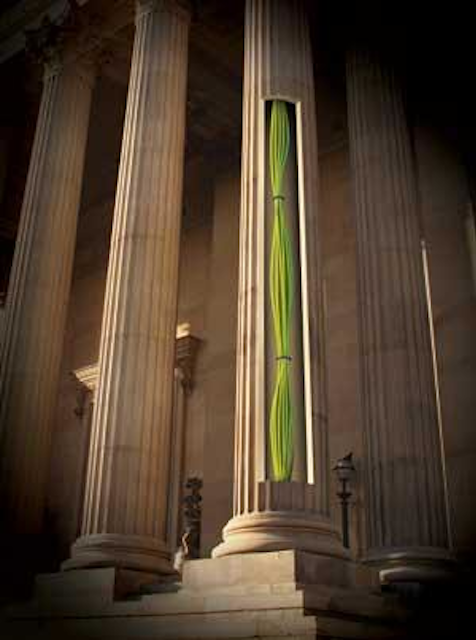 The physical act of getting cable into and through government buildings may be an easier task for a contractor than getting their proverbial foot into the door of such buildings via the bidding process.
Click here to enlarge image
In its publicly released information, the GSA made it explicitly clear that atop its list of priorities for these buildings are measures that will convert them to high-performance green buildings.
The GSA stated: "President Obama's signature on the American Recovery and Reinvestment Act significantly increases resources for the U.S. General Services Administration to green federal buildings and buy more alternative-fuel vehicles." The Recovery Act directs $750 million to renovate and construct federal buildings and courthouses, $300 million to renovate and construct land ports of entry, and $4.5 billion to convert federal buildings to high-performance green buildings.
So, where's the green going?
The GSA made public its spending plan, in which it detailed the criteria it established for choosing projects. In that planm the GSA stated: "From a universe of over 200 projects that met the criteria of the American Recovery and Reinvestment Act, GSA selected the best projects based on two over-arching criteria: ability of the project to put people back to work quickly, and transforming federal buildings into high-performance green buildings."
For professionals in the cabling industry, two questions sum up the practical implications of the GSA's spending plan: 1) How does cabling fit into the green-building picture; and 2) How might I get a piece of that business? Neither question appears to have an easy answer.
As this publication has reported periodically, a facility's cabling infrastructure currently is not a recognized contributor to the United States Green Building Council's Leadership in Energy Efficiency and Design (USGBC's LEED) program for green buildings. As such, claims of cabling components' or systems' "green" performance should not be mistaken for actual LEED certification credits. Rather, if one is going to characterize the "greenness" of the deployment and maintenance of structured cabling systems, that characterization would be more appropriately viewed from the perspective of the systems' general impact on the environment. No standardized benchmarks exist for these claims.
Even so, many cabling-system vendors are delivering green messages to the industry and are on educational campaigns meant to position themselves and their products as environmentally-friendly. One such example is the FutureFlex air-blown fiber system from Sumitomo Electric Lightwave (www futureflex.com), which has been on the market for nearly 20 years. Recently, Sumitomo has found the opportunity to add "environmental friendliness" to the message it has been delivering for nearly two decades—without having to alter the way its system is developed or installed.
The prefix "re-" plays a large role in some of Sumitomo's messaging today. Sumitomo's manager of enterprise networks, Kurt Templeman, describes the system as a "renewable, recyclable, reusable resource. Our fiber bundle is blown in, blown out, and re-used elsewhere. It's a sustainable infrastructure."
Templeman's use of "recyclable" made this author take a second look at the term. In this case, nobody is talking about putting material into a specific recycle bin and/or trucking it to a recycling facility. For this product, it means to cycle the same optical fibers back into a communications network. As has been highlighted and explained in this publication numerous times, the FutureFlex air-blown fiber system comprises a series of tubes into which coated optical fibers are blown. The fibers can later be blown out of the tubes for repositioning within the same network, or use in a separate air-blown fiber system.
How is that "green"? According to Templeman, a significant benefit is that a landfill never comes into the picture. "If you take cable out, like the National Electrical Code says you're supposed to, where does that cable go?" he asks rhetorically, referring to the NEC requirement that cable fitting the definition of "abandoned" must be removed from buildings. While some components of removed cable may be recyclable at appropriate facilities, much of the material is generally discarded.
Some other vendors have turned focus to their internal processes, including manufacturing, as evidence of their products' green status. Siemon has dedicated part of its Web site to the relationship between green initiatives and cabling; it also uses that part of its site to promote its own environmental stewardship as an organization (www.siemon.com/green) In a white paper entitled "Cabling infrastructure and green-building initiatives," the company spells out cabling- specific strategies that users can deploy as contributors to overall facility certification under LEED.
Ortronics/Legrand has also dedicated Web site space (www.ortronics.com/us/ecoinfrastructure) to what it has dubbed "eco infrastructure." The site highlights information on corporate behaviors that are environmentally friendly, as well as the strategic use of some of its products. It also has an educational area with information on environmental issues that include LEED and Restriction of Hazardous Substances.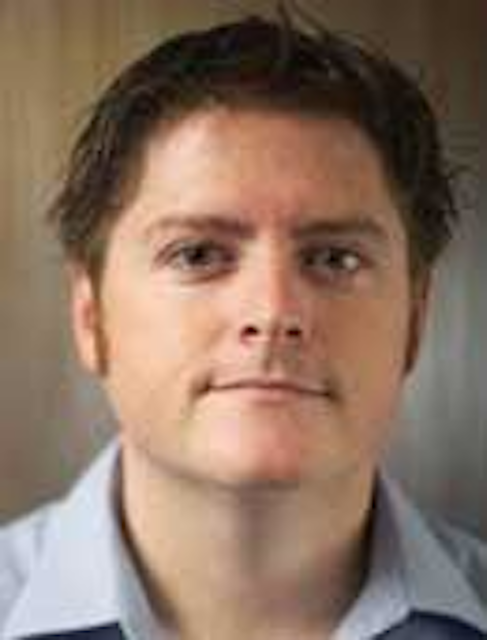 "We were missing a big chunk of what the real environmental footprint of a building is, especially when you consider how transient some of the systems ... can be." -- Brendan Owens, USGBC
Click here to enlarge image
While cabling manufacturers' current claims of being green might be considered tangential to LEED certification specifically, the cabling industry as a whole does have the attention of the USGBC. At BICSI's (www. bicsi.org) Winter Conference in January, the USGBC's vice president of LEED technical development, Brendan Owens, delivered a presentation and participated in a panel discussion on the topic of the potential relationship between LEED and structured cabling systems.
Thinking integration
In his presentation, Owens described the thinking that USGBC put into developing the current version of LEED, which was about 18 months in the making. When considering an entire building, he said, USGBC realized, "The systems we rely on—plumbing, electrical, IT—cannot be disaggre- gated from the building and treated as something completely separate. We have to start thinking about them as integrated, and as vital to the success and performance of the projects we build."
Speaking on behalf of the USGBC, Owens recalled that once the organization started speaking with representatives of BICSI, "It dawned on us that we were missing a big chunk of what the real environmental footprint of a building is, especially when you consider how transient some of the systems that [cabling contractors] are installing can be when buildings flip."
Later, Owens provided a working definition of what a green building is, according to the USGBC. It includes five characteristics. "We talk about site and site planning; where you put the building and how you treat the site you're putting it on," he explains. "We talk about water management. Energy and atmosphere issues. Also, materials use—what we make the building out of—all the electrotechnical components that go into buildings are part of the definition of green buildings."
Owens continues, "Then we talk about indoor environmental quality. Most people spend 90% of the time over the course of their life inside. We want to have a tool that recognizes the fact that buildings can have a profound impact, positive or negative, on the way that people who work and live in them spend their time."
Getting the work
Tom Suder, vice president of technology rollout company Concert Technologies (www.concerttech.com), suggests building control and automation technologies hold reason for optimism for cabling contractors interested in serving the "green-government" building market. "Companies like Johnson Controls and Honeywell are good partnership opportunities for cabling contractors," says Suder. Some building-automation systems are built upon Internet Protocol-based technologies and can operate on traditional structured-cabling infrastructure. They provide buildings with efficiency in heating, cooling, lighting, and other energy-consumption activities.
Doing the work, however, tends to be far easier than getting the work. Despite the large dollar figure attached to the GSA's stimulus initiatives, Suder points out the agency "had to allocate the money within 120 days. It went to projects that were already on deck." There was really no window of time for potential new bidding contractors to go through. Indeed, the phrase "shovel-ready" was bandied about liberally in early discussions of the stimulus package's immediate impact. On March 31, acting GSA administrator Paul Prouty said, "We are ready to move forward with speed, tempered by careful consideration of our responsibilities and accountability to the American taxpayer."
Additionally, despite the promising words spoken by USGBC's Owens, anyone who has investigated LEED certification has found out that many types of building materials receive strong consideration. In fact, the GSA's publicly available spending plan includes the following statements about high-performance green-building limited-scope projects:
"Every building that we touch on the identified list will have advanced meters for both electricity and water, and steam if appropriate; and from the small projects line item, all other buildings for which advanced meters are appropriate will be accomplished."
"All seriously deteriorated roofs in GSA inventory are replaced with the following:
Integrated photovoltaic roof membrane (if flat and in the appropriate geography);
Maximum reasonable insulation for climatic zone (R-50 in most cold areas);
Green roofs, if integrated PV is not warranted;
Cool roof membrane if neither PV integrated nor planted (green) roofs are warranted."
Metering and roofing take a more prominent place than a cabling system in the overall consideration of a building's efficiency. On the bright side, and to Suder's point, other GSA criteria for limited-scope projects include improvements to building controls, along with other systems such as lighting, heating/ventilation/air-conditioning, renewable- energy generation by photovoltaics, and water conservation.
By and large, cabling work within these projects is subcontracted through the general contractor. In keeping with the adage of former Speaker of the House, the late Tip O'Neill, "all politics is local." Or, in this case, all business is local. "You better know the GCs [general contractors] in your local market," if you want to have any chance at landing this business, Suder asserts.
Sumitomo's Templeman relates similar stories about landing government contracts. "We have done a lot of work with the federal government over the past 19 years; we have a history, contacts, and knowledge of the process," he says. "A lot of people have asked me how to get into government work, and my response almost universally is, 'If you weren't there a year ago, it's too late now.'"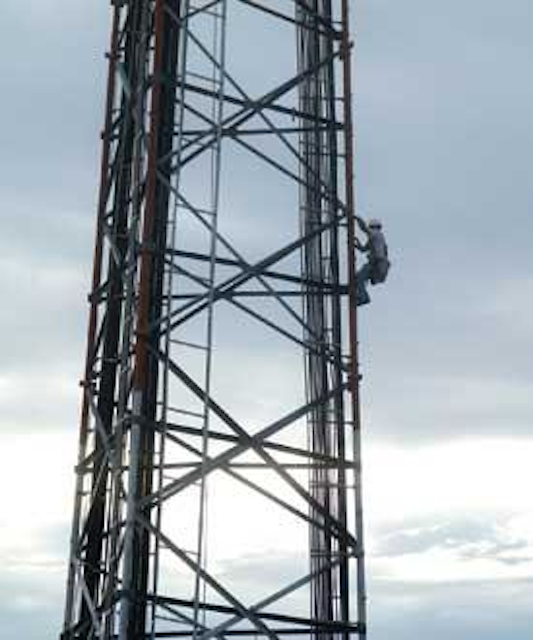 The broadband-stimulus portion of the American Recovery and Reinvestment Act may offer contracting opportunities, including the wiring of wireless towers in rural areas.
Click here to enlarge image
While legendary stories about the Pentagon spending hundreds of dollars for a hammer persist, Templeman says today's government building projects are focused on efficiency in more ways than one. Projects must prove "the ability to handle technological-bandwidth demands today, while at the same time being able to handle those of the future—and also presenting positive total cost of ownership and return on investment."
He cites the National Institutes of Health, one of his clients, as an example. "The campus has more than 100 buildings," he explains. "We have conversations with the NIH nearly every day. In general, federal buildings are massive, and they are changing all the time."
So, while energy efficiency is now a high priority in these environments, networking efficiency—particularly with respect to moves, adds, and changes—has always been a high priority. "Part of total-cost-of-ownership consideration is: What is a replacement or change going to cost you in the future?" Templeman says.
PATRICK McLAUGHLIN is chief editor of Cabling Installation & Maintenance.
---

Broadband Stimulus provides other opportunities
The greening of federal buildings could provide business opportunities for contractors in the structured cabling industry—depending upon the extent to which those contractors have established relationships with the general contractors that will carry out these federal projects.
Tom Suder, vice president of Concert Technologies, points out that a separate portion of the American Recovery and Reinvestment Act may also present opportunities for cabling contractors with experience working outside of federal buildings—and outside of buildings altogether, for that matter.
The portion of the stimulus package known as the Broadband Stimulus or Broadband Initiative is administered jointly by the U.S. Department of Agriculture's Rural Utility Services and the Department of Commerce's National Telecommunications and Information Administration (www.ntia.doc.gov). Notices specific to the broadband stimulus are found at: ntia.doc.gov/broadbandgrants.
A request-for-information issued jointly by the two government agencies solicited "comments from interested parties on a wide range of topics critical to the design and implementation of NTIA's grant program and the Rural Utility Service's grant and loan program, including the establishment of selection criteria for grant awards, grant mechanics, the role of various stakeholders, and coordination between NTIA and RUS."
Initially, the NTIA intended to begin holding meetings in early March; however, between February 24 and March 16, the agency received more than 2,500 meeting requests from interested parties. So, the NTIA and RUS held six public meetings between March 16 and 24, and accepted written comments through April 13. Transcripts and copies of presentations from those meetings are available at the aforementioned Web site.
Concert's Suder has investigated the broadband stimulus package and notes, "There will be some subcontracting opportunities in remote areas. Much of the work will be tower work for wireless systems, perhaps including outside-plant work bringing fiber to those towers." —P.M.