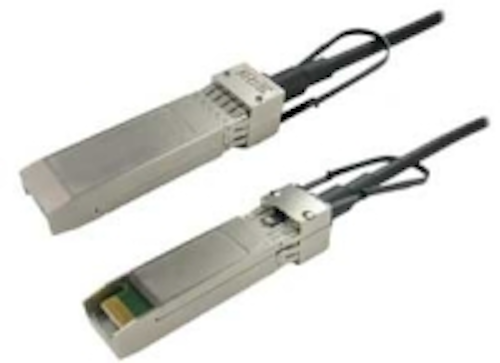 SFP+ copper assemblies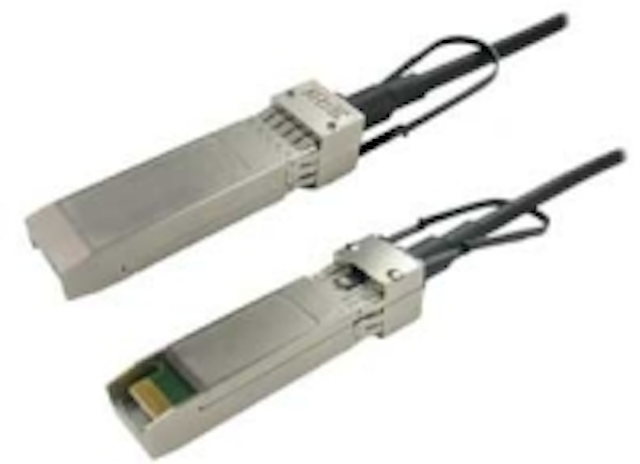 These cables assemblies are designed to enable data-transfer rates up to 10 Gbits/sec per channel at lengths up to 7 meters. Applications include high-performance computing, enterprise networking, and network storage. According to the manufacturer, the SFP+ copper cables support up to 10-Gbit Ethernet, 8G Fibre Channel, and 10G Fibre Channel over Ethernet specifications. The assemblies use a shielded twinax cable construction maintaining 100-ohm impedance matching within 5 ohms. The assemblies incorporate die-cast metal housings designed for high-frequency data rates and to minimize EMI leakage. The patent-pending pull-style latch assures a robust, positive locking attachment and is designed for standard as well as belly-to-belly applications, its manufacturer says.
MERITEC
www.meritc.com
---
HD video extenders
This line of video extenders is designed to transfer high definition (HD) video over multimode SC type fiber-optic cable up to 1000 ft. without signal loss. Featuring a secure video signal beyond the lengths of actual cables, these extenders are especially suited for digital signage and medical imaging applications. RGB/YPbPr versions (AT-RGBF30S and AT-RGBF30R) are capable of sending HD video signal, along with audio and RS-232, through multimode fibers (SC connection) allowing any HD display to extend resolutions up to 400 meters (1320 ft.) at HDTV resolutions 720p/1080i/1080p. These UL/CE approved units are equipped with an advanced digital fiber-optic technology designed to allow for self-adjustment with no compression, bit reduction, or signal degradation. Multiple signals can be run in a single conduit without crosstalk. The AT-RGBF30SR is CEC-compliant and supports 12-bit color depth; it has an 8 dB input equalizer, which compensates losses over 5 meters (16 ft.). The send and receive units of these RGB baluns are sold as separate pieces to allow for conversion among multiple HD video types, depending on the receiver unit. Units also feature 2-way audio and RS-232, allowing for communication with attached devices.
ATLONA TECHNOLOGIES
www.atlona.com
---
Customizable copper patch panel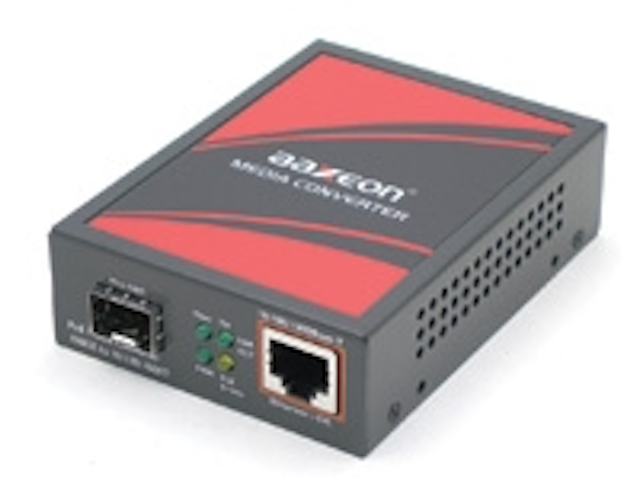 The C1 Ultra Composite copper patch panel is constructed of polymer materials and offers a stylish look and wide range of customization options, its manufacturer says. The panel is available in 2RU, 48-port 110-style and QuickPort field-configurable models. Each panel includes two integrated patch-cord managers and two rear cable-management bars. The patch-cord managers attach directly to the panel's face, conserving rack space and saving cost. The panel is made of glass-filled polymer composite and Leviton claims it performed better than standard 16-AWG metal panels in applied force tests of 20-pound loads. Users choosing to customize the C1 Ultra can download an artwork template from the manufacturer's Web site and provide their own colors, logos, designs, and functionality to the panel's face. Without customization, the panel comes in charcoal gray and includes the Leviton logo.
LEVITON
www.leviton.com
---
Catalog on CD
Cablofil/Legrand is issuing its latest product catalog on CD in an easy-to-use digital page-turning format. The 222-page catalog spans three product lines, including Cablofil wire mesh tray and related accessories, PW cable management products and FAS Power electrical assemblies. It also includes installation tips and application photos. The Product Line CD catalog is compatible with all browsers and does not require being connected to the Internet. All information contained on the CD can be downloaded in pdf format and printed. Instructional and presentation videos are also included.
CABLOFIL/LEGRAND
www.cablofil.com
---
Real-time connectivity mgt. for SMBs

The EPV Real Time Connectivity Management solution takes a new, simple-to-implement and -use approach to real-time connectivity management. The technology is an extension of RiT's product line meant to reach the small- to medium-business (SMB) market. Based on RiT's advanced infrastructure management technologies, EPV is a standalone solution requiring no additional software or server installation. Once implemented, the system continuously collects information regarding connections within an enterprise's patch panels and communications racks. It immediately detects all connectivity changes, enabling the system to send modifications and alerts the moment a change occurs. All connectivity information and notifications can be accessed via the Web through a permission-based GUI. EPV can be upgraded to PatchView, a full-featured intelligent infrastructure management solution.
RiT TECHNOLOGIES
www.rittech.com
---
High-def fiber link
Fiberlink 3350 Series 3G/HD/SD-SDI fiber-optic transmission system is designed to transmit 3G, HD or SD-SDI as per SMPTE 424M-2006, 292 and 259, with or without embedded audio and data, as well as DVB-ASI over one singlemode or multimode fiber. Signals are equalized and re-clocked prior to fiber-optic transmission. The 3350 transmitter features a re-clocked and equalized SDI loop through and the 3351 receiver features two re-clocked SDI outputs. The 3350 Series is compliant with SMPTE 297-2006 and has the ability to operate seamlessly with Fiberlink Matrix and other SMPTE 297-2006 fiber-optic compliant devices. The 3350 Series is immune to pathological signals over the entire budget link and operating temperature range. Available in card versions and a small footprint box version, it is designed for broadcast or corporate studios, OB vans, rental and staging, auditoriums, stadiums and theaters, airport or transportation hubs, distance learning, and surgical or medical imaging.
COMMUNICATIONS SPECIALTIES INC.
www.commspecial.com
---
Enhanced project manager
JobTrac project management software (Version 4), features a new operating platform and updated user interface, along with expanded functionality for all construction trades. Major enhancements include a .NET platform for improved deployment and serviceability, reliability, performance, and data security; SQL database for managing data on personal computers, minicomputers, and mainframes; improved construction project management capabilities, including purchasing, labor and inventory management. The JobTrac system provides tools for managing day-to-day project operations, from tracking project submittals, change orders and material purchase orders, to scheduling labor and project payment applications.
CONEST
www.conest.com
---
Fiber solution for data center
LANscape Pretium Evolved-Density, Growth-Enabled (EDGE) products are designed as high-density pre-terminated optical cabling solutions for the data center environment. The company claims that Pretium EDGE Solutions allow for up to 35% faster deployment, enable up to 25% faster moves, adds and changes (MACs), and offer up to 100% more density than traditional pre-terminated solutions. Enabled by ClearCurve multimode fiber, Pretium EDGE solutions feature pre-terminated and tested multi-fiber assemblies or trunks, with a minimum bend radius as small as five times the outer diameter of the cable, compared to 10 times in traditional trunks. The trunks are an average of 30% smaller than traditional trunks, says the company. The cable is designed to be more tightly routed around corners and bends, while interconnect cables offer a minimum bend radius of up to eight times the outer diameter. Housings are available in both 1U and 4U sizes and mount in 19-inch racks or cabinets. When combined with Pretium EDGE solutions trunks and jumpers, they provide LC connector termination density of 576 fibers within a single 4U housing. Housings contain 12 sliding trays that can accommodate as many as four 12-fiber LC modules or four 24-fiber MTP connector panels per tray. Modules and harnesses load from either the front or the rear, and correct fiber polarity is guaranteed throughout the systems' link. With modules offering an insertion loss of 0.5 dB, multiple connections in a network link are allowed when deploying a TIA-942-compliant system.
CORNING CABLE SYSTEMS
www.corning.com/cablesystems/pretiumedge
---
Camera stabilizer clip
The FMSBC1 fixture-mount stabilizer clip helps level security cameras and secure ceiling tiles that have been lifted during installation of cameras or signage. The low-alloy steel adjustable clip can be used on any shape or size electrical box, and maintains its shape after installation.
ERICO
www.erico.com
---
Triple-play tester
The ARU-100 HPNA test probe for the AXS-200/600 series, based on the specifications of the Home Phone-Line Networking Alliance (HPNA), is specially designed for the characterization of HPNA deployments and triple-play (voice, video, and data) services in FTTx environments. The test probe lets technicians and installers prequalify and troubleshoot the physical-layer aspects of the coaxial home network, while enabling a full range of triple-play testing via the HPNA network. As such, the AXS-200/600 series can address the need to perform triple-play QoS testing in the HPNA environment. Combined with the AXS-200/600 series' range of test capabilities for ADSL2+, VDSL2, Ethernet, copper and voice-over-IP (VoIP), IP television (IPTV) and data, the ARU-100 HPNA test probe can provide QoS measurements for HPNA device discovery, signal-to-noise ratio (SNR), data rates, attenuation, spectral noise, as well as a wide range of VoIP, IPTV and data analysis. All QoS parameters are compared against user-definable pass/fail criteria.
EXFO
www.exfo.com
---
Flexible HD coax
VHD2001M extra-flexible RG6-type HD coax cable is designed for high-definition video applications. Certified to a 4.5 GHz bandwidth, VHD2001M is suited for the transmission of uncompressed HD video in patching or remote applications. The cable features a precision stranded 18 AWG center conductor, a proprietary double-braided shield, and an extra-flexible matte PVC jacket. For the insulating dielectric, a proprietary crush-resistant, gas-injected polyethylene compound is designed to reduce attenuation and extend the operating bandwidth. All critical electrical and mechanical characteristics are manufactured to precision tolerances to ensure accurate signal and data transmission. According to the company, electrical specifications meet or exceed the SMPTE 292M and SMPTE 24M standards for HD coax, while the mechanical dimensions conform to industry-leading tolerances that ensure consistent stripping and connector termination.
GEPCO
www.gepco.com
---
Wideband WLAN splitter
The SCW04N 4-way wireless splitter for wideband WLAN applications covers a frequency range of 750 to 2700 MHz. The splitter is suitable for 800 and 900 MHz cellular and ISM band operation, 1.8 and 1.9 GHz (1800 to 1900 MHz) PCS cellular radio applications, as well as 2.3 GHz WCS Band (2.31 to 2.36 GHz), 2.36 GHz CDMA Band and 2.4 GHz 802.11b, 802.11g and 802.11n applications. This signal splitter features a 50-watt power rating and is constructed from heavy duty aluminum. The SCW04N is designed to be installed indoors or in a weather-resistant enclosure.
L-COM
www.l-com.com
---
High-speed alarm system
The fiber-optic NOTI-FIRE-NET fire alarm network is designed to operate nearly 40-times faster than its standard network platform while supporting twice as many nodes. It enables facilities to unite multiple fire alarm/life safety systems over a single network for complete monitoring and cooperative control. The network supports fire alarm control panels, local and remote monitoring, building automation gateways, and mass notification systems. Multimode and singlemode fiber-optic cables extend distances between component nodes while inhibiting environmental signaling transmission interruptions, such as lightning and moisture. The system can also utilize UTP cables for shorter runs. Larger bandwidth doubles the number of nodes per network to more than 200. Given its peer-to-peer configuration, if network connections become interrupted or severed, nodes on either side of the break will continue to operate and communicate properly without compromising individual system performance or life safety.
NOTIFIER
www.notifier.com
---
Vari-focal dome camera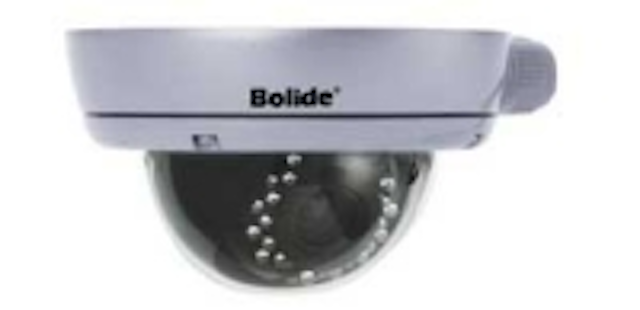 This BC2009/AVAIRF 4-9mm vari-focal dome camera is vandal-proof, according to its manufacturer, and features the company's "focus-free" lens designed to produce sharp images without having to manually adjust the lens for distance. The manufacturer says the camera eliminates installation risk because there is no need to remove the dome cover or built-in RS458 interface.
BOLIDE TECHNOLOGY GROUP
www.bolideco.com
---
Wall-mounted WAP enclosure
The Model 1030-00 "hard lid" or wall-mount enclosure is designed to provide a secure and aesthetic mounting solution for wireless access points (WAP) from most vendors. The enclosure has a low profile, impact resistant ABS dome so that wireless access points with integrated or non-detachable antennas can be secured in otherwise unsecured spaces. The product is designed to satisfy National Electrical Code paragraphs 300-22 and 300-23 for installation in the air handling space. Locks are keyed-alike to simplify moves, adds, and changes. An optional suspended ceiling flange kit permits the Model 1030-00 to be mounted in a standard 2 x 2-ft. suspended ceiling system.
OBERON
www.oberonwireless.com/1030c.php
---
Upgraded infrastructure manager
MapIT G2 is a complete upgrade of the MapIT intelligent infrastructure management (IIM) solution, introduced in 2005. MapIT G2 integrates a combination of smart patch panels, user-friendly master control panels, and MapIT software to provide real-time tracking and reporting of network-wide physical layer activity. MapIT G2 patch panels and fiber enclosures feature an on-board LCD screen that provides connection status, diagnostics, and dynamic label information. The master control panel (MCP) collects all network infrastructure data provided by the smart patch panels and fiber enclosures, monitoring up to 2,880 ports in 1U. The MCP features an integrated LCD display and keypad, which provide technicians access to key network architecture and diagnostic information, and the interface allows full end-to-end graphic circuit traces for any channel in the system and can perform extensive diagnostic tasks on any component or port. Available in Category 6A shielded and unshielded and Category 6 unshielded as well as singlemode and multimode 10Gbits/sec optical fiber, the MapIT G2 system is scalable and can handle networks from 24 ports to 65,000 ports in a single patching field.
SIEMON
www.siemon.com
---
Configurable fiber splicer
PSX-3000 portable, configurable, optical-fiber splicing workstation is designed for volume manufacturing and service applications. It can be used by a service team for maintaining the systems at their installation site. PSX-3000 uses Vytran's True Core Imaging and Active Alignment technology for precise core alignment and splice loss determination.
VYTRAN LLC
www.vytran.com
More Cabling Installation & Maintenance Current Issue Articles
More Cabling Installation & Maintenance Archives Issue Articles