The economic case for broader 10GBase-T adoption
Making the performance case for 10GBase-T is now a simple matter. Apart from its tenfold increase in bandwidth ...
Apr 1st, 2012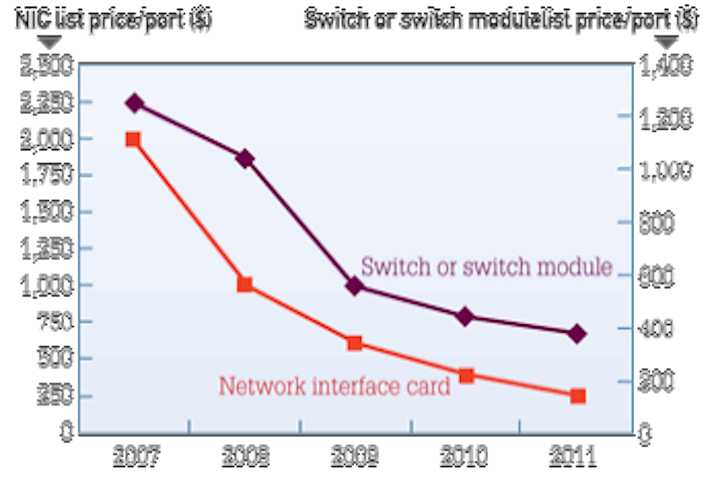 April, 2012 Issue of Cabling Installation & Maintenance Magazine
From several angles, 10GBase-T is a good investment that is getting better.
By Yinglin (Frank) Yang, CommScope
Making the performance case for 10GBase-T is now a simple matter. Apart from its tenfold increase in bandwidth over 1000Base-T Ethernet, 10GBase-T also holds the key to exciting new network models like unified networking and virtualization. The 10GBase-T technology works on Category 6A cabling, sharing the same generous 100-meter maximum cabling length as 10/100/1000Base-T.
From the standpoints of both performance and architectural flexibility, 10GBase-T is an obvious choice. Generally, the resistance to universal adoption is based on the perceived economics of 10GBase-T; however, a look at market trends reveals the economic benefits have become at least as compelling as the performance boost.
Over the past few years, something has been quietly happening to prices for 10GBase-T equipment. As more manufacturers ramp up production, initial costs have fallen dramatically, particularly when examined on a per-port basis. One recent study illustrated a decline in cost for 10GBase-T network interface cards and Ethernet switches, estimating the price reductions at 87 percent and 70 percent respectively since 2007.
As a result of these cost declines, 10GBase-T does not just reach price parity with 1000Base-T; it actually ends up costing about 60 percent less on a per-Gbit/sec, per-port basis. That alone is enough to warrant a fresh look at 10GBase-T adoption, but there is more.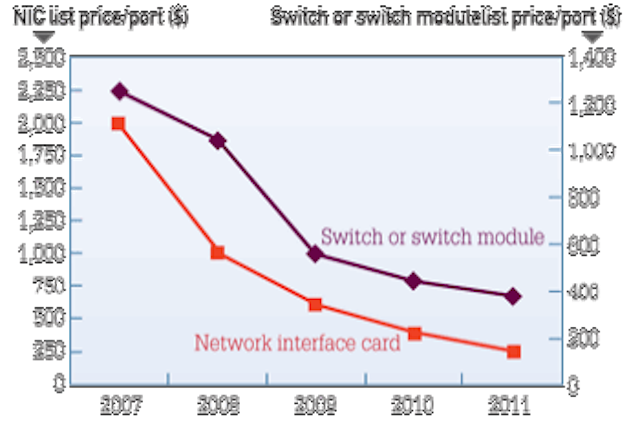 Since 2007, 10GBase-T network interface card prices have dropped 87 percent and switch prices have dropped 70 percent.
Operating costs also play an important role, and that is where 10GBase-T cost benefits are most striking. Expectations of higher energy consumption and heat-dissipation requirements may have applied during the early days of 10GBase-T technology in 2006. With better semiconductor technologies and the Energy Efficient Ethernet standards, today's 10GBase-T devices are designed to embrace green technology standards of energy efficiency, yielding economic and environmental benefits.
Contrary to perceptions, the new reality is that 10GBase-T represents a quantum leap in energy efficiency over 1000Base-T technology on a per-Gbit/sec, per-port basis. Perhaps more importantly, the development trend line clearly suggests that these advantages will only grow more pronounced over time.
Businesses that have so far hesitated to adopt 10GBase-T would do well to reconsider. As the economics continue to improve, there can be little doubt that 10GBase-T will dominate the Ethernet landscape.
Yinglin (Frank) Yang is technical marketing manager, enterprise, with CommScope (www.commscope.com).
More CIM Articles
Past CIM Articles