Editor's Picks
The CCS-6 Cable Cutter from Platinum Tools, "is designed to cut copper cable with steel content without nicking ...
Apr 1st, 2012

April, 2012 Issue of Cabling Installation & Maintenance Magazine
Compiled by Patrick McLaughlin
---
Cable cutter handles copper, steel
The CCS-6 Cable Cutter from Platinum Tools, "is designed to cut copper cable with steel content without nicking, degrading or deforming the cutting blades," explained Platinum's John Phillips. "Fully tested to 10,000 cuts on RG6 CCS, copper-clad steel center conductor with no degradation to the cutting blades, this compact cable cutter also easily cuts through copper and aluminum cable."
The tool works on solid copper wire, twisted-pair and coaxial cables, the company says, adding that its blade geometry ensures the cable remains round during the cut.
At a suggested retail price under $20, the CCS-6 includes PVC handle grips and a black-oxide finish. It is made from SCM 440 steel, weighs less than 8 ounces and is 6.3 inches in length.
---
Boot camp teaches 32 fiber-optic installation skills
Pearson Technologies has introduced an eight-day program entitled "Fiber Optic Connector Installation Boot Camp - Basic and Advanced Training for Low Loss, Low Cost and High Reliability." Eric Pearson, who developed and presents the boot camp, also authored the book Professional Fiber Optic Installation, The Essentials for Success, which serves as the manual for the boot-camp program.
The program includes basic training in all aspects of the installation process; advanced training in connector installation, evaluation and testing; and two Fiber Optic Association (FOA) certifications
"The basic training activities include cable installation, cable end preparation, connector installation by two methods, mechanical and fusion splicing, insertion loss and OTDR testing, link troubleshooting and network certification," Pearson explained. He added, "The advanced connector installation activities take the trainee up the learning curve so that, after this program, the trainee can install, evaluate and test the connectors correctly, the first time, every time. These activities require installation of 12 connectors by each of the two methods, with intermediate evaluations of the condition of each connector."
Those successfully completing the course earn the Certified Fiber Optic Technician (CFOT) and Certified Fiber Optic Specialist/Connectors (CFOS/C) designations from the FOA. Each certification requires individuals to pass a multiple-choice, closed-book examination.
"The CFOT certification indicates the trainee understands the basic concepts, concerns and language of fiber-optic installation," Pearson said. "The advanced certification, CFOS/C, indicates that the trainee has developed advanced skills in connector installation, evaluation and testing. These advanced skills enable the trainee to achieve the three goals of low power loss, low installed cost, and high reliability."
In addition to 32 hands-on activities, the program provides extensive review of the training materials to assist trainees in passing the two certification examinations.
The eight-day day program is presented in Kennesaw, GA and at client facilities. A $3,200-per-trainee fee applies to training carried out at the Kennesaw facility and includes the training as well as certification.
---
AT&T uses magnets to secure 4G wireless infrastructure
Metal and Cable Corporation, developer of the Magnemount Antenna Mounting System, recently was called upon by AT&T to secure the new antennas that expand the carrier's 4G network frequency range from 70 MHz to 2 GHz. In order to achieve the capacity upgrade, AT&T replaced 4-foot antennas with 8-foot antennas on a water tower owned by the Irvine Ranch Water District (IRWD) in Irvine, CA. The 25-foot-high, 1-million-gallon tank does not have an external tank-top flange to which antennas might be attached, so AT&T had to achieve a side-tank mount for its 8-foot antennas.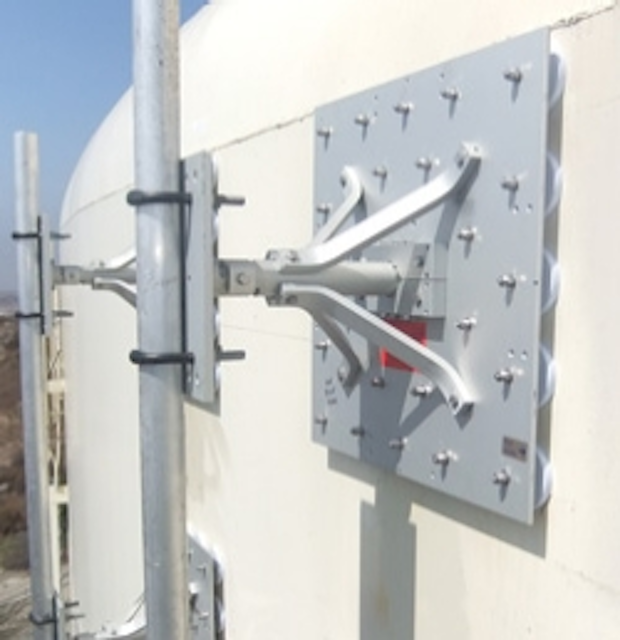 Metal & Cable Corp. further explains, "AT&T's existing antennas were mounted using epoxy bond on the sides of the water tower tank and were loose due to extensive tank movement ... A permanent solution was needed to replace them. The IRWD had mandated an alternative mounting solution - also ruling out capacitor discharge (CD) welding and spot welding, both of which would require tank shutdown for draining and also presented potential EPA issues involving maintaining the integrity of the tank's membrane seals."
Tasked with achieving a solution, Diversified Communications Services' vice president and founder Steve Hurley contacted Metal & Cable Corp. about its Magnemount system. "The system is engineered with a series of permanent magnets that combine with an independently suspended mounting system to provide a non-invasive solution to adhere to the steel surfaces with varying curvatures of water towers, including side sectors," Metal & Cable Corp. says.
Although the mounts are placed at the top of the tower, the installation begins at ground level, where each base plate is mounted to a horizontal shank that attaches to the vertical mast with U-bolts, which are tightened to securely hold the final antenna pipe and assembly. Atop the water tower, installers pick a desired surface location and place the Magnemount base plate, the company explains. The magnets are then loosened to automatically orient themselves to their maximum capacity. The lock-nuts on each magnet need one turn with a hand wrench to secure the mount in place. Once they are secured, the antenna is mounted and the installation is completed.
Diversified's purchasing agent and equipment manager Aurelio Gonzalez recalled, "The system installed within two hours tops, then AT&T was live on air. The whole sector could have been shut down otherwise as this could have taken days or even weeks if it was spot welded, which would require grinding, shooting studs, fabricating mounts, possible tank draining, and even involve specialized painting."
Diversified's Hurley added, "The Magnemount Side-Mount system delivered vital speed-to-market and expanded the 4G network coverage for AT&T's customers as the new system covers four of their bands in one antenna."
Magnemount Side-Tank Mount (Model STM) is one of five modifiable designs of the magnet-based mounting system. Metal & Cable Corp. explains, "Because the system is entirely magnetic and the bottom of the magnets are covered with a Mylar pad, it requires no epoxy coating or invasive welding, which could adversely affect the water tank's protective surface coatings and bladder seals, thus meeting IRWD's mandate. Additionally, the Model STM is specifically configured for a water tower tank's side sectors."
---
Walk-behind trenchers
A line of walk-behind trenchers from Ditch Witch claim numerous advantageous characteristics, including ease of use and hydraulic operation. The trenchers can be used as part of the process to establish pathways for direct-buried or other underground cable placement.
The Charles Machine Works manufactures the Ditch Witch RT12, RT16, RT20 and RT24 walk-behind trenchers, and notes that each one "is designed and manufactured to provide an exceptional return on investment." For example, the company points out that it builds the trenchers to be hydraulic rather than belt-driven. "Decades ago the Ditch Witch organization made the decision to transition to longer-lasting, easier-to-use hydraulic systems," the company says.
Of the trencher machines' operation, the company says, "Even novice operators can quickly understand the hand controls."
More CIM Articles
Past CIM Articles