Digital calls on multipair cable for voice and data network
The computer hardware manufacturer specified bundled Category 3 and Category 5 cable for its customer-service center.
Nov 1st, 1997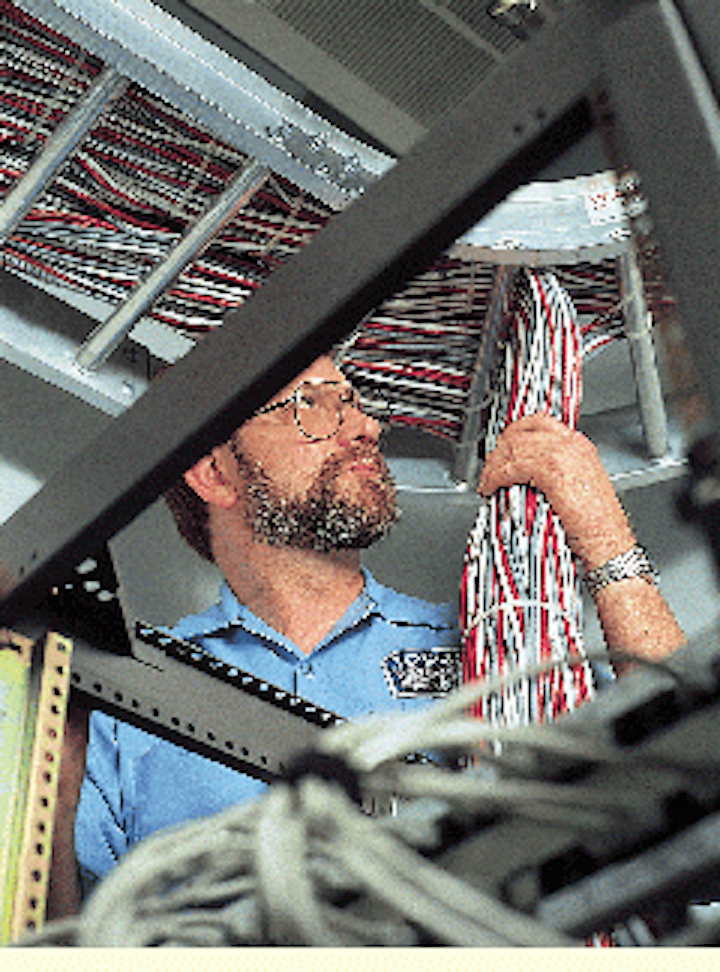 The computer hardware manufacturer specified bundled Category 3 and Category 5 cable for its customer-service center.
Carol Everett
In 1996, Digital Equipment Corp. (Littleton, MA) revamped its U.S. Call Center, switching from an automated integrated voice response (ivr) system to a computer telephony integration system that integrates a human voice with computer-tracking and data-networking systems. The ivr system, installed in the late 1980s, ran seven levels deep and was fraught with problems, including hangups, sales leads not reaching their intended destinations, and customer dissatisfaction with being trapped in the infamous maze of "press 1 if you want...."
Digital also decided to move the call center from a facility in Merrimack, NH, to a location in Littleton. The new system uses an Aspect Telecommunications (San Jose, CA) automated call distributor, which routes customer calls to account representatives, who track leads, troubleshoot, provide configuration assistance, and offer technical product solutions. Online transactions are recorded through Siebel Sales Enterprise (San Mateo, CA) software, which runs on Digital`s AlphaServer Systems. The call center was designed to provide immediate access to more than one million contacts, five million history records, and volumes of opportunities, campaigns, and literature.
Digital`s primary concern was designing and installing a cabling infrastructure that would accommodate the customer-service operation, interface with its other networks, and offer flexibility to allow easy moves, adds, and changes within the facility. The new system, which includes a fiber backbone and unshielded twisted-pair (utp) cabling for voice and data to the desk, had to run the two physical networks of the call center, which include an application data network and a complex voice network.
Specialized network configuration
Within the Littleton facility, the fiber-optic cabling for the internal backbone is installed to connect eight telecommunications closets (TCs) and two computer labs. All the hubs in the TCs run in a star configuration to the backbone, which uses a Digital gigaswitch in the main computer lab. Each port on the main switch operates at 100 megabits per second, with the capacity for 32 ports per switch. "The advantage of this switch is that if a port has traffic that`s destined for another port, then that traffic can travel simultaneously to the same port or any combination, so you get a total bandwidth of 3.2 gigabits through the box," states Steve Howe, network support manager at Digital. "With such an immense amount of information being sent to the dechub 900 Multi-Switch, which is our mainstay of hub technology, we also made sure that we had redundant links on an fddi [Fiber Distributed Data Interface] ring."
All offices are configured with at least one switched 10-Mbit/sec Ethernet port. Each Digital PortSwitch 900 module supports 32 ports, which can be grouped into six different local area networks (lans) using Digital`s dechub Multi-Switch 900 hub products. "Previously, 32 ports would be tied to one Ethernet," Howe explains. "With a port switch, you have multiple Ethernet engines inside the box, so each one of the ports can go to one of the six Ethernets. And with a port switch, whoever happens to be in your internal lan group determines how big your repeater domain is."
These switches are located in the hubs in the TC and patched to the back of the patch panels to create active crossconnects. The hubs in the TCs are tied together, and every office is patched to them.
Cable selection
When considering cabling solutions, Digital limited its options to cables that could
- accommodate cross-functional integration between two voice and three data cables at each of the 1000+ workstations to be served,
- allow easy connectivity to wire-management frames, permitting plug-and-play capabilities and supporting easy moves, adds, and changes,
- integrate with the fiber backbone and wide area network (wan) system,
- integrate with Digital`s own AlphaServer Systems and other hubs and servers,
- utilize redundant links,
- be cost-effective.
Howe continues, "We needed a reliable cable system that could handle the complex internal data communications, provide voice cables for our influx of 2000 incoming and 2000 outbound calls per day, and be flexible enough for future applications." For the horizontal runs and drops to the workstation, Digital selected SmartWrap from Helix/HiTemp (Franklin, MA), a cable package that offers copper or fiber cables, or a combination of both, bundled and pulled simultaneously from the TC to the workstation (see "SmartWrap cabling package speeds installation," June 1996, page 71). Digital chose two 4-pair Category 3 cables for voice and three 4-pair Category 5 cables for data to each workstation.
"stp [shielded twisted-pair] would have been overkill," states Peter Kunigonis, Helix/HiTemp`s marketing manager. "There are different philosophies in installing stp versus utp. stp is usually installed in high-emi [electromagnetic interference] locales, which was not the case at Digital. Not only is stp more costly because of the construction of the cable and the shielding used, but connectors are oversized and cumbersome, since they also must be shielded. In an office environment like that at Digital, the logical choice is utp."
"Shielded cables are mostly installed in European markets, where they have different environmental requirements," adds Tony Tocco, president of Tocco Corp. (Billerica, MA), which performed the installation. "There is not enough interference in most office environments to justify using stp cables versus utp. If the wires are installed properly, then you shouldn`t have any problems with interference using unshielded cable."
The two Category 3 cables are designed to integrate with the Aspect phone system and a separate in-house voice system. Three Category 5 cables to the workstation give users the option of running two PCs and a printer or a laptop, or any combination of three pieces of equipment. "We figured that if you`re going to pull one or two cables, you might as well pull three for flexibility of application and for future use," Howe says. "The cost of the wire is minimal. The installation and termination would be costly in time to do it later. We called on Helix/HiTemp Cables to provide us with five utp cables, not only because of its price and delivery, but because the company could pull all five cables at the same time with its new SmartWrap cable package.
"Digital purchases its own cable [directly from vendors or representatives] instead of the installers [purchasing] and then providing the cables. [The installers install customer-purchased products.] Therefore, we wanted to make sure we minimize waste. With the SmartWrap package, we knew that all five cables were the same length and clearly marked, so we wouldn`t have a problem with scraps and pitching spools."
"In my more than 20 years of pulling cable, this has been the best innovation for saving installation time and cable scraps," states Clark S. Garinger, an installer with Tocco.
Out with the old
Before the Category 5 cable was installed, the old data system--made up of thick wire Ethernet, thinnet coaxial, and Category 3 cable, as well as hardware--had to be removed. The 50-pair phone wires from the TCs to the desks also had to be replaced.
The thick-wire solid coaxial cable had been installed around the building as a means of connecting the internal network. This coaxial cable was then installed into the equipment closets from the main computer. Thinnet (RG-59) coaxial cables went from the data cabinets to the computer or workstations through repeaters. The RG-59 was an extension of the thick-wire that had to be installed into the repeaters.
The previous system, known as office communication cabinets, consisted of data cabinets located at the end of each row of offices or workstations and were wired for only that specific row. "The problem with this system was that if someone wanted to be on a different network, you`d have to physically run cable down from a different segment just to feed that one office," says Garinger. "Nowadays, if the cabling infrastructure is done right, all the changes can either be handled through software or by simply moving patch cords in the telecommunications room and on the wire-management racks."
Scrapless installation
After removing the existing lines, cabinets, and hardware, Tocco installed all new distribution frames with modular wire-management panels in the 10 telecommunications rooms, which consisted of eight TCs and two computer labs. The utp cable was placed in existing cable trays in the ceiling and terminated into each of the TCs, where they were connected to Category 5 patch panels. From the TC, the cable was pulled through the ceiling and down distribution poles to the workstations.
Helix/HiTemp provided more than 800,000 running feet of Category 3 and Category 5 utp cable in 164 reels. The two Category 3 cables were helically bound with the three Category 5 cables through SmartWrap packaging, which includes a polybinder tape wrapping. Each reel, which contained 1000 feet of the five cables, also had 1500 feet of wrapping. Garinger says, "I`ve worked with other types of wrapped cable, such as Kevlar and nylon. But that frays and makes a mess. When you get to the end, you`re stuck with a big ball of fur. The polywrapping is a non-fibrous binding and is effortless to unravel and cut when breaking out the Category 3 from the Category 5."
One reel of SmartWrap bound cable equals five reels of the cable that it carries--three rolls of 24-gauge Category 5 and two rolls of 24-gauge Category 3. Six reels were mounted on each cable payoff so that six of the SmartWrap cabling bundles could be pulled in one payoff through the plenum, cable trays, and ladders to the TCs, then broken out to the individual workstations. Combining six spools in one payoff saved time for loading and unloading. "We had worked with other bound cables in another Digital building, which proved less efficient," Howe states. "For the other building, we selected a brand that consisted of three bundled Category 5 cables on 2000-foot spools, which could only be mounted two at a time on the payoff. We had to use staging, which took three or four people to lift. It wasn`t much of a time-saver with spools that big." The SmartWrap cable reels supplied to Digital were 22 inches in diameter and weighed 250 pound each.
Another benefit of bound cables is the ease with which extra cables can be placed in the ceiling. At Digital, 40 feet of coil was left in the ceiling for each row of offices. When you pull single cable on individual rolls, the several lengths of wire create a problem. The installer has to pull the wires individually and dress them out. "We were able to easily pull the slack up and coil the bundled wire overhead without kinking it," Garinger says. "For future applications, this makes for easier troubleshooting or for moving offices."
"The dynamics of the bundled cable are that Category 5 can be installed at 90 meters, as recommended by tia/eia-568a standards," Kunigonis says, referring to the commercial building telecommunications wiring standard. "By breaking out the Category 3 cable, it can continually run to a further destination depending on the frequency and application."
Office layout
At Digital, the rows of workstations have modular half-walls as dividers. Power poles are located throughout the floor. The bundled cable is strung across the ceiling in trays and pulled down to poles; it is then terminated under the desks to combination six-plug power strips and five-port data/voice panels. Each station, called a "midi link," contains five jacks that accept 8-pin modular connectors, with 110-style contact plugs for terminating Category 3 voice or Category 5 data to the desk.
"Although this unit combines wiring for both the electrical-power and the data/voice outlets, the wiring and connections are actually separate," explains Garinger. "The section for the communications jacks allows space for coiled wire for future applications. And the electrical wiring between the offices was armored with metallic sheathing to avoid any AC interference and crosstalk." The midi link, which was designed to accept Digital`s Open decconnect inserts and jacks, keeps unnecessary wiring off the desktop and neatly organized beneath the workstation. Future moves and changes are possible using plug-and-play techniques at the desk and at the corresponding patch cords in the wire-management panel.
With this efficient cabling system in place, Digital`s interactive call center has received positive reviews from customers and the company`s sales organization. To reinforce the system`s effectiveness, a display connected to the Aspect phone system that exhibits the average waiting time for incoming calls is prominently visible in the call center. It steadily reads 0.
For More Information...
"How copper cable is made," September 1997
"Horizontal cabling practices for open offices," December 1996
"New standard for open-office architectures," November 1996
"Pre-planning the cable pull saves time and increases productivity," October 1996
"Recabling in an occupied building requires careful planning," May 1996
"Combining data and voice in the same cable," April 1996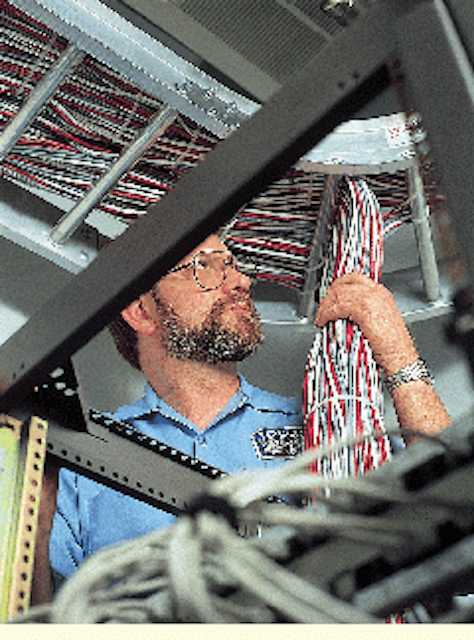 Click here to enlarge image
Clark S. Garinger, a cabling installer with Tocco Corp. (Billerica, MA), pulls cable bundles from cable trays into cable-management racks in one of eight telecommunications closets at Digital Equipment Corp.`s (Littleton, MA) call center.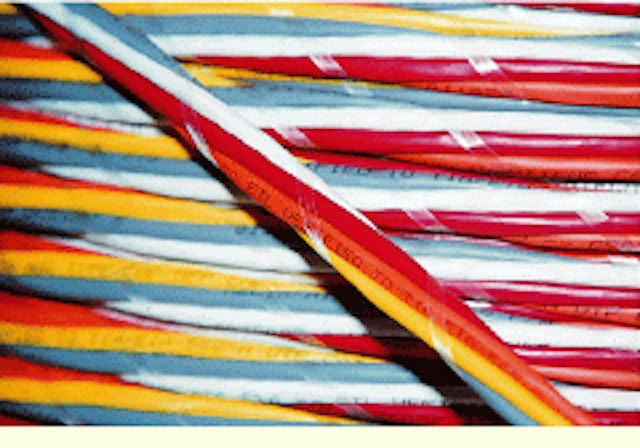 Click here to enlarge image
Two Category 3 cables and three Category 5 cables are helically bound with polybinder tape wrapping.
Click here to enlarge image
Because each reel contains five bundled cables, the six-reel payoff shown here can accommodate 30 cables.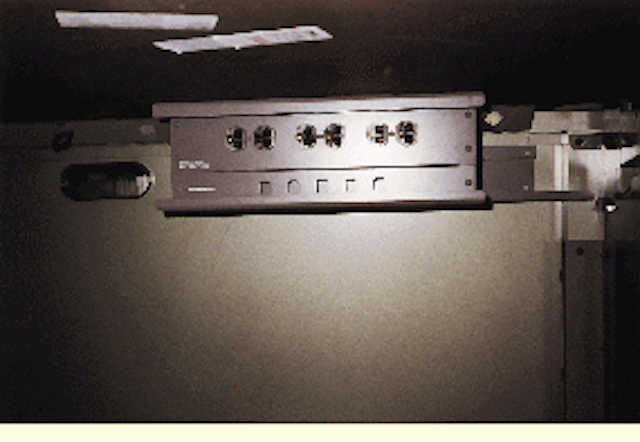 Click here to enlarge image
Power strips under desks in workstations combine both power and voice/ data outlets.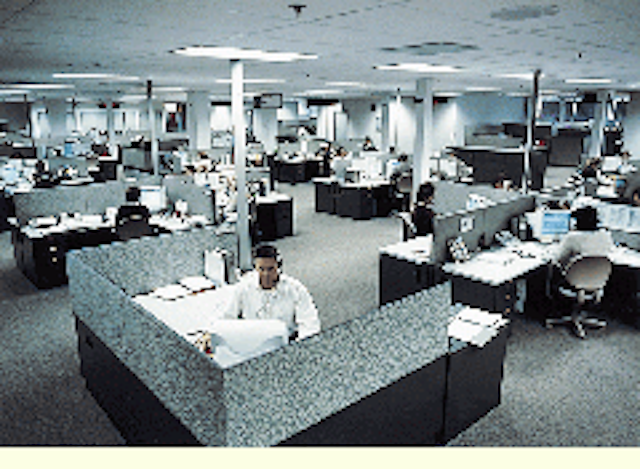 Click here to enlarge image
The open-office layout of Digital Equipment Corp.`s U.S. Call Center requires cables to be brought from the ceiling in power poles. The call center handles 2000 incoming and 2000 outgoing calls per day.
Carol Everett is the principal of Everett Communications (Holliston, MA). She is a freelance writer who represents Helix/ HiTemp Cables Inc. and other vendors in the cabling industry.