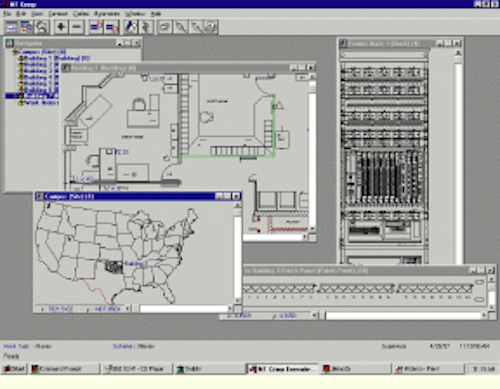 Software keeps tabs on cable and network components
Cable-management software allows tracking of network`s physical layer.
Lisa Schwartz
Microtest Inc.
Information-sharing between businesses and people has grown in recent years. And it is no secret that networks have become mission-critical as businesses continue to change and grow, resulting in significant financial investment by most companies. Compounding data-network expansion is the rapid deployment of Internet and intranet services. Meanwhile, companies remain vulnerable to costly network failures that can be generated by a lack of information about network infrastructure. In fact, millions of dollars are lost each year because of such network failures.
Today, however, software products can reduce these costs by making it easier to keep track of the network`s physical layer from its initial installation through its growth and evolution. Offering significant advantages in services as well, these network-documentation products can also lead to cost reductions for the cabling and network professionals who manage one or more installations.
Whether you are an installer, a service provider, or an information-technology manager responsible for network infrastructure, physical-layer database-management software products can simplify and reduce the cost of maintaining network assets, connections, and cabling links. These products, for instance, can help determine if previously certified cable will support new network applications. They also aid in disaster recovery and in planning, installing, and documenting moves, adds, and changes.
According to George Henry, data manager of the cable installation division of Boss Electric (Kaneohe, HI), network-documentation products are a must. "We would be lost without good documentation of the cabling infrastructure and all the associated network components," he explains. "It is imperative for our organization to keep records since we manage so many different sites."
Unfortunately, many networks lack even basic documentation, which makes network management expensive and time-consuming. Documentation simplifies network-problem location, saving countless hours of troubleshooting and eliminating unnecessary plant recabling. It is advantageous, as well, to maintain documentation of all network infrastructure components and connection information, starting with the collection of cable-certification test results from a handheld cable scanner. In addition, managing and documenting the physical layer extend the overall life of the cabling infrastructure.
When choosing network-infrastructure documentation software, it is important to consider features such as end-to-end circuit tracing. This feature shows the individual cables and components in each circuit, supplies libraries of cable and equipment types, and permits easy importing and reporting of link-certification test results. More-sophisticated products display building locations, user names, cost centers, and trouble-ticket and work-order preparation. Some products even offer compatibility with popular computer-aided design packages, allowing drawings to be imported into the database and populated with the documented cabling and components. Some products are also available in scalable configurations to fit various needs so the user is not forced to purchase an entire high-end solution all at once.
Managing cable-certification test results
As a cabling installer, service provider, or network manager, you should maintain cable test and certification records for all cabling links that are tested with a handheld cable scanner. Historically, the majority of handheld cable-tester manufacturers have provided basic cable-management software packages to manage the cabling only. Recent software advancements, however, allow test results to be added to network documentation. A seamless interface between physical-layer management software and a handheld cable scanner makes the job of importing test results into the software database a quick and easy process. In addition, if you are in a position that requires cable-certification reports to be turned over to a customer, you should consider the benefits of the electronic format available in this kind of software.
In many cases, cabling-installation professionals provide their customers with hard-copy cable-certification records. This can mean several large binders containing hundreds, if not thousands, of pieces of paper with data for each cabling link. These binders become obsolete the first time a cabling link is rewired or a new link is added. Managing the data in this format can be a time-consuming and cumbersome task, as well. For example, if an organization is considering adding some new applications to its existing system and needs to review the bandwidth capabilities of the system at the time it was installed and certified, someone will have to locate the correct binder with the needed information and search through reams of paper to find the answer.
Physical-layer management software gives the cable-installation professional the ability to simply turn over a diskette containing the cable-certification data. The organization now has the ability to import the certification data into its own management system and continue to build its physical infrastructure. The user can also quickly sort and search for any required information. The cable-certification data can be kept up-to-date easily and utilized for future troubleshooting and moves, adds, and changes. This lets you provide a value-added service while the customer can further build and maintain its own physical-infrastructure database.
Documentation options
Warranty backup--Many cabling-installation companies and service providers now offer an extended warranty on their work. Good documentation is like an insurance policy--it is not only proof of high-quality workmanship, but also provides the customer with the evidence of quality and configuration of a system at the time it was installed. If a problem should arise, a comparison can be easily made between recently generated test data and the baseline test data to verify if any configuration changes have been made.
Numbering strategy--Before beginning the task of defining and documenting the infrastructure, it is well worth taking some time to define a documentation strategy. There are many different ways to number the components and assign identifications to cable segments that have been certified. It is important, for example, to use a consistent numbering scheme throughout the installation. Planning this out in the beginning will result in considerable time savings when you are connecting the various components, which can then be tracked and referenced throughout the life of the infrastructure. This information is the basis for years of future reference and should be implemented to best suit your future as well as current documentation needs. For more information on the industry standards for numbering and documenting your system, refer to the tia/eia-606 administration standard.
Network troubleshooting
Without the proper documentation, keeping the network up and running and managing moves, adds, and changes can be a challenge. When a user calls with a problem, getting that user back up and running is eased when a simple query to the database can locate the workstation, identify the complete cabling path through the infrastructure, and spell out bandwidth capabilities. This allows immediate identification of the cabling segment, patch-panel position, hub-port location, and other vital link data. It also facilitates verifying the integrity of those components. Maintenance tasks that used to take hours, or even days, can now be done in minutes.
Most networks require moves, adds, and changes on a continual basis. Infrastructure record-keeping can save time and minimize business disruptions in this process. Good record-keeping should include information on all cabling test data, physical network components, their locations, and connection information. With this information, capabilities of cabling and equipment can be more effectively put to use, and unnecessary recabling can be avoided.
For example, let`s say you are tasked with adding several new workstations to your network. Without proper documentation, you could spend several hours, even days, trying to locate where the existing cabling is terminated in the wiring closet and what is already installed to the wall outlet. With proper documentation, you can easily query the database and run a report showing all the fully connected and available cabling segments. In addition, you can view the cable-certification reports, which indicate if a particular segment will support the intended applications. Then, it is a simple matter of plugging the PC patch cable into the correct wall outlet.
It is also important to track network problems and equipment-failure history. Trouble tickets can provide history and backup to support requests for additional network equipment. Trouble tickets and work orders also ensure that repair jobs are in progress and subsequently resolved. A work-order history can also be used to document workload and time spent on various tasks, which helps to determine proper staffing levels.
Another important feature of cable-management software is asset-management tracking, which provides reporting capabilities on building equipment inventory. Many times, this information is tracked in a separate database. However, it is also useful to track your assets as part of a single infrastructure-management system that provides a wide range of reporting capabilities. In this case, the information you need is at your fingertips when evaluating what equipment and components may be required to add more capacity to the system. Such a capability also aids in determining the impact of a disaster and the replacement cost of components lost in the disaster.
What happens when disaster strikes and the network-infrastructure specialist has been transferred or left the company? Parts of the network or even the entire system may become inoperable, leaving you to rebuild. Some of the questions that arise include: How was the network previously configured, how many components make up the network, how much will it cost to replace damaged or destroyed components, and how much cabling will be needed?
Simply stated, developing a disaster-recovery strategy before a disaster occurs is a crucial step in most business planning. Keep in mind that your cable-management product should offer the ability to document part numbers that correspond to each of a network`s components. If a disaster should occur, you will be prepared for it and can obtain a detailed report of the inventory of all components that need to be replaced, including the part number of each specific part.
Many cabling-installation companies are recognizing the tremendous opportunity for value-added service these cable-management products provide. With the infrastructure documented in a physical-layer management database, installation companies now have an easy way to provide add-on service after the initial installation is completed. These software products can be used by your team to facilitate an entirely new business--from the initial database setup to continued maintenance of the network and its documentation. As more and more organizations realize the benefits and the need for physical-infrastructure maintenance, the growth potential of cabling-installation companies and service providers will continue to rise.
Any organization that recognizes the importance of these products will benefit from reduced operational costs, less downtime, improved productivity, and increased service to its users. There are many types of database management software packages available today, all with varying capabilities and features. Before you decide to purchase one of these packages, determine your exact needs. Ask vendors for free trial versions of their software. If you are not currently documenting, you should be, so check it out.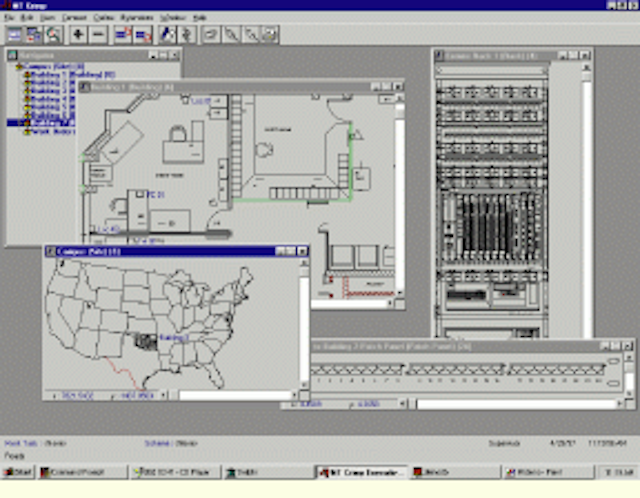 Click here to enlarge image
This screen shot depicts an example of the detail that management systems can provide. It displays the specific area of the country where this building is located, as well as a layout of the floor plan and the hub and patch panels, which contain connection information for the components documented in the infrastructure.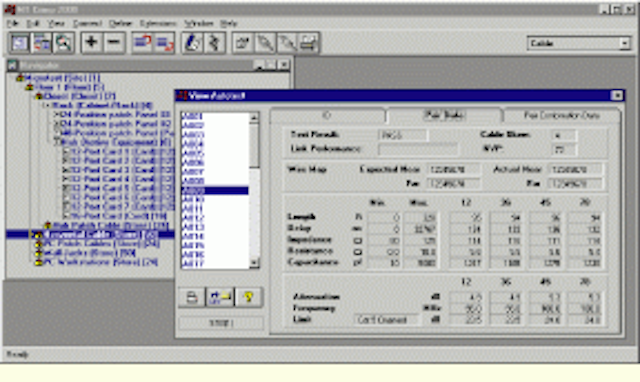 Click here to enlarge image
Cable-certification data that has been uploaded into the system from a handheld cable scanner is displayed in this screen shot. The data can be kept up-to-date easily and can be used to troubleshoot future moves, adds, and changes.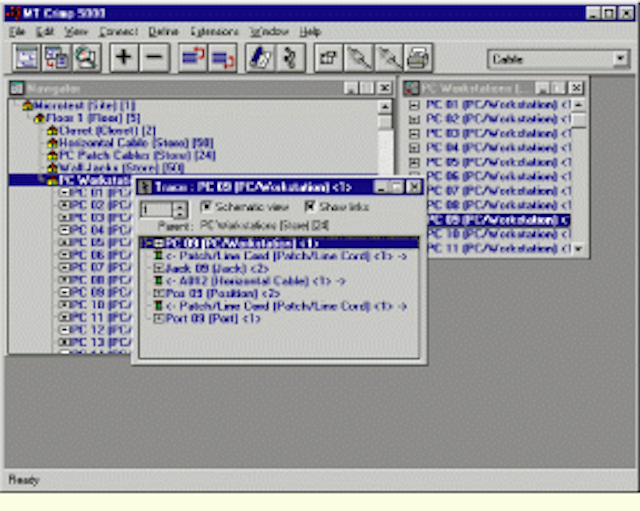 Click here to enlarge image
The connection information displayed here shows the complete track of the cabling link--from the PC to the hub. When you are troubleshooting a network problem, this kind of detail makes it possible to immediately identify a cable segment, patch-panel position, and hub-port location.
Lisa Schwartz is the product manager for Microtest Inc. (Phoenix, AZ).