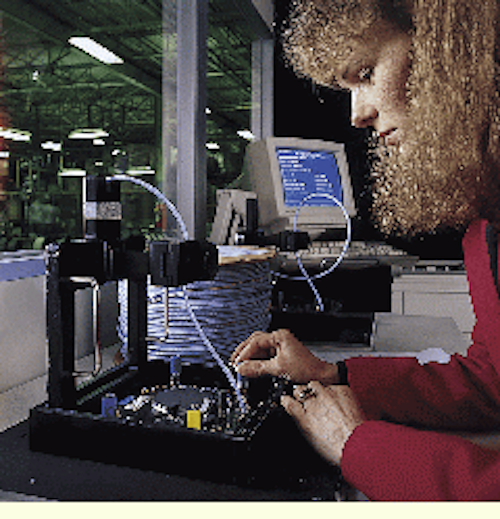 Lack of foresight when you are purchasing cable can design technological limits into a building and cramp the performance of high-tech equipment.
Brian Induni, Champlain Cable Corp.
Faced with the complex task and high cost of installing or upgrading a network, project managers generally focus their attention on hardware and software instead of on the cable itself. Yet everything depends on the cable, which usually costs less than 1% of the entire project.
Purchasing extended-performance cable rather than standard Category 5 cable will cost a little more up front, but installing the highest-performance cable possible will ultimately save money. Any compromise means that the end-user will be retrofitting the entire system in a short time, racking up costs far greater than the initial purchase of extended-frequency cable.
Many manufacturers offer extended-performance (or extended-frequency) Category 5 cable, which has been tested to frequencies higher than 100 megahertz, the tia/eia-568a standard for Category 5. It is important to remember that no recognized industry standard exists for 100-ohm unshielded twisted-pair cable at frequencies beyond 100 MHz. However, that does not prevent companies from turning to this medium to provide future-proofing, or headroom, for handling future high-speed applications.
Two main characteristics differentiate extended-performance cable from ordinary Category 5 cable.
- Attenuation-to-crosstalk ratio (acr). This ratio is a measure of the cable`s ability to maintain signal quality. The higher the acr, measured in decibels, the greater the cable`s signal-carrying capability, and the greater the headroom. Basically, acr is the difference between attenuation and crosstalk measured in dB at a given frequency. The higher the value, the greater the cable`s capability to maintain signal integrity and clarity.
- Structural return loss (srl). This has to do with the cable`s physical structure. Any anomalies in the cable will reflect the signal back to the transmitter and result in corrupt or lost data. Inconsistent wall thickness and concentricity of the cable will affect this loss, as will the copper wire`s diameter and physical properties.
The chemical compound that is used to insulate the copper wire will affect both acr and srl. This often-overlooked parameter is the cause of many problems after the cable is installed. Although many different chemical compounds work, it is important to evaluate the ultimate performance that the compound will dictate in the cable. Manufacturers must pay more attention to extended-performance cable during the manufacturing process to ensure that it performs better than standard Category 5 cable. Two major areas of concern are concentricity and lay length:
- Concentricity--Compared to Category 5 cable, the copper wire in extended-performance cable is more precisely centered within its insulation. This is accomplished with high-precision machines and by using monitoring equipment on extruders that measure concentricity continuously. The manufacturing equipment is also adjusted automatically to precise standards.
- Lay length--When two wire pairs are twisted together, the lay length must be precisely controlled for extended-performance cable. This is done using a highly automated, carefully controlled process. Measurements must be taken more often than with standard cable to maintain these tight twists.
The statistical parameters controlling the manufacture of Category 5 cable can be compared to a six-lane highway: For extended-performance cable, those parameters are narrowed down to a two-lane highway--in other words, there is much tighter process control to produce much lower statistical variance in extended-frequency cable.
PictureTel, a provider of videoconferencing equipment and service, recently decided to use extended-performance cable in the construction of its new corporate headquarters in Andover, MA. The site contains a 330,000-square-foot building comprising 2500 drops with six jacks per drop. A typical workstation in most companies probably has three incoming cables, but at PictureTel, every station has six.
Stephen Taschner, PictureTel`s project manager, says his company recognized that when an office is wired, you cannot be sure who its occupant will be. "It might be an administrator who needs only an analog telephone line, a personal computer, and a desk phone," he says. "Or it might be an engineer who needs a phone, a network connection, a video Integrated Services Digital Network link, and an Ethernet line. With six-cable drops, there is no need for rewiring as the company continues to grow."
PictureTel`s research and development laboratory is an example of how this planning provides flexibility. In this fast-paced environment, engineers might be working on one new product today and developing another three weeks later. Because circuits are patched to make new connections, it is easy to make changes without help from other departments. Whatever the next project may be, there will be no need to change crossconnect wires.
Taschner emphasizes up-front planning and advises project managers and installers to allow for company growth and the changing dynamics of corporate roles in their own projects. In fact, PictureTel is working on its third large-scale project within a short time. To keep from having to rewire again soon, the company developed an extensive request-for-proposals to find the best-qualified vendors for its latest cable-plant upgrade.
Advice from the installer
Brad Coles of Data Network Associates (Watertown, MA), the project manager in charge of installing the cable for PictureTel, also offers some advice. "Review the layout, design parameters, and schedules before starting the work," Coles says. He emphasizes the need for a detailed analysis of the project.
Coles says it is also important to have access to backup test equipment. "You may be down to a tight timeline just when a battery fails," he explains. "And you`ll need to switch testers without missing a beat."
The contractor also recommends creating a design that avoids single-use cables. PictureTel, for example, uses cable that integrates voice, data, and video. "Multiple-use cable gives complete flexibility, and it`s easier to bundle," Coles adds.
He also makes a case for prebundled cable. "Trying to identify the different stations in the wiring closet of a building with a high-tech network is difficult," he says. Some manufacturers of extended-performance cable offer bundled products that can be color-coded, labeled, or numbered in a way that is compatible with the customer`s identification system. Prewrapped cable can consist of almost any combination of copper, coaxial, and fiber-optic cables. This saves the installer time and reduces the risk of errors because the lengths are precut.
When you buy prebundled cable, you should inquire about testing specifications. Performance can be affected by bundling, so bundles should be tested both before and after wrapping. This is especially important when you are bundling a number of extended-performance cables.
The electrical performance of extended-performance cable can be lower after the cable has been terminated. But if you start with cable that gives you high headroom, you can absorb some of that performance loss. High-frequency cable is a type of "insurance" against installer error and the ordinary wear and tear of installation.
The savvy end-user will demand a passing test report for every drop. Today`s installer needs a reliable, handheld battery-operated tester to meet this requirement. A good tester should fully support telecommunications systems bulletin-67 level II accuracy, autoconfigure for either the basic-link or channel test limits, test near-end crosstalk at both ends of the cable, have a simple interface with a computer for downloading and printouts, and come with software updates and technical support.
As demand for faster and more-complex networks increases, so does the market for extended-frequency cable. In 1996, for example, the total U.S. market for cables, crossconnects, and workstation outlets was $1.8 billion. It is projected to increase to $4.6 billion in the year 2000. Extended-frequency cable comprises approximately 20% of that market and will continue to grow as networks demands grow.
But that may be a conservative prediction. Consider all the organizations that deal with massive amounts of data: financial institutions, insurance companies and agencies, hospitals, and design and engineering firms with computer-aided design stations. Also, look at the potential of banking by telephone and via the Internet. Witness the push for universities and primary and secondary schools to get networked. q
Brian Induni is the data-communications product manager for Champlain Cable Corp. (Colchester, VT), a subsidiary of Huber & Suhner (North America) Corp.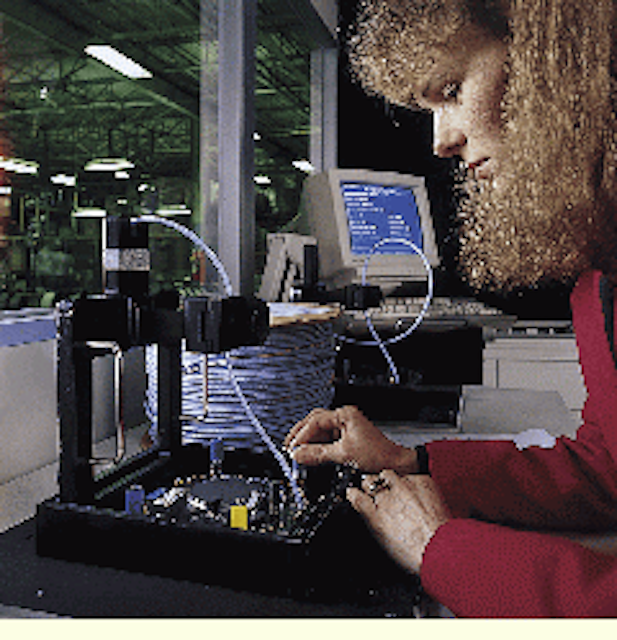 Click here to enlarge image
A technician performs a battery of tests on an automated network analyzer for Champlain Cable`s Dataclear EF Gold extended-frequency cable. This type of cable was used in the PictureTel installation.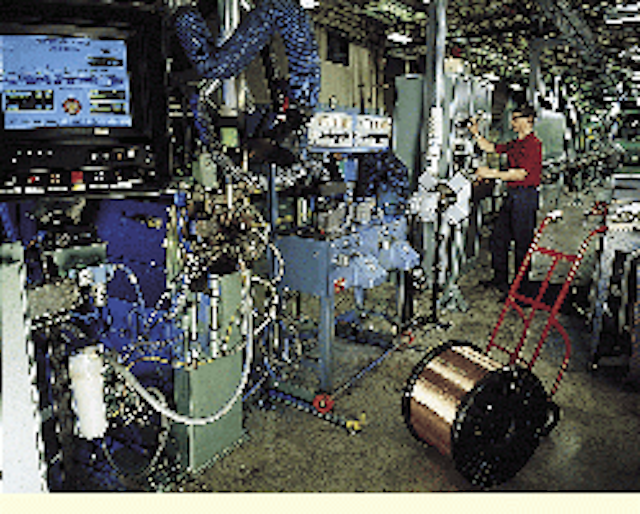 Click here to enlarge image
In the primary extrusion process for data-communications cable, automated equipment continuously adjusts control of concentricity to ensure that the copper wire is precisely centered within its insulation.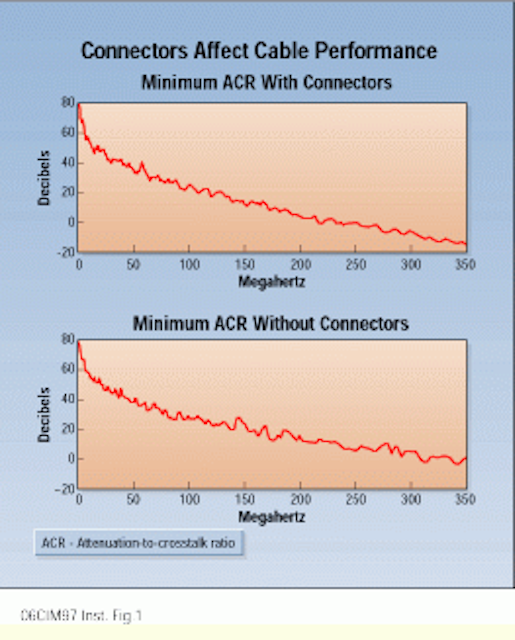 Click here to enlarge image
Connectors can affect attenuation-to-crosstalk ratio.