Development of shielded-cable standards continues
Ned Sigmon, associate director of development engineering of amp Inc. (Harrisburg, PA) and chairman of the screened 100-ohm cabling task group of the TR-41.8.1 committee of the Telecommunications Industry Association (tia--Arlington, VA), speaking at a recent tia seminar, reported that much of his group`s work revolves around maintaining applications compatibility with both U.S. and international cabling media, while ensuring enhanced electromagnetic compatibility (emc) to meet the standards of
Jun 1st, 1997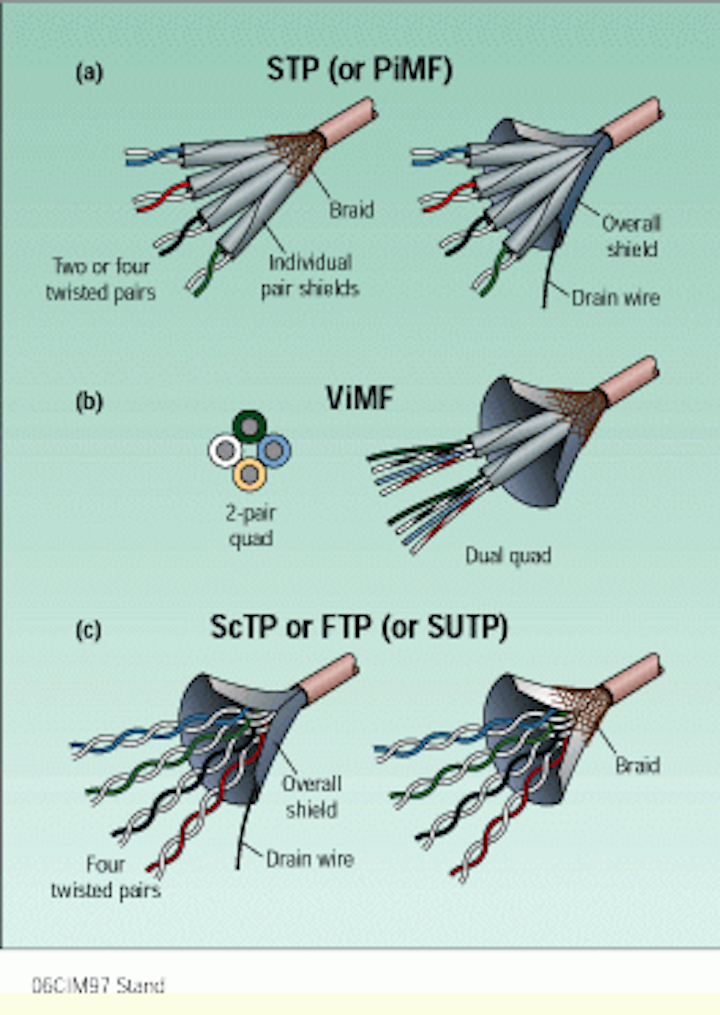 Arlyn S. Powell, Jr.
Ned Sigmon, associate director of development engineering of amp Inc. (Harrisburg, PA) and chairman of the screened 100-ohm cabling task group of the TR-41.8.1 committee of the Telecommunications Industry Association (tia--Arlington, VA), speaking at a recent tia seminar, reported that much of his group`s work revolves around maintaining applications compatibility with both U.S. and international cabling media, while ensuring enhanced electromagnetic compatibility (emc) to meet the standards of the Federal Communications Commis- sion (fcc--Washington, DC) and the European Community.
"fcc and EN regulations cover radiated emissions," Sigmon said, "but shielding also protects against external noise interference. We`re enhancing emc by controlling shielding performance and reviewing system installation and grounding practices." He adds that both tia/eia-568a and the international wiring standard iso/iec 11801 permit shielded cable to be substituted for unshielded cable of like category.
His task group is preparing what is now labeled PN-3193, a proposed addendum to the 568A standard that covers specific needs for screened twisted-pair (ScTP) cable. The addendum is projected to be ready in mid- to late-1997. It is expected to maintain the basic requirements for 100-ohm unshielded twisted-pair (utp) cabling currently found in the 568A cabling standard, while identifying and defining differences and adding specifications for shielding performance and installation practices.
Sigmon stated that the performance of shielded cabling components would be specified as transfer impedance, which he said related the voltage induced on conductors inside a shield to the current on the outside, or vice versa. "In some ways ScTP is similar to utp," he added, "in that both have four pairs and the same categories of transmission performance apply. However, there will be additional requirements for screened cable--a minimum shield construction, a conductor-to-shield dielectric withstand, and a minimum transfer impedance." The dielectric withstand currently under discussion is 5 kilovolts DC, and the minimum transfer impedance is 500 milliohms per meter for Category 5 cable operating at 100 megahertz.
The minimum shield construction will include an overall foil laminate and one or more tinned drain wires, of a minimum size of 26 awg. Braid may be used in addition to foil and a drain wire.
As is the case with ScTP cable itself, its connecting hardware and patch cords, as well as installation practices, have similarities to utp plus additional requirements. These additional requirements are currently under review by the task group. In the future, the group plans to develop a measurement method for and to specify emc limits of an installed cabling system, to specify shielding stability, and to add specifications that accommodate individually shielded pairs.
Thomas Toher, senior information developer at ibm`s Network Systems Div. (Research Triangle Park, NC), followed Sigmon`s ScTP presentation with a discussion of 150-ohm shielded twisted-pair (stp) cabling. He explained that 150-ohm stp cabling was introduced to the market in 1984 and was specified to 20 MHz. However, in 1991 the tia issued TSB-53, known as the stp-a specification, which extended the initial specifications to 300 MHz.
Adding that 99% of the cable built to the original specification could meet the newer one, Toher claimed, "This is the most robust of copper cables; 15-year-old stp is still in use." Cables and connectors qualified to the stp-a specification by independent testing laboratories are available from a number of vendors, but Toher admitted that this was not a rapidly growing market. He also reminded listeners that stp and stp-a installations were 2-pair only.
Toher pointed out that, in choosing between ScTP and stp cabling systems, ScTP was preferable where four pairs were required and when smaller, more-compact cable and components were advantageous. ScTP is also the system of choice in noisy environments, where the noise is 100 kilohertz or less. Where noise is 10 MHz or more, or for application requirements ranging 100 to 300 MHz, stp is the preferred choice, especially if two pairs are adequate and cable and connector sizes are not overriding concerns. q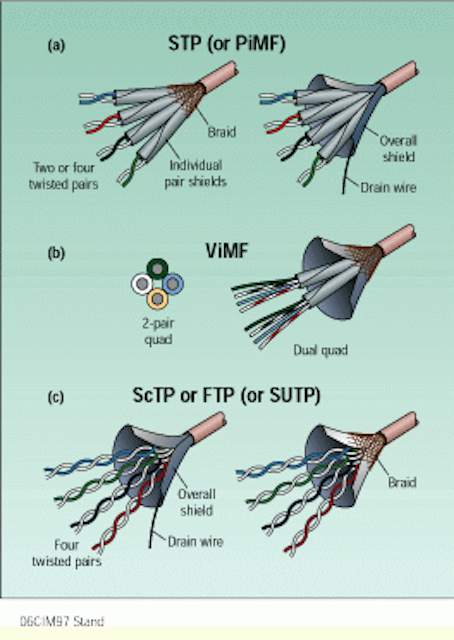 Click here to enlarge image
Shielded cabling designs include several configurations: (a) stp (or pimf) consists of two or four twisted pairs, with each pair individually shielded; there is also an overall solid or braid shield inside the cable jacket surrounding the four pairs. (b) vimf is vier (quad) wire inside a metal foil shield; single or dual quad-wire groupings are individually shielded and housed in an overall shield as well. (c) sctp or ftp (and also sutp) consists of four twisted pairs surrounded by an overall foil or braid shield, but each pair is not individually shielded, as is the case with the other constructions.