Cable trays are finding more low-voltage use
Having been around for decades, cable trays have experienced evolutionary growth over their long history. Not a particularly glamorous product to many, in these high-tech times cable trays have, nevertheless, kept pace with the growth of the cabling industry and its cable-routing applications.
Jun 1st, 1997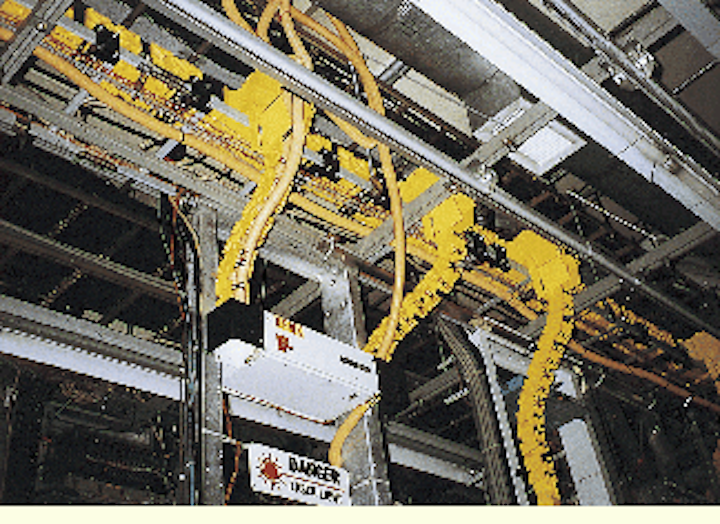 Lynn T. Haber
Having been around for decades, cable trays have experienced evolutionary growth over their long history. Not a particularly glamorous product to many, in these high-tech times cable trays have, nevertheless, kept pace with the growth of the cabling industry and its cable-routing applications.
In fact, the cable-tray market has seen rapid growth in the recent past, driven mostly by the spread of communications cabling, the emergence of high-speed local area networks, the development of multimedia applications, and the increasing popularity of videoconferencing. All of these applications are influencing both the design of cable-tray systems and the selection of individual cable trays to meet the evolving needs of customers.
According to Earl R. Middelthon, sales and engineering manager at Chalfant Manufacturing Co. (Cleveland, OH), the cable-tray market has grown more than 50% over the last three years, primarily because of the increased usage of low-voltage cabling, driven by optical-fiber implementations and computerization of the office environment.
While cable trays originally may have been designed for heavy-duty power cable and long spans, the market is moving toward products that target telecommunications and data-communications applications. These call for lighter systems and shorter spans and are used indoors in conjunction with wiring closets.
With more than two dozen vendors making cable-tray products, the market is competitive, with manufacturers tweaking their products to differentiate themselves in the marketplace. The bottom line, however, is that cable trays are designed to support, protect, and manage cable.
The cable-tray market is moving away from products made of galvanized steel and toward aluminum and plastic as materials. Also, center-spine design and bendable cable-tray products are enhancements that, according to manufacturers, result in systems better equipped to meet both the short- and long-term design and installation requirements of low-voltage systems.
Recent activity among cable-tray manufacturers is reflected in the comments of just a few vendors. Chalfant, for example, has been manufacturing cable trays for decades. The company sells traditional steel ladder-style cable trays, as well as lighter products made from aluminum and designed for communications systems.
In the early days of cable trays, the material of choice was steel. However, over time the benefits of aluminum have become well-known. "Aluminum is lighter and the structural strength of it is equal to steel at half the weight," says Middelthon.
Installers also prefer to work with aluminum, he says, because it`s easier to cut and drill, and it has a workable bend radius. Aluminum is also resistant to corrosion.
Many cable-tray manufacturers have added lighter systems to their product lines to address the communications market. These systems are 20% to 30% less expensive, on average, than their heavier counterparts.
Chalfant is also distinguished by the fact that it carries a wide range of cable-tray products. The company sells aluminum and steel ladder-style cable trays for wire or cable, indoors or out; shielded trays to protect against radio-frequency interference; Com-Tray, a system for routing and protecting cable under raised floor; Series 6, a trough-style, all-purpose tray with one-piece construction and available with a solid or louver bottom; and Series 5, a ventilated or solid channel tray.
According to Middelthon, products like Com-Tray are designed for quick installation. The system`s modules are joined with splice plates and vendor-supplied hardware. Slotted holes in the splice plates are provided for easy alignment. Modular in design, the product requires no cutting, drilling, or extra labor in the field.
Fiber cable management system
Telect Inc. (Liberty Lake, WA) specializes in a product it calls CableLinks, which is a dedicated cable-management system. The product was designed with optical fiber in mind, according to Jon Meyer, fiber-optic product engineer at Telect. "CableLinks snap together to form a path for the cable. They offer high security and low risk for fiber," he says. The chain of links, made from plastic with steel transition components, pivots both horizontally and vertically while maintaining critical fiber-optic bend radius.
Meyer suggests that installers and engineers need to take a system-level approach to cable management. That means forecasting for growth requirements and purchasing cable trays designed for expansion and retrofitting. "Buyers need to look for a system that`s reconfigurable," he adds.
Telect`s cable-management system allows installers to remove an end cap to continue a fiber run, or remove links and add a transition component to reroute fiber.
Providing easy retrofitting means no loss in investment, says Meyer. "The reuse issue is unique to Telect. Most cable-tray systems are cut to fit, which means that if the run has to be changed, new pieces have to be cut and in some cases old ones thrown away," he explains.
The CableLinks system does not require custom fitting, and only basic hand tools are needed to configure an installation. "CableLinks can also conform to semicircular sweeps, which is unique," comments Meyer.
Link sizes range from 6 x 4 inches for larger cable loads (up to 1200 3-millimeter fibers) to a compact 2 x 2 inches for lighter fiber runs (up to 200 3-mm cables). In terms of cost, the CableLinks system is competitive with comparable dedicated fiber-optic management systems, according to the company.
In the recent history of cable-tray manufacturing, a number of vendors have begun to offer center-spine cable tray, a product design pioneered some years ago by Mono-Systems Inc. (Rye Brook, NY).
This cable tray has a central support system that allows installers to lay cable from both sides of the tray. Today, center-spine cable tray is offered by several vendors: B-Line Systems (Highland, IL); Mono-Systems; Superior Cable Systems (Vancouver, BC); and The Wiremold Co. (West Hartford, CT).
With its recent acquisition of Atlas Cable Tray, The Wiremold Co. has expanded its offerings of overhead wire- and cable-management systems, and the manufacturer now sells center-spine cable tray products. According to Janet Stanley, marketing manager at Wiremold, the company is new in the cable-tray market and approaches it from a slightly different viewpoint compared to its longer-established competitors. "We see the need for more-flexible systems that are easier to install than traditional ladder-tray products. Traditional systems, while good for the applications they were originally designed for, aren`t always the best choice for today`s communications cable," Stanley says. Wiremold`s goals are to promote life-cycle costing and offer value-added service.
The company`s center-spine cable tray is part of Wiremold`s SpecMate family of products, which includes open and enclosed cable trays in center-spine, wall-mounted, solid-bottom, and conventional ladder-style designs.
Calling center-spine cable tray an innovative design, Stanley says that because the cable can be laid in from either side, this system is well-suited for communications cable, and particularly for optical fiber, because the cable tray protects the integrity of the cable by eliminating labor-intensive, sometimes-damaging cable pulling.
Stanley adds that the system is also forgiving, meaning that the design, which offers 1-inch screw-in rungs, permits flexibility. Rungs can be removed to work around obstructions or replaced with longer rungs for expansion. "Our experience tells us that installers are often required to make unexpected changes on the job," Stanley adds. "Rungs that screw in and out provide flexibility for change."
A universal fitting also allows installers to make 30o, 60o, and 90o horizontal or vertical turns using pivot connectors. Other product features include 1-inch rung width, which minimizes potential microbending of cables; rungs fitted with plastic caps to prevent injury to the installer or damage to the cables; and tray liners, covers, and outside enclosures available for varied applications.
The company`s center-spine trays also have grooved rungs to provide direct connection for accessories, such as conduit adapters and cable dropouts. Centerlines are provided as drilling guides.
Center-spine cable tray is made from aluminum, which allows installers to bend it to the shape that is needed. According to Stanley, center-spine construction installs in about one-half the time of conventional ladder-style tray. This type of product reportedly saves money, too, because it uses 50% fewer hanging and joining materials compared to conventional trays that require trapeze hangers.
Growing market
These newer center-spine products account for just a small segment of the entire tray market, but the market is growing, according to Stanley. "It`s difficult to break into a well-entrenched market," she adds. However, once an installer tries a center-spine design, he or she often likes it enough to stay with it.
Wiremold`s center-spine cable trays are value-added systems, so they cost more--but, says Stanley, you get more, too. She estimates that these systems cost 10% to 15% more than traditional ladder-style trays.
Other trends in the cable-tray market, according to Stanley, include the following:
- Customers installing solid-bottom trays in commercial applications often paint the trays for aesthetic reasons.
- Enclosures, such as liners and lids, that protect the cable from tampering are also becoming more popular.
- Most installers selecting cable tray for communications cable apply overkill, ordering products that are more rugged and more expensive than they need.
Manufacturers of ladder-style cable trays also offer central rod-type hangers to permit cable to be laid in from the sides, but Stanley argues that such systems are less stable than center-spine products.
The center-spine design, on the other hand, has also gotten a questionable reputation in the cabling industry on the issue of stability. If the tray is not loaded evenly on each side, it can appear to be tilted. To correct this problem, companies like Wiremold offer a stiffener bar to give the tray the appearance of being balanced. The company also offers metal wings that allow the tray to swing, for use in parts of the country where there is concern about seismic activity.
One of the more recent innovations in the cable-tray marketplace comes from Cable Management Solutions Inc. (cms--Deer Park, NY). Called the Snake Tray, the product is based on a center-spine design, but it goes a step further in that it can be bent.
Engineered by company president Robert Jette, Snake Tray was designed to be installed under raised floors, on walls and in risers, as well as suspended from the ceiling. It is suitable for both Category 5 cable and optical fiber.
"When I realized that the labor cost of installing cable tray often surpassed the cost of the product itself, I decided to design a product that was flexible, lower-cost and easy to install," says Jette. His company reports that it takes one to two minutes to install eight feet of Snake Tray.
Unlike center-spine products, which Jette says are rigid and require parts to turn left or right or go up and down, Snake Tray can be bent to the proper configuration. In fact, the total component count for cms`s product line is 25, versus hundreds or even thousands for other vendors, claims Jette. The largest-size Snake Tray can handle up to 1200 Category 5 drops, and the smallest tray handles up to 300 drops.
The product is made from steel and is plated for indoor applications. It comes in 8-foot sections in five variants: two for overhead and three for raised-floor applications.
"We got rid of rights, lefts, ups, and downs," says Jette, "and we got rid of cutting and bolting. All the installer has to do is bend the cable tray where it needs to go." A single connector lug is used to connect two trays.
Labor time for underfloor applications is reduced by 85% and overhead installation time is cut by two-thirds, according to cms. Jette says that, because it costs less to make Snake Tray, the company`s products cost about 20% less than other trays on the market. q
Lynn T. Haber is a freelance writer specializing in networking and telecommunications issues.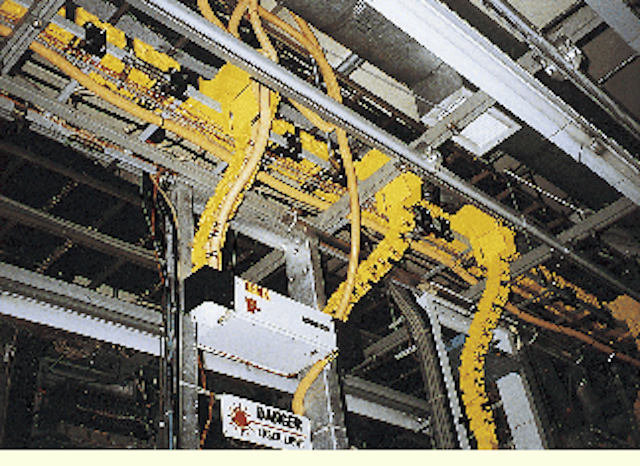 Click here to enlarge image
CableLinks from Telect Inc. (Liberty Lake, WA) snap together to form cable-routing paths. The system was originally designed for optical fiber.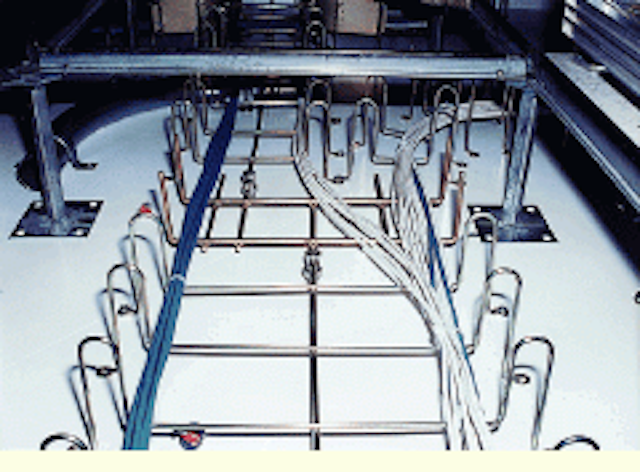 Click here to enlarge image
Snake Tray from Cable Management Solutions Inc. (Deer Park, NY), used here under a raised floor, can be bent to conform to the cable-routing path.