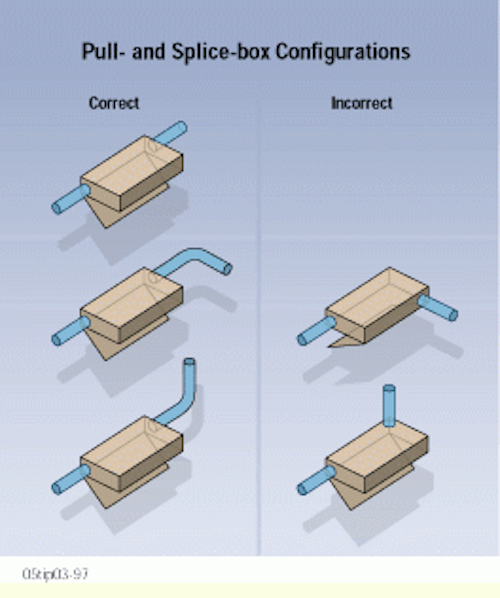 Barbara E. Thompson
Problem
Installing conduit is a relatively straightforward procedure, but there are requirements beyond the manufacturer`s recommendations that must be adhered to, some of which may not be known to less-experienced installers.
Solution
In addition to the manufacturer`s installation instructions, refer to the eia/tia-569 standard for commercial building telecommunications pathways and spaces, published by the Electronic Industries Association and the Telecommunications Industry Association (eia/tia--Arlington, VA). Section 4.4 provides complete recommendations for the installation of conduit and should be read and referred to before you begin any installation.
Things to remember
The following tips do not represent the full scope of the eia/tia standard and are mentioned for information only:
- No section of conduit shall be longer than 30 meters (100 feet) or shall contain more that two 90o bends between pull points or pull boxes.
- Pull (or splice) boxes shall be placed in a conduit run where the length is more than 100 feet, there are more than two 90o bends, or there is a reverse bend in the run.
- Boxes shall be placed in a straight section of conduit and shall not be used in lieu of a bend (see figure).
- Conduit shall be clearly labeled at both ends, designating the floor and telecommunications closet--for example, 6A-3. Conduit length shall also be indicated on the label, and pull boxes labeled on the exposed exterior.
- Using conduit as a horizontal raceway system for telecommunications cabling is only to be considered when outlet locations are permanent, device densities are low, and flexibility is not required.
- Installers should always label cables before pulling them through conduit.
Barbara E. Thompson was formerly an associate editor with Cabling Installation & Maintenance.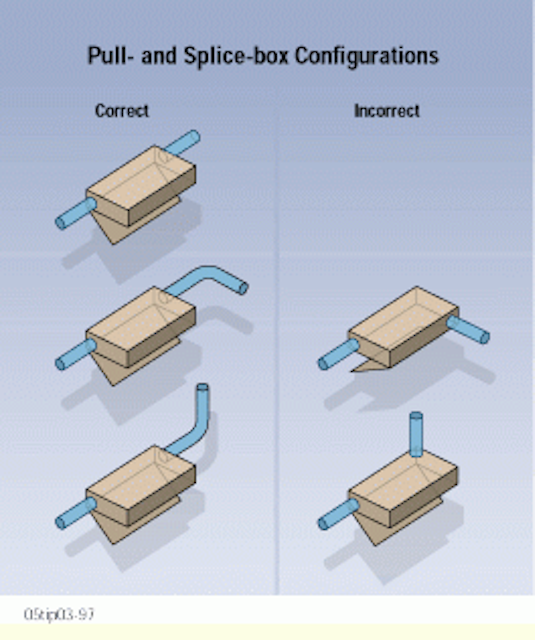 Click here to enlarge image
BICSI (Tampa, FL) recommends that pull boxes and splice boxes installed with conduit have an access panel that is suitable, marked, and hinged to permit direct access. The panel can also serve as the cover for the box. Correct and incorrect locations for pull-boxes are shown.