Intelligent buildings are the smart way to go
Remember back in the late 1980s and early 1990s, when intelligent buildings were all the rage? What ever happened to the intelligent-building movement? It seems to have fizzled out--or has it?
Oct 1st, 1997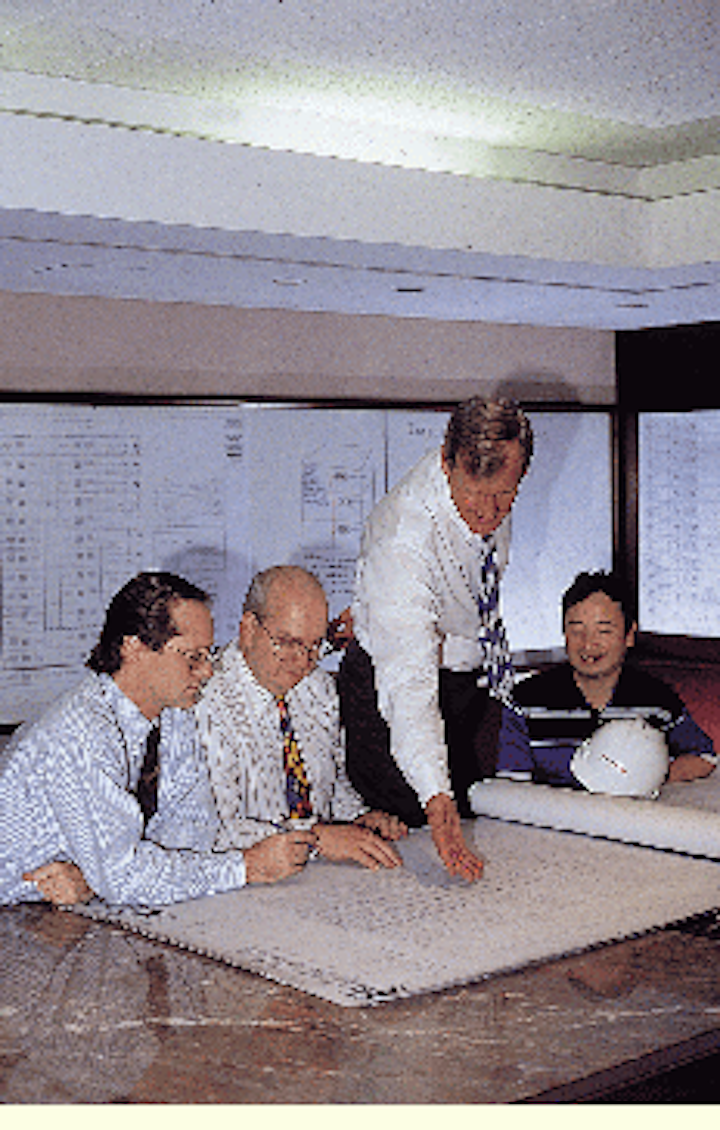 Buildings with integrated cabling systems offer flexibility, comfort, and efficiency.
William G. Sewell, Sverdrup Corp.
Remember back in the late 1980s and early 1990s, when intelligent buildings were all the rage? What ever happened to the intelligent-building movement? It seems to have fizzled out--or has it?
Today, some architects, consultants, and manufacturers claim to be constructing intelligent buildings in Europe and the Pacific Rim. So why aren`t they building them in the United States? To answer these questions, we need to examine how this concept developed and how it has evolved.
When the intelligent-building concept was born, the world was emerging from an energy crisis. Energy conservation and reduced energy costs were important issues. At the same time, computer networks became popular, and building-control automation was maturing. Also, a building`s telephone connections no longer belonged to the telephone company.
The idea behind the intelligent building was to create a building environment in which voice, data, video, building automation, and security coexisted in a single cabling infrastructure, while the control of this building system was decentralized. Such a building environment, the theory went, would be more responsive to the internal demands of users as well as to external conditions such as weather.
An early pioneer of the intelligent-building concept, at&t Network Systems, now Lucent Technologies (Murray Hill, NJ), developed its Premises Distribution System (pds) cabling-infrastructure product with this concept in mind. pds evolved into the Intelligent Building System (ibs), and then into today`s Systimax Structured Cabling System (SCS). at&t also formed alliances, first with Honeywell (Minneapolis, MN) and then with other building-controls manufacturers, to offer a combined cabling and controls solution.
The Torre Chapultepec, a 29-story office building in Mexico City, was one of the first buildings to depend on the ibs concept. It was prewired with voice, data, video, and building- automation and security systems before any tenants signed a lease. The owner, who was also an architect, measured his success when the building reached 100% occupancy. Nearby buildings achieved only 50% to 70% occupancy rates.
What is an intelligent building?
The intelligent-building concept, as noted, started as a way to consolidate a building`s cabling and to conserve energy and improve security through more-efficient automated controls. Today, the Intelligent Building Institute (ibi--Washington, DC) defines an intelligent building as "one that provides a productive and cost-effective environment through optimization of its four basic elements: structures, systems, services, and management, as well as the interrelation among them." The ibi notes that the one characteristic common to all intelligent buildings is a structure designed to accommodate change in a convenient and cost-effective manner. While other organizations have created their own definitions, the common threads are flexibility, comfort, efficiency, and environmental friendliness.
For example, flexibility may involve the owner`s ability to make moves, adds, and changes easily and with minimal cost. While many systems exist that allow low-cost moves, adds, and changes, the intelligent building also includes cost-effective methods for moving furniture, walls, air conditioning, and lighting.
In today`s office buildings, comfort is a major concern. With the popularity of modular furniture, more people than ever are working closely together. There is, of course, a diversity in people`s tastes and comfort thresholds. Some like more light than others, some people feel warm while others feel cool in the same temperature, and some people are more tolerant of noise than others. An intelligent building takes all of these factors into consideration during the design phase.
Environmental friendliness and efficiency are closely tied together. The more efficient a building is in its use of energy and other utilities, the more friendly that building is to the environment. Intelligent-building designs often use architectural features and materials to make the building more energy-efficient. Electrochromic glass--a glass window or curtain-wall element that changes its level of transparency in response to sunlight--is an example of a material that is often used in an intelligent building. Other considerations are the building`s orientation on the site to take advantage of natural sunlight or shading, inside partial walls that let in sunlight in the morning and screen it in the afternoon, or skylights that allow natural sunlight to augment artificial lighting inside a work space.
The U.S. market
While intelligent buildings have received a measure of acceptance in Europe and Asia, the market has been slow or nonexistent in the United States. This can probably be attributed to several factors, including
- lack of strong leadership in the market,
- resistance to change in the way buildings are designed and built,
- local codes,
- misperceptions about costs.
The first two items are closely coupled. That is, a strong market leader will change the way buildings are designed and constructed or vice versa. Today, buildings are created and funded by owners, designed by architectural/engineering firms, procured and delivered by construction management firms, and actually constructed by general contractors. Traditionally, these have been separate entities, each with its own agenda. The extent to which these parties have cooperated in the past has been the minimum necessary to complete the project. What is needed is a leader that will bring all of these groups together in a cohesive team--a team that will cooperate for the customer`s benefit.
Local codes, particularly those pertaining to fire-alarm cabling and other fire/life-safety issues, often obstruct combining of systems. For example, the National Electrical Code does not require separate conduit for fire-alarm cabling, but many local jurisdictions do. One could argue the good and bad of the local-code requirements all day, but the fact remains that they exist and must be dealt with.
One of the biggest factors affecting intelligent-building design is the way owners and designers think about costs and funding. A typical goal of a building-project design team is to limit construction costs, regardless of savings that might be realized later on. Reasons for this range from the cost of borrowing capital to the way the tax code treats capital expenditures versus operating costs. If the intelligent-building concept is going to be embraced, building teams must look at the lifecycle cost of the building. In fact, a study by the American Society of Heating, Refrigeration, and Air-conditioning Engineers (Atlanta, GA) showed these life-cycle costs: construction 11%, financing 14%, building operation 50%, and alterations 25%. Investing money upfront to make building operation more efficient can create a 300% return on investment. Creative selection of investments during the design phase can increase that return.
The case for an intelligent building
When the term "intelligent building" first hit the marketplace, the implication was that the building had its own intelligence built in. To some degree that was true. There were, after all, automation systems that controlled the building environment. By today`s broader "green-building" definition, however, the building`s design, construction, and use contain the intelligence, with an emphasis on the building`s environmental friendliness. For example, many buildings in Europe are designed to give each occupant direct sunlight, which is a legal requirement in some countries.
Intelligent design can solve sick-building syndrome by placing conditioned air under the floor, instead of in ducts that can breed bacteria and spread viruses more easily. Glan Blake Thomas of Advanced Ergonomic Technologies in the United Kingdom notes that individuals and the government seem to be concerned with the food we eat and the water we drink, but not as much with the air we breathe.
"Each day we breathe 10 times as much air by weight than we consume in food. This air falls from filthy duct work, air that has who-knows-what in it," he explains. "Allergies and building- related illnesses cause increased absenteeism and lost productivity, reducing profits. Why not distribute the air in a manner that lends itself to regular cleaning of the distribution system?"
Thomas suggests using flexible underfloor air-distribution systems, which, he says, are easy to clean, simple to reconfigure, and put the comfort control in the hands of the individual occupant. These systems have been found by the Swedish Clinic for Occupational Medicine to improve indoor air quality.
Of course, one way to be environmentally friendly is to design a building that conserves energy. Systems that manage heating, ventilation, and air conditioning (hvac), lighting, and electrical consumption, while supporting flexibility in the use of space, are a fundamental part of any intelligent building. Cabling infrastructure is the key to that flexibility and must be carefully designed, planned, and installed to maximize space while limiting building operating costs.
According to John Morris, director of marketing at Echelon Corp. (Santa Clara, CA), "Building controls using the LonTalk protocol--a multilevel open-systems-based communications protocol--can be integrated with security, fire-alarm, and data networks to facilitate a seamless intelligent-building environment using a single structured cabling system. The system will meet all of the user`s needs at a much lower cost."
A substantial component--flexible wiring
Most people in the cabling business are very familiar with the ansi/tia/eia standards for cabling, such as tia/eia-568a, -569A, -606, and -607, which serve as the basis for the design and installation of voice and data cabling throughout North America. But how many of us consider applying these same standards to the design and installation of security, hvac, and lighting-control cabling? By using the same structure advocated by the standards to integrate all low-voltage systems cabling into a single infrastructure, the cabling installer can provide the building owner with a lower-cost cabling infrastructure. The installer can then also provide a single contact for a managed installation of the building`s cabling. A managed installation puts the responsibility for all of the systems cabling on a single contractor, who coordinates all of the trades to obtain the cabling, conduits, control points, and security devices installed and wired in accordance with the design drawings.
While multimode optical fiber often serves as data`s traditional backbone cabling, high-pair-count unshielded twisted-pair usually meets voice needs. Security systems, fire-alarm systems, and building-control systems are connected by separate point-to-point wiring. Intelligent-building designs often use the same risers for voice, data, video, security, fire-alarm (where local codes allow), and building-system controls. That is, if 200 pairs are needed for telephone service on a particular floor, 24 pairs are required to connect security collection panels, and 18 pairs are required for building control panels, then a single 300-pair riser cable can accommodate all three systems.
Sonny Rolfes of Lucent Technologies, who designed and managed the cabling installation at Torre Chapultepec, places a high level of importance on accurate documentation for managing this backbone cable. "Whether using 110 blocks or patch panels, you define each connection for voice, data, security, controls, and fire/life safety, and document the connections throughout the building. As an added precaution at Torre Chapultepec, we used red labels to identify security and fire/life safety to alert the maintenance personnel that those connections were critical and should not be disturbed accidentally."
The newest trend in horizontal cabling distribution is zone wiring, as defined in telecommunications systems bulletin tsb-75. The consolidation point (CP) and the multi-user telecommunications outlet (muto) were designed with voice and data in mind. However, these same devices can be used for security, fire alarm, and controls cabling, as well.
John Siemon of The Siemon Co. (Watertown, CT) explains the simplicity of this option. "The muto, while designed specifically for voice and data, allows the building-control cabling to be installed one time to each control zone. When the owner wants to change or move a control point, the short piece of cabling between the muto and the control point is all that has to be changed. Since this piece is typically a connectorized cable, changing the cabling can be as easy as disconnecting and reconnecting a patch cord."
Premanufactured cabling systems can include voice, data, video, electrical, controls, lighting, and security cabling in a plug-and-play package that the installer simply mounts and connects together. This saves time for the building construction schedule and allows an installer to be responsible for all of the building`s connectivity.
Richard McGrail, president of America Cabling Systems (New Bedford, MA), agrees that this type of system is beneficial. "By manufacturing the horizontal cabling as a single unit from the telecommunications closet to the consolidation point or muto, we can guarantee reliable performance while saving time and money for both the installer and the owner."
Who is responsible for testing zone wiring in an intelligent building, because the zone and device wiring may be installed at different times? McGrail says, "Factory-fabricated systems are 100% tested for conformance with all electrical and telecommunications performance criteria before the system leaves the factory. This gives the installer a high confidence level that the installation will meet the standards, not only at installation, but throughout the life of the building."
Currently, Sverdrup Facilities Inc. (Arlington, VA) is providing design and integration services for a new intelligent printing-press plant in College Park, MD. The plant will print thousands of newspapers every hour. According to the owner (who does not wish to be identified), "We are looking to Sverdrup, which designed the structured cabling system, to act as the integrator to coordinate the installation among the cabling installer, the security and controls vendor, the electrical contractor, the general contractor, the architect, and us to make sure that all of the systems come together on time."
The client adds, "With a strict requirement from the press manufacturer and a deadline for commencement of operations, we cannot afford a slip in schedule. That`s why we need an integrator to oversee the cabling installation and make sure that nothing falls through the cracks before the presses arrive."
Overcoming U.S. resistance
The intelligent-building market in the United States is virgin territory. Significant education is required before architects and building owners will embrace the concept, even though the market is prospering in Europe and the Pacific Rim. However, the American construction industry is beginning to learn about the advantages of the intelligent-building approach. It`s only a matter of time before the availability of life-cycle cost savings outweighs owners` and architects` resistance to change.
The opportunities for cabling design and installation companies to play a part in the intelligent-building revolution are limitless. As the lines between voice, data, video, security, and controls systems blur and then disappear, cabling companies can expand their scope to encompass every piece of wire installed in the building. At the same time, the complexity of the systems integration will position the cabling designer and the cabling contractor in more-prominent roles in the construction process.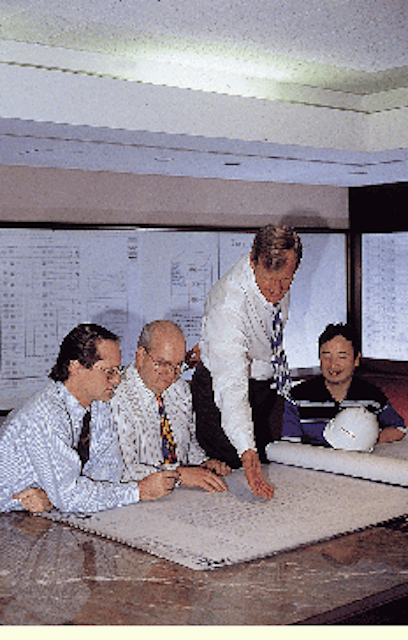 Click here to enlarge image
William Sewell, Jim Gestiehr, Norm Reames, and Yichang Xu (left to right), Sverdrup Facilities (Arlington, VA), are at work designing an intelligent-building system.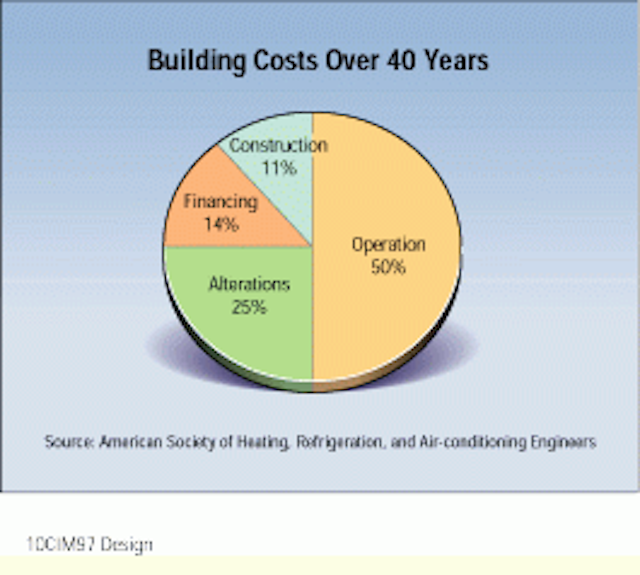 Click here to enlarge image
The cost breakdown of a building`s life cycle indicates that operating costs are the largest single factor, followed by alteration costs.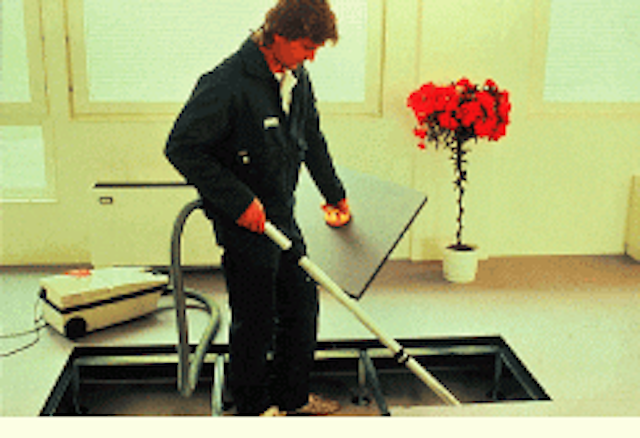 Click here to enlarge image
Underfloor air-distribution systems are flexible and easy to configure. Because of their location in the access floor, these systems are also relatively easy to clean, as is being done here.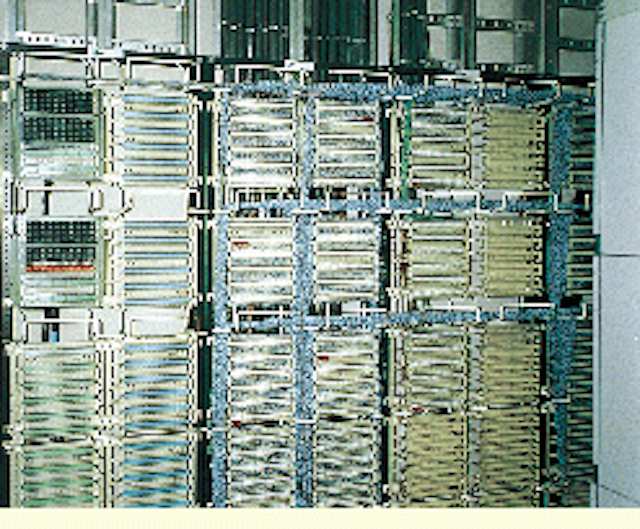 Click here to enlarge image
The Torre Chapultepec building in Mexico City uses the Intelligent Building System, which was developed by at&t Network Systems, now Lucent Technologies. Shown here are the 110 blocks used for connection of the voice, data, security, controls, and fire/life safety systems. Accurately documenting these connections makes it easier to manage the intelligent building`s backbone cable.
William G. Sewell, registered communications distribution designer (rcdd), is the director of facility technologies for Sverdrup Facilities Inc. (Arlington, VA), an engineering and architectural firm that designs and constructs intelligent buildings. He lectures internationally on the design and construction of intelligent-building systems.