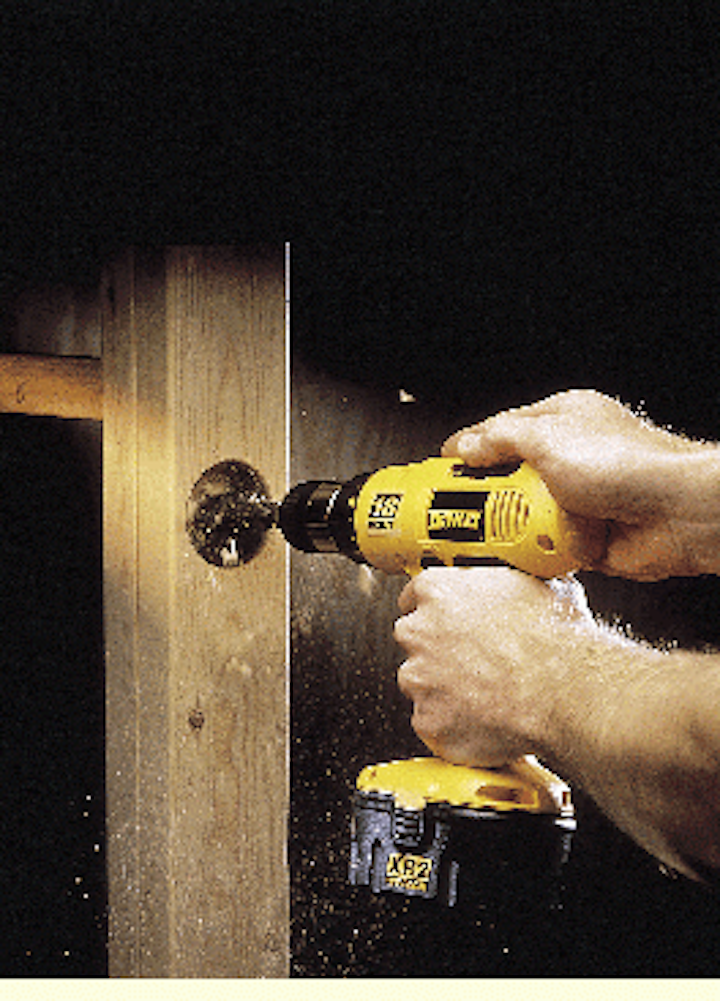 Gail Leach Carvelli
If you ask cabling installers what power tool they use most often, the answer will likely be a power drill. Today`s drills include many features, among which are keyless chucks, multiple clutch settings, and electronic brakes. These features let the drill be used to mount cable racks to relay racks, sink screws into masonry, or drill studs for running cable (see Product Update table, page 23).
Power drills used to rely on a cord to get the power needed for operation. In the early 1960s, however, that began to change when the first cordless drill was introduced. Although these early models were limited in what they could do--partly because of battery constraints--they caught on because they were easy to use.
"A cord can be like a chain," notes Todd Langston, public relations manager at Porter-Cable Corp. "A cordless drill allows you to get to remote places. Even in confined areas it`s easier to move back and forth without the cord strapped to you."
Convenience, coupled with advanced engineering and batteries that run longer in today`s cordless drills, make them a popular choice for many users. "In the last four years," says Rich Mathews, product manager for Dewalt, the industrial division of Black & Decker, "cordless drills have really exploded onto the marketplace because they have better motors and transmissions, which get more torque out of the tool. These drills are at the point where they are bridging the gap between cordless and corded products."
One of the biggest complaints about cordless drills has been their inability to produce the torque needed for some jobs. While a corded drill runs on power supplied through the cord from the outlet, a cordless drill draws power from its battery. To generate more torque, a cordless drill motor must be more efficient. Some motors do this by using magnets, usually composed of aluminum, nickel, and cobalt, to create the necessary electric field.
According to Langston, some manufacturers also use a rare-earth magnet. "What this does," notes Langston, "is increase the power of the drill without increasing its weight."
Whether corded or cordless, power drills are made with different chuck sizes. The function of a chuck, which typically comes in 3/8- and 1/2-inch sizes, is to hold the drill bit in place. And, the size determines the drill`s speed.
"I usually look for a 1/2- rather than a 3/8-inch chuck capacity," admits Gary Goetzinger, operations manager for River City Communications Corp. (Sacramento, CA). "Most 1/2-inch drills tend to turn a little more slowly, and when you are drilling hard or thick metal, you want to keep it slow."
To insert a bit into the chuck, the chuck must be loosened. A dedicated key satisfies that need for some drills, but other drills incorporate a keyless chuck, a time- and aggravation-saving feature, according to Robert Laird of Teledata Systems Corp. (Souderton, PA).
"Invariably the chuck key gets lost, or you end up stripping the chuck. I think everyone has probably lost a chuck key at one time or another," says Laird. "It is one of the last things you want to have to worry about."
Turning the drill into a driver
While the chuck is a basic component, optional features enhance the drill`s performance and expand its range of tasks. One such characteristic is a clutch, which can transform the drill into a driver. Available in a number of settings--from 6 to more than 20--the clutch allows the operator to determine the torque setting for such things as driving a screw.
"The number of settings you need really depends on the application," says Porter-Cable`s Langston. "If you are working on an application with small, fine pieces, you may need something with more clutch settings. The last thing you want to do is drive right through it. But if you are doing the same thing day in and day out, then you probably don`t need a 20-position clutch."
In addition to a clutch, many drills offer variable speeds and an electric brake that stops the drilling motion. Both functions help speed up applications, says Dewalt`s Mathews.
"Most drills have two-speed transmissions, and you want to try to match the speed to the application," Mathews notes. Speeds can run from 0 to 450 revolutions per minute, to 0 to 1850 rpm. "A low-speed range, such as 0 to 450 rpm, allows for more torque for driving larger-diameter drill bits. A high-speed range of 0 to 1400 rpm is a good for smaller drill bits."
With the ability to adjust the speed, most of today`s drills come with an electric brake. "The brake immediately stops the chuck from turning," Mathews explains. "It adds an element of control. That way, you are not waiting for the chuck to wind down and you can perform repetitive applications that much faster."
Some drills also offer a reversing option. Says Langston, "This lets you undo what you did. It gives you a little more control."
Keep comfort in mind
Cordless drills tend to be heavier than their corded counterparts because of the added weight of batteries. To compensate, some drills come equipped with the traditional pistol grip, which can be nose-heavy, while others use a "T-handle" design that balances the weight more evenly.
Regardless of style, the drill should be comfortable and easy to handle. Drills can weigh from 3 to 6 pounds. With the re-engineering of batteries for cordless drills and improved motors for corded versions, these tools have become less awkward to handle. In addition, some manufacturers make their drills with rubber grips or cushioned grips to keep the operator`s hand from slipping.
"The ergonomics of drills have greatly improved over the years," says Mathews. "Today`s drills are definitely more balanced."
As with any tool, added features can also lead to a higher price. The same is true for drills, which are priced from less than $100 to nearly $500. More-expensive models tend to be those that deliver 18V of power. Less-expensive versions deliver 9.6, 12, or 14.4V.
While operators say price is definitely a consideration, so is the quality of the tool. "I`m not afraid to pay a premium for a good tool," notes Goetzinger. "You want a company that has been around and you want a tool that you can find parts for very easily."
Langston urges users to take the time to evaluate exactly what type of tool is needed. He says that many users are swayed by drills that deliver the most volts. "You really have to take a look at what is necessary for the jobs you want to perform," Langston says.
Laird agrees. "Anything bigger than 12V is not necessary for our industry. There is just no need for it."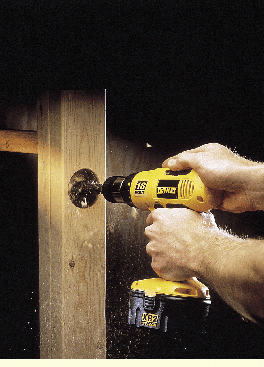 Click here to enlarge image
Power drills have become a mainstay of an installer`s tool kit. Pictured is a Dewalt cordless drill/driver kit .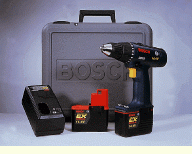 Click here to enlarge image
Many cordless drills, such as those from Bosch (top) and Porter-Cable (bottom), come with extra batteries and a carrying case.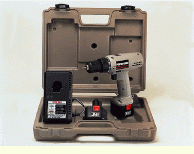 Click here to enlarge image
Many cordless drills, such as those from Bosch (top) and Porter-Cable (bottom), come with extra batteries and a carrying case.