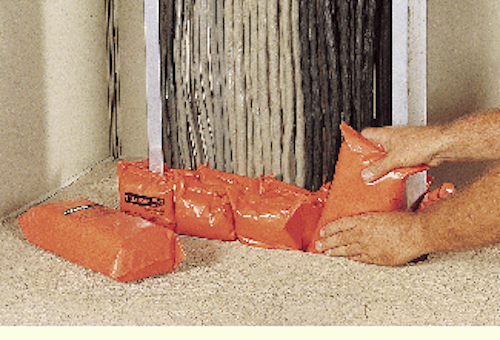 Firestopping materials help safeguard property and lives
Gail Leach Carvelli
Firestopping plays a vital, but often overlooked, role in cabling installations. As local fire inspectors more strictly enforce firestopping regulations, installers find that they must adhere to these codes or risk having their installations rejected. That means they must select firestopping materials to create a system that meets local building codes, which are usually based on firestopping systems specified by organizations such as Under-writers Laboratories (UL--Northbrook, IL) and the American Society for Testing and Materials (Philadelphia, PA).
One firestopping option is a mechanical system; however, some installers prefer to work with nonmechanical firestopping materials, which can be used alone or with a mechanical system. But like any other type of product, a number of materials--caulks, putties, and pillows--are on the market. Each is designed to firestop a specific application, so you should choose products carefully.
A firestop is required to do more than stop the spread of flame and heat generated by the fire. It must also restrict smoke and toxic combustion and withstand water used during firefighting efforts. In response to these requirements, nearly all fire codes state that in commercial buildings the firewalls and floors be firestopped to contain the fire in the area where it started. Subsequently, any penetration through a firewall or floor must be sealed with a firestopping material that is part of an approved system that has been tested independently in accordance with a nationally recognized test standard. Those standards dictate the level of a firestop`s performance and are specified in hours--referring to the amount of time it takes a fire to burn through the firestop.
According to Ray Craig of Craig Communications (Dallas, TX), this means that installers need to pay close attention to the nonmechanical materials they use. "You have to be careful that you don`t arbitrarily start throwing in any type of firestop material," he cautions. "Ultimately, what could happen is that the fire inspector will come in and say he doesn`t recognize the product you are using. Then you are forced to remove it and spend the additional money to install the approved materials."
William Carnel of 3M Fire Protection Products (St. Paul, MN) says that ideally, you should choose the appropriate system early in the project`s design stage. "You don`t want someone going in and making a 24-inch hole to run cables through, when you actually only need a 4-inch hole," he says. "Larger holes are certainly more difficult to firestop."
Choosing the right material
Deciding whether to use caulk/sealants, putty, pillows, composite sheets, cementitious material, or other types of materials depends on the intended application. If you need to fill a 12-inch hole around cables in a fire-rated wall, you may decide to use caulking material. However, if the application calls for the possibility of moves, adds, and changes, putties or pillows may be the best choice. Firestopping a cable tray may call for composite sheets.
Another thing to keep in mind is the material`s firestopping properties. Should the material be intumescent, so that it expands when exposed to heat? Should it be endothermic, so that it releases chemically bound molecules of water or steam under heat to cool the surrounding surfaces? Or should you use ablative material, which helps to resist fire by eroding and forming a char when exposed to high heat?
Before you start, you also need to know if the firestop you are installing is a permanent system or subject to change. "If a firestop will be re-entered, then putty, pillows, composite sheets, and some caulks are the most economical because they can be reused," notes Carnel.
Proven firestop materials
Caulk is one of the most commonly used--and also the most misapplied--nonmechanical firestopping materials, says Gerald Thomas, director of Nelson Firestop Products, a division of O-Z Gedney. "People perceive it to be easy to work with because they use it in such common places as their bathrooms or around their windows," he says. "So their comfort level is elevated--perhaps too much--with this product."
Caulks come in several varieties, including water-, latex-, and silicon-based. While latex-based caulking offers increased flexibility over its water-based counterpart, both accomplish similar tasks. "Typically you`ll find that water- and latex-based caulks are intumescent," says Thomas. "So as the penetrating item deteriorates, it forms a strong barrier. And in many cases, you can use less of the material because it will expand to fill the void."
However, Thomas notes, caulks are limited as to the size of hole they can be used to fill. "For example, if the hole is 20 feet long by 2 feet wide, you certainly don`t want to use caulk. It is definitely the wrong material for that size," he says.
Most manufacturers include instructions with their product that outline its limitations or refer users to the Fire Resistance Directory, which is published by the UL, for these specifications.
Silicon-based caulk, which is inherently water-proof, is generally used in applications where flexibility is needed, such as hot-water lines and architectural expansion joints. Some caulks also come in a self-leveling form, which eliminates the need to scrape off excess materials for a cleaner finish. Many caulks can also be applied with a caulking gun for added convenience.
Putty, which does not dry, is commonly used in applications that may require significant moves, adds, and changes--in the telecommunications industry, for example. "Putty is a very popular material because it can be reused," explains 3M`s Carnel. "It can be removed and then remolded when needed." Putty comes in sticks and sheets, which are usually hand-moldable to make it easy to install.
Composite sheets are also a popular firestop material in the cabling industry. Generally used in large penetrations, such as multiple conduits and those involving cable trays, sheets are often used in conjunction with putty. The sheets include a layer of intumescent material and can be mechanically fastened or anchored to the wall or floor. They are then cut to the size of the penetrating items. If spaces still exist within the penetration area, putty can be used to seal the area.
Pillows also fall into the telecommunications area because, like putty and composite sheets, they can be removed easily during a move. Usually filled with an intumescent material, pillows are packed around cable trays or cables to provide a tight fit.
The versatility of pillows is appealing to Craig. "We work in risers a lot of the time, and pillows are the most convenient," he says. "They are readily removable, which is important if the client needs to perform moves, adds, and changes."
Although cementitious material is a cement-based product, it does not act like typical cement or mortar. Designed for penetrations of up to 300 square inches or more, it sets like a cement product would but is by no means designed to be a structural material.
"This type of material should certainly not be confused with ordinary cement, which has been proven to be noneffective as a through-penetration firestop because it shrinks and cracks and has failed fire-hose tests," says Nelson`s Thomas. "In addition, repenetration is very difficult. Most firestop mortars, on the other hand, are designed to be repenetrated easily."
Although there are other types of material--foams, wrap strips, and coatings--it is important to remember that materials cannot be rated by themselves. Instead, they are rated only when they are part of a complete firestopping system.
No longer an afterthought
In the past, firestopping had been an afterthought of the installation process. But as installations continue to be scrutinized by fire inspectors, firestopping has taken on a more prominent role, especially when it comes to bidding on a project.
"Previously, we would not even charge customers for firestopping," says Mike Tobias of firestop manufacturer It`s Unique (Mobile, AL). "We would go out and bid on a job, with no regard for the firewall penetrations." Now, he says, since more attention is paid to the matter, bids usually include true firestopping costs.
Craig agrees, pointing out that in many of the jobs he works on, the clients specify the types of firestopping products they want. "In many cases, we are being given the detailed product number for the material we should use. Substitutions need to be submitted for approval," says Craig, admitting that such a process limits his ability to shop around for the best price. "And this material is certainly not inexpensive," he adds.
Thomas concurs: "You have to keep in mind that when you buy a firestopping material, you are paying not only for the chemistry of the product, but also for its testing. You have to consider that each product is usually run through 25 or more tests that can run from $5000 to $10,000 per test. These tests are a vital component in determining if the product can carry out the task of stopping a fire."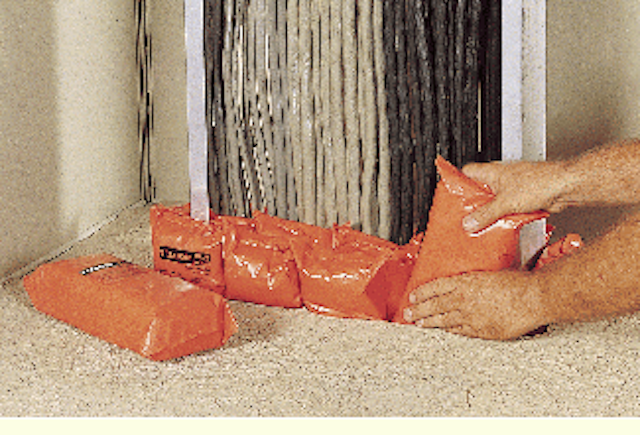 Click here to enlarge image
A number of nonmechanical materials, such as caulks, putties, and composite sheets, are used to construct firestops. Pillows, such as these from Nelson Firestop Products, are also used. Filled with intumescent materials, pillows expand to form a seal when exposed to heat .