Installing underground conduit in customer-owned outside plant
In a campus telecommunications system, it is important to design, construct, and install the appropriate conduit at the least cost.
Mar 1st, 1997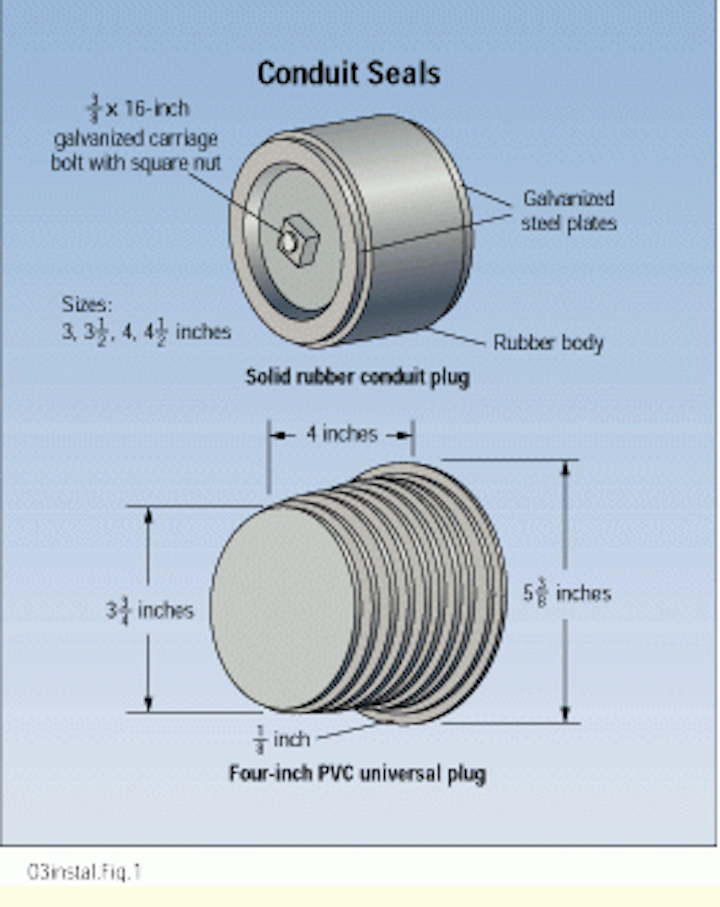 In a campus telecommunications system, it is important to design, construct, and install the appropriate conduit at the least cost.
Anthony T. Minichiello
Maximis Communications Consultants
The initial route planning of a campus underground conduit-carrying system generally provides the most direct route from the campus switching location to each building, with the minimum cost-per-foot conduit investment. In a correctly planned system, you will install less conduit over shorter distances. Of course, the most direct route may appear to require additional excavation and restoration, at more expense. The bottom line, however, should compare the cost of providing longer routing distances against larger cable gauges, additional cable lengths, and added splicing hours.
Before installing any conduit, the designer should perform a preliminary investigation of the proposed conduit locations. In selecting underground-conduit locations, you need to consider current and future uses of the present surface and subsurface areas along the public or private right-of-way. Many campus roads are privately owned, with privately maintained utilities such as electrical power, water, steam, or gas systems, while other premises use all public streets and utilities. With the proper liaison and joint planning, you may be able to use subsurface areas; however, some public municipalities maintain control of, and are responsible for, assigning locations for each subsurface service within their street boundaries, thus leaving you no choice but to locate the proposed structures as dictated.
Conduit route
To minimize conflicts and problems in future underground conduit installation, points to consider for the final conduit route should include
- future requirements for conduit reinforcement,
- present and future requirements for subsidiary conduit,
- future road and campus development,
- plans of other utilities on campus,
- type of road paving along possible conduit routes,
- special environmental concerns, such as bridges, railroads, rivers, unstable soil conditions, rocks, and ledges,
- safety of the general public and workers.
In addition, always maintain a large enough separation between telecommunications and utility conduits to allow for repairs without causing damage to other structures. Locate conduit structure at a depth below finished roadway grade so that vehicular traffic and backfill loads can be sustained by the new conduit structure. Standard conduit construction is based on the use of appropriate fill and a minimum of 24 inches of final grade cover in the travel-way.
In general, the conduit trench should be the width of the structure plus two inches on each side. Concrete-encased conduit should have about 1.5 inches of clearance between the trench bottom and the first level of conduit.
Installing the conduit
To prepare the trench bed for conduit installation, level the trench bed to form an even base. The ideal structure should be straight and level between manholes, and any change in direction should be gradual. Detailed installation practices are generally provided by the conduit manufacturer, with instructions on laying and joining the conduit with associated fittings for bends, sweeps, and adapters.
Main conduits generally enter the manhole equidistant from the floor and the roof and centered between the end walls. Subsidiary conduits require a clearance of four inches from the roof and the adjacent wall. In addition, to facilitate duct rodding, cable placing, and splicing, make sure that conduit entrances at opposite ends of a manhole are at the same level and in the same position with respect to side walls. Grade the trench to the conduit entrance of the manhole and install pulling lines in all new conduits according to design specifications. During any installation operation, a trained inspector should survey the work to ensure that the conduit is placed properly.
Following the backfill operation and before paving, mandrel the structure to ensure proper alignment. Clear all loose materials from conduit formations and seal the ends of the conduit to prevent water or gas from entering the manhole or building. Mandatory sealing, using solid rubber plugs as a first choice, is required to prevent entrance of gas or fluids into manholes and buildings.
Optional sealing, using a universal plug, prevents entrance of fluids and debris into conduits from manholes.
The next step is to decide how long a conduit section should be. Within a campus, section lengths are necessarily short because campus roadway intersections and manhole locations radiate branch conduit routes to provide facilities to various buildings. The main conduit sections should not be longer than 1500 feet; however, 400- to 1000-foot lengths are more typical. To obtain these lengths, you may have to modify the conduit runs between manholes by using junction splices and the degree of curvature of the conduit. Frequently, curvatures in a run are unavoidable because of underground obstructions and sweeping street corners (corners that are not right-angled).
When providing service to outlying campus buildings, it may be more economical to extend the length of the conduit run between manholes. However, some restrictions may prevent extending the length of the run; for example, available cable-reel length, transmission parameters, and maximum cable-pulling tension. The type, size, and number of conduits will resolve the extent of excavation required.
Within the manhole, the conduit formation is designed to permit standard cable racking without modifying the formation at the manhole entrance. Set up cable racking within a manhole using a numerical sequence to facilitate future work on cables as well as to reserve splicing space for future additional cables within the manhole. And always use the racking space from the bottom up. Proper conduit identification and use facilitate future access and help prevent cable crossovers in the manhole.
Choosing conduit type
Several types of conduit are suitable for installation; for example, multiduct clay, multiduct concrete, cement, fiber, and plastic conduit, as well as steel pipe and cast-iron or plastic bends. Because the average life cycle of conduit-carrying plant is 40 years, choosing conduit material is an important decision. Conduit selection is based on such factors as actual costs per unit, breakage, and the level of skill required to install it.
Plastic conduit, which is single-bore, is generally the first choice for several reasons: It costs less, is lightweight, has minor breakage, is easy to install, and provides less friction during cable installation. Four-inch (inside diameter) plastic is universally designated for main conduit sections and for most subsidiary conduit sections. Subsidiary conduit--defined as a conduit branching off from a main conduit run, manhole to manhole-- is generally terminated at a pole or building using cast-iron or plastic bends.
The number of conduits in a campus underground-conduit system is influenced by several factors, including
- customer demand for high-speed transmission or services--such as data, local area networks, broadband, T1, and lightguide cables--and for voice service or computer hookups,
- twisted-pair cable gauge requirements,
- any future plans for conduit requirements,
- municipal or private right-of-way constraints now or in the future,
- spare, or emergency, conduits,
- conduits for private or public community antenna systems,
- conduit for fire-alarm systems.
Author`s note: The intent of this article is to provide a general overview of the subject. By no means does it cover the many intricate and complex procedures necessary to construct an underground conduit-carrying plant system.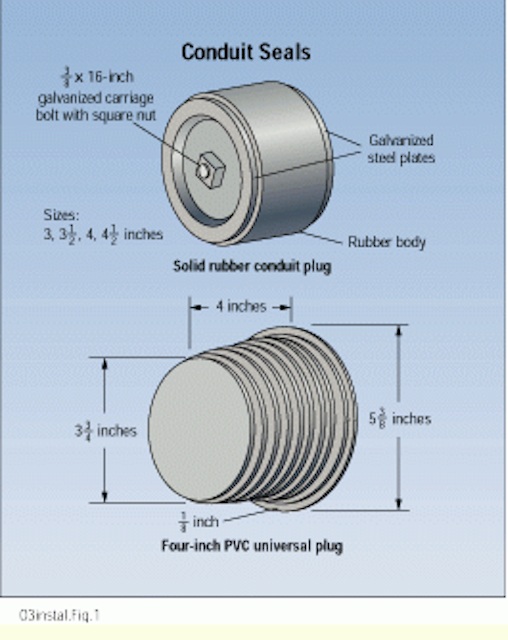 Click here to enlarge image
Conduit seals include solid rubber plugs (top), to prevent entrance of gas or fluids into manholes and buildings, and 4-inch polyvinyl chloride (PVC) universal plugs (bottom), to prevent entrance of fluids and debris into conduits from manholes.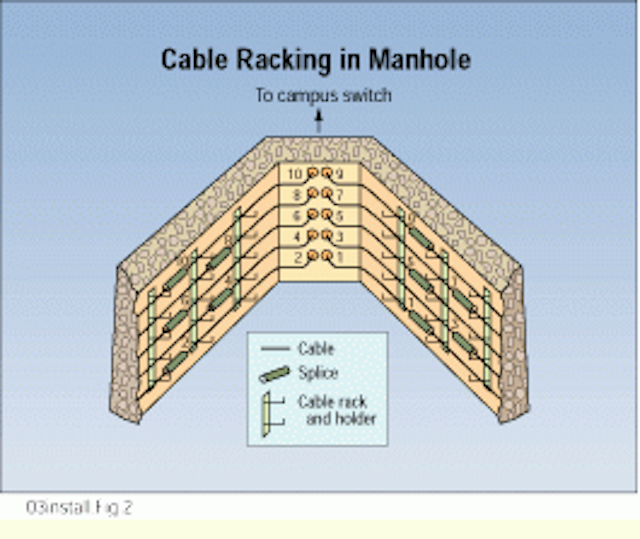 Click here to enlarge image
Set up cable racking within a manhole using a numerical sequence, and always use racking space from the bottom up. The cable racking shown is for a two-conduit-wide manhole entrance.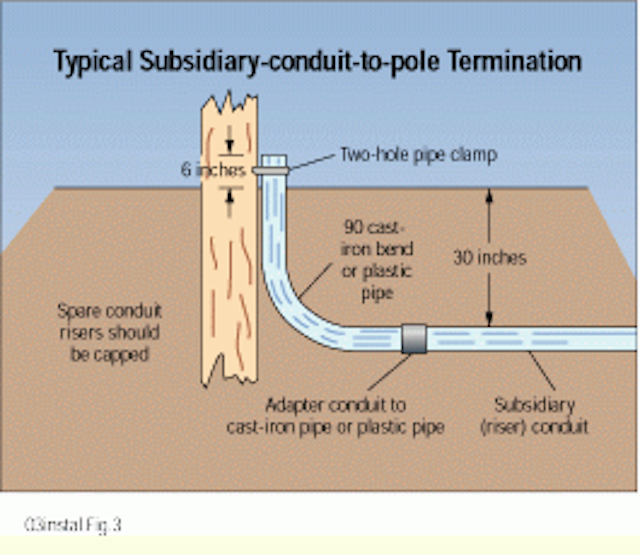 Click here to enlarge image
A typical subsidiary conduit is generally terminated at a pole or building using cast-iron or plastic bends.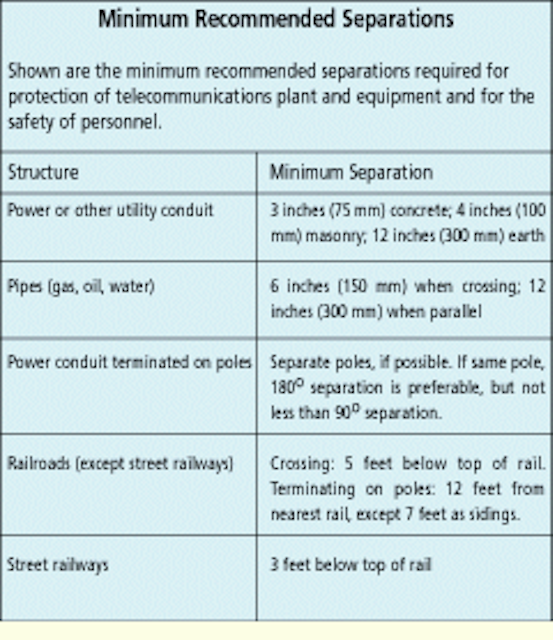 Click here to enlarge image
Anthony T. Minichiello is the principal of Maximis Communications Consultants, Concord, NH. An honorary life member of bicsi, he sits on that organization`s governmental relations committee and publications advisory committees.