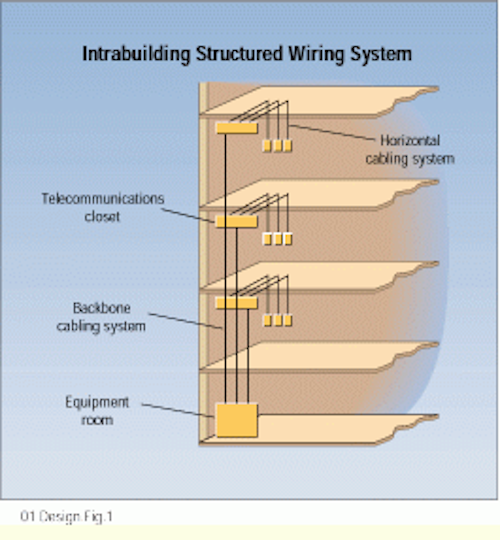 Less office disruption, easier facilities management, and significant savings are some of the benefits of zone cabling.
Tony Beam and Ken Hall
AMP Inc.
The old adage "the only constant is change" is all too familiar to today`s facilities managers--especially those responsible for managing open-office environments, which are constantly subject to moves, adds, and changes (MACs). Although they have been around for many years, open offices are currently finding increasing favor with corporate planners for several reasons. Organizations today require more modular workstations, have higher-speed data applications, need increased communications services per user, want freedom to move multidisciplinary teams around, and anticipate such trends as hotelling (which involves modular docking areas for off-site workers).
While the open-office concept offers clear advantages for departmental reorganizations and rapid deployment of project teams, for example, there has been a significant cost impact because of the recabling and labor associated with reconfiguring the work space. Although modular furniture has contributed to the popularity of the open office, static cabling strategies have lagged behind, since they were designed without consideration of the open office and its associated modular furniture and cubicle walls. Traditional horizontal cabling methods are based on point-to-point wiring of up to 90 meters from the telecommunications closet directly to the outlet at the workstation. This fixed structure seriously limits flexibility for MACs.
Zone cabling, on the other hand, is a horizontal-cabling solution that addresses the continuously changing configuration requirements of the open office. Furthermore, it minimizes cabling complexity, reduces office disruption for facilities managers, and maintains pleasing aesthetics.
Zone cabling has been designed to overcome one of the most vexing problems facing facilities managers--having to change the location of cabling outlets to accommodate departmental reorganizations or a change in users` communications needs. Not only does this cabling method eliminate the need to recable, but it also preserves a facility`s adherence to the tia/eia-568a premises cabling standard.
Because the typical office experiences reconfiguration rates of 60% annually, recabling costs become a major factor in the maintenance of the facility. For the facility manager focused on controlling MAC costs and eliminating unnecessary reconfiguration, zone cabling offers a viable option. With this type of design, the basic cabling infrastructure need not change.
Advantages of zone cabling
Zone distribution depends on prewiring an open-office area by anticipating user density, rather than by installing individual outlets. The building`s floor plan is divided into "zones," which are outlined on the basis of number of users. A bundle of communications cables is then pulled from the telecommunications closet to a single, fixed distribution point within each zone. Individual cable runs are connected from this distribution point to each office outlet or directly to the equipment within each office.
By adhering to the tia/eia-568a and TSB-75 standards, zone cabling returns flexibility to the open-office environment while providing other advantages to the facilities manager. TSB-75, a telecommunications systems bulletin recently released by the Telecommunications Industry Association (TIA--Arlington, VA) to address zone-cabling issues, allows for two cabling options: the multiuser outlet (MUO) and the consolidation point (CP). Both provide localized flexibility to the work area, and either is acceptable, according to the standard. Less recabling is required with either option, and cabling from the telecommunications closet to the MUO or CP is permanent. The choice between the two should be based on the required access to cabling entering the work area, the desired level of access by the end-user to the distribution point, office aesthetics, and available furniture raceway space for needed services.
In the MUO, high pair-count cabling is brought to a single distribution point or outlet in the office area. The MUO is typically mounted on a wall, column power pole, raised-floor poke-through, or furniture panel. Long workstation cables then connect the outlet to multiple workstations, with six workstations typically fed from one outlet. The benefit to the end-user is that the client`s personnel have direct access to connect, disconnect, and make other changes. The downside is that the management of equipment cables is not typically carried out at the user`s workstation, and such management may be mishandled by untrained end-user employees. With proper design, office aesthetics can be maintained with this option.
The consolidation-point method provides an additional transition between the telecommunications closet and the workstation outlet. One might think that this method would not perform as well as the MUO because of the extra transition point. However, the horizontal cable link, as measured in accordance with TSB-67, already includes this additional disconnect to accommodate under-carpet cable. Category 5 performance can, therefore, be maintained using a CP, with the added benefit of localized flexibility.
Typically, the consolidation point is located above a false ceiling or below a raised floor. It includes a transition between the cable from the telecommunications closet and the cable to the workstation outlet, and does not allow a crossconnect. There is initial added cost to this option, including parts and labor, but the cost differential is usually made up by labor saved in the first move. The main benefit of using the CP option is that the fixed cabling is localized in the office zone, saving recabling back to the telecommunications closet. At the same time, office aesthetics are maintained by running the cabling through furniture raceways to the individual station outlet, and the amount of equipment cabling used is minimized.
Zone distribution can also be used for power distribution, giving facility managers the chance to use a single, common approach for all cabling. Branch power distribution cabling is already available in premanufactured assemblies that can be plugged into multiport distribution boxes.
Zone cabling design considerations
The primary design considerations for zone cabling involve the building structure--such as walls, structural columns, and exits--work-area size, and the amount of service required by a work area. Also important are the zone`s furniture system layout, how many work areas typically form a contiguous group, whether the furniture is placed against walls, or if walls are reserved for aisles and access to sunlight. Design considerations also include how often zones are expected to be reconfigured, which furniture layouts will be affected by reconfiguration, and which pathways (raised floor, false ceiling, cellular duct, or poke-through) will be used.
The installed cost of zone cabling can vary depending upon design requirements and implementation methods. Cost can be the same as that of a traditional installation, or up to a 30% to 50% initial premium. The true cost of a cabling system, however, is its cost over time. The cost premium for the initial installation is usually more than offset by the reduced cost of the first workstation move. Each subsequent move over the life of the cabling system increases the return on investment. The average investment for a workstation is $2500 to $3500; cabling, voice, data, and power comprise approximately 10% of that cost.
Another cost consideration is that cabling is expected to have a minimum usable life of 10 years, according to TIA guidelines, with warranties by manufacturers extending that figure to 15 years. In a traditional cabling scheme, old cable is replaced when stations are moved. The old cable is either removed or, more often, abandoned in place. The new cable is then installed all the way to the telecommunications closet--up to 90 meters. With zone cabling, the cabling infrastructure to the closet stays in place and the workstation cables can be reused, so there is little or no loss.
Zone cabling brings more than a flexible topology to facilities managers. It also lets them handle all MACs, address the aesthetics of the office, deliver more performance to the end-users` workstations, and play an important role in managing the corporate bottom line. Today`s technology makes the flexibility of zone cabling a viable and cost-effective answer to the cabling question. Significant savings can be realized over the lifetime of a cabling infrastructure, both in terms of cabling cost and labor cost in reconfiguring offices.
Benefits of Zone Cabling
Zone distribution offers facility managers several benefits:
- The horizontal cabling between the telecommunications closet and the distribution point remains fixed and undisturbed for the life of the cabling. Only the relatively short runs from the distribution point to each office need to be moved when office configurations change.
- Cabling moves are localized, causing less office disruption and lost productivity. Moves can be made in one zone without disturbing the others.
- If the distribution point provides a pluggable connection interface, cabling runs to each office can be premanufactured assemblies, and moves can be accommodated by disconnecting and reconnecting cable assemblies. Downtime is minimized and field verification or re-verification is reduced.
- With proper design, all runs from the distribution point to each office can be the same length. One premanufactured part number could conceivably fit all applications.
No More Playing Catch Up
"We were simply playing catch up every time we added new employees," says Ken Washburn, facilities manager for Earthlink, a nationwide Internet service provider in southern California. The company experienced exponential growth in 1996 and quickly realized it needed a more flexible, cost-effective cabling system.
Earthlink grew from 200 employees in February 1996 to more than 600 by the end of the year. With a customer base that nearly doubled, the company decided to move from its 8000-square-foot facility to a 40,000-sq-ft, open-office environment on a single floor within a new building. It opted to implement a three-node zone distribution cabling plan. The company has 400 workstations, of which more than 325 are within cubicles. The open-office environment lets Washburn and his staff accommodate moves, adds, and changes quickly and easily.
"Before we began installing any type of cabling system, we worked with AMP (Harrisburg, PA); our design and installation contractor WP Electric; and our architect to map out what our immediate needs were, as well as what we felt our requirements would be for future expansion," notes Washburn. "Besides the obvious flexibility in the zone configuration, we have tremendously reduced the amount of time it takes to reconfigure areas and add new users to the network.
"We have also reduced costs and expanded cabling access," he continues. "We are using a 4-pair configuration where we can quadruple phone access in a fraction of the time it took before implementing a zone solution. While zone cabling may appear more costly from the outset, it is more flexible and easier to use than traditional configurations, providing a clear return on investment. We are currently at capacity and expanding into additional office space in another building. We are very pleased with the zone layout and want to incorporate a zone strategy into our next expansion."
Click here to enlarge image
The multiuser outlet method brings high-pair-count cabling to a single distribution point in the office area.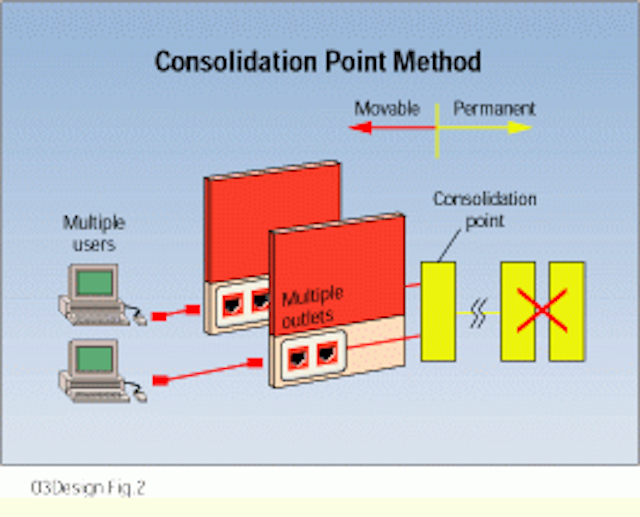 Click here to enlarge image
Although zone distribution costs more at the initial installation, it saves money when moves, adds, and changes occur.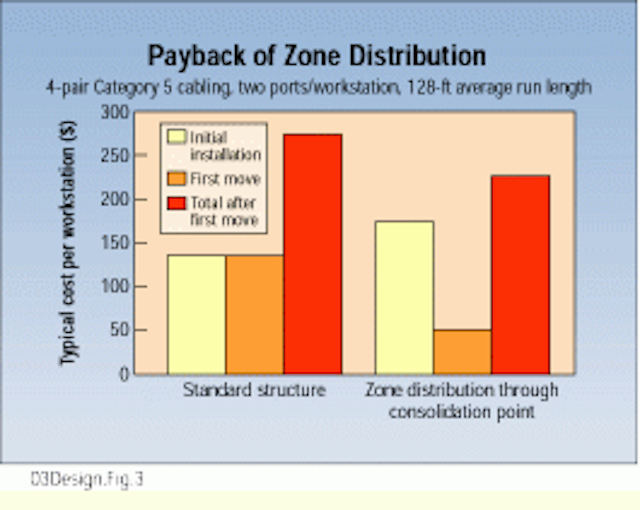 Click here to enlarge image
The consolidation-point method provides an additional transition between the telecommunications closet and the workstation outlet.
Tony Beam, registered communications distribution designer (rcdd)-LAN Specialist, is the director of netconnect Systems Marketing at Harrisburg, PA-based AMP Inc., and Ken Hall, rcdd-lan Specialist, is the manager of netconnect Systems Marketing.