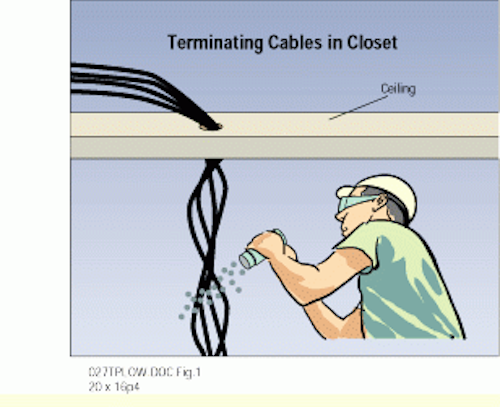 Bob Lowden
ICG/Fiber Optic Technologies Inc.
Problem
You need to terminate many horizontal cables on a patch panel or wall field in the telecommunications closet. This can take some time to accomplish because the cables can become entangled as you dress them. You may also encounter difficulty pulling cables through conduit.
Solution
Apply baby powder to the cables, which makes the jacket-- especially polyvinyl chloride (PVC)--very slick. This makes it easier to comb your fingers through to form, or dress, the cables. A small amount on the "nose" (leading edge) of the cable jacket makes it easier to pull cables through conduits and ceilings, or at 90 degrees bends.
Procedure
1) Buy a small shaker can of baby powder or cornstarch at any grocery store.
2) Shake baby powder or cornstarch on cables when forming them into a bundle in the telecommunications closet or equipment room.
3) Apply a small amount of powder or cornstarch to the leading edge of the cable when pulling it into conduits or in ceilings.
4) Always keep a small shaker can of baby powder in your tool box.
[Editor`s note: This tip is for copper cable only. Do not use powder of any kind on fiber-optic cable because it interferes with the light transmission.]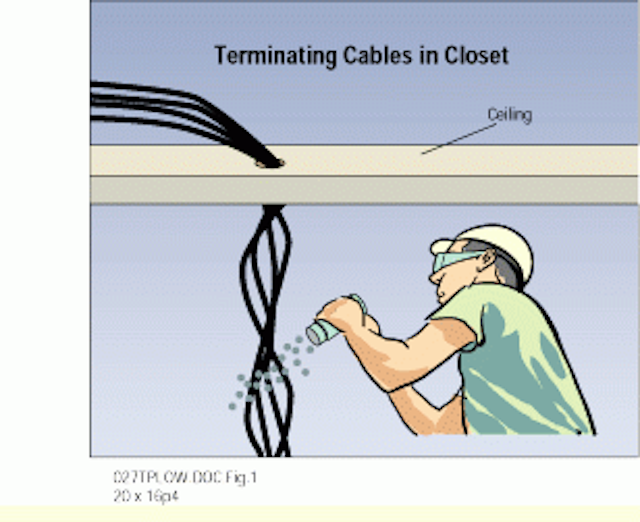 Click here to enlarge image
In the telecommunications closet, shaking some baby powder on the cable helps to untangle cables when forming cable bundle.
Click here to enlarge image
Sprinkle a small amount of cornstarch or baby powder on the cable "nose" to make the cable jacket slicker and easier to pull through conduit.
Bob Lowden is a training specialist at ICG/Fiber Optic Technologies Inc. (Englewood, CO). He submitted this tip at the Installer Tips Contest at Cabling Installation Expo `96, held in Charlotte, NC, last October. This tip was compiled by Dennis Mazaris, registered communications distribution designer (rcdd), a design consultant at PerfectSite, 100 Glenn Drive, Suite A-11, Sterling, VA 21065, tel: (703) 450-8986, fax: (703) 450-9343, e-mail: dmazaris@perfectsite.com.