Intelligent patching systems carving out a 'large' niche
Cable management solutions are winning over big enterprise users, but are they viable for the mainstream market yet?
Jul 1st, 2004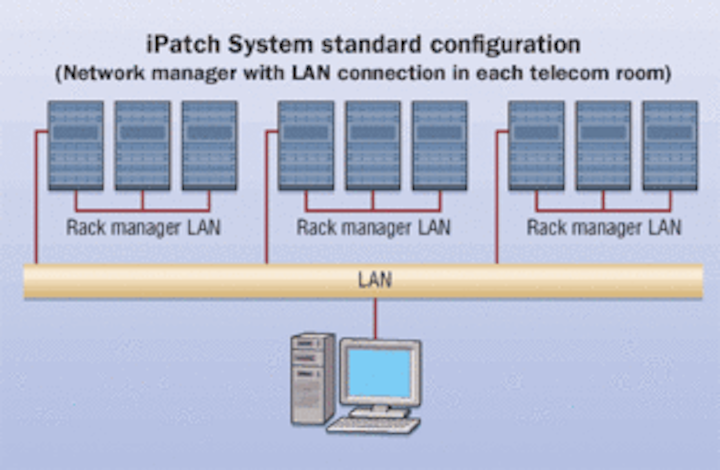 Cable management solutions are winning over big enterprise users, but are they viable for the mainstream market yet?
The market for software-based cable management systems is shifting slightly as the solutions carve out a niche among large enterprise end users.
The first generation of the solutions proved too expensive for the mainstream market. Now, the solutions, entering what is roughly their fourth year in the U.S. market, have evolved to the point where they will work with a new build installation as well as retrofits, work with copper and optical fiber, and usually with any cable management system—not just a proprietary one.
These intelligent infrastructure management systems, however, are still often viewed as too pricey, and are thought to be cost-effective only for large enterprise end users. Contractors interviewed by Cabling Installation & Maintenance say their customers are often turned off by intelligent patching systems because they fear the solutions will force them to hire additional IT personnel.
Manufacturers of intelligent patching solutions have been busy working to counter that opinion. Roughly four years ago, RiT Inc. (www.rittech.com), iTRACS (www.itracs.com) and Avaya Inc. (www.avaya.com) offered solutions. Now, the playing field includes Tyco (www.tyco.com), NORDX/CDT (www.nordx.com), The Siemon Company (www.siemon.com) and ITT (www.ittnss.com), and Panduit (www.panduit.com).
Software provider iTRACS has now partnered with Molex Premise Networks, (www.molexpn.com), ITT (www.ittnss.com), Ortronics (www.ortronics.com), Tyco, and The Siemon Company (www.siemon.com). The iTRACS solution is an intelligent cable management tool designed to automatically update databases.
RiT PatchView partners now include Panduit, which offers the PanView solution; NORDX/CDT, which markets the IntelliMAC Plus solution; the United Kingdom-based Brand Rex (www.brand-rex.com) SMART Patch; and now KRONE (www.kroneamericas.com). SYSTIMAX, now owned by CommScope (www.commscope.com), offers the iPATCH solution.
"Between now and four years ago, it's like night and day," says Rob MacIntosh, real time manager for Molex Inc.'s Premise Networks Division (Hudson, NH).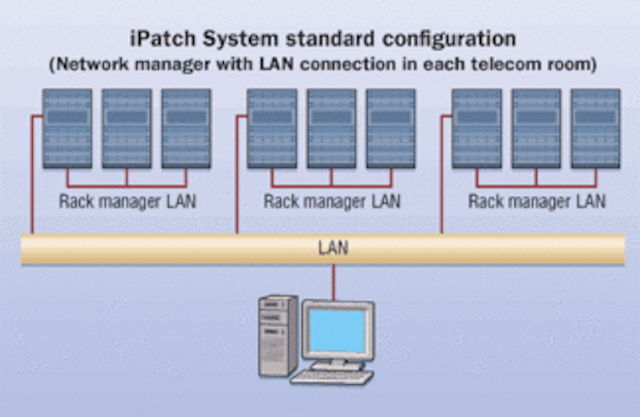 SYSTIMAX Solutions' iPATCH system adds real-time monitoring of copper and fiber channels, and integrates network management software over an SNMP platform.
Click here to enlarge image
Solutions in the iTRACS consortium can be used in retrofit or new build situations. The RiT software, however, is best suited for greenfield installations but can also be used in retrofits. Most of the manufacturers, like ITT Industries, are eager to partner with contractors and offer formal installation training programs that instruct contractors on how to install the databases and software.
Intelligent patching solutions are designed to provide intelligence in real time and prevent unscheduled work outages. They recognize and, often using a floor plan, point out the location of unauthorized devices that log on to the network. If someone were, for example, to bring unauthorized wireless laptops to a company, an intelligent infrastructure management solution could detect where they are used.
Risk reducers
"The system can pay for itself by reducing the risk of an unscheduled outage due to a disconnect, or by avoiding it altogether, or recovering from it more quickly due to instantly knowing the root cause of such an outage," says Rick McNees, vice president of marketing and business development for iTRACS Corp.
That many of the solutions are now designed for both retrofit and new build installations represents a change. Three years ago, when they first began to appear in the U.S. market, intelligent patching solutions were designed mostly for retrofits as manufacturers were trying to find a place in an economy that did not favor new construction. Now, the pendulum is swinging toward new builds, and manufacturers say this is where the solutions have been finding a fit recently.
iTRACS reports that it takes about six months to sell an intelligent patching solution to an end user and six months to deploy it. That means that today's adopters in this market are still rightly termed "early adopters." Customer awareness and, in some cases, dropping prices are leading to a growing interest in the solutions, which are starting to sell as manufacturers streamline them to meet end users' security and compliance needs.
The price of iTRACS-enabling equipment, for example, has come down as manufacturers bring out their iTRACS-enabled or iTRACS-ready solutions. Due to economies of scale as volumes increase, second and third generation designs have resulted in cost reductions through improved manufacturing and design.
"What happened in the last year is that the detection in a change of connectivity is now more important to the organization than the documentation and knowledge of unauthorized devices or unscheduled breaks— that has become the tail that wags the dog," says McNees. "Customers are starting to figure that out."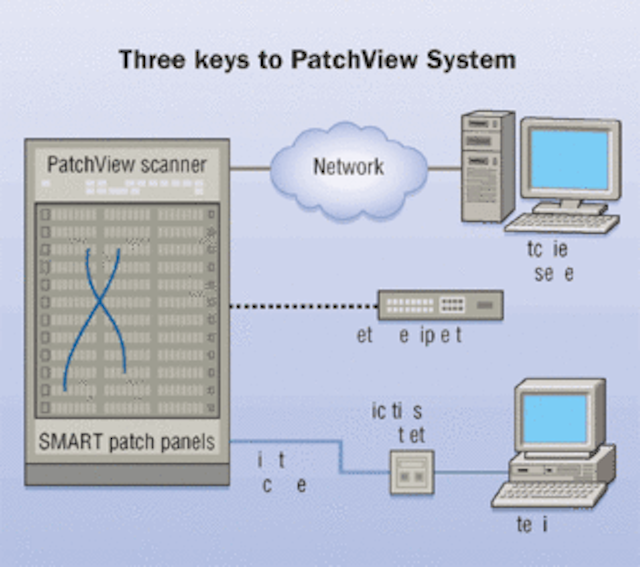 Click here to enlarge image
RiT's PatchView system has three main components. A SMART Patch Panel with LED System allows simple management and planning of work orders, as well as easy MACs. The PatchView scanner collects the patching information and reports it over the LAN. The software package collects real-time information used to automatically maintain the connectivity database. The system "visualizes" the data on the computer screen, guiding the network manager in making all the connections, checking their integrity, and documenting them in the connectivity database.
Intelligent patching solutions are selling mainly to large enterprise end users, with operations that require, say, 5,000 cable drops or more, as opposed to smaller operations with only 50 or so network users. Still, the solutions are helpful to end users—but a specific class. Ken Sterritt, a New York state sales representative for Ortronics, Inc., says the solutions are mostly gaining popularity with end users who have security concerns. "It's a good product but it has a specific use," says Sterritt.
The solutions are not needed—and probably will not ever be needed—by many enterprise end users. "We look at selling it as a complement," says Anthony Siderewicz, vice president of copper products for Ortronics. "We ask, 'What are your needs as a customer? Is this a good fit?' It's not for everyone."
Network, security appeal
Those who are seeking intelligent patching systems, such as end users in the banking industry, view network performance as critical. A second market includes end users who view security as critical, such as government or intelligence offices or hospitals. A third layer of end users includes older companies or campuses, which see network operations as critical.
ITT Industries reports that sales for its LANSense solution in the past year are up compared to previous years. "We see big growth in data centers and large enterprises," says Tony Rossiter, managing director for ITT Industries UK.
iTRACS says it has seen an increase in sales during the past year, with end users seeking its partnered solutions that provide security benefits, business continuity and compliance.
"We are getting a lot of inquiries now," says McNees. "The consciousness of this is growing tremendously. In the past few years, people were not aware that this capability existed. But in the last nine months, this has dramatically changed, and people are asking us, 'How can you help us in this area?'"
The drivers for growth include end users' ongoing quest for IP-based solutions, as well as administrators' increased comprehension of the importance of the first layer.
"Because the market has become more aware of intelligent infrastructure, 60% of the tenders that are coming out are mentioning intelligent solutions," says Neil Dellar, e-business development manager for ITT Industries. "They (end users) are saying, 'What's good for them is good for us.'"
And with the price per port dropping, the solutions are becoming more affordable across the market. Today, the cost per port for a complete installation is about 25% to 30% more than a non-intelligent one, or $37 to $45 more for a standard drop.
A hard sell?
But some contractors say that the price has not dropped enough.
Christopher Hanna, project manager for Telecom Technicians Inc. (Sterling Heights, MI; www.telecomtech.com) recently installed SYSTIMAX's iPATCH solution at the Detroit Public Schools' Fisher Building, an administrative facility. The project involved 3,000 data cable drops, and contractors installed a complete optical-fiber and copper backbone. Each floor supported 300 pairs of Category 6 cable per closet, with two closets on each floor being fed the cable from the data center. Thirty-six strands of multimode optical fiber and 12 strands of singlemode fiber were run to each closet.
Hanna says the system, which costs about 20% more than a standard cabling system, worked fluidly. But its cost still makes it prohibitive for many an end user. "Unfortunately, others can't afford that cost, and that was probably the only negative I could see," says Hanna. "That's why it's a hard sell."
Some contractors say that they will not partner with intelligent patching manufacturers until the solutions become more in demand. "I would like to see the demand for it because there is money in it," says Stephen Rinkewich, vice president of Control Network Communications (Albany, NY; www.controlnetwork.com.)
Nevertheless, Rinkewich thinks the solutions have something to offer. "If the end user is not responsible enough to manage himself, then maybe he will pay for a service to come in and do it." But he also says this scenario is rare because enterprise end users tend to believe that intelligent patching solutions will force them to hire additional personnel to maintain their databases.
It's an argument that pops up frequently, and contractors believe it is hindering intelligent patching systems' success in the market.
Rinkewich says the work comes when the end users are expected to update the solution's database on a daily basis. "And those day-to-day updates are killers," Rinkewich continues. Accordingly, some end users are concerned that the solutions will require one person to be dedicated to them all of the time.
"A lot of companies don't want to make that financial commitment; they don't want to add bodies, and it's a full-time job to monitor that (database)," says Chuck Kerner, infrastructure engineer for Northrop Grumman Corp. (Raleigh,NC; www.northropgrumman.com).
A counter argument
Manufacturers acknowledge there is an element of truth in the argument that the databases require some ownership on the part of an IT worker. But it's minimal ownership, they say, and should not require the hiring of additional IT personnel. "The cost of the solution and the training for the IT staff is far outweighed by the savings realized in reduced downtime, improved security and reduced costs for MACs," says Molex's MacIntosh.
Many manufacturers are having company representatives stay on-site once the solutions are installed to input data into their solutions' database—including inputting information on floor plan layouts, and the number of cables and patch panels on each floor.
While there is daily work involved once the manufacturers leave—including transferring information to the database concerning added switches, work orders and other inputs— Hanna agrees that updating is minimal work and doesn't require hiring additional personnel. For the iPATCH solution he installed at the Detroit Public School building, Hanna says once the database was created, the real work was done.
"Once it's there, it's done until there are some moves—and there just aren't a whole lot of moves going on," says Hanna. "You just have to keep whoever is installing new cabling for the adds to give them the information."
In fact, most manufacturers argue that intelligent patching solutions will actually help end users to reduce their IT staff by helping to automate moves adds and changes (MACs) and streamlining the troubleshooting process.
"It's a difficult thing just to move a user," says Motti Kleinmann, president for North America, RiT Inc., based in Mahwah NJ. "But with our system, they can do it in a couple of hours or a couple of minutes."
MacIntosh says that if a work order is created in a non-intelligent solution, a technician reads it and completes it. If a mistake is made, it can cause downtime. The help desk is called, and a trouble ticket is created. A technician is eventually sent to the wiring closet to trace the problem to a cable. This process, says MacIntosh, is extremely time-consuming: "They are on a wild goose chase."
The technician who created the work order, meanwhile, updates the documentation. But if the technician makes a mistake in the documentation, it can lead to a corrupt database.
"Before long they've spent more money addressing issues with mistakes made in the wiring closet as well as changes to documentation than they would have spent on real time," says MacIntosh.
Brian Milligan is senior associate editor for Cabling Installation & Maintenance.
---
Solutions at a glance
ITRACS solutions:
Molex Premise Networks' Real Time Patching System works in a retrofit or new-build. The system works with any cable management system, not just a proprietary one. Molex says end users will see a return on investment in a year. It costs roughly $30 to $40 per port.
AMPNetconnect's AMPTRAC is a hardware solution that manages and monitors the connectivity within the telecommunications closet. The solution costs about $30 per port.
ITT Industries makes LANSense, which provides global visibility and control of both local and remote locations.
Ortronics makes the iTRACS-Ready intelligent structured cabling solution, which features Clarity patch cords and patch panels. The solution costs roughly $35 per port.
SYSTIMAX Solutions:
The iPATCH solution provides cable, hardware and software, all of which are built in-house.
RiT PatchView solutions:
Panduit's PanView costs between 20% and 25% above the cost of a passive installation.
NORDX/CDT makes the IntelliMac-Plus, which is capable of working with retrofits or new builds, and is the only one to offer an X-Connect solution.
Brand-Rex sells SMART Patch.
KRONE has also started marketing the PatchView solution.