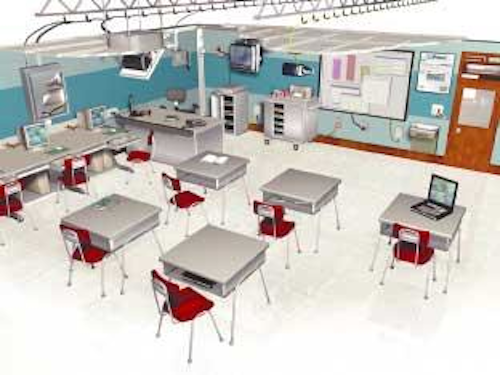 Going beyond the passive zone, a new family of telecom enclosures gives designers more flexibility and efficiency.
A new family of telecommunications enclosures (TEs) incorporates active electronics with the advantages of zone cabling. Passive zone cabling offers design convenience and cost-effective moves, adds, and changes (MACs). Active zone cabling delivers a topology newly recognized by the Telecommunications Industry Association (TIA—Arlington, VA; www.tiaonline.org) that provides further flexibility and efficiency for network designers confronting such challenges as limited telecommunications room space and increasing costs.
What's the difference?
Passive zone cabling extends permanent horizontal cabling to a logical termination point. When MAC work is required, often the only cable that needs to be replaced is the last piece of run from the zone cabling enclosure to the work area outlet or device. This section of cable is a solid conductor, plug-to-plug or plug-to-jack assembly that is typically 6 to 9 meters long, instead of an entire horizontal run of up to 90 meters.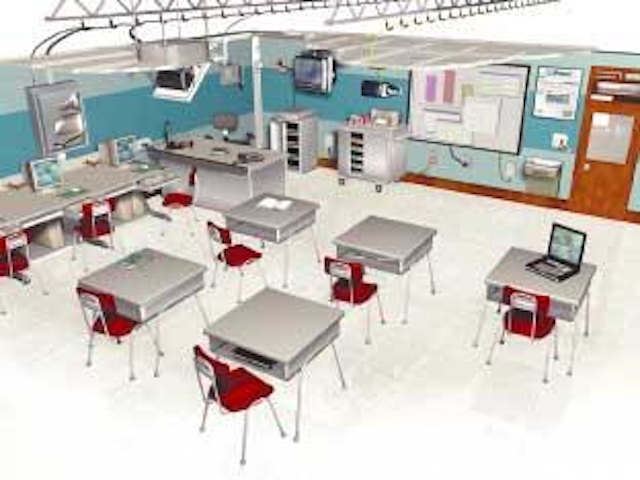 Click here to enlarge image
Passive zone cabling can save 20 to 35% of the installed cost of home-run cabling, and 60 to 70% of the cost of MAC work, according to several industry technical presentations and white papers.1
It should come as no surprise that many leading distributors of structured cabling products are experiencing increased requests for zone cabling products. In fact, reports from distributors indicate a doubling of sales growth annually for zone cabling products.
In February, the TIA approved publication of TIA/EIA-568B.1-5, an addendum to the Commercial Building Cabling Standard that recognizes active zone cabling. Here, the TE is an active miniature of a telecommunications room (TR), mounted in a column, ceiling, wall, or floor. It can contain active electronics, power and patch panels, and can be served by fiber pairs directly from the building main cross-connect or intermediate cross-connect.
The standard allows a 300-meter distance limitation for copper (performance may be sustained up to 2,000 meters with multimode fiber). Each TE can serve 362 square meters, or 39 work areas. This arrangement provides numerous advantages, above and beyond those available with passive zone cabling.
A well-planned active zone cabling installation will have a positive impact on cable routing, TR real estate, horizontal topology, and overall cost effectiveness.
Application examples
Real-world examples of frequently encountered installation challenges help illustrate the value of an active zone cabling solution:
Downtown commercial buildings. Leased space in a downtown commercial building is expensive and usable space is at a premium. The TR is often relegated to whatever is available, and situated over the riser pathways in the building core. (Especially in legacy structures, specifically, those built before the 1970s, architects did not give much consideration to the design of TRs.) It is clear that active zone cabling, in the newly approved form of TEs, can solve a multitude of problems. Topology is distributed to where it is needed most. Installation in ceilings and walls does not consume valuable real estate, yet it is easily accessible, is in a well-lit area, manageable, and secure. MACs in one work group do not impact other work groups, and cable relocation costs are kept low.
Education facilities. These include everything from K-12 to university campus environments. The common factor in each is that the buildings are constructed of stone, brick, and concrete. Many are secured with steel and lined with tiles. Unfortunately, the majority of education facilities were built well before the data revolution, making it a difficult environment for secure installation of new cable bundles and MAC work—particularly when cost is important. In-ceiling active zone cabling solves this problem. Enclosures are made of steel or aluminum, and several locking options are standard. The ceiling-mounted latching raceway, for one or two fiber pairs, is unobtrusive, secure, and economical. Accommodation for wireless access points (WAPs) is available.
Healthcare facilities. Many of the architectural obstacles described under the previous scenarios also apply to healthcare facilities. In addition, rapid advances in medical technology create increasing demand for high bandwidth, high reliability, and 24/7 secure data transmission with minimal intrusion by network technicians.
Airports. Expensive leased real estate, concrete and steel construction, long indoor building distances, and complex security concerns are among the challenges for airport cabling installation. Active zone cabling enclosures can, in many instances, be used to reduce the requirements for TRs in a given wing of gates. In the main concourse, for example, they can be located in the delivery access corridors behind the retail units. This placement provides both access and increased security without consuming additional real estate.
Federal emergency response centers. Increasing concern for national security has led to new guidelines at the federal level, and a new awareness at the local government level in developing programs to deal with disaster-recovery scenarios. Local emergency teams are required to provide response, resolution, and investigation. Local authorities must also provide for accommodation of federal response teams. It would be expensive and counterproductive for every facility to allocate valuable office space for potential use as an emergency response center. Many jurisdictions have chosen to designate a conference room, training room, or other space in the event of an emergency. These rooms require the capability of being instantly converted into a response center, complete with tables, chairs, secure telephones, computers and voice/data access for 10 to 30 agents. The easiest way to accomplish this is with an active zone cabling enclosure—the modern equivalent of the 25-pair telecommunications harmonica. Rapid implementation can be as simple as unlocking the ceiling enclosure and fastening patch cords to a circle of desks, enabling investigators to get to work fast.
Efficiency, savings, and flexibility
Active zone cabling products that conform to the new standard for TEs have the capability to solve common problems for numerous applications. Implementing active zone cabling saves money for telecommunications managers and other end users, both in installation cost and the reduction in MAC work expense.
For network designers, this topology offers smart, efficient, and flexible solutions.
This article was written as a collaborative effort among staff members at Panduit Corp. (Tinley Park, IL; www.panduit.com).
References
The reference to 20 to 35% installed-cost savings and 60 to 70% MAC savings versus home-run cabling is from a presentation made at BICSI's 2003 Winter Conference, which can be viewed at: www.bicsi.org/Content/files/presentations/03Orlando/SimpsonPRES_files/frame.htm
An estimate of nearly $440/port savings via active zone cabling is part of an article published in the March/April 2004 issue of BICSI News, which can be accessed at: www.bicsi.org/ Content/Files/PDF/News0304.pdf
---
Problems solved actively
Active zone cabling solves a variety of common installation problems:
When running heavy bundles of horizontal copper cabling from the TR to the work area—particularly useful when such runs pass through masonry walls, firestops, and tiled areas. Since TR real estate is expensive, and insufficient space is a common problem, active zone cabling moves some of the network equipment closer to the work area, allowing fewer and smaller TRs within the building.
Previously, if the distance from a work area to a TR was more than 90 meters, another TR was required. Now, fiber-backbone pairs can be run all the way from the main equipment room (often located in the basement), through a single required TR (on that floor as a pass-through), directly to the active zone cabling enclosure.
Its TEs dramatically reduce installation labor and material costs. Active zone cabling saves up to 60% of the installation cost and 60 to 70% of MAC costs. One detailed estimate published by BICSI (www.bicsi.org) concluded that installation savings were nearly $440 per port in the work area.2
---
In the Zone
Panduit, contributor of this article, offers the Pan-Zone Zone Cabling Products suite, which provides flexibility to reconfigure buildings to suit frequently changing organizational requirements. These products also provide the ability to make moves, adds, and changes easily, substantially reducing downtime and labor costs.
Click here to enlarge image
Zone cabling products accommodate active equipment and multimedia solutions, which can be used in floor, ceiling, and wall-mount applications to meet global application requirements. All Panduit components, including small-form-factor duplex optical-fiber connectors are interchangeable in one modular space of outlets, boxes, patch panels, surface raceway, and office outlet poles, facilitating future changes and upgrades.