Free space optics: Not your typical wireless connection
The laser-based technology offers more secure transmissions for a variety of applications.
Jul 1st, 2004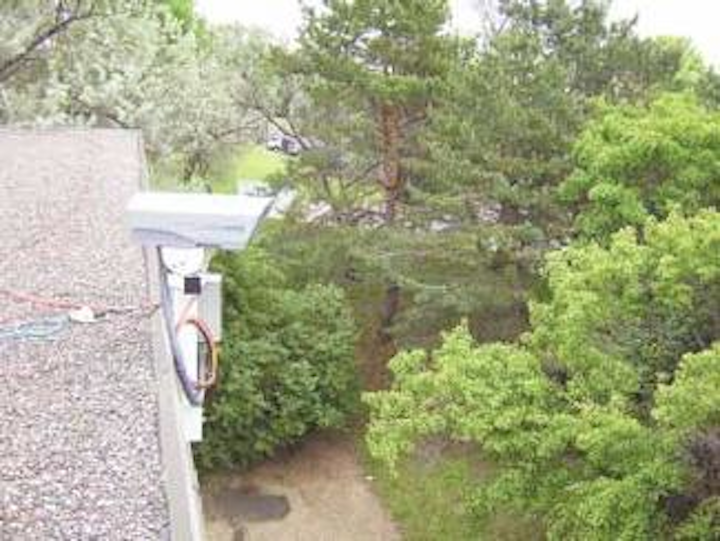 The laser-based technology offers more secure transmissions for a variety of applications.
Though the concept has existed for decades and products have been available for several years, the technology and hardware that allow free space optical (FSO) transmission have just recently begun to gain wide attention within structured cabling circles. Today, a combination of technological advancements, ease-of-use characteristics, and budgetary considerations are all helping to advance the cause of FSO.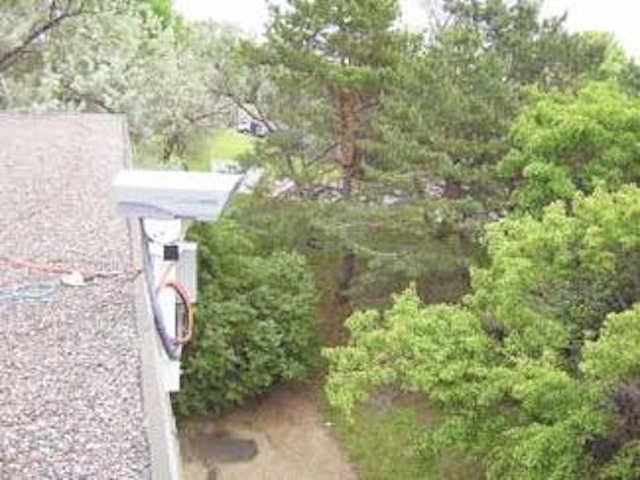 This in-progress installation takes place on a rooftop, a popular choice for free space optical (FSO) equipment mounting.
Click here to enlarge image
An FSO system generally has a simple set-up: two laser-based transceivers, which look somewhat like video surveillance cameras, each mounted to a structure and pointed at one another. An existing optical-fiber network plugs directly into each transceiver, creating a continuous circuit. Line-of-sight between the two transceivers is necessary for the connection to be made and the transceivers to function.
In most of the projects in which it is deployed, FSO is chosen because a network's physical environment makes connectivity via cable either impossible or impractical. It is often a body of water, an abutter's property, a city street, or another obstacle that stands between two points needing connectivity, and makes laying optical-fiber cable either physically unattainable or fiscally unimaginable.
Fog wars
FSO systems typically are mounted on rooftops to ensure line of sight, but the systems can also operate through windows. Uncontrollable environmental factors can adversely affect FSO transmission, and fog is generally regarded as the most significant. "Fog is the ultimate enemy of FSO," says Peter Schoon, president of FSO systems integrator System Support Solutions (Orono, MN; www.systemsupportsolutions.com). Fog causes photon scatter, diminishing transmission-length capabilities. Other environmental factors, including rain, generally do not adversely affect signal transmission. And some vendors are even claiming victories in the fight against fog. MRV Communications (Chatsworth, CA; www.mrv.com), for example, incorporates radio-frequency back-up systems into a number of its TereScope brand products. The company says such a back-up system offers carrier-class availability in all types of weather, including heavy fog and rain.
Weather-related considerations notwithstanding, FSO systems frequently are deemed an appropriate fit when the previously described spatial characteristics coexist with certain user-application demands. For example, FSO is an appropriate back-up system for an in-place optical cable connecting two disparate points. "The primary use of many FSO systems is for disaster recovery," says Jermaine Gambrell, product manager for Corning Cable Systems' (Hickory, NC; www.corningcablesystems.com) LANscape Solutions for Free Space Optics, a product line that includes the FreeLink 1.0 and FreeLink 3.0 systems. "Many users buy it as a backup, rather than a primary system. FSO systems mount in place, and we offer what we call 'flyaway kits,' allowing the user to take the FSO system with them when they leave a facility."
Also, many adopters are using FSO to replace T-1 connections that connect far-flung buildings on a campus. "Leasing multiple T-1 lines can be upwards of $800 monthly," adds Gambrell.
The economics of FSO are vaulting the technology into a favorable position, either as an alternative to T-1s or to customer-owned optical fiber that is buried, trenched, or hung. While a fiber install in extremely difficult terrain can begin at $75,000, an FSO deployment represents an easier-to-swallow investment. "Technology has brought the price point down," explains Ken Ito, assistant director of Canon USA's broadcast and communications division. Canon offers the Canobeam brand FSO system. "You can get a Fast Ethernet connection for approximately $13,000."
While labor often piles up costs in a fiber-cable installation, FSO equipment installation is quick. The process is essentially two steps: setting up the mounting equipment then aligning the transceivers.
Contractor partnerships
System Support Solutions' Schoon has made a living conducting these installs for about four years, and is a certified installer of every major brand. "A lot of the organizations I work with are cabling companies," he explains. "Typically, the best scenario is when I team up with a cabling contractor," and add this technology to the contractor's cadre of services. Such partnerships let contractors offer the technology to customers without having to gain certification from FSO equipment makers or otherwise immerse themselves in the technology.
An immersion into FSO would show that both the technology and the marketplace are dynamic. While all products perform essentially the same function, they differentiate from each other on some technical levels. Probably most noteworthy is the concept of active alignment—a means by which the transceivers maintain contact even when they move.
"Building movement is an issue with free space optics," says Canon's Ito. "One approach—an old approach—is to widen the beam. The new approach is to concentrate the light on the lens, while the components inside the unit are always correcting to maintain contact." Canon, he points out, has always included this active alignment capability into its FSO equipment.
Schoon views the technology as one that could be a market-shaper—not just for a manufacturer to achieve active alignment, but also to offer it competitively. "Active versus non-active alignment is getting to be a big deal," he says. "I just quoted a job for a Crinis [Dallas, TX; www.crinisnetworks.com] system to send 100 Mbits 100 meters. That equipment from Crinis will cost $3,600 for an indoor system and $4,500 for outdoor. That proves you can put active alignment in a system without skyrocketing costs."
Crinis offers the ConnectPoint 100 and ConnectPoint Campus FSO packages. ConnectPoint 100 is a Fast Ethernet connection that is placed indoors and can be aimed through windows at another indoor transceiver, or can be aimed at a ConnectPoint Campus transceiver, which resides outdoors. Each product line has a range of approximately 100 meters, with the ability to reach 300 meters through daisy-chaining. Several other FSO systems, which do not match Crinis on price-point, allow connection across greater distances.
Distance is one of six characteristics that Schoon says are critical when choosing an FSO system. In addition, he says users should choose based on their throughput needs, link availability, mounting environment, protocol deployed, and requirement for a backup path. Many lower-end FSO systems are protocol-agnostic, meaning they will accommodate any protocol up to a certain speed. But gigabit appears to be a stepping off point, where speed-specific equipment is required.
As for the security of through-the-air communication distributed via FSO, it is an entirely different ballgame than 802.11-based signals. "The signal is inherently safe," says Jeff Bean, director of market communications for LightPointe (San diego, CA; www.lightpointe.com). It transmits in a single direction, he points out, evidenced by the fact that the transceivers must be aligned to successfully transmit and receive. In contrast, an 802.11 signal radiates 360 degrees. Such tight beams within FSO systems make "stealing" the signal improbable, because it would require placing a receiver directly in the signal path.
LightPointe's founder and chief technology officer, Heinz Willebrand, co-authored a book on FSO (of which Schoon was a technical editor), which was published in 2002. Free-Space Optics: Enabling Optical Connectivity In Today's Networks covers topics including system installation, laser safety (the lasers used in FSO are eye-safe and must comply with specifications set by the International Electrotechnical Commission), service-provider issues, and overall market analysis.
All in all, the market for FSO in the enterprise space is looking up. "The market is probably somewhere near $150 million," says Schoon, "a far cry from predictions made two to three years ago that said the it would be $2.5 billion by now." But, he says, he gets five or more quote requests directly from his company's Web site most days. The need for these systems exists, he says, and with more than 100 different options available (counting all products from all FSO manufacturers), users are likely to find at least one that fits all six of their major critiera.
Patrick McLaughlin is chief editor of Cabling Installation & Maintenance.
---
Manufacturers of free-spaceoptical equipment
The following manufacturers offer FSO systems, either domestically or internationally. Information on their systems is detailed on their respective Web sites
BridgeWave Communications—www.bridgewave.com
Canon—www.canobeam.com
Corning Cable Systems—www.corningcablesystems.com
DragonWave—www.dragonwaveinc.com
FSONA Optical Wireless—www.fsona.com
IRLan—www.irlan.co.il
LaserBit—www.laserbit.net
LightPointe—www.lightpointe.com
MRV Communications—www.mrv.com
Omnilux—www.omnilux.net