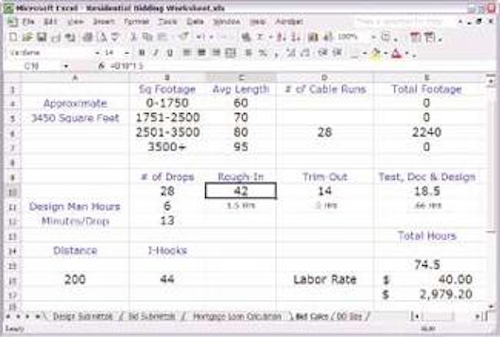 It takes more than cabling know-how to win jobs in the home installation market.
When you boil down all the elements of owning and running a cabling-contracting business, the ultimate goal is to make a fair and equitable profit. Business owners have an obvious interest in increasing profits. Several business approaches are available to try to increase profit levels. Organizations can increase sales volume, achieve more efficient use of materials and labor, deploy product lines that carry above-average margins, reduce overhead costs, and efficiently bid jobs to have predictable and achievable costs and margins.
Many organizations can and do employ more than one of these approaches. In this article, I will concentrate on the last approach—efficient bidding for predictable and achievable costs and margins. I will focus specifically on bidding for residential cabling projects, but the basic concepts apply to all types of contracting.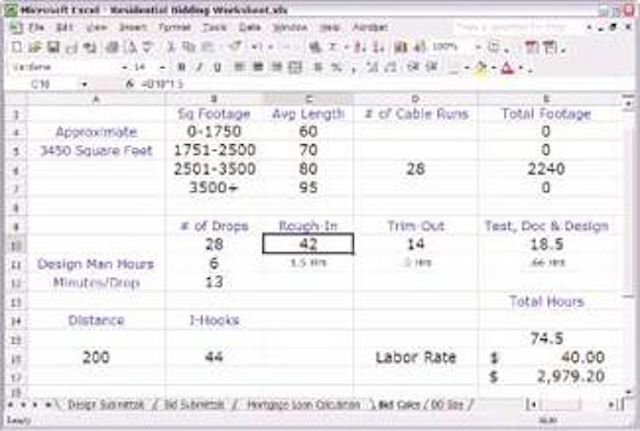 Spreadhseets, such as Microsoft Excel, can be a significant help in calculating bids for residential projects.
Click here to enlarge image
Contractors can bid jobs a number of ways, ranging in complexity and cost. Some still employ the pencil-and-paper method, which is inefficient and subject to huge errors. There's also the use of preprinted forms, in which the contractors fill in the blanks with the specifics of the job being bid. While it is a step up from pencil and paper, this approach gives an unprofessional look. It lacks the important "personalized touch" that is absolutely essential with many potential customers.
Many contractors use Excel spreadsheets as the basis for bid construction. Spreadsheets allow personalization and are more efficient than the other methods already discussed. One drawback of Excel spreadsheets is that not all the information a contractor will likely need is readily available. This will require some extra legwork in order to submit a comprehensive bid.
Commercially available applications that use a database are another option. They are, in my opinion, the best solution for bid generation. But they are not without their drawbacks. Specifically, they can be time-consuming. You must decide if you're willing to make a solid investment of time and effort to put together complete, attractive bids for residential structured cabling projects.
Once you decide to pursue residential projects, your first step for every bid must be to gather appropriate and sufficient information. Primarily, you have to establish the client's needs. Residential projects often include multiple media installs, including traditional voice, data, and video, as well as home theater, distributed audio systems, security systems, and home automation. Naturally, you must have a solid knowledge of how all these systems work. Just as important, you must be able to accurately estimate the amount of time required to install each system's infrastructure and hardware.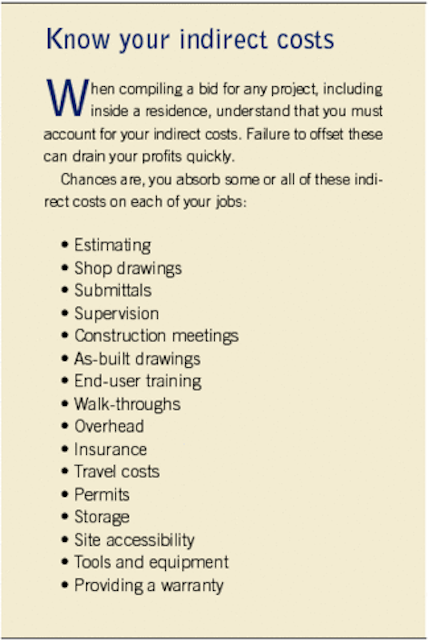 Click here to enlarge image
One key to a successful bid is a floor plan. Hopefully, the customer will have one accessible in a CAD file that you can import into an application such as Visio to make system layout simpler. Additionally, obtain all contact information for the customer. As you gather more information outside of the home for your bid, it's likely that questions will come up. Being able to get in touch with the customer quickly helps your cause.
Dos and don'ts
Six steps are absolutely essential when bidding residential products. Additionally, it's important to avoid five missteps that, unfortunately, can be easy to fall into.
First, the six "dos."
Get to know your client. You won't be cabling an office building that everyone will vacate at night and on weekends. You will be inside someone's home—their "castle." Get to know what the client really wants up front, because you either will not get the job or will wish you hadn't if you propose a set-up the client doesn't really want.
Ask questions before bid day. The client will be ready to move forward once all bids are submitted. That's not the time for you to be gathering the final pieces of information you need for the bid. Remember, bidders who have done this before will probably have asked the right questions and will have very competitive bids. Ask all your questions up front so you are on equal ground with your competition on bid day.
Site survey the jobsite when possible. A survey can be a tremendous help—particularly for accurately figuring the hours of labor. Elements of architectural flair on walls and ceilings can be hour-eaters for a contractor. Knowing that you will face such a task can prevent you from unintentionally underbidding the job.
Establish open lines of communication. This helps all areas of your business relationships, and it is especially true in residential projects. As mentioned earlier, you are working in a client's most intimate environment. Keep the communication lines open so that no side is ever disappointed as a result of miscommunication.
Understand the scope of work. Often, the homeowner client will be specific about the desired result or ultimate application. But that client is sometimes unaware of or unconcerned about the infrastructure necessary to support the application. You must be able to hear what the client wants, and know what it will take to provide that ultimate result.
Do your homework. Because residential projects can include high-end electronics that carry a lofty price tag, sometimes all it will take is one error in materials cost on your part to move the project from profitable to unprofitable. And that's just one example of how being anything short of meticulous with a residential bid can make the effort not worth your while.
On the flipside are the five "don'ts" for residential bids.
Don't put the bid together too quickly. Some of the reasons have been stated already. A couple of errors can be monetarily costly. The client should establish a bidding deadline. It probably won't do you any good to come in earlier than that deadline, so take your time, be deliberate about each line item, and ensure that your bid is accurate to the letter.
Don't be overly optimistic. Breaking into this market segment will require sustained effort, bid after bid, job after job. The residential market is by no means the "fat of the land" on which contractors can easily make a good living without much effort. But if you are serious about entering the market, the effort can pay off.
Don't get involved in reverse auctions. A reverse auction is a situation in which a client establishes the specifications for a job, and contractors submit successively lower bids until the job is ultimately awarded to the lowest bidder. You are best served to avoid reverse auctions because in all likelihood, you either will spend time bidding on a job that goes to an ultra-low-bidder, or you will end up with a job that does not represent a profit for you. Make your bid an honest one based on what it will cost plus a fair margin, and stick to it.
Don't leave anything on the table. Residential projects provide significant upselling opportunity. Without the budgetary red tape that often restricts commercial projects, residential jobs can grow as a result of the contractor's creative and forward thinking.
Don't continuously bid at or below cost to keep your installers busy. Like participating in reverse auctions, this practice can limit your profitability as well as flexibility. Tying up a crew for several weeks on a break-even-at-best job could prohibit you from deploying that crew to a short-term, urgent project that would be profitable.
Prebid strategies
Before you submit a bid, take several steps to make sure your bid is competitive and appropriate among the others. Analyze the market you are serving. Is it flourishing or floundering? That answer will vary depending on your geographic region. In some parts of the U.S., the residential market is burgeoning. In other parts, there is little or no activity. Know your marketplace before diving in head-first.
Also, engage in competitive shopping. Find out what the winning bids were on similar projects. Use whatever resources and connections you have to get a firm grip on the bid ranges for residential projects.
It is also a great help to hire quality estimators/salespeople. Simply knowing the mechanics of the cabling trade is not enough qualification by itself to successfully develop new business. Successful salespeople have skills that are vastly different from those necessary to complete a cable pull. Remember, you are working with your customer's castle and, therefore, their emotions. Use the right person for the job. Look for somebody with a proven track record, preferably in the same market segments you're aspiring to enter.
Make sure you have adequate resources to actually complete the work you're bidding. It sounds like a simple issue, but a large job with a good profit margin is going to be very tempting, even if you're not sure you have the manpower or equipment to get it done.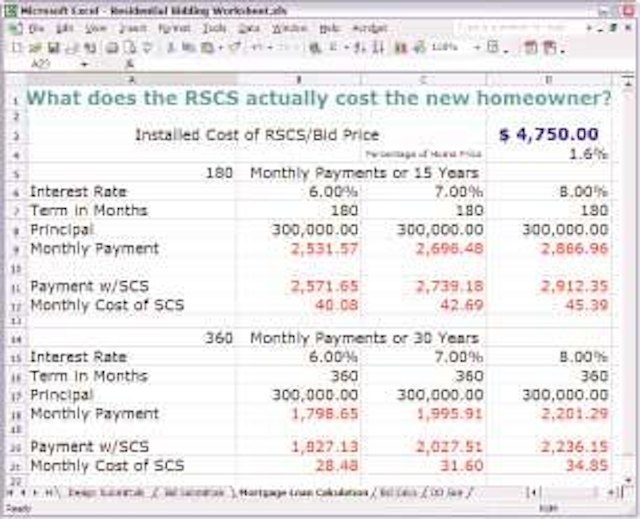 In addition to helping calculate your costs, a software program can be a sales aid by helping you show the customer the amortized cost of a residential-cabling investment.
Click here to enlarge image
Also, don't count on change orders to sustain your profitability. Many contractors have fallen into a routine of submitting bids that represent no profit, with the expectation (or, realistically, hope) that change orders will make the job profitable. Especially in residential, this approach is inadvisable. Homeowner customers expect the accepted bid price to be the bottom-line price for their project. If you enter into a residential contract expecting to boost revenues through change orders, you either will be disappointed or could end up with an adversarial relationship with that client. And that will make the homeowner a one-time-only client, to be sure.
As mentioned earlier, you have options for bid-generation software. Some high-end estimation packages include drag-and-drop capabilities, report generation, full cost details, integration with MS Office, and the ability to design and bid simultaneously. Additional software packages can help you make a fully impressive, professional presentation. You can use PowerPoint for your sales presentations, Word for contracts and reports, Excel to analyze numbers, Visio for system layout, and Project to develop timelines. All these software packages require an additional investment of time to master their use for your benefit.
Overall, professionalism is paramount in the residential bidding and installation process. That means professionalism in your personal meetings, research, bid presentations, and at the jobsite. The methods and tactics described in this article underscore the importance of professionalism, and if you use them as guidelines, your entry into the residential marketplace can prove rewarding and prosperous.
Richard S. Anderson, RCDD, is owner of Servamatic (www.servamatic.net). He consults in planning and design of telecommunications infrastructure for commercial buildings and residential developments.