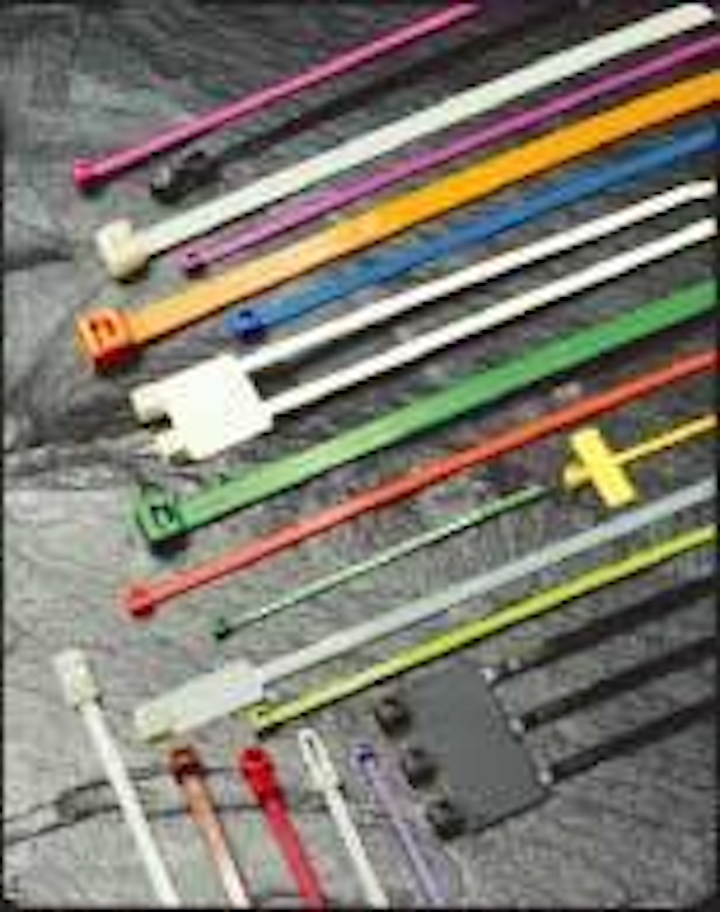 This Q-and-A lends a vendor's perspective on these important management tools.
Cabling Installation & Maintenance magazine sat down for a question-and-answer session with Terry Tuttle, corporate marketing director for HellermannTyton (www.hellermann.tyton.com). The topic was the form, function, and future of cable ties. Accompanying this Q&A information is a chart listing cable-tie manufacturers, on page 44 & 45.
CI&M: For which parts of a cabling system are ties an appropriate and popular choice?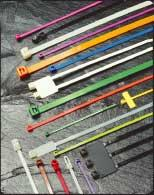 This assortment of plastic ties is an indication of the size and color choices available among cable ties.
Click here to enlarge image
TT: Cable ties can be used in any location where wire and cable need to be bundled and managed. It has been established that, used properly, cable ties are an effective means to bundle cable without harming cable or performance. These locations include those on the horizontal run, ladder racks, and even used with jacks and patch panels to assist cable strain relief.
CI&M: What are some basic considerations for selecting cable ties?
TT: Selectors for cable ties can include environmental and code considerations. For example, for air-handling spaces, HellermannTyton offers Halar material plastic ties and UL94V-2 hook-and-loop Grip Tie fasteners. Both are UL-listed in accordance with National Electrical Code regulations. Temperature and UV-resistance are also considerations when selecting the correct cable tie. Bundle diameters, tensile strength requirements, and mounting alternatives are also primary selectors.
CI&M: Do users have a wide variety of ties that are appropriate for each of these environments, or are their choices fairly limited?
TT: Depending upon the manufacturer, there are many cable-tie choices from which to choose. Lengths can vary from 3 in. to 52 in., accommodating tiny bundle diameters to 16 in. Releasable, mounting, and identification cable ties—all in many material, size, color, and style choices—assure specific needs are met.
CI&M: The functional importance of cable ties is self-evident. Do you find that their aesthetic value is also important to many users?
TT: In telecommunications, aesthetics come second to function. Aesthetic value relates back to function. For example, color-coding can be accomplished using cable ties—blue for data and gray for voice.
CI&M: The workmanship associated with cable ties has been scrutinized closely since alien crosstalk became a buzzword in the industry. Do you provide workmanship guidelines or mandates for your cable-tie products?

The red color of this Grip Tie from HellermannTyton identifies it as plenum-rated.
Click here to enlarge image
TT: HellermannTyton does provide workmanship guidelines for our cable ties through our certified installer training program. We advise that the cable tie be applied loosely-defined; the installer should be able to rotate the head of the tie around the bundle after tie application. We go back to the BICSI Telecommunications Distribution Manual, under "Cable Management Practices," which advises: "eliminate cable stress caused by ... tightly cinched cable bundles. Keep jacket deformation to a minimum." Using cable ties, both plastic and hook-and-loop, is the most effective way to manage cable. Any product, installed improperly, can cause performance issues; however, BICSI, authorized trainers, and cable-tie manufacturers have communicated proper installation guidelines to assure optimal performance.
Patrick McLaughlin is chief editor of Cabling Installation & Maintenance.
---
New look in cable tie construction
Three vendors listed in our chart this month offer the Mille-Tie brand cable tie. All three do so under a licensing agreement with Mille-Tie's manufacturer, Millepede (www.millepede.com). Among the vendors offering the Mille-Tie is ERICO Inc., which has offered the product for approximately two years. ERICO's vice president of marketing and product management, Ed Lynch, characterizes the Mille-Tie as possessing "intelligent grip technology."
"It is springy–—it gives," Lynch says. "No matter how tightly you try to tighten it, you cannot crimp the cable. It will break before going too tight."
The product also possesses multiple-use and reuse capabilities, Lynch says. And there's a difference between the two:
"Multiple use means that when you cut it, the tongue is still there and the remaining piece of the tie can be used on another bundle. Reuse means if you have a bundle and the tongue is still there, you can undo the tie."
Additionally, Lynch remarks, the product leaves no sharp edges—a significant consideration for those who reach above ceilings.—PM
---
Click here to downloadProduct Update: cable ties table as a pdf. {pdf size=64K}