While lightning continues to lurk as a network's worst nightmare, now along comes power grid uncertainties, too.
Smaller chips and lower operating voltages make today's networking equipment highly sensitive to even the smallest power fluctuations.

The unpredictability of the nation's power grid, as shown in this satellite view of the August 2003 Northeast blackout, is driving the need to provide surge protection devices at the building entrance as well as at the heart of the network.
Click here to enlarge image
In areas where power surges caused by frequent lightning are a familiar occurrence, comprehensive surge protection is commonplace. But the limitations and unpredictability of our nation's power grid, as exposed by the August 2003 Northeast Blackout, have increased the necessity for ubiquitous surge protection. To protect their investment, users everywhere are now deploying network surge protection devices both at the building entrance and closer to the heart of the network.
"The most important aspect of surge protection is to consider the facility as a whole and identify the risks of not implementing thorough network surge protection," says Tony Bird, president, Atlantic Scientific (www.atlanticscientific.com).
"The lowest level of risk involves minor surges upsetting software or corrupting data files without causing damage to equipment," Bird adds. "The next level of risk is degradation, caused by slightly large surges chipping away at the circuitry until—all of a sudden—a network card randomly fails. The most severe risk is caused by an extremely high surge, often a result of a lightning strike, that causes immediate damage to end-of-line equipment."
According to Bird, any equipment connected to the outside world via a metallic path has the possibility of encountering any of the risk levels.
Behind the protection
The three common technologies used in surge protection devices include Gas Filled Discharge Tubes (GDTs), Metal Oxide Varistors (MOVs), and Silicone Avalanche Diodes (SADs). "SAD devices have the fastest clamping (time it takes for a suppressor to sense a surge and react to it) with the lowest energy handling, whereas GDTs have slower clamping and the highest energy handling," explains Pat Coyle, product manager, Citel, Inc. (www.citelprotection.com). "MOVs fall somewhere in between."
GDT technology has primarily been used for primary network surge protection at the building entrance, where larger surges can occur. Primary GDT protection is not adequate for protecting end-of-line sensitive electronics, so secondary surge protection, installed between the building entrance and equipment, typically features SAD technology.
"Although GDT devices pick up most of the energy, they are slower to clamp the voltage, and the amount of voltage let through may be too much for sensitive equipment to handle," says Coyle. "SAD technology is a solid-state component with sharper clamping that more closely matches the operating voltage of the equipment. Faster, accurate clamping is necessary to protect sensitive components."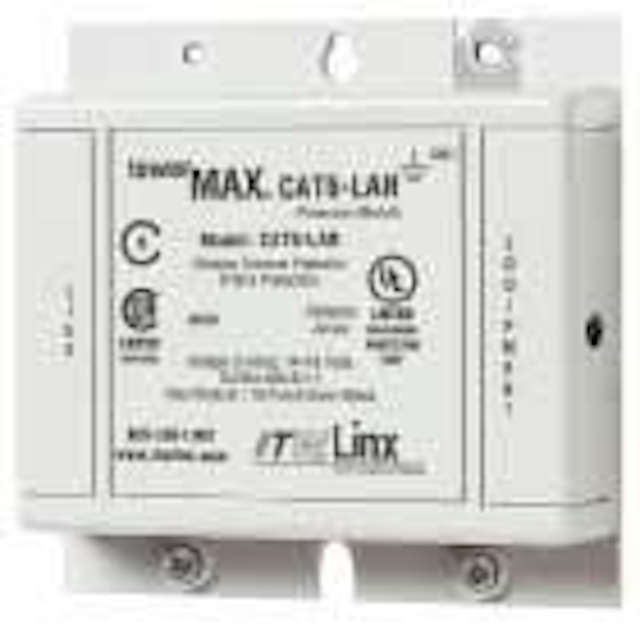 ITW Linx's Cat 6 LAN modular protector lets you mount various modules together–AC, digital, analog, paging, data lines–to achieve a common ground.
Click here to enlarge image
Some manufacturers offer hybrid designs that combine SAD and GDT technologies, and others have developed SAD-type devices able to handle higher voltages. "Until recently, solid-state SAD technology was prohibitive for primary protection, and everyone relied on GDT," says Richard Halliday, business unit manager, ITW Linx (www.itwlinx.com). "This is no longer true." According to Halliday, while newer hybrid devices are rated for both primary and secondary protection, the use of two defenses is still considered the best practice. "It's always better to layer your defenses rather than to rely on a single device," says Halliday.
First line of defense
ITW Linx recently introduced two Category 6 primary protection products for the building entrance. The DataLinx Cat 6 Building Entrance Protection system consists of an entrance terminal and individual five-pin protectors. The terminal is available in 12-, 25-, and 50-pair configurations with 110 punchdown-type connections. The individual Category 6 five-pin protectors plug into the terminal to provide solid-state overvoltage protection for a single pair.
"Cable manufacturers were asking us for it because their customers were asking for it," says Halliday. "It's a combination of the terminal and the five-pin protectors that gives the Data
Linx its TIA/EIA Category 6 performance." The DataLinx system can be either rack- or wall-mounted and is available in a covered version for added security.
As part of its towerMAX series, ITW Linx has also introduced a Cat 6 LAN modular protector, which offers four-pair Category 6 primary protection and is available in voice, data, and power-over-Ethernet versions. "The towerMAX series allows you to mount various modules together for AC, digital, analog, paging, and data lines," explains Halliday. "Mounted together, the modules achieve common ground, and if you don't have common ground, you might as well not have any protection."
According to Halliday, ITW Linx's Category 6 primary protection features solid-state SAD technology for longer life and faster clamping times. "We've managed to build our primary data protection so it can handle higher voltages, allowing us to compete with GDT primary protection products," says Halliday.
Citel's Coyle notes that any type of data line coming into or out of a building is at risk of a surge. "Many times in campus situations, people forget to use primary surge protection at every input and output between buildings," says Coyle. "It's also important to consider the environment. In Florida, where we see lightning almost every day, the primary building entrance protection must be beefed up to handle the higher surges."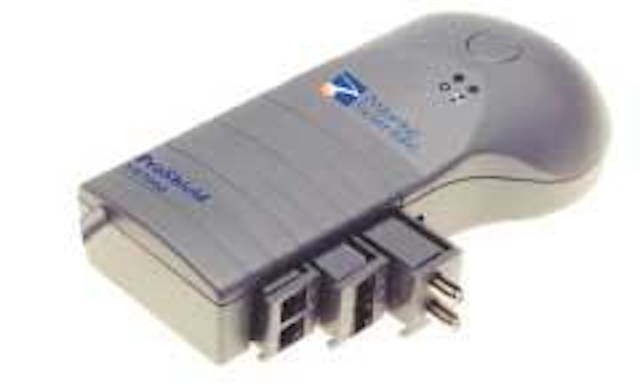 For secondary network protection, Atlantic Scientific's ProShield features slide-in modules for protection of telephone, Category 5 LAN, coaxial, and T-1 communications.
Click here to enlarge image
Available for Category 5 10Base-T or 100Base-T, Citel's ZS-CAT5 surge protector combines GDT and SAD technology to arrest a surge in less than one nanosecond while providing high power handling. The ZS-CAT5 features standard RJ-45 input and output interfaces in a shielded housing. "We use the GDT technology in series with other types of protection for the best performance," says Coyle.
Citel also offers data line protectors designed for various applications, such as RS-485, RS-232, T-1, ISDN, or standard telephone lines.
Second to none
"Once the first step of primary protection is accomplished, the next step is to implement secondary surge protection wherever there is valuable, active equipment," says Bird of Atlantic Scientific. "The voltage that RS-232 operates at is different than 100Base-T, and that's why there are different products for each type of transmission and interface," adds Bird. He warns customers to be wary of products that claim to have one interface with the ability to protect various applications.
Atlantic Scientific offers a wide range of secondary network protection, including the ProShield configurable power protection platform with AC protection and three slots for slide-in modules to protect four-wire telephone, Category 5 LAN, CATV coaxial, T-1, RS-232, and more. "With configurability, protection modules can always be removed and added," says Bird. "Even if the right surge protection was purchased in the beginning, MACs happen all the time, and if you can't configure the product, it may not be the right surge protection down the road."
Last year, Atlantic Scientific introduced the RackShield and RackPro surge protection for 19-inch rack-mountable configurable network protection. Like the ProShield, the RackShield uses mix-and-match modules for a variety of network interfaces. The RackPro is typically mounted below the RackShield to provide AC power surge protection. "While there's a definite move towards 19-inch rack-mount solutions, being able to configure the RackShield is still the most beneficial feature," says Bird. Atlantic Scientific also offers Standalone Communication Protection modules for a variety of network applications where AC power is already protected by a UPS or other AC protection device.
"Many people don't give datacom enough credence, and they believe they only need protection on the AC line," says Karen Ann Brow, senior product manager for Tripp Lite (www.tripplite.com). "This is simply not true. Because data lines are not as powerful as AC lines and still have a little mystique about them, many don't realize that the possibility for damage is there."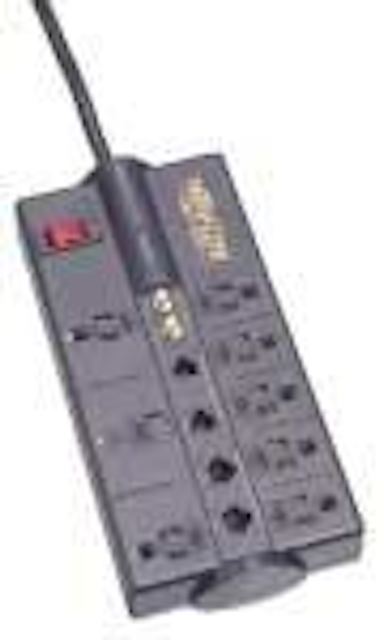 Tripp Lite's TLP810NET surge suppressor has eight AC outlets plus RJ-11, RJ-4 and coaxial outlets to prevent surges from damaging networks or personal computers.
Click here to enlarge image
Tripp Lite's TLP810NET surge suppressor features eight AC outlets in addition to built-in RJ-11, RJ-45, and Type F coaxial jacks to prevent surges from damaging network or personal computer equipment. "Determining network surge protection is a combination of the specific user needs and the transmission speed," says Brow. "A surge protection device cannot take any action on any equipment connected to it, but they do have transmission limitations. If the surge protector is only rated for 10Base-T, and you need 100Base-T, you're only going to get 10Base-T."
According to Brow, while most companies use surge protection and power back-up at the network level, there has been increased use of UPS products at individual workstations. "Many of the UPS products on the market have come down in price and are now available with Ethernet, phone, and even coax surge protection," says Brow. If a UPS doesn't include data line protection, a separate protector is often used in conjunction with the UPS.
The BC Pro UPS System from Tripp Lite offers six surge-protected AC outlets and up to 75 minutes of runtime for a desktop computer and 15-inch monitor. Used in conjunction with the UPS, Tripp Lite's DNET1 Ethernet protector protects 10/100Base-T, Token Ring, AS-400, and RS-422 applications via an RJ-45 input and output connection.
"While surge protection is an insurance policy against damage, a UPS allows the user to also power down safely before losing any critical information," says Brow. "The real question to ask is, 'What am I putting at risk by not implementing a combination of surge protection and a UPS?'"
All potentials covered
According to Scott Hopper, product manager for Alpha Technologies (www.alphatechnologies.com), coaxial surge protection is a growing market for manufacturers. "With the amount of wireless applications now being implemented, protection of coaxial lines is critical, especially for outside wireless access points," says Hopper. "Many customers in both public and residential areas are utilizing coax for broadband network applications via cable modems and for high-end TV systems. All of these electronics also need to be protected."
Alpha Technologies offers a variety of in-line coax protectors and a multimedia protector strip featuring AC, telephony, USB/Ethernet, and coaxial surge protection in a single module.
"There's a huge increase in the number of home offices and home theater equipment, creating the need for surge protection in the home," says Tripp Lite's Brow. "Retailers are putting together complete packages with surge protection so that customers don't get frustrated or try to bring back damaged equipment." According to Brow, hundreds of surge protectors are available, but many are not adequate for protecting the high-end equipment that many homeowners are purchasing today.
"If you just spent $4,000 on a home theater system, you don't want to fool around with a low-quality surge protector," says Brow. "We see a direct correlation between how much the customer is willing to spend to protect what they've already spent money on."
According to Brow, schools and universities are another growth market due to the number of students connecting to the network in their own rooms.
While the cost of damaged equipment is a concern among businesses and homeowners alike, industry professionals maintain that costs associated with downtime can be much greater.
"I've seen situations where someone forgot to protect the data line that the UPS utilizes to tell the generator to start up," says Tony Bird, Atlantic Scientific. "That's why it's imperative to look at the entire facility and the entire system. Just $100 worth of surge protection on that line between the UPS and generator could have saved thousands of dollars lost in downtime."
Betsy Ziobron is a freelance writer and regular contributor to Cabling Installation & Maintenance. She can be reached at: bziobron@comcast.net
Click to download Product Update: Surge-Protection Devices. {pdf size=66.2KB}