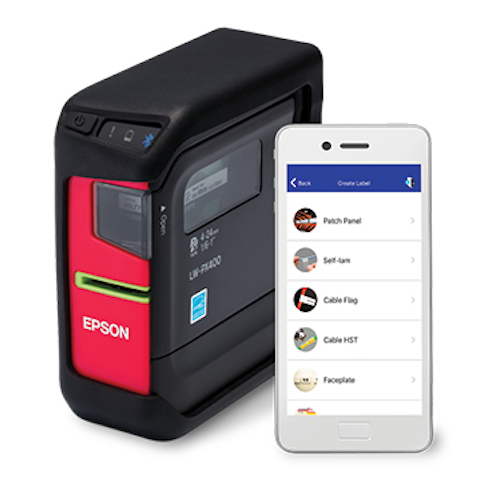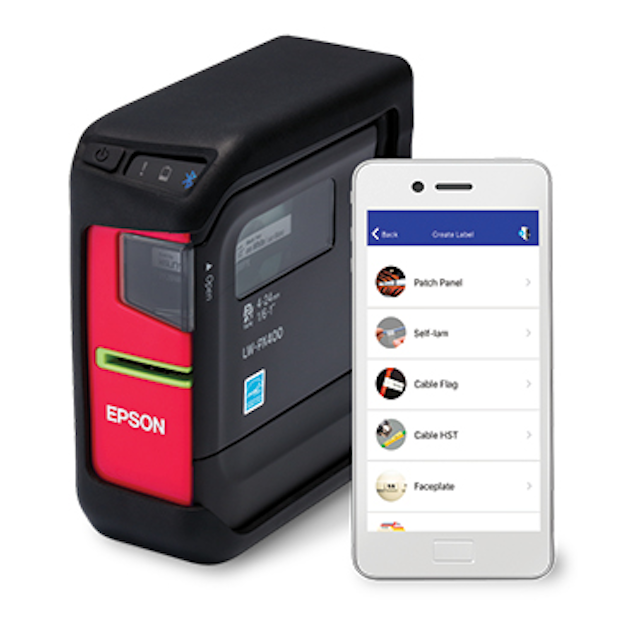 Portable, wireless industrial labeling and wire-marking printer
The Epson LABELWORKS PX LW-PX400 is a portable, wireless industrial labeling and wire-marking printer with a lifetime warranty and low operating costs, states the company. The LW-PX400 can work wirelessly in the field via Bluetooth using either an iOS or Android mobile device, or from a PC via the Label Editor Professional software. Identify equipment or create patch panel and faceplate labels with durable continuous adhesive supplies up to 1 inch wide, and mark wires/cables with self-laminating cable wraps and heat shrink tubing. The Epson Datacom app (available on Google Play and the App Store) streamlines data center identification with an easy-to-use interface, pre-formatted patch panel and cable ID templates, and the ability to sync to Fluke Networks' LinkWare Live cloud-based cable management platform. "There is no label printer more affordable, more powerful or more portable than the LW-PX400," concludes the company.
Epson, epson.com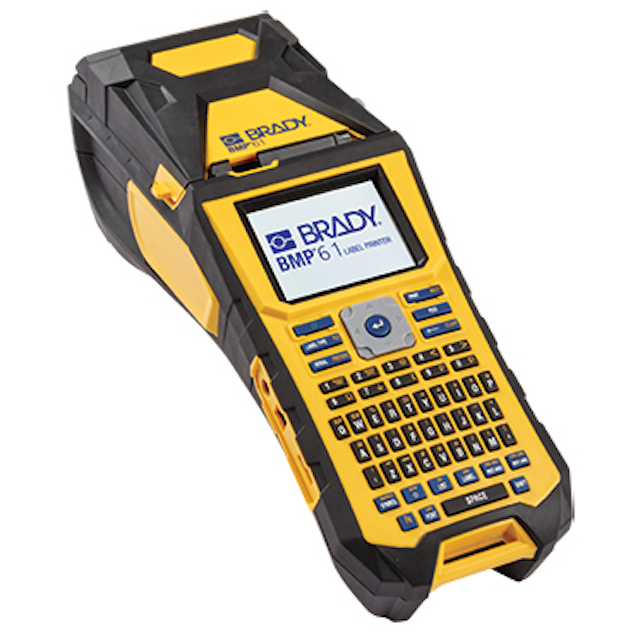 Identification tasks finished flawlessly
For high-performance identification of wires, cables and components, the BMP61 label printer from Brady "is your trusted identification companion all day, every day," contends the manufacturer. With high-performance materials that can withstand the toughest industrial environments, this printer is billed as a "reliable partner in the field and dependable workhorse in the shop." The unit's specially designed materials easily lock into place. An embedded IP-enabled chip stores information about the label material and sends it to the printer to automatically format objects on the label. While printing, the unit's intuitive user-interface and touchscreen allow users to quickly and efficiently complete labeling tasks. This printer also features a variety of ways to connect, manage and save data. For more intricate labeling jobs, users can connect the printer with a PC and use the Brady Workstation software to easily create and print labels. "With the BMP61 label printer, you're ready to tackle all your identification tasks, and finish them flawlessly," concludes the manufacturer.
Brady, bradycorp.com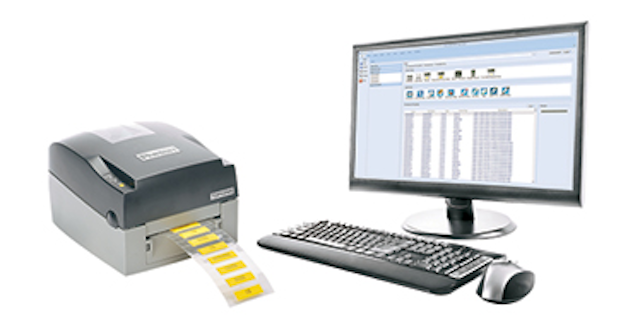 Quickly generate labels needed for regulatory compliance
The Easy-Mark Plus Labeling Software from Panduit is a single-source labeling platform that allows the user to quickly generate labels needed for regulatory compliance, safety awareness, and other applications, while reducing labeling time up to 75 percent. Easy-Mark Plus incorporates proven features such as a WYSIWYG (What You See Is What You Get) user interface, data import, symbol import, and preloaded label formats from the previous generation of Easy-Mark Software. The new platform adds advanced features such as "drag and drop" functionality and wizard tools to help create customized labels to suit specific application needs. Available in multiple media options such as CD, USB flash drive, web download, or networkable versions, Easy-Mark Plus now allows the flexibility to install the software version that best suits the end user's needs. 90-day trial versions of the new software are currently available at Panduit's website.
Panduit, panduit.com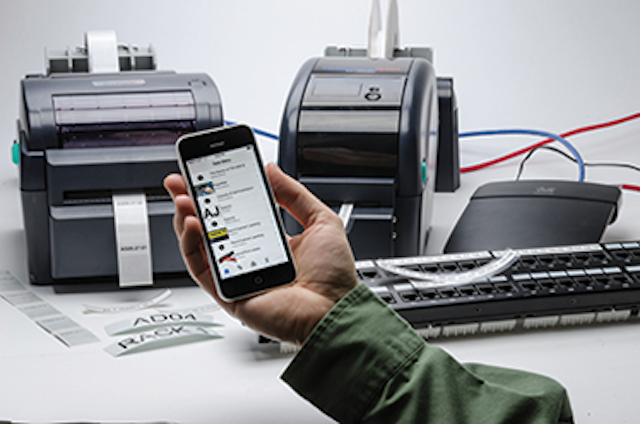 Free cable labeling app from HellermannTyton
TagPrint Xpress Data is a free app that is available on the Apple App Store or on Google Play for Android and iOS smartphones and tablets. For use exclusively with the HellermannTyton TT130SMC and TT230 series thermal transfer printers and labels, the app prints wirelessly to the printers using a standard router. Simply enter the IP address of the printer into the application and you are ready to print. The app has predefined printing solutions for patch panels, racks, equipment, cables, wallplates and almost anything related to labeling an installation. It also contains information on TIA-606, serving as a guide to implementing this infrastructure management system. However, any labeling system can be incorporated into the app. The app is available free of charge, allowing multiple people to access the same printer, eliminating the need to keep track of individual portable printers and centralizing the printing process, while reducing waste and speeding production.
HellermannTyton,htamericas.com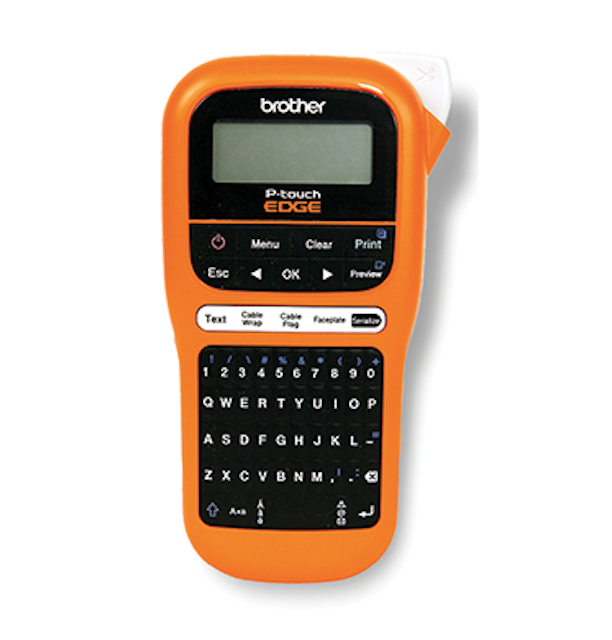 Industrial handheld labeling tool
The PT-E110 from Brother Mobile Solutions is an industrial handheld labeling tool that includes functional enhancements over other labelers to help contractors increase speed and productivity on the jobsite. Among those enhancements are a large LCD display and QWERTY keyboard, small font sizing and formatting technology, and a wrist strap to protect against accidental drops. The PT-E110 is packaged as a complete kit, which Brother Mobile Solutions says contains everything required to create and print clear, laminated ID labels for virtually every component on the jobsite. "Accurate ID labeling is an important element of documenting any installation," said senior product manager Duane Yamashita. "For contractors, it has become an industry best practice and the hallmark of a professional installation. Brother created the PT-E110 Tool Kit to give professional contractors a competitive edge, by becoming more productive in labeling their jobs faster and more efficiently."
Brother Mobile Solutions,brothermobilesolutions.com