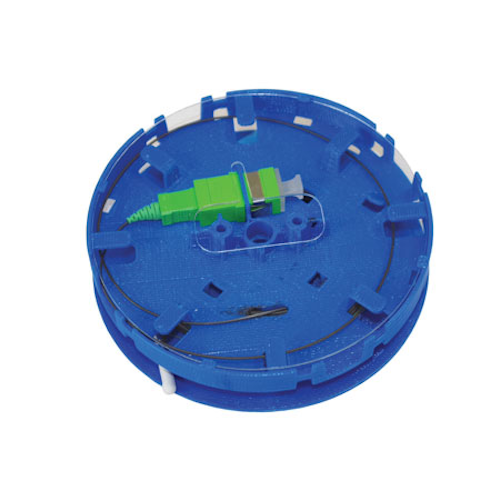 By Patrick McLaughlin
In recent months a number of product introductions have been aimed at the design and installation of outside plant (OSP) cabling systems, intending to make those processes less time-consuming and more efficient.
In February Clearfield Inc. announced FieldShield StrongFiber-an OSP-rated ready-for-in-duct-placement 900-micron optical fiber that the company said, "delivers exceptional pull strength in a small form factor. Teamed with other elements within the FieldShield product line, StrongFiber reduces the cost of fiber deployment with reduced installation time, material weight and slack-storage requirement."
Matt Brigham, product marketing manager for Clearfield, added, "To reduce the cost of broadband deployment, we need to reduce not only the skill and time required for site installation, but also the extent of the pre-engineering required. The size and strength of StrongFiber allow for the product to be deployed in any environment without concern for drop lengths chosen. Teamed with other elements of the FieldShield product line, StrongFiber can be used in most environments in place of flat drop optical cable, where conduit or microduct is being used."
Lightening labor
Clearfield says StrongFiber is the first 900-micron OSP drop cable, explaining the "user may specify standard connectors or FieldShield Pushable Connectors that enable FieldShield StrongFiber to be easily pulled through FieldShield Ruggedized Microduct. Teamed with spooling technology incorporated into Clearfield's SmartRoute Deploy Reel, StrongFiber drop cables of up to 300 feet are shipped in a 4.5x1-inch reel with integrated bulkhead and premated adapter that can be easily mounted into a small-form-factor fiber management element of choice-from customer wall boxes, demarcation points, pedestals and cabinets in SFU/MDU environments."
The company adds that StrongFiber can be used as an inside-plant (ISP) cable as well and when deployed in the ISP, it "reduces pre-engineering and on-site installation time for MDU [multiple-dwelling unit] and riser deployments.
"The high variability of MDU architectures has made FTTp [fiber-to-the-premises] deployments within those structures a challenge," Clearfield explains. "Extensive engineering has been required to ensure proper cable lengths. With StrongFiber, pre-engineering is minimal because the 4.5-inch SmartRoute Deploy Reel, upon which StrongFiber is shipped, can be mounted at the destination site and the desired length simply pulled from the wheel to the access point. The small form factor of the 900-micron fiber makes slack storage minimal and easy to accommodate. The exceptional pull strength of StrongFiber makes it craft-friendly and easy for the technician to handle without fear of fiber damage."
Easing the pull
In July, General Machine Products introduced reel-handling accessories for the aerial and underground placement of fiber-optic cable. "These components-The Pole Mount Spindle, the Reel Buck, and the Reel Caddy-are uniquely engineered to make fiber-optic cable installation safer and more productive," the company said. "All of the accessories feature durable steel construction for years of rugged use, and a bright powder-coat finish for safe visibility and corrosion protection."
The Pole Mount Spindle "features a tough ratchet binder that employs a 2-inch-wide web that provides a secure, yet temporary, attachment to the pole," the company explained. "The unit is engineered to accommodate the specific requirements of FiOS/VATS cable reels." Two sizes are available. One can support reels 9 inches wide and a 1.5-inch spindle diameter. The other can support reels up to 24.5 inches wide and a 2.5-inch spindle. "The 'small' pole mount spindle weighs 11.3 pounds and the 'large' pole mount spindle weighs 24.2 pounds," GMP added.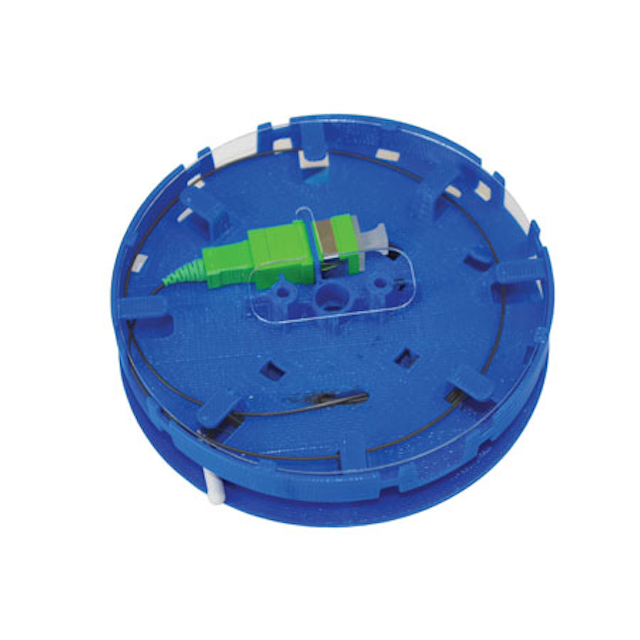 Teamed with spooling technology incorporated into Clearfield's SmartRoute Deploy Reel, StrongFiber drop cables of up to 300 feet are shipped in a 4.5x1-inch reel with integrated bulkhead and premated adapter.
The Reel Buck "can support any utility reel up to 36 inches wide and up to 50 inches in diameter," GMP said, noting that large sizes are available. Utility reels supported include the Corning line of FlexNap cable drums, the company said. "It can also handle a load capacity of up to 1200 pounds. The unit's frame is constructed of durable two-weld, rectangular steel members. It is designed to withstand the rigors of outdoor use and is treated to resist weather corrosion. The unique and versatile design allows it to act as a reel transporter and a reel stand," GMP said.
It also explained that to transport reels, users stand the reel up on both flanges and slide the spindle bar through the reel. Then, attach both handles so that when they are lifted, the reel becomes the 'wheel' similar to a wheelbarrow. "The sturdy frame allows one person to easily maneuver reels around a jobsite," GMP noted. "Once the reel is in place, flip the handles over the reel so that they serve as a sturdy base to support the reel above both flat and uneven ground. The raised base allows cable to be pulled off easily and securely in one direction."
The Reel Caddy can be used to support and dispense drop cable. GMP said the product "is lightweight and folds flat for compact storage. It is fabricated from durable, painted steel tubing that will provide years of dependable service. The Reel Caddy supports reels up to 30 inches in diameter and easily accommodates Multiport-type deployments using cardboard or plastic reels. The Reel Caddy is also quick and simple to use, requiring only one hand to set up. The unit is lightweight and folds flat for compact storage."
Conduit bending program
A software program that Greenlee introduced in August increases productivity, reduces scrap, decreases rework, and lowers inventory for conduit bending jobs, the company says. BendWorks is available for Autodesk Revit and Revit MEP. The company says the program "helps designers optimize conduit runs more efficiently [by combining] electrical trade knowledge and Greenlee bending parameters to ensure error-free and export-ready conduit runs for prefabrication or on-site bending."
BendWorks' programming "splits conduit runs to produce the fewest cuts and segments, reducing scrap," Greenlee said. "The process continues as couplings are added to the models, and segments are uniquely labeled for traceability on the jobsite. Error-checking is performed for each conduit segment, and export data may be transferred to a programmable Greenlee bender, or instructional files can be printed for operators to have a step-by-step outline for non-programmable benders."
The company added that the software package offers an extensive toolset for CAD designers, allowing selection of various conduit types and sizes to create new runs or convert existing runs that automatically fit parameters specific to several Greenlee benders.
In its announcement introducing BendWorks, Greenlee estimated that applying the conduit bending software package will increase design productivity by 15 percent, reduce scrap by 15 percent, decrease rework by 25 percent, and lower inventory by 10 percent.
---
Patrick McLaughlin is our chief editor.