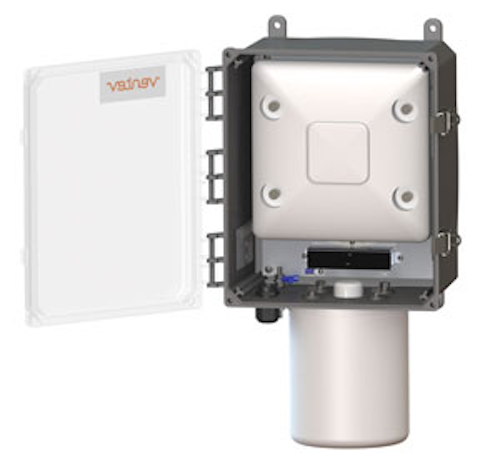 From the February, 2015 Issue of Cabling Installation & Maintenance Magazine
Compiled by Matt Vincent
Heated, PoE-powered WiFi enclosure protects access point performance in freezers, cold storage rooms
Ventev Wireless Infrastructure, a unit of Tessco Technologies, has introduced a new wireless access point enclosure designed to ensure crucial WiFi/WLAN connectivity in freezer rooms that are common in the food, hospitality, biotech and pharmaceutical industries.
Ventev notes that WiFi coverage is needed in every kind of workplace, and that cold storage warehouses, freezers and refrigerated rooms are no exception. Yet these cold environments present unique network challenges. Sensitive indoor wireless access points must be protected from cold, condensation, and frost. Thick walls and heavy insulation make wiring for AC power expensive and time-consuming.
Ventev says its Freezer Room Enclosure is a simple solution for these challenges. The heated enclosure is designed specifically for use in continuously cold environments. A single PoE (Power over Ethernet) cable powers both the access point and the heater. Since no AC is needed, installation is easier and less expensive than with traditional products.
The NEMA 4X-rated, waterproof 12"x10"x 6" polycarbonate enclosure features latch locks, a clear door, surge protectors, and an optional integrated or external antenna to increase network coverage.
"When encased in Ventev weatherproof, NEMA-rated enclosures, indoor access points can reliably be used under almost any condition, even in freezer rooms," says Jeff Lime, vice president of Ventev. "Our turnkey systems enable data networks and WLANs to be extended where customers need them."
---
OTDR, optical loss test graphically IDs connectors, plus fiber splices, ends, macrobends, splitters
AFL recently released its new Link Map with Pass/Fail option for its OFL280 and FLX380 FlexTester family of all-in-one optical test sets. The company says the Link Map feature provides an icon-based display of the tested network, clearly identifying, displaying and labeling network elements such as connectors, splices, macro-bends, splitters and fiber ends.
The Link Map is displayed with an Event Table, visually associating network elements to key parameters including location, loss and reflectance. User-adjustable pass/fail limits are applied and failing events and measurements are highlighted, alerting the user to faults and fault cause. The FlexTester master unit allows the user to toggle between Trace and Link Map displays at the touch of a button.
With OTDR, source, power meter and visual fault locator integrated in a rugged, handheld package weighing less than 2 pounds, AFL says its FlexTesters ensure that fiber technicians have the tools they need to identify and resolve optical network problems. Designed for field use, the testers operate over 12 hours continuously from a full charge and provide an indoor/outdoor display which is easily viewed in both direct sunlight and dimly lit interiors.
"To meet bandwidth demand, networks are evolving from copper to fiber and wireless," comments Michael Scholten, senior product marketing manager for AFL. "Installation and maintenance technicians new to fiber need easy-to-operate test solutions which more clearly identify and locate problems in their optical networks. While FlexTesters have always been easy to use, Link Map with Pass/Fail makes understanding FlexTester OTDR results easier, ensuring faster, more accurate troubleshooting."
The new Link Map option is available as an upgrade for previously purchased FlexTesters, says AFL. The feature may be ordered with any new FLX380 FlexTester3 or OFL280 FlexTester, including bundled FlexTester PRO and FlexTester complete kits.
---
Netgear seeks to ease network switch mounting, cabling headaches at 2015 CES
At the 2015 International CES tradeshow (Jan. 6-9) in Las Vegas, Netgear launched a new family of network switches in 8-port and 16-port Gigabit Ethernet models, dubbed the ProSAFE Click Switch line.
"This is a must-have product for today's Internet of Things home with its myriad connected devices. We put a lot of thought into the design of the ProSAFE Click Switch to make it extraordinarily flexible to meet your needs in the office as well as at home," comments Peter Newton, senior director of product management of Netgear's commercial business unit.

The ProSAFE Click Switch is a Gigabit Ethernet switch for small office or home use, with an industry-first bracket mounting system for easy and attractive installation. Available in either 8- or 16-Gigabit port configurations, the company says the switch's slim design and internal power supply enable users to efficiently organize wires, secure cables, eliminate bulky power adapters, and improve the overall appearance of wiring closets, training facilities, lab benches, conference rooms, and home offices.
The unique "1-2-3-4 click mounting system" of the ProSAFE Click Switch enables optimal placement and cable management in locations where other switches will not go. Users simply attach the bracket to a wall, under a table, or even to a pole and "click" the switch into it ("like a ski boot onto a ski," notes the company). The switch bracket offers both vertical and horizontal orientations so that the ports can face either outwards or sideways, creating four mounting options: vertical/side mount; vertical/rear mount; horizontal/side mount; and horizontal/rear mount.
In addition, the bracket is designed to work with cable ties, Velcro brand fasteners, straps, screws, or any other mounting system so that placement options are virtually unlimited. The Click Switch cable strap can be used to collect the usual spaghetti mess of cables and attach them neatly to the bracket or to a wall.
Newton adds, "While we can't yet completely eliminate all cords from your home entertainment center or wiring closet, our Click Switches tame the ugly rat's nest of cabling behind the cabinet. Their innovative features and thoughtful design, combined with our industry-leading ProSAFE warranty policy, offer an unbeatable value for your connected network."
Both Click Switches offer the same intelligent management features as the Netgear ProSAFE Gigabit Plus Switches, such as monitoring, traffic prioritization, port trunking, cable testing, and VLAN support. An added bonus to the 8-port version of the Click Switch is its inclusion of two USB ports for quick and easy charging of tablets, smartphones, and other devices.
---
Sumitomo unveils 432-fiber plenum ribbon cables for enterprise data centers
Sumitomo Electric Lightwave now offers its dry Flexible Indoor Plenum Rated Ribbon Cable with up to 432 fibers. The fiber count is the highest available, the company asserts.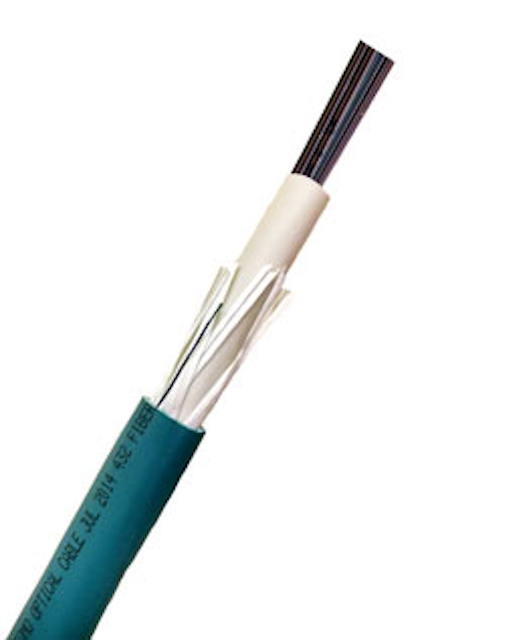 The company says its new 432-fiber flexible plenum rated ribbon cable meets or exceeds NFPA 262, National Electric Code OFNP, RoHS, CSA FT-6, and ICEA S-83-596 approvals and listings; the cables are available in all multimode fiber and singlemode fiber types, including bend-insensitive singlemode. Featuring a diameter of 0.850 inches, the new fiber-optic cable aims to meet the needs of enterprise and data center networks that require a very high density option, says Sumitomo.
The cable's dry central tube design offers fast, no mess splicing as well as a non-preferential bend axis, according to the company. The new product's all dielectric cable construction also eliminates the need for grounding or bonding, the company says.
The 432-fiber plenum cable also features Sumitomo's patented Easy Split and Peel technology, which enables the installer to peel back the ribbon quickly and easily by hand to expose the color-coded fibers, the company explains. This approach trims the time required to either fusion splice or terminate the fibers with MPO splice-on fiber-optic connectors, adds Sumitomo.
"Sumitomo's expertise and leadership in ribbon fiber design and manufacturing has led to the development of the most advanced and reliable data center and enterprise network ribbon cables," comments Bill Charuk, senior data center product manager at Sumitomo Electric Lightwave. "We continue to strive to bring new and better solutions for our data center and enterprise network customers through continuous innovation and staying ahead of the curve of rapid technology change."
More CIM Articles
Archived CIM Issues