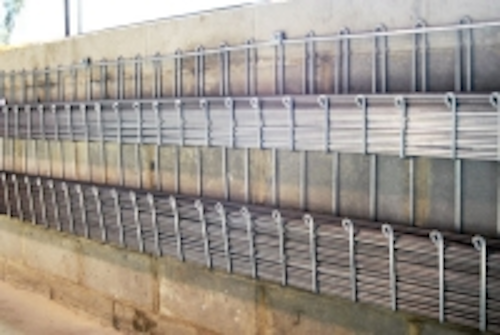 From the May, 2015 Issue of Cabling Installation & Maintenance Magazine
Wall-mount cable tray with double pockets
Snake Tray describes its new double-tier wall-mount cable tray system as "an ideal solution for long linear cable installations. The unique double-pocket design provides two times the amount of cable pathway and maintains a natural cable separation." The tray mounts directly to vertical services without additional brackets.
Like all Snake Tray products, the double-tier wall-mount cable tray system is hand-bendable with built-in mounting rings for quick installation. Snake Tray products nest together for lower shipping and material-handling costs, the company notes. Multiple sizes are available to fit customer specifications.
Snake Tray
snaketray.com
Optical raceway
TE Connectivity explains its FiberGuide system "offers the greatest breadth of optical raceway products in the industry. Designed to provide maximum fiber protection, the system provides customers with both extraordinary configuration flexibility and rapid installation," the company says. TE Connectivity recently introduced the FiberGuide flex exit kit as an enhancement to the FiberGuide System; the flex exit kit is designed to ensure precise fiber drop from the raceway into the frames.
Flex exit kits work with TE's high-density NG4access optical distribution frame (ODF), and are compatible with the earlier ODF generations. The kit installs on the sidewall of the existing 12- or 24-inch raceway system and supports 4-, 6-, or 12-inch fiber drops. The flex kits further enable optimum bend radius protection, accommodate existing raceway systems with minimum changes, and eliminate the need for custom-engineering of raceway.
TE Connectivity
te.com
Cable runway available in multiple widths
The Cable Runway product line from Chatsworth Products Inc. (CPI) now includes additional options for managing cable pathway. Cable Runway Radius Bend and Cable Runway E-Bend are now offered in additional widths. Bend Radius is available in widths ranging from 4 to 36 inches (100 to 910 mm). The E-Bend is available in widths ranging from 19.1 to 51.1 inches (485 to 1298 mm).
CPI's Cable Radius Bends create a gradual bend for cascading cable runs, helping to preserve cable signal integrity, the company notes. Similarly, Cable Runway E-Bends create a 90-degree gradual sweep for horizontal plane cable runway runs. CPI's website includes an updated cable-fill document and a Cable Pathway Quick Reference Guide.
Chatsworth Products Inc.
chatsworth.com
KwikSplice lightweight system
Eaton's B-Line series KwikSplice cable tray system is "an innovative, lightweight, durable cable management system that can help save upwards of 50 percent on material and installation time," Eaton says. "With a patent-pending side rail design, the system enables faster installation, reduces hardware and helps improve the profitability of construction projects," the company adds. It says KwikSplice is designed for commercial, light-industrial, data center, healthcare, education and government applications, and is rated for NEMA 12A and 12B load classes.
The system incorporates "an industry-first design and splice retention groove," Eaton says, which enables the KwikSplice tray to "help installers guide the splice plate into position. The two-bolt splice plate reduces labor by up to 50 percent compared to traditional four-bolt splice plate connections." Accessories include a universal fitting, which avoids the need for multiple horizontal fittings, thereby reducing complexity. Additionally, tool-less accessories save material and time by avoiding the need for field-fabricated solutions and hardware to secure accessories.
Eaton
cooperbline.com/KwikSplice
Helix fittings
Cable tray helix fittings from Thomas and Betts ease transitions between horizontal and vertical cable tray runs, especially in confined areas and near walls. The fittings are available in left or right configurations in aluminum, pre-galvanized steel, and stainless steel in 12- and 24-inch widths, with 6-inch side rails. They can be ordered and shipped already assembled and ready for installation. Building information modeling data for the product is available.
Thomas and Betts
tnb.com
Cable tray feeder
Greenlee's CTF-200 Cable Tray Feeder is "the first over-tray mounted, motorized cable tray feeding solution," the company says. "This allows users to safely pull electrical cables through the tray without their hands," Greenlee explains. "The feeder has the capacity to aid pulls with up to 200 pounds (90.7 kg) of force, and has an automatic force limiter that stalls out to prevent damage of the cable insulation."
The over-tray mounting system sets up quickly and easily, the company says, using a patented design that includes a ratchet strap that safely and securely mounts to the tray. The CTF-200 can handle cable up to 2 inches (50.8 mm) in outer diameter and can be safely operated with a pendant that controls the feeder from up to 8 feet (2.4 meters) away, Greenlee notes. The CTF-200 Cable Tray Feeder can be accompanied by other Greenlee accessories including the 660QA Quick Adjust Sheave, as well as the CTR100 and CTR200 Cable Rollers.
Greenlee
greenlee.com
More CIM Articles
Archived CIM Issues