Installing faceplates in the ceiling
Network systems for computer/engineering laboratories require a significant amount of high-performance networking equipment that is usually installed in a large open area on 6- to 7-foot-high racks or shelves. Cabling workstations in this type of environment can be difficult because of the size of the room and the high concentration of networking equipment set up and moved around on benchtops. The challenge for installers, therefore, is to ensure the cabling performance that the end user require
Nov 1st, 1995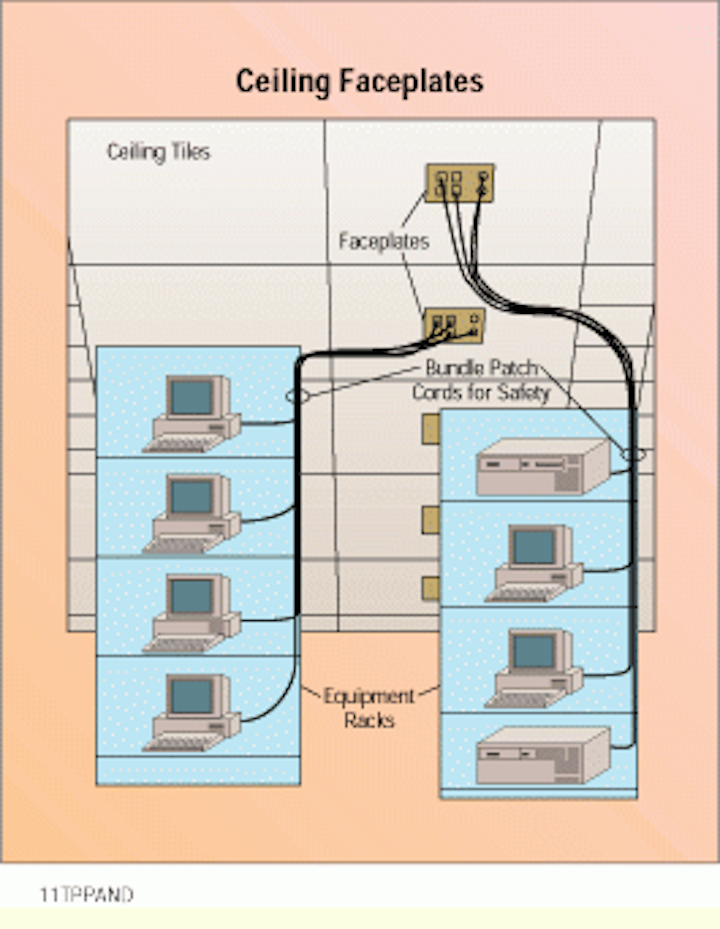 Keith B. Kosanovich,
Panduit Corp.
Problem
Network systems for computer/engineering laboratories require a significant amount of high-performance networking equipment that is usually installed in a large open area on 6- to 7-foot-high racks or shelves. Cabling workstations in this type of environment can be difficult because of the size of the room and the high concentration of networking equipment set up and moved around on benchtops. The challenge for installers, therefore, is to ensure the cabling performance that the end user requires from these systems, by locating workstation outlets as near as possible to the equipment.
Solution
One solution is to install modular faceplates into ceiling tiles. This provides the installer with a flexible way to locate workstations near the equipment that will be installed. It also allows the end user to make necessary adds, moves and changes.
Note: This method is not recommended for a typical office environment. The procedure is for communications cabling only and is not intended for electrical wiring devices. Consult applicable electrical and building codes for both air plenums and non-plenum ceiling systems.
Procedure
1) Remove tile from the ceiling.
2) Cut a 3.75-inch (95 millimeter) by 2-inch (50.8 mm) rectangular opening in the center of the ceiling tile.
Note: This cut will fit most wallboard adapters or box eliminators. However, consult the manufacturer`s instruction sheet for specific dimensions. Some manufacturers include a template of the adapter to facilitate measuring and cutting.
3) Mount the wallboard adapter into the ceiling tile with the threaded mounting tabs included with the adapter. The wallboard adapter substitutes for a standard in-wall electrical box and allows a standard single-gang faceplate to be mounted flush with the ceiling tile.
4) Replace the ceiling tile with the wallboard adapter mounted in it.
5) Locate required cables in the ceiling pathway and carefully pull cables through the wallboard adapter.
6) Terminate cables on appropriate connecting hardware and carefully install connecting hardware into the modular faceplate, ensuring that you follow the appropriate cabling standards for terminating and cable-handling procedures.
7) To complete the installation, screw-mount the modular faceplate into the wallboard adapter.
8) Patch cords from the faceplates to the equipment should be bundled and located along the frame of the racks so that the patch cords do not create a safety problem. Also keep in mind that the allowable length for patch cords at the work area is 3 meters, according to the Electronic Industry Association/ Telecommunications Industry Association standard 568A.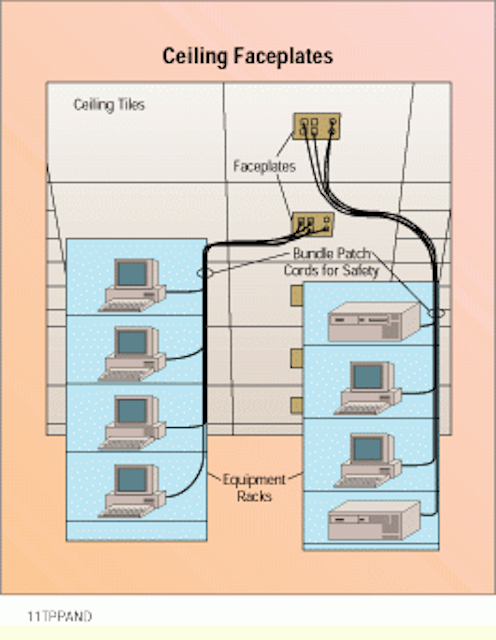 Click here to enlarge image
In a computer laboratory, faceplates are installed into the ceiling tiles to allow the workstation to be located near the equipment being used.
Keith B. Kosanovich is a product manager at Panduit Corp., Lockport, IL.