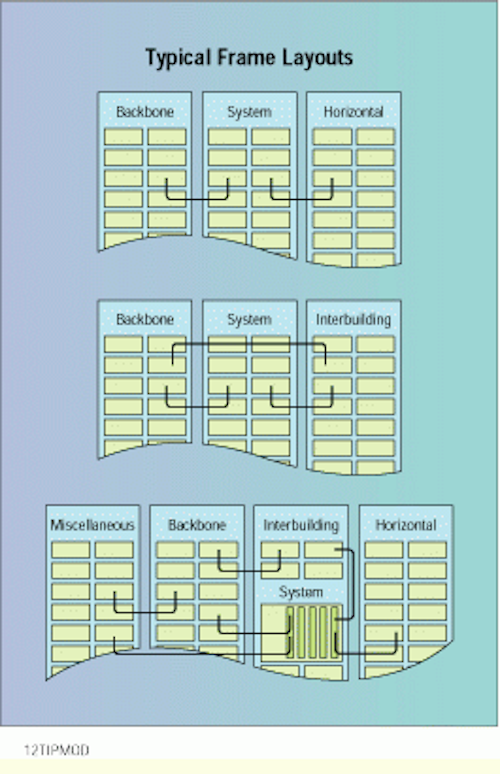 Brian Reed, Mod-Tap
Problem
Typically, you do not have enough time to design system interconnects for an installation. However, improperly designed frame layouts can increase the cost of equipment, labor and system maintenance.
Solution
By developing a logical frame layout before you begin an installation, you can design a solution that supports immediate requirements and helps prepare for future demands. For a good design, arrange frame layouts into logical sections, grouping together crossconnections of similar classification. These sections may be as small as two panels and as large as multiple racks. Combine the sections into racks so that cross wire or patch cords flow between areas and so that the length of the crossconnections is minimized.
Procedure
1) Make sure the main distribution frame has separate voice and data trunks and systems; common local horizontal service should be laid out as illustrated.
2) With a large main distribution frame, place the trunks on both sides and the system patching down the center to minimize the patch cord length.
3) Place ring runs in adjacent racks at the same levels to form a wiring OtroughO between the racks. Place the ring runs above a section of blocks, and above and below a section of patching. Typically, a section of patch should be no larger than 48 channels.
4) To facilitate documentation, attach tags or wire ties to the cable or use wire markers covered with a clear protector to label cable.
5) Install open bay racks so that the rear access is available for installation and maintenance. The rack should be no closer than 32 inches from the wall at the rear and 3 feet from the wall on one side.
6) Bolt the racks to the floor using anchors in concrete floors or toggle bolts in raised computer flooring.
7) Securely attach the top of the rack to the wall from behind using a strut mounting kit.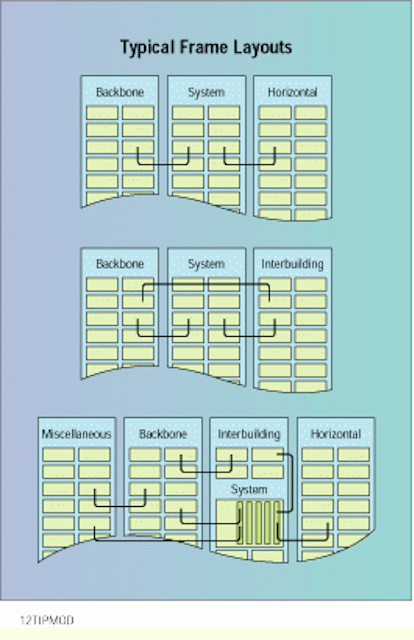 Click here to enlarge image
Typical frame layouts include intermediate distribution frame or small main distribution frame, or MDF (top), MDF layout offering interbuilding connection (middle) and maximized MDF with ocnnections to a campus network (bottom).
Brian Reed is the crossconnect product manager at Harvard, MA-based Mod-Tap, a subsidiary of Molex Inc.