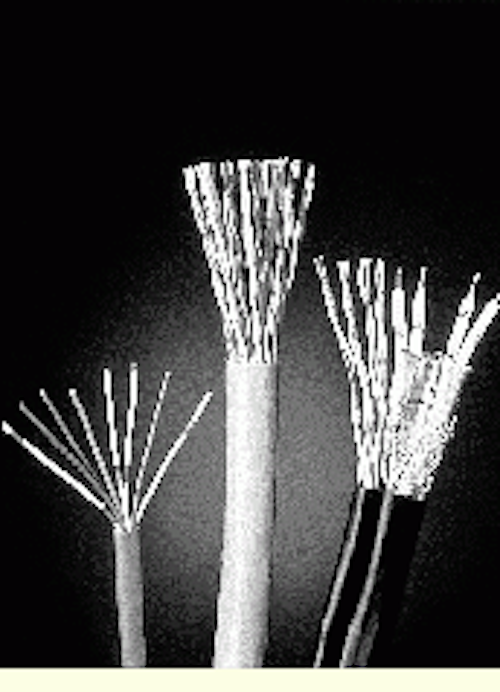 Barbara E. Thompson
There has been, and continues to be, a shortage of fluorinated ethylene propylene, which is used to insulate the paired conductors in Category 5 plenum cable. Manufacturers and installers are continuing to solve the problem of acquiring enough Category 5 plenum cable, while remaining within standards specifications (see "Stretching the FEP," on page 65). But what is so special about Category 5 plenum cable?
"The key features for plenum cable," says Dale Langhans, product marketing manager at Belden Wire & Cable Co. (Richmond, IN), "are that it is approved for non-conduit use in premises installations and the cable has flame- and smoke-retardancy features that enable it to pass the Underwriters Laboratories standard test, giving it the CMP rating."
The Electronic Industries Association/ Telecommunications Industry Association standard 568 specifies that Category 5 cable be tested at a bandwidth of 100 megahertz, and that it can handle data signaling at 100 megabits per second. The National Electrical Code, article 800-53(a), requires that communications plenum cable, Type CMP, be used in "ducts, plenums and other spaces used for environmental air."
Category 5 unshielded twisted-pair cable--usually 24 American Wire Gauge copper wires--has an impedance of 100 ohms and is used for high-speed telecommunications applications. Four-pair UTP cable has a smaller outside diameter that is easier to install than multipair or shielded cables.
The TIA/EIA-568A standard includes an updated category of cable--100-ohm multipair (usually 25-pair) UTP cable--that can be used in backbone wiring to provide interconnections between telecommunications closets, equipment rooms and entrance facilities in the structured wiring system. To ensure proper performance, multipair cables must conform to power-sum near-end crosstalk requirements.
The most common form of shielded twisted-pair cable, introduced by IBM for its Token-Ring network system, has an impedance of 150 ohms. The entire STP cable is shielded to reduce electromagnetic and radio frequency interference and each pair of twisted wires is also shielded from the others to reduce crosstalk. The shielding in 150-ohm STP cable provides less electrical distortion; however, it increases the size, weight and cost of the cable.
"Where we are seeing shielded opportunities is in such high-ambient-noise environments as factory floors or airports, or possibly a hospital," says Langhans. Using shielded Category 5 plenum cable is controversial, however.
"The pros and cons are being debated," says Ken Glander, national sales manager at Hitachi Cable Manchester Inc. (Manchester, NH). "Some people say that shielded is the way to go because the Federal Communications Commission will never approve any transmission rates of higher frequencies because of electromagnetic interference limitations. Others say that interface equipment will be available to allow transmission over higher frequencies without using shielded cable."
Category 5 cable is jacketed with a plenum-rated material such as PVC, Halar and Kynar. "Our installers prefer some jacketing materials," says Sam Flaherty, president at Teledata Systems Group (Souderton, PA), "just because some strip more easily than others."
Manufacturers have tried to reduce the amount of FEP in their cable, while maintaining their cable design. "What we kept is the same flexibility in the jacket by using PVC," says Joseph Maroun, product manager at Northern Telecom Inc. (St. Laurent, Quebec). "PVC is flexible and has very little memory. Halar, however, does have memory," he adds, "so it tends to kink or spiral when you pull it from the reel."
In addition to user-friendliness, "deliverability and availability, and price too, are issues that concern installers," says George Gilbride, RCDD, consultant at Pyramid Design (Holliston, MA). Specialty cable is also expensive and difficult to find.
The price of Category 5 plenum cable continues to rise as the costs for raw materials increase. "We were paying $130 per 1000 feet six to eight months ago; now we`re paying $230," says Flaherty. By the fall, we`ll be looking at the price of cable doubling in one year."
"Cost increases are always hard to deal with," says Flaherty. "Now, however, customers are becoming more sensitive to the fact that you cannot hold the price [on an installation bid] for an indefinite period of time. At a bidders` meeting for a hospital installation, the customer agreed that we could have a cost-plus [any price increases during the bid period] for the cable."
In a cost analysis of plenum versus non-plenum cable, "you would have the conduit cost as well as the associated labor costs," according to Langhans, "so plenums would tend to be more economical. For moves, adds and changes, it`s also easier when you can just re-route the cable in the plenum area and you don`t have to reinstall conduit."
Cabling technology and standards keep changing, however. As Category 5 cable has become the cable of choice for high-speed telecommunications applications, several manufacturers now offer extended-frequency cables--to several hundred megahertz.
There is no standard to date that provides test methods or performance requirements for 100-ohm cable beyond 100 Mbits/sec (see "Extended frequency testing of Category 5 components and systems," May 1995, page 56). But, according to Langhans, "the ISO/IEC [International Standards Organization/ International Electrotechnical Commission] group, which is kind of the European counterpart to EIA/TIA, is discussing higher-frequency products."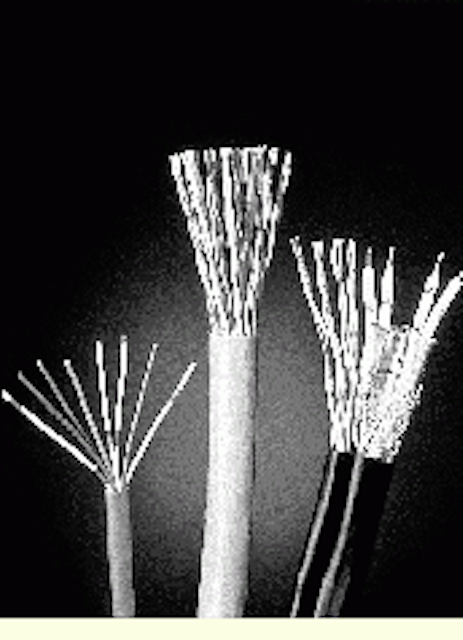 Click here to enlarge image
Three types of Category 5 plenum cable for high-speed networking applications include (left to right) 4-pair, 25-pair and dual cable (Category 5 four-pair and Type 1A plenum cable).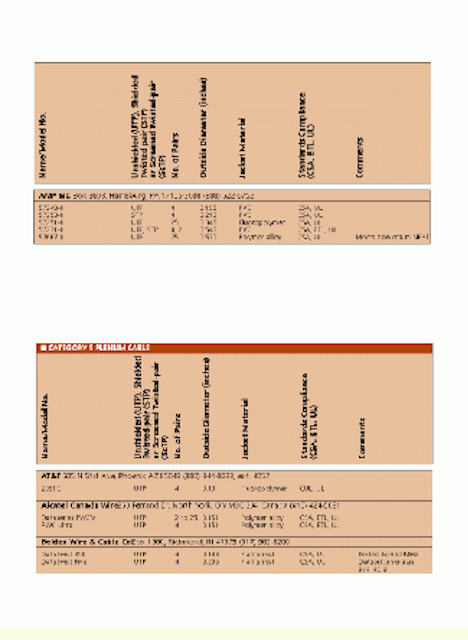 Click here to enlarge image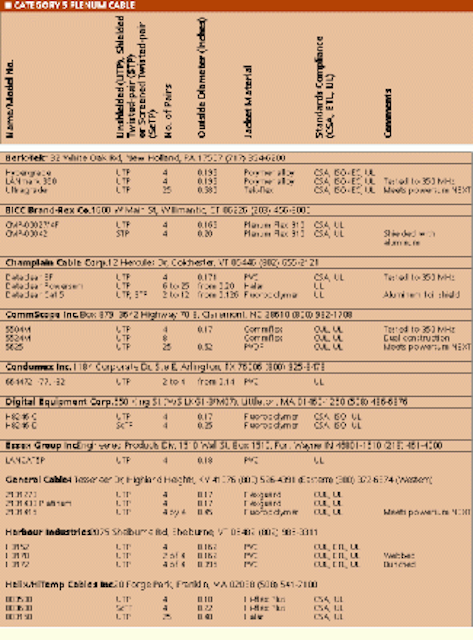 Click here to enlarge image