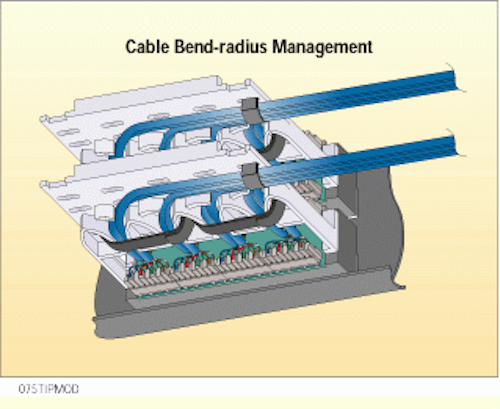 Brian Reed, Mod-Tap Inc.
Problem
There is a common tendency to ignore bend-radius requirements when you are installing horizontal cabling at the wall plate and at the distribution frame. This practice can result in problems with signal throughput. Improperly installed cabling reduces network performance and makes it difficult to isolate the source of problems. In fact, throughput problems caused by bend-radius violations are usually not recognized until end users notice recurring response problems. Then, management must painstakingly?and expensively?track down the problem.
Solution
The best way to avoid these problems is to use the following installation practices:
- Make cable bend-radius management a priority.
- Ensure termination methods and products
protect the cabling installation against hidden bend-radius issues.
- Spot-check wall plates and crossconnects to ensure that Electronic Industries Association/Telecommunications Industry
Association standards are met or exceeded.
Procedure
1) Familiarize facility managers and installers with the TIA/EIA-568A standard for managing the bend radius at cable termination points. The recommended bend radius is four times the cable diameter. Tighter bends may change the relationship of the pairs and degrade the transmission properties of the cable.
2) Ensure installers use horizontal crossconnect systems that force correct termination, while making it easy to maintain a correct cable bend radius. Choose wall plates, patch panels and distribution frames that incorporate cable-management features into their design, and enforce compliance from the distribution frame to the desktop.
3) Recognize the importance of managing patch cord bend radius on the front of the panel. However, you should also recognize the importance of managing the bend radius of the cable on the back of the panel. Rear cable management is essential to guaranteeing terminations that meet EIA/TIA specifications.
4) Specify products that address proper cable bend-radius management for future moves, adds and changes. This will enforce standards compliance by only allowing changes to the patch panels that comply with the bend-radius specifications.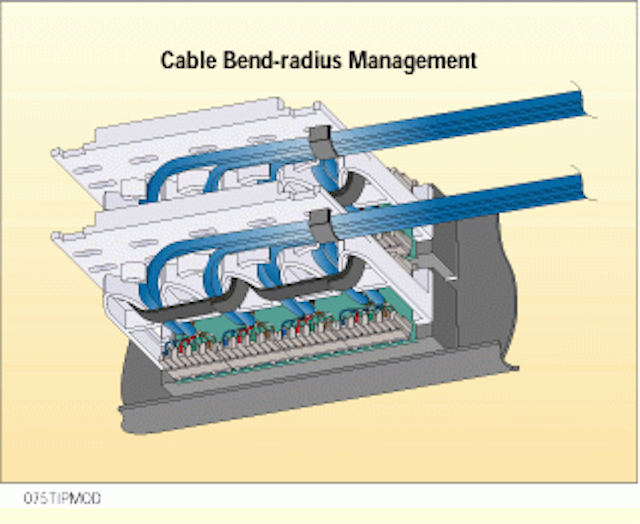 Click here to enlarge image
These cables are wired to the patch panel with the correct bend radius by using a rear cable management tray.
Brian Reed is the crossconnect product manager at Mod-Tap Inc., Harvard, MA.