Education and training in firestopping techniques are in demand by installers as enforcement of firestopping codes increases.
Lynn Haber
When it comes to firestopping, the heat is on. In many cities and towns across the country, firestopping regulations and inspections are on the rise. Installers are under the gun to learn correct firestopping procedures, and they often look to product vendors to help them out.
State regional firestop codes, as well as firesealing codes like the National Electrical Code and the National Life Safety Code, all require that penetrations through walls and floors be sealed. Within the last year or so, hospitals and other institutions began imposing their own firestop requirements, which often provide fire and smoke protection above and beyond existing regulations.
"From a regulatory point of view, the requirement to do firestopping is more stringent, but it`s something that should have always been done," says Steven Walls, operations manager at Comlink Inc., an 18-year-old cable installation company based in Marlborough, MA.
Firestopping is a routine part of doing business for cable installation companies. However, many say it requires knowledge of specialized procedures and products, is often time-consuming and expensive, and when included in a job bid, can blunt a competitive edge--looking at it from the bottom line, firestopping costs money.
The good news is that products are plentiful, prices are stable and, if you know where to look, information is available.
Frank Bucior, vice president of national accounts with the construction division of Comstock Communications Inc. (Danbury, CT), believes that firestopping a good idea, but seeing it done improperly or not at all upsets him. "There are a lot of manufacturers and methods for doing firestops. Installers can get properly trained to do firestops by looking at product catalogs and specifications supplied by manufacturers," he says.
While some installers get away with using the same bucket of putty for all penetrations, there are a variety of firestop solutions -- caulk, clay, putty and foams, as well as mechanical systems. There are also hundreds of firestop applications, each of which depends on a number of variables, such as building fire-rating, cable type, material being penetrated (concrete, sheetrock, steel) and penetration size. "One compound doesn`t work for all installations," says Manish Vibhandik, sales engineer with Communication Network Systems Inc. (Englewood, CO).
Installers have their preferences when it comes to firestop materials. Vibhandik, for example, says that for a riser-type of conduit, clay is preferable because it is moldable; for drywall or a small conduit in the ceiling he uses tube or injection firefoam. "What I don`t like is cement-type products, which make re-entry difficult," he says.
To make life easier at Frontline Network Systems Inc., an 11-year old Northborough, MA, company that installs copper and fiber premises wiring for local area networks, Lenny Campbell, field manager, says the company has standardized on a clay solution for firestopping. Not only is the clay moldable, but it can also be used for all the types of fire penetrations his company commonly encounters. "It will always meet fire code, so I know it`s safe," Campbell says.
Installers warn their industry brethren that the average Joe who goes into a supply house and thinks he`s doing right by buying a bucket of firestop might not be meeting code. "Applied incorrectly, firestop can add problems to an installation, causing more harm than good," say Walls.
Surprisingly, for many people -- including consultants, inspectors, installers and customers -- firestopping is a gray area that they simply don`t know enough about. For many in the field, grabbing a tube of caulk or a tub of putty and sticking it in the wall is what firestopping is all about. That`s why education is in demand. "Installers face more problems as codes are enforced, and we`re finding that they`re very interested in being educated and getting support," says Allen W. Thomas, senior account representative with 3M Corp., Do-it-Yourself and Construction Market Division (St. Paul, MN).
Thomas expects interest in firestopping education to climb a few more notches as industry participants hear more about a downtown Philadelphia commercial highrise that burned down several years ago, killing three firefighers. The landlord`s insurer is refusing to pay up, citing negligence of systems and various installations, including firestops. As a result, more than $500 million in lawsuits are in the works, with everyone suing everyone else--architects, engineers, contractors. "It`s a good example of why installers should be concerned about liability if things don`t go quite as they expect down the road," says Thomas.
3M provides free one-hour firestopping seminars for its customers. General in nature, the seminars are designed to be educational, providing information on what`s needed for firestopping and how to do it.
Walls took the 3M training and says that there`s so much to know about firestopping. "It seems simple but it`s not. Firestopping requires both skill and knowledge," he says. Unlike other seminars he`s attended, which he says did nothing more than pitch products, the 3M presentation focused on technique and know-how.
Beyond education
Getting educated is a good beginning, but because each firestop installation is unique, installers rely on suppliers, fire inspectors, and manufacturers for guidance.
Tom Banks, president of MTS Services Inc., an installer of cabling systems based in Bedford, NH, relied solely on his supplier to provide product for a number years. Then he realized that he needed to do more homework and worked with two to three vendors` products to find the one he liked best. Today, he uses fireseal products from different vendors for all his projects.
Vendor-provided product and application guides are also critical to firestop material selection. "Not only do these publications provide product information, but they also document firestop procedures," says Banks.
Relying on over-the-counter product information alone is insufficent because it lacks detail. "By itself, product literature does not provide information on which type of firestop solution should be used for a given application," says Vibhandik.
Bucior recommends that installers go by the book-- manufacturer-supplied guides on firestopping applications and installations. "These books provide hands-on diagrams or pictures and are self-explanatory," he says. Additionally, he says that he relies on the guide books to suggest the correct materials as well as procedures for a given application.
Still stuck? Some manufacturers -- 3M and Specified Technologies Inc. (Somerville, NJ), for example -- offer telephone backup support services for customers. "It can be a daunting task to pinpoint the most economical way to meet a particular application need," says Thomas.
It`s becoming typical for installers to contact the manufacturer asking for custom drawings, design recommendations or firestop installation information, says Jim Stahl, vice president at Specified Technologies. "In the past, firestopping was largely ignored. That`s not the case any more," he says.
Going the extra mile can pay off. For some job bids, Bucior will invite several manufacturers on-site to discuss products and demonstrate a particular application. "We`ve learned that there are variances to manufacturers` products when used for the same application," he says.
Bucior explains how one vendor`s product only allows 30% to 40% cable fill with the balance of the penetration requiring firestop, while another manufacturer`s product at the same fire rating allows 60% cable and 40% firestop fill. "At $150 a pop for a 4-inch hole through 8-inch or greater flooring with sleeve firestops from top to bottom, going with the first manufacturer would require more coring, more sleeves, more drilling, more cost," says Bucior. The bottom line: Installers have to ask questions.
Going straight to the source is what Ed Ingalls, vice president at Newington Electric, Newington, CT, commonly does when it comes to firestopping. When his company gets involved with a job, he calls out the fire inspector and gets his instructions straight from the source: how much, what kind, preferred procedure. "If I don`t make the local fire inspector happy I`m only going to have to take firestops out and redo them," he says.
On jobs where the contract specifies its own firestop materials and procedures, installers will deviate from their own practices to satisfy the contract. They may still turn to the manufacturer for recommendations on how to match specification requirements, however.
Other concerns
To cable installers, doing firestops and doing them right makes good business sense. Complaints among installers include seeing firestops not done at all, done incorrectly or removed and not resealed.
Large penetrations are more difficult to firestop than small ones; more cables are more difficult to firestop than fewer; and, renovation work is more challenging than new construction. "We make the smallest hole wherever possible," says Walls. "We don`t want to fill in a 12-inch hole when we can fill in a 1/2-inch one," he adds.
Even more important to Walls is to stay away from other contractors` work. The last guy in assumes responsibility for the firestops. Installers say that it`s not uncommon to go back to a job and see penetration firestops that weren`t resealed. "We try to use a particular type of cable to identify our work," says Banks.
Another issue for installers is that firestopping doesn`t make for competitive bidding. "We outline firestop costs in every bid, even if it doesn`t call for them. If the customer is looking for the cheapest bid, nine times out of 10 the contractor didn`t include firestopping in the price," says Bucior.
Banks agrees, noting that in a competitive marketplace it`s getting harder and harder to factor it in the cost of doing a job. And then, there are reports of contractors that include firestop costs in their bids but never do them.
Wish list
Installers agree that firestopping materials are generally user-friendly. They also agree that product and procedure guides are helpful and that manufacturers are meeting most of their needs. Installers would like to see some product enhancements, however, including foam products that meet fire code (because cans of foam can be stored, unlike clay products, which dry out over time); for large conduits, reusable clay that won`t cave in; greater availability of guide and procedural information; and lower prices.
Lynn Haber is a freelance writer based in Boston.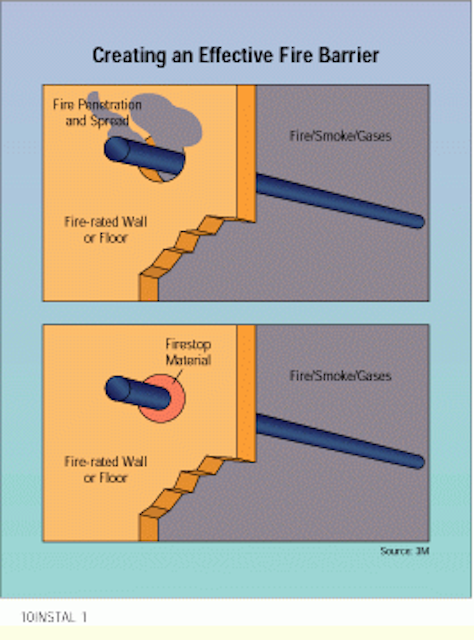 Click here to enlarge image
Fire, smoke, and deadly gases can penetrate spaces around cabling. Properly installed firestopping materials contain a fire and minimize property loss.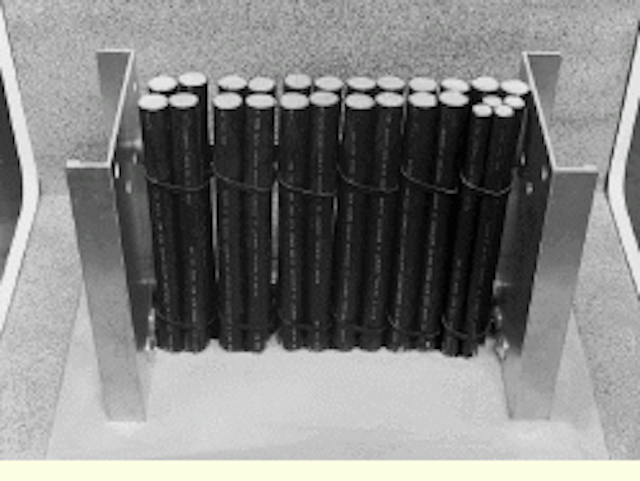 Click here to enlarge image
For medium to large openings through masonry walls or floors, firestop mortar is a cost-effective solution. It is suitable for both steel and aluminum cable trays, and mortar with low density permits relatively easy retrofits.